For the past two decades or so, Salt Lake City has had an identity crisis when it comes to coffee. --- Yes, I know what I'm writing will be taken as heresy by hundreds, but there's a good amount of proof that some patrons don't care about the quality of the coffee they're drinking, and that searching out a cup seems to be more of a lifestyle trend. And to those who cry foul, consider this: How many times have you or a friend you know changed coffee houses in the past five years? And did that change come because of the service or the taste, or because said location happened to be "the place" for the moment? It's a long argument that when broached in someone's business will draw ire from patrons, if not the baristas and owners.
There's so much I could go into on this topic (and probably will in the months to come), but today, I'm focusing on the coffee itself. Specifically, the brews created by SLC company Charming Beard Coffee, who, rather than create its own shop, has turned to making a locally produced product that you can find in several places around the valley. Today, I chat with the four people behind its founding to talk about their experiences with coffee and making it for Charming Beard, plus a few thoughts on the process and culture around it.
Levi Rogers, Tim Walzer, Josh & Becky Rosenthal
Gavin: Hey, guys. First thing, tell us a little bit about yourselves.
Josh: We're a specialty-coffee-roasting wholesaler in Salt Lake City. We source really high-quality beans and source them to fine dining restaurants-- Pago, High West, etc.; specialty markets -- Caputos and Liberty Heights Fresh; and specialty coffee shops -- Nobrow.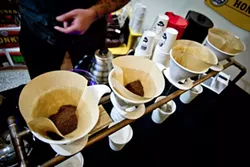 Gavin: When did you each start drinking coffee, and how had your tastes developed over the years to find richer tastes?
Josh: I started drinking coffee at Starbucks. Regardless about how you feel about the quality of their coffee, they've done a lot of the work in America to make coffee even more of a staple. From there, I began frequenting Nobrow and trying all of the specialty roasters they brought in to town.
Gavin: Levi, what was it like for you living in Portland and having exposure to what is essentially a farmers market of coffee houses and roasters?
Levi: When I first moved to Portland, I didn't know anything about coffee. But, I started working at a coffee shop, where one of the baristas competed in world barista championships and roasted his own coffee. He and that shop were, essentially, the gateway into the world of specialty coffee. I started spending all of my time in coffee shops, sometimes going to three in a day, learning about different espressos, single-origin coffees and observing what made each shop unique.
Gavin: How did you learn to find the right kind of brew and who to trust to make your coffee?
Levi: When I first moved to Salt Lake, I continued just to roast by myself. There is an incredible home-roasting site called Sweet Marias that exists as sort of coffee university. I just read a lot of articles on there on roasting and kept experimenting. When I moved to Salt Lake, I knew that Nobrow was a great shop because of the coffee it carried -- some roasters from Portland, even --and liked what they were doing. I ended up roasting some batches and then bringing it by Nobrow for Joe, the owner, to taste. We went back and forth a little bit because I knew what I liked in coffee, but I wanted to hear some other people's advice who knew what they were doing.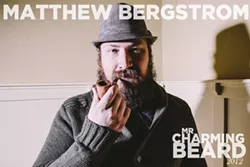 Gavin: What was it like learning those skills yourself and finding ways to improve the taste of your drink?
Levi: It was nice to learn and discuss coffee with folks from the Rose and Nobrow when I moved here, but it was still a lot of me figuring out how to make and roast coffee by myself. At times, it felt a little lonely because I believe coffee is meant to be a communal activity. You're going back and forth with other people in the industry, talking about what you like and don't like about this coffee and that one.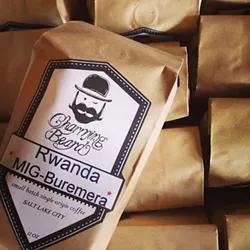 Gavin: What brought you to SLC, and what was the change like between Portland's coffee houses and ours?
Levi: I moved to SLC because some friends of mine were starting a non-denominational Christian church and I wanted to join them. I grew up in Colorado and kinda missed the mountains and was getting sick of the rain. When I got out here, I was surprised at how many coffee shops there were and how much of a culture existed around coffee. However, I was disappointed in the lack of quality "specialty" coffee. The only shops I wanted to go to were Cafe D' Bolla or Nobrow, before The Rose opened.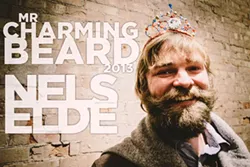 Gavin: Tim, how did you get into constructing items, as well as tech and programming?
Tim: I come from a family of engineers, so I grew up approaching problems analytically and practically. From a young age, I can remember my dad teaching me how to solve problems using the tools and parts at hand instead of needing to go buy a new tool every time a new problem came up. From fixing cars to building go-karts and computers, I was always taught how to think through and solve the problems even if I had never encountered them before. While programming is a more ethereal application of those problem-solving skills, it still requires the same thought process to address the problem. It wasn't a big leap for me to translate those skills to computer programming.
Gavin: What was it like for you finding coffee that you enjoyed in SLC?
Tim: Before moving to SLC I, wasn't really into "good" coffee. Sure, I drank coffee, but I wasn't very particular. It wasn't until just before I moved that I met a guy who was home-roasting for himself and gave me some to try. It was at that point that I switched over from the pre-ground, in a can, coffee. Not really knowing how to define good coffee nor where to find it, I started to roast on my own in a popcorn popper. It was after that that I started to look around SLC and compare the coffee I was roasting to what I was finding at coffee shops. There were some shops that served coffee I liked, but it wasn't locally roasted. Once Levi and I realized that what we were doing might actually turn into a business opportunity, I was excited to bring a light, locally roasted coffee to Salt Lake.
Gavin: How did the idea come about for you to start roasting your own brews with a popcorn popper?
Levi: I first began roasting because I was curious and also because it was cheap way to get coffee that was fresh-roasted. I learned about home roasting from Sweet Marias and the many ways to do it. It's such a simple task, and yet incredibly complex.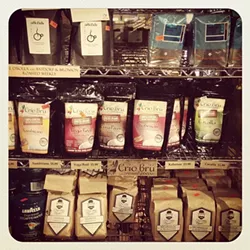 Gavin: Josh and Becky, what drew your interest in local brewing, and how have you been incorporating that into the stuff you do with your websites and events?
Becky: Nobrow certainly sparked the interest, and Levi helped take it to the next level. We did a few coffee tastings early on with Joe and Levi. Since then, we've really tried to expose our audience to Charming Beard because we believe it's really good.
Gavin: When did all of you first meet and become friends?
Josh: We all met at a local church called Missio Dei Community, and our friendship was born out of seeing each other there.
Gavin: You originally started as LaBarba Coffee before changing names. What made you change to Charming Beard, and what changes did you make with the business along with the name?
Becky: La Barba Coffee was just Tim and Levi. When we decided to all join forces, Sam DuRegger already had the Charming Beard logo that he had used for a previous business he ran in Iowa. We adopted it along with its trademark and re-purposed it for coffee. The name change happened because the ownership expanded and we wanted to start fresh.
Gavin: What was it like getting your coffee into local businesses, and how have local shops and baristas taken to the line of brews available?
Josh: We've either been received with open arms or with grand skepticism. Some managers/owners really like what we're doing and understand that coffee is as nuanced and complex as wine. Why would a good chef spend so much time sourcing the best ingredients, why would the owner hire a sommelier for his wine list and then leave customers with a coffee resembling motor oil? For some owners, it's just been a matter of educating them that coffee deserves the same attention as a wine list. Other owners simply want to see the "organic" label and that's enough for them. Whichever roaster has the right certifications at the cheapest price wins. Our coffee doesn't have those certifications because we're working with smaller farms, for the most part. Those certifications are expensive. Also, the coffee we sell isn't cheap. Some restaurants may never switch to us and that's OK.
Gavin: On your own website, you offer brewing guides for people who are curious on how to make their own specialized cup. What made you decide to offer those and teach people the art?
Levi: We put those guides up because people are really curious about how we think our coffee tastes best. Most people use a drip machine at home. That's a great way to make a lot of coffee, but it doesn't treat the coffee really well; it's a bit harsh on it, actually. So, Levi took the time to write about how best to do a pour over and French press so folks can up there experience on coffee taste and quality. Coffee is a pretty deep well of complexity if you want it to be. You can geek out on a deep level, or you can just brew it up really quick and head off to work in the morning. We want to offer instructions that satisfy the whole spectrum of drinkers.
Gavin: Has the idea ever come up of starting up your own shop, or do you prefer to just make product and stay out of the serving end of the business?
Josh: We'd love to start a shop, but we're not in any hurry. We're really stoked to be sourcing and supporting the great shops and outlets in the city. When the right opportunity arises, we'll start one. In the meantime, we're content.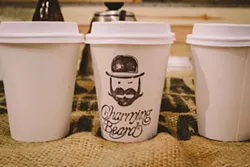 Gavin: What are your future plans for Charming Beard?
Josh: We want to get more fine-dining restaurants to use Charming Beard. We're huge fans of the food scene in SLC and we want to be the coffee all the great chefs and owners use in their restaurants. Also, Levi hopes to source more interesting coffees and spend time at origin, meeting our farmers and their families. All of that takes a lot of money and Charming Beard is the definition of a bootstrapped company. Hopefully, we can remain patient allowing for slow, sustainable yet constant growth, allowing us to do a shop, travel to origin and find even better, more nuanced coffees.
Gavin: What can we expect from both Charming Beard and you over the rest of the year?
Levi: For this year, find us at the Downtown Farmers Market. Outside of that, we're pursuing more restaurants, resorts, markets and shops to sell our stuff. We're going to be in the new Epic restaurant in Sugar House, opening soon.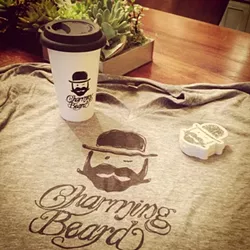 | | | | |
| --- | --- | --- | --- |
| Follow Gavin's Underground: | | | |