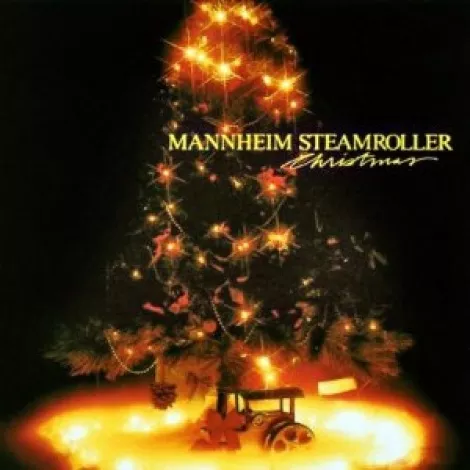 Happy Thursday, music fans! It's finally that magical time of the year when it's socially acceptable for me to listen to only Christmas music. (I typically break out the Christmas music the day after Halloween, as well as a week in July when summer is killing me, but only in secret.) Christmas music takes me back like no other music can, and here are some of my very favorite songs—my gift to you.---

Mannheim Steamroller, Christmas, "Deck the Halls"
When I was a kid, the Christmas season didn't officially start until my mom blasted this song on the stereo and we all decorated the house together. The '80s synths are cheesy as hell, but that's what makes it so awesome -- my favorite Christmas album of all time.
Arthur Fiedler & the Boston Pops, "Sleigh Ride"
With the full orchestra and fun sound effects (whips!), this version of "Sleigh Ride" is the best ever, even though it sounds like the horse gets murdered at the end.

Bing Crosby, "Happy Holiday," from Holiday Inn
Sing it, Bing.

Brenda Lee, "Rockin' Around the Christmas Tree"
Such a cool and catchy song, and included on the soundtrack of one my favorite holiday movies, Home Alone! It makes me imagine a boozy Christmas party with lots of ugly sweaters, tacky tinsel and way too much homemade fudge. Some trivia: Brenda Lee was 13(!) when she recorded this song.

John Williams, "Christmas at Hogwarts," from Harry Potter & the Sorcerer's Stone
Honestly, I sometimes get depressed that I'll never experience a true Hogwarts Christmas, filled with Exploding Snap, Wizard's Chess, magical Christmas crackers, the feast in the Great Hall and wizarding world candy, especially chocolate frogs. This song is from the soundtrack of Harry Potter & the Sorcerer's Stone. I love the caroling ghosts—I've always gotten a sense of spookiness from Christmas. See the full scene here.

Do you have a song that takes you back? E-mail kstone@cityweekly.net to have it featured on next week's Throwback Thursday blog.