Park City Live was packed last night while awaiting the arrival of the legendary rapper and Fast and Furious actor Ludacris. DJ Flesch opened up and played until midnight, throwing out an entertaining blend of rap and electronic music that seemed to partially satiate impatient Ludacris fans.---
In typical rapper fashion, Ludacris took his sweet time coming out, but his tardiness was immediately forgiven as his patterned sweat-pant and jacket combo paired with his swagger charmed the audience into a giddy bunch of school girls (even grown men were white-girl yelling). He started out with "Helluva a Night," which prophesied correctly about what type of night it would turn out to be.
Unfortunately, the matching jacket, sweat pants combo didn't stay on for long, when right after his first song, he said, "It's hotter than a mothafucker in here, what the hell am I wearing this jacket for?!" And he immediately threw it backstage to reveal some seriously iced-out chains. But thankfully, he kept on the sunglasses practically the whole night, because they were definitely fly.
"Where the sexy ladies at? I said, where my sexy ladies at?!" asked Luda, "I know you, you eight-oh-one, four-three-five." "You know what we have in every area code?" Then they fittingly launched into "Area Codes."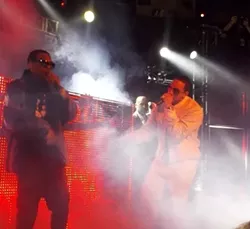 Ludacris and his stage side-kick, bantered between every song, and they soon started challenging the audience to see if we were "true fans" or not. "Are y'all true fans? Do they even know the first single?" Then came "Your Fantasy," in which they had the ladies fill in part of the chorus, "I wanna li-li-li-lick you from your head to your toes."
Ludacris brought out some other older tracks, leading with "I was told that the best weed is up here in these Rocky Mountains," then launched into "Blueberry Yum Yum," urging people to "get out [their] lighters, let's get high." Then they dropped "Yeah" and all hell broke loose, while an amped-up scene from my memories of high school dances proceeded to ensue, which included a fight between two muscle bros right behind where I was standing.
They slightly changed their next question to the audience saying, "Where my independent ladies at?!" which proved to be the second most repeated question of Ludacris', next to "Where my sexy ladies at?" He then crisply rapped out "Money Maker" and "Break Your Heart," and continued to impress with his precise similarity to his recordings.
The question asked to the ladies of the audience then digressed to "Where all my hoes at?!?" Which, for some reason, mostly guys responded to. The line-up of songs that immediately followed were, naturally: "Ho," "My Chick Bad," and, of course, "Move Bitch." Later on, Ludacris told the audience, "I was supposed to be off the stage like ten minutes ago, but should we keep this party goin'?" To which some girl's vocal chords reached into canine frequency range.
He closed out with some more classics, including "All I Do is Win," amid the explosion of confetti over the audience. It was a night in high school, hip-hop heaven. And I learned that everyone, somewhere inside of them, identifies with a sexy, independent lady and/or a ho.
Twitter:@Packdawg4
All photos by Hilary Packham