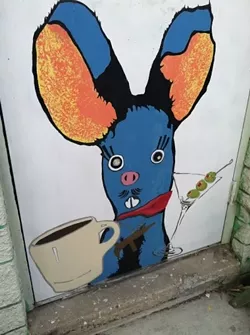 On Friday, my final full day at SXSW, I crammed in as much cool stuff as possible to end my time here in Austin on a high note. And that awesomeness included hanging out with one more local band, stuffing myself with delicious food and going to more live shows than I thought was physically possible. ---

6th Street became my favorite part of Austin, so I was happy to snap a few pictures while I walked along it to a funky coffee place/bar (I really think this idea needs to catch on in Utah) called Rio Rita on the east side to meet up with local psych-rock band Max Pain & the Groovies. If there were a prize for the band bringing the most rock & roll cred to SXSW, Max Pain & the Groovies would win, as they've been living out of their bus all week. Check out my interview with them here.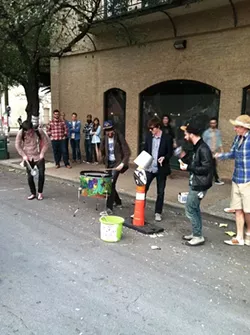 After snagging some sushi from a food truck, getting some much-needed alcohol in me and eating ramen one more time at Daruma (I'm really going to miss that place), it was music time. If you plan it right and stay on schedule, SXSW is an insane opportunity to see a lot of bands in rapid succession, and this being my last night, I was going to make it count.
I began with New Jersey indie-punk band The Front Bottoms at Palm Door on Sixth, and it was one of the most genuinely fun shows I went to at SXSW. There were a ton of fans in the crowd (which packed the place to the seams), and it was great to see the happy surprise on lead vocalist/guitarist Brian Sella's face when they loudly sang any lyrics he missed. It was also a moment of a true connection between a band and an audience; throughout the set, Sella made eye contact and joked with people as well as thanked them for coming.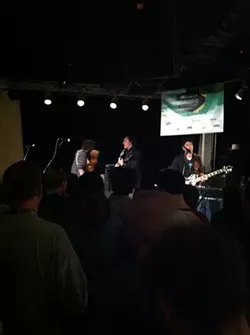 Next up was a visit to the Hype Hotel—a venue focused on the artists featured on the music blog Hype Machine—for London electro-funk duo Jungle. I got there a little early, so I got to watch SZA, and I'm glad I did; the R&B singer is really amazing. The sound produced by Jungle (who performed with a five-person lineup, complete with backup singers) was really ear-catching and fascinating, with lush, colorful sounds that were impossible not to move to. The crowd was pretty bro-heavy, though—I got a drink thrown on me, nice—so I didn't stay too long.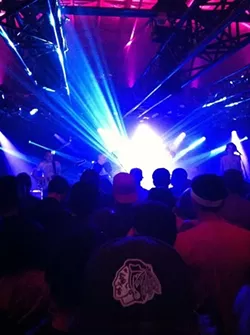 I had about an hour to kill before Lucinda Williams at The Gatsby, so I took a break from the crowd-packed 6th Street for a pot of tea and part of a cheesy kung fu movie (it was amazing, something about rival soccer teams fighting each other with cleats and fire-powered kicks) at Daruma. I hate to say it, but Lucinda looked totally bored during her set. Yawn. However, it was still great to see such a legendary Americana artist, and now I can tick her off my music bucket list.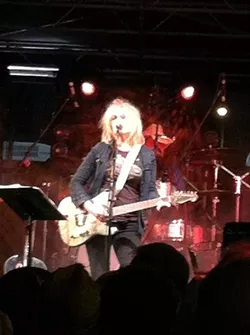 But I had places to be. I went back to Palm Door on Sixth for Detroit rock & roll band Jessica Hernandez & the Deltas, and WOW, just wow. A killer trombone player was included in the lineup of guitarists and a drummer, so the sound was really big and in-your-face. But as soon as Hernandez started singing, she took the music and shot it straight into the stratosphere—that lady is a total firecracker.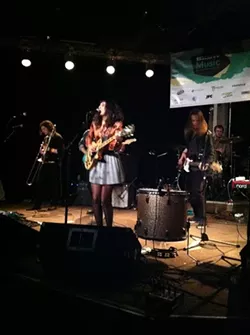 Next was a show at Shotguns across the street with Nashville garage-rock band Those Darlins. And oh man, the night of incredible female talent only continued with the skills of demented lead vocalist/guitarist Jessi Zazu. Staring crazily wide-eyed at the audience, she shredded on the guitar while belting her gritty, punk-influenced vocals.
The final show of the night was a set by Washington soul/funk singer Allen Stone, and it was a total party. He exudes happy, positive energy straight out of his mop of curly blond hair, and he encouraged everyone in the audience to "set aside pride and ego and just have a good time." And everyone gladly obliged, dancing along to the music with exuberance.
Exhausted but satisfied, I trudged back to the shuttle that would take me to my hotel. SXSW 2014 was a crazy, chaotic and tiring, but a total blast. Hopefully I'll be back next year. Later, Austin.
Twitter: @vonstonehocker