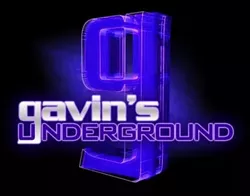 The weather is getting warmer and for many in the valley it means its time to pull out their motorcycles, dust off the chrome and leather, and start tredding around the valley until the heat starts beating down. --- But for some, this is the first time they're looking for a new ride and need something great to do it on. Now, anyone could go to a Harley shop and, with enough money and knowledge, get the kind of bike they'd be able to ride best. But for many riders, that just won't do, and the only thing worth plunking their hard-earned cash down for is a hand-built custom fit.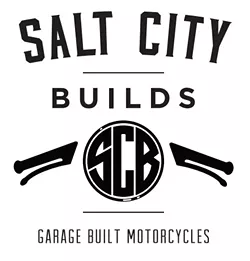 For those people, Salt City Builds has become their destination. The South Salt Lake business has been cranking out their own awesome creations for nearly two years, headed up by a pair of brothers who have been working on and building their own rides for years. Today we chat with the Clark brothers about their passion for motorcycles, starting up the shop, building bikes for a living and a few other topics. (All photos courtesy of Salt City Builds.)
Seth & Rev Clark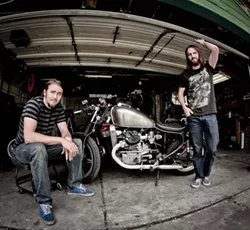 Gavin: Hey guys, first thing, tell us a little bit about yourselves.
Seth: Well basically, we are two brothers who always hated having a boss. A few years ago we started working on our own road bikes and it grew into the company we are running now. Most everything we've done throughout our lives has been done together, whether it was skateboarding, dirtbiking, camping or whatever. So starting a company together hasn't been much of a stretch. More than anything, we love getting out in the mountains and camping in the sticks. Plenty of times we've just grabbed a couple cans of chili and headed out on the bikes up into the Uintas for a few days to unwind.
Gavin: How did you both get into mechanics and what were some early influences on you?
Seth: I've always been pretty mechanically inclined, I guess. My first jobs were at auto parts stores or busting tires and that stuff. After we moved to Salt Lake in 2010, I started buying cars to fix up and flip but we only had a tiny garage so it was huge pain in the ass. Motorcycles were an easy step down, honestly. As far as fabrication, I am self-taught on metal work. Just a LOT of practice and patience and it eventually started working out for me.
Rev: I had to work a lot harder to become the mechanic I am today. I'm still learning a lot to be honest. My life goal back in 2009 was to become a pathologist (study of diseases), so I started school at Weber State. After we moved to Salt Lake and started working on our bikes, I found out pretty quick I wasn't too interested in that life anymore. So I guess you could say my first road bike got me into mechanics.
Gavin: What specifically drew you toward motorcycles over cars?
Rev: I was just never really into cars in the first place. The feeling of freedom you get from riding a bike is nothing new. Everyone who's ever ridden one knows that feeling. A car will never give that to me. We always had pickups or Broncos or stuff like that. Mostly just to haul around our toys.
Seth: And our garage was too small.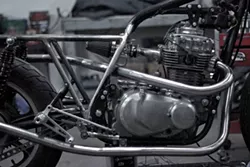 Gavin: What kind of motorcycles did you each prefer riding and working on, from when you started to today?
Seth: We did a lot of work on our first road bikes, so if I had to pick one bike that I know the most about, it would be the DOHC Honda CB750s. I actually am still using the motor from my first bike in the chopper I'm riding right now. I can fix any damn CB750 out there.
Rev: My first road bike was a 1980 Honda CX500C which I found to be a really great platform for custom work. One of our first customs was building a CX which had to have just about everything repaired or replaced on it so I know quite a bit about them things. Nowadays I'm riding around a 2000 XLH 1200 which has been fun to chop up as well. Harleys are surprisingly simple machines.
Gavin: At what age did you really start working on bikes on your own and how was it learning the ropes to building, repairing and maintenance?
Seth: I started wrenching on my dirtbike with my buddies when I was about 18 but I didn't really take it seriously. On New Year's Eve 2010 our resolution was to have bikes by the end of June. I think at the end of that year we had like 15 at the garage getting worked on. After we bought road bikes, I really started taking the mechanics seriously and learned a lot in the first few months from shop manuals and the Internet. The CB750 I bought wasn't running so I had to figure out why. After a week or two of monkeying with it, I finally got the thing running and that kind of sparked the whole motorcycle revolution with us. Within a few months most of our friends had a bike of some sort and it was basically up to us to get them running right.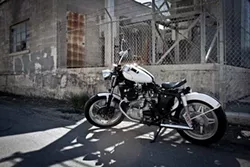 Gavin: What was the first bike you each worked on alone and completed from scratch?
Rev: For our first road bikes, Seth's 1979 Honda CB750K and mine was a 1980 Honda CX500C.
Gavin: How did the idea come about to start up a motorcycle business together?
Rev: We were just riding around one day, speeding obviously, and both got pulled over. Seth didn't have his motorcycle license at the time and the cop decided to not let him ride his bike home. So I had to ride back home, pick up the truck, and drive over to pick up Seth. Anyways, during the time I was going to grab the truck a guy ran over and just started talking about how much he liked our bikes. He turned out to be a professional photographer and had just done a shoot with a motorcycle and got the itch. He commissioned us to build our first bike. After that, we kind of realized we could actually do this for the rest of our lives and the goal to start a shop became a reality.
Gavin: How did you come across the space on West Temple and what made you decide to set up shop there?
Seth: After two years of running the shop in the garage and it getting bigger every day with more and more bikes coming in and out, our neighbors basically told us that if we didn't get a shop, they'd file a grievance with the city and get us evicted. It got to the point where we were just scrambling to find a place because it was all pretty sudden. This place on West Temple was the first place we checked out and was just a perfect fit.
Gavin: What was it like transforming the place into a fully functional garage for your particular needs?
Rev: It's actually still in the transformation stage. We aren't business gurus or anything so we didn't have a huge plan laid out on how to set this thing up. About every other month or so we'll rearrange something here or there in the shop to try to get it tuned a bit better.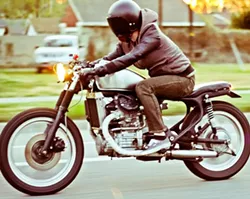 Gavin: What was it like when you first opened up the shop and what was the reaction like from patrons?
Seth: We had tons of space to do whatever with. Most people still hadn't heard of us so we didn't have a whole ton of bikes in there. We also started up the shop in September at the end of riding season. We figured if we could get through a winter, we'd be alright.
Gavin: When creating a new bike. how do you decide what kind of model you want to work on and what you'd like to shape it into before you're done?
Rev: All of our builds so far have been commissioned for customers who, for the most part, have a pretty good general idea of what they'd like it to look like. So outside of some artistic license with certain details, we haven't gone through the process of choosing a particular bike for a build. Hopefully soon though!
Gavin: What's the process like for you in putting together a new one, from frame and parts to having it running?
Rev: We like to get a bike running really well before we customize it so that's almost always the first step. After that, we tear it down to each part and replace or refurbish everything. Custom parts are ordered and/or fabricated and we'll put it all together again for a test run and ride. When we're satisfied with how the custom runs and rides, we tear it down again and get everything powder-coated, chromed, painted or whatever finish work our customer wants. Then it's final assembly and wire and we're done.

Gavin: Do you find yourself coming up with crazy designs for things or do you make an effort try to keep it all as practical as possible?
Seth: Crazy ideas are fun but you always have to have a level of practicality in there. We aren't fans of trailer queens that weren't built to be ridden.
Rev: It just seems a fantastic waste of money and engineering to build a bike like that. To each their own I suppose. We have some crazier stuff on our bikes but nothing to detract too much from their principle use; to be ridden.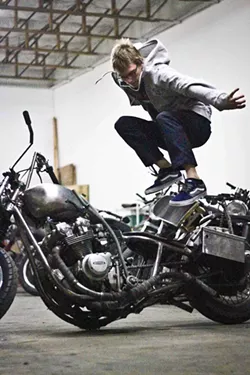 Gavin: What are some of the more interesting custom jobs you've done for riders?
Seth: We've been fabricating these sweet little 1-into-2 intakes for old 2-cylinder bikes. We can slap a Mikuni VM34 on to replace the tired CV carburetor bank. It's been so awesome to see these bikes wake up and just rip around like a dirt bike. We've made four or five of them and they've all just worked like a charm. Soon we'll be experimenting on other bikes like my CB750.

Gavin: If someone want's to have a motorcycle built or worked on by you, how do they contact you and what do they need to have ahead of time?
Rev: A phone call always works best – 801-810-9794 (text also works). Message us on Facebook. Hit us up on our Instagram.
Gavin: Do you have any plans to expand the shop beyond what it is now or are you comfortable with how the business is currently running?
Rev: We don't have any plans to hire anybody else on currently. We're really busy, but that's how we like it.
Gavin: What can we expect from both of you and Salt City Builds over the rest of the year?
Rev: We have big plans! Our website is being currently constructed by Underbelly and should be ready soon. We are just finishing our storefront where we'll be selling some of our stuff and hopefully a pretty wide variety of local artist's stuff. We've been in contact with leathersmiths, fabricators, painters and others who we feel can help embody the kind of lifestyle we have. It's pretty vague as of now, but hopefully by the end of the year we'll have a fully functional storefront where local artists can kick-off their product!
Gavin: Is there anything you'd like to promote or plug?
Seth: We are collaborating currently with a few artists who have helped us out a lot. Damian Garcia and Dan Sammons of Johnny Bones who do apparel and lifestyle, Anthony Lagoon and Dax Hansen of Underbelly who do web development, Brett Blaisdell from Smuglabs: Laser Engraving & Design. Ben McClelland and James Comas of 80 CAL, who do leather work, art and metal working. Eric Lambourne of Lambourne Leatherwork, Ian Halcott of Cafe Racer Seat and Tank as well as Robert Rashidi of Handmade Industries who both do metal fabrication, and Eli Scarbeary from BearScar who do leather working and carpentry.



| | | |
| --- | --- | --- |
| Follow Gavin's Underground: | | |