If you're in the downtown area leaving a bar or venue and you're looking for a bite to eat before going home, your options have been pretty limited. --- You can either press your luck with the various taco places, you can dump money into the corporate chains at the drive-thru, or you can wait for an hour outside the only 24-7 diner in the area. Thankfully, a new option has opened up, right next door to one of the more popular venues in the city.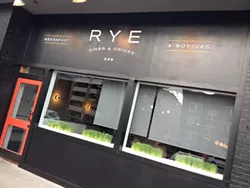 Rye is the brand-new restaurant next door to the Urban Lounge on 500 East, the latest addition to the businesses there on the north side. The new locale provides a fantastic menu as well as a dining atmosphere for anyone getting ready to see a show or just coming out of one, with late night hours on the weekends to accommodate those looking for a snack. Today we chat with the creative team behind it, which happens to be the ownership of The Urban Lounge, to talk about the new venture in local dining, along with all these pics I took of the place on opening night. (Photo of Chris & Willa provided by Rye, photo by TwoPaperHorses.)
Lance Saunders, Will Sartain, Chris Wright & Willa Wright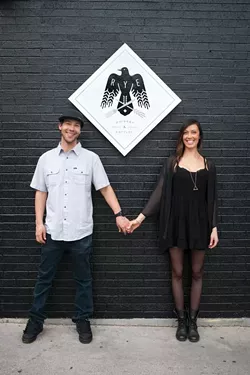 Gavin: Hey guys! First thing, how have all of you been since we last chatted?
Will: Great! Excited for the new venture.
Lance: Very busy, just finished working and building out the diner. Now I'm remodeling a few spaces at Kilby Court. Trying to spend time at the all-ages venue and fixing everything.
Gavin: Just a quick update, how are things going with Urban, Kilby and S&S these days?
Lance: Urban is on a roll. So many great bands booked. Kilby turns 15 this year, which is a big deal. S&S has a ton of shows booked this summer/fall at The Depot, The Complex, In The Venue, Bar Deluxe, The Shred Shed, etc. It's a very exciting time.
Will: We are happy. Excited to grow and change. It keeps us on our toes.
Gavin: Getting right to it, when did the original idea first come about to expand Urban Lounge?
Chris: Shortly after taking over Urban, Will, Lance & I started to realize we could use more space. We often spoke about how cool it would be to be able to expand. Originally the space to the South where StoneWash used to be became available around 2011. After doing some homework we found out expanding to the South wasn't feasible. We quickly turned our attention North, toward Alfornos.
Will: When the space became available, we knew we wanted to do something. It just took some time to settle on a restaurant.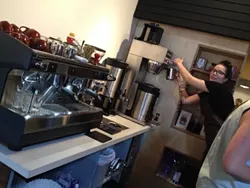 Gavin: How did the opportunity to take over the space next door to the north present itself, and what kind of a challenge was it getting that property?
Lance: About a year ago. We were waiting for permits and our restaurant license for a while.
Chris: The owner of Alfornos and I built up a pretty solid relationship over the five years we where neighbors. We spent a lot of time talking about business and after several long conversations it became apparent that he wanted to move on to pursue other interests. I quickly jumped on the opportunity to get into that space.
Gavin: At what point did the idea morph from being an addition to the venue to an entirely new business?
Will: Zoning presented us with challenges. We were not allowed to make our existing business any larger.
Chris: A new zoning ordinance aimed at preventing large clubs in residential zones, put a damper on our plans to expand Urban Lounge. From what I understand, it was part of a compromise that was made when legislators passed the neighborhood pub law. Some would argue that it was never meant to be applied to a mixed residential/commercial zone similar to the one we are located in.
Gavin: What made you all decide to do a restaurant?
Chris: After spending months in and out of the SLC Corp Planning and Development Office, we realized opening a restaurant was going to be our next best option. This option intrigued us and even though we were frustrated that we couldn't expand Urban, we began to see an opportunity to create something truly unique.
Gavin: What was it like for you tearing out the former restaurant out and creating a brand new space?
Lance: Dirty, gross, dusty, exhausting, fun, exciting ... I could go on forever!
Gavin: Having started a brand new business venture, what problems and lessons did you run into during this time?
Chris: The only issue we really had was trying to juggle our other business responsibilities with the new business venture. We had to learn to play to each other's strengths and manage our time more efficiently.
Gavin: What influenced the menu and how was it finding the kitchen staff to put it together?
Chris: Originally, we brought Tommy Nguyen, head chef of Takashi, on to help consult with the menu. We were blown away with the breakfast menu he created and couldn't resist the urge to offer him the head chef position at Rye. Tommy then pulled in Jeffy Sanich from Trio as his Sous Chef. Together they created an equally amazing dinner menu and hired the kitchen staff. I know a lot of Tommy's creations, like the Shoyu Fried Chicken and Mom's Salad, were influenced by his mother. We were also very lucky enough to bring on Alexa Norlin to create a truly unique dessert and pastry menu that appeals to both sweet-tooths and savory tastebuds alike.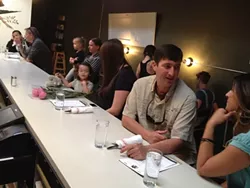 Gavin: When you were designing the look of Rye, what influenced the atmosphere you created?
Will: Ryan Manning designed the space.
Chris: Yeah, every aspect of the architectural and interior design, from the chandeliers and custom built tables and chairs down to the handmade salt and pepper shakers, was conceived by Ryan Manning. We basically showed Ryan the space, gave him a few ruff ideas, and he ran with it. We couldn't be happier with the results. None of this would be possible without Ryan's vision.
Gavin: Even though Urban has a bar next door, what made you decide that the place needed to have a stocked bar and beers on tap?
Lance: Isn't that what you would want if you were eating at a diner?
Chris: Rye isn't focused on one purveyor in any of it's facets. Just as it took the sweat and passion of several to create the place - it takes an array of brands and sources to provide an exciting culinary experience. The Relief Society chose to be progressive yet simple and playful with the beverage program. We showcase nearly as many brands as styles of spirits. As for cocktails - brunch ingredients like fresh juices, herbs and dairy set a bar for some delightful expressions in the glass and shaker. We'll continue to have fun with new and traditional spirits and kitchen ingredients with each season.
Gavin: What was the opening night like for you guys and what did you think of the reactions from people?
Will: People seem excited, and that makes me happy because I am excited too! I love the food, and it is great to have something we all believe in.
Chris: It was amazing to see people enjoying themselves and interacting in the space we created. To be honest I felt like a dear in headlights. Thank god my wife Willa and Samantha Starr were there to make sure everything ran smoothly.
Lance: Opening night was exciting and terrifying at the same time. All reactions were positive.
Gavin: One of the biggest benefits to the place is that you're going to be open late, with extended hours on the weekends. How important was it to have a late-night dining spot for both yourselves and downtown?
Lance: Nothing exists in regards to late-night. Unless you want to eat some fast food/burrito style dinner or pizza, which is great, but there aren't many options.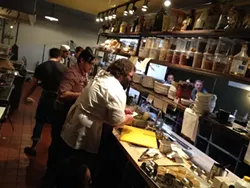 Gavin: What do you hope Rye will bring to the community, both as a restaurant and a hotspot next to a venue?
Will: I love that we have a place to feed our bands! And a place that people can come to at many hours of the day.
Willa: We wanted to offer this community something it doesn't have – late night bites mixed with a musical experience. We wanted to offer good food, service and cocktails with a relaxed, nice environment where people could enjoy the music from next door. Our GM, Samantha Starr, said it best: "Music is everything to us. Food is everything to everyone. Why not mix the two and make it magical."
Gavin: What can we expect from all of you and Rye over the rest of the year?
Lance: Quality food, professional staff, delicious drinks. Maybe another business venture?
Gavin: Aside from the obvious, is there anything you'd like to plug or promote?
Lance: Rye Rye Rye. I'm so proud of it. Thanks to Josh Asher for his sparky skills and Oliver Lewis for his carpenter talents. Samantha Starr for being the best manager in the world, Willa and Chris for handling everything I couldn't. Will for the verbal support, Jake Fish for showing up, Tommy Nguyen for being the best chef and the whole team at Rye. Oh, and Kilby Court turns fifteen in July. Cheers from Bonnaroo!
| | | |
| --- | --- | --- |
| Follow Gavin's Underground: | | |