The Utah Opera returns this week with a brand new season of performances that are sure to delight and excite. Now normally when I set up interviews for this blog we tend to talk to cast and major players putting everything together, but let's be honest with each other, when it comes to the opera, you're going to find that stuff in the daily papers anyway. So today as a change of pace, we're going more behind-the-scenes than usual by checking out the costume department. Specifically in the wigs area as we talk to Anna Marie Coronado, who is the primary person responsible for all the headwear you'll be seeing at
Madame Butterfly
, which kicks off this Saturday at Capitol Theatre. (
All photos courtesy of Utah Opera.
)
Anna Marie Coronado

UtahOpera.org
Gavin: Hey Anna, first thing, tell us a little bit about yourself.
Anna:
I go by Anna Marie and I'm a transplant from Dallas, Texas. I am currently working on my third degree, my Associate's Degree in Illustration. On the side, I am involved in a local theatre group called New World Shakespeare Company where I design costumes and do a little bit of acting. I have two cats and love to travel when I can.
Gavin: What first got you interested in costume design and what influenced you early on?
Anna:
I've been sewing since I was a little girl. I used to sit under my grandmother's sewing table stitching little pieces of fabric together that she would give me. Plus, I had a vivid imagination as a child and was always dressing up. As I got older, I wanted to learn how to make costumes for myself because I couldn't quite find what I wanted in stores. I was particularly fascinated with the Medieval period and science fiction novels and I tried to make clothing and dress up to resemble the character I liked.
Gavin: Prior to college, did you do anything in high school theatre or performing arts?
Anna:
Yes. During an English class my sophomore year of high school, we got to see the play our school was doing for their One Act competition,
The Thwarting of Baron Bolligrew
. I was so impressed by the production. They had made a dragon and I remember thinking to myself, "I want to learn how to make that!" The following year I signed up for theatre classes. I helped with making props and running lights for shows. I even got into the Thespian group and did some directing. It's funny looking back on it because then I didn't even realize I could make a career out of theatre.
Gavin: You earned your MFA in Costume Tech and Design from the University of Illinois at Urbana-Champaign. What made you choose their program and what was it like for you?
Anna:
The U of I actually chose me. Urged by my undergraduate Costume Professor, I had gone to New York to participate in the URTA (University/Resident Theatre Association) Interviews. There, you set up a booth with your portfolio, resume, and samples of your work and universities from all over the country come to check you out. On my display, I had put leather masks I made on my own outside of class. JBH (the Head of the Costume Dept. at the University of Illinois at the time) was so impressed by my initiative that he offered me a fellowship for their Costume Technology program. Grad school was an awesome opportunity. In my year, I was the only Costume Technician, my other three colleagues are Costume Designers. I think because of this, I was able to get a lot of attention and learned the skills to be a Costume Technician. I met a lot of talented people and because we were located at the Krannert Center, I got to be exposed to a several performing art forms. I tried to do everything I could. I even got to learn more about Costume Design, Costume Shop Managing and Rentals. Not only did I get to help build some costumes for productions, I got to design a few shows too.
Gavin: You originally went to Wisconsin to work for First Stage Children's Theatre. How did that opportunity come about and how was your time there working in that kind of theatre environment?
Anna:
Before I graduated, I was proactively looking for a job. We, the students, had access to the website ArtSearch, which is a site put together for Theatre Companies to post job opportunities. It was there that I found that First Stage had an opening for a Craftsperson. At the same time, I had also applied for a job in Montana at the University of Montana to be their Costume Shop Manager. Believe it or not, I actually got both jobs, which left me with the difficult choice between choosing which job I was going to actually take! I decided to accept First Stage's offer because I really prefer working with my hands, I figured I'd be able to do unusual costume projects since it is a theatre for children, and I was looking forward to living in a city like Milwaukee. I definitely enjoyed my three years with First Stage Children's Theatre. It was everything I wanted it to be. I got to make some of the weirdest stuff in all of my theatre career. I've never made so many animal costume pieces! Working for First Stage was a challenge, intellectually. I had to figure out how to make moving parts, how to get Pinocchio's nose to grow on stage, and full size animal heads for people to see and talk out of. Most people don't realize how much physics, chemistry, and math I use on a daily basis. On top of my Crafts duties, First Stage gave me the opportunity to design. I designed three productions with them, my favorite being
Aesop's Fables
, which was designed in the style of Vaudeville.
Gavin: You also has a stint with the Colorado Shakespeare Festival. What made you decide to move and join their organization?
Anna:
During graduate school and while working at First Stage, I had the summer off. Many theatres only run on a nine month contract but then there's Summer theatre. There are several summer theatres all over the country and I've worked with Glimmerglass Opera in Cooperstown New York, New York Stage and Film in Poughkeepsie, and PCPA Theatre Fest in Santa Maria, California. Most of these jobs I got via word of mouth, someone would recommend me and I'd get hired. I had heard of CSF from a friend, applied, and was able to be a part of such a great company. I have worked with CSF for four and a half summers, non-consecutively. My first summer there, I was a First Hand in the costume shop. The second summer that I returned, I was hired as the Crafts Head and maintained that position until I could no longer take a summer job. I worked with CSF for so long because I made some really great friends through the company and I love Shakespeare. There's always a show or two where I get to build something amazing and really display my abilities. One of the last couple shows I worked on, I got to paint tattoo sleeves for
Richard III
and build a Barrel Leg for Long John Silver in
Treasure Island
.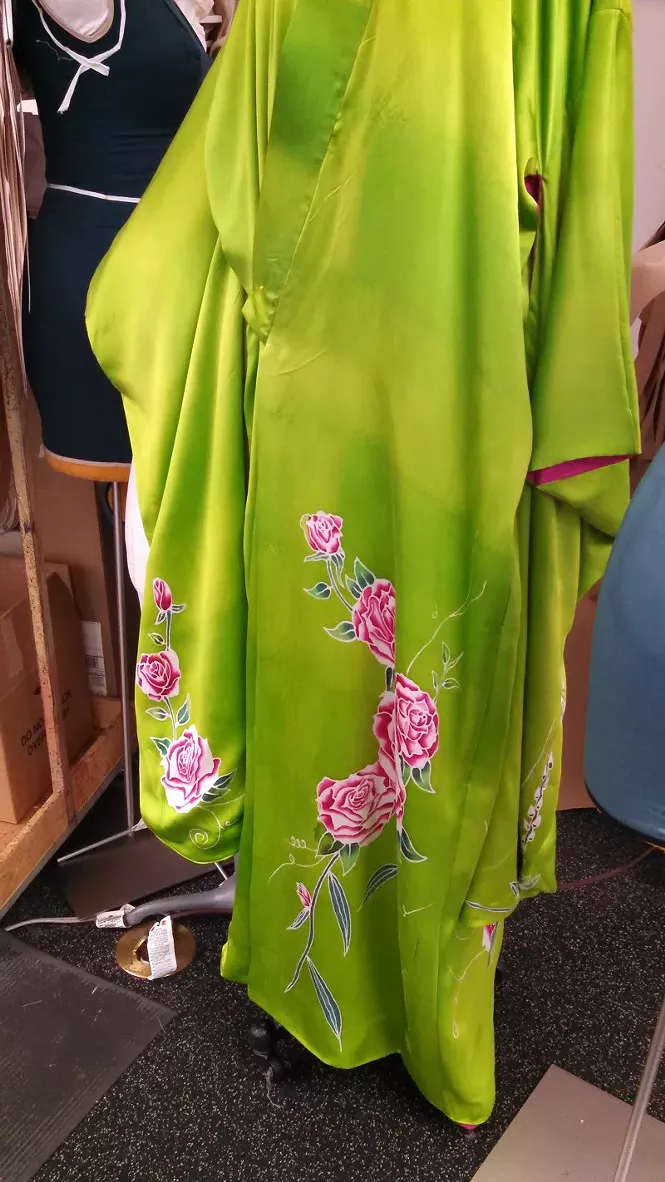 Gavin: How did the opportunity come about to come work for USUO and what made you decide to move?
Anna:
I was looking for a new job. I was ready to try a new city and try a different theatre company and found the Milliner/Crafts Artisan position at Utah Opera, once again on ArtSearch. I hadn't done any Opera since grad school and was excited for something different and for shows that were more period. I was burnt out of carving animal heads and constantly having to figure out 'how am I going to make that?"
Gavin: What were your first impressions of the performing arts scene in Utah when you first arrived?
Anna:
I was surprised. I didn't realize how big the arts scene was going to be in Salt Lake. I didn't know much about the city but I definitely wasn't expecting it to be so diverse.
Gavin: What was your first year like with the company and learning the ropes behind their productions?
Anna:
My first year was incredibly difficult. The way things were run, it was very different than any way I had worked anywhere else in the country. My coworkers were very accepting and each person took me under their wing in their own way.
Gavin: Prior to this season, what's been your most favorite USUO show to work on so far?
Anna:
I'd have to say my favorite show to work on was
Florencia en las Amazonas
. I made some really beautiful hats and it was when I got to showcase my skills in silk painting and dyeing. I got to paint and build these butterfly wings for the Rio Lobo character. They were gorgeous.
Gavin: What's an average season like for you when planning out the items you'll be making and making sure you have everything ready for each show?
Anna:
Before each season begins, I make sure I have certain things in stock such as millinery wire, dyes, certain fabrics, things that I know we always use. I go through each show via the renderings and make a list of all the costume accessories like shoes, hats, jewelry, any armor, and costumes that might need to be distressed. Organization is very important. I make lots of lists. I try to anticipate what can be pulled from our stock, what could be purchased, and what has to be built. I discuss what I think needs to happen with the Costume Designer and our Costume Director and together we decide what exactly I'll be making. I do a lot of research. We want to be as accurate as possible and sometimes I'm only given simple sketches that I have to then interpret. I'll sketch out plans, make mock-up examples, send samples to the designer and get approval before I begin building most pieces.
Gavin: How much of the work do you do would you say is a clever workshop trick of the eye, and how much is created from scratch that you couldn't duplicate?
Anna:
There isn't much that I do that I would say is a trick of the eye. I try to make everything as real as I can make it. If anything, sometimes I might use a button or broken piece of jewelry for a decorative moment on a hat, but most of the time, what you see is exactly what you're looking at. As for not being able to duplicate something, I don't do that. I take notes of the different projects I'm working on and make sure that if something happens to get broken or ruined during a performance, I can replicate it or if I'm not available, someone else can make it.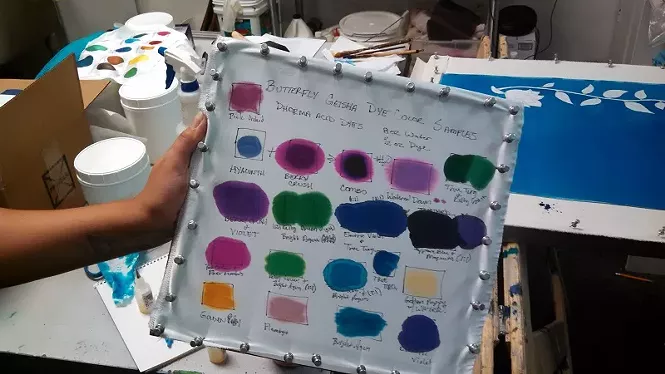 Gavin: About how much work would you say you have to do in upkeep throughout each production?
Anna:
There isn't much upkeep on my end. Our wardrobe Supervisor, Vicki Raincrow, is in charge of maintenance during a production. It is very rare that I need to repair anything once the show opens.
Gavin: The first production of this season will be Puccini's Madame Butterfly. Tell us a bit about what you've been putting together for this show?
Anna:
For
Madame Butterfly
, I've hand painted all the geisha kimonos, one of Madame Butterfly's kimonos, and the aunt and cousin kimonos. They are all made from silk and started out as just white fabric. Through a resist method, I've colored and painted all the designs for their kimonos. I also have done some Shibori dyeing, which is a tie resist dyeing method, for some of the family member kimonos. There are around twenty kimonos, some of which have taken three days to complete.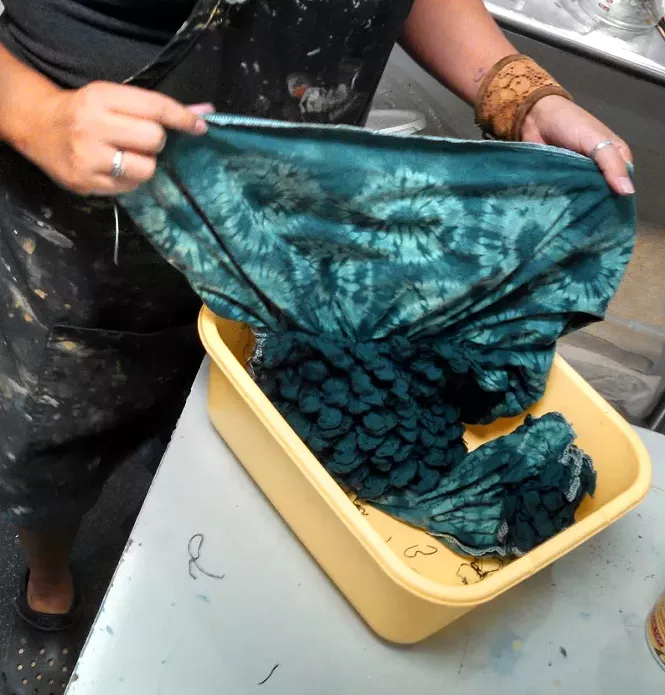 Gavin: What kind of satisfaction do you get from seeing your creations utilized through the run of a show?
Anna:
Sometimes it's hard to see the forest for the trees but once we get to dress rehearsal and see everything we've made all together in combination with the set, lighting, and performers, it makes everything we've done worth it. It's exciting. Plus, when there's an audience enjoying a show, you can't help but feel proud of what you've accomplished.
Gavin: What can we expect from you over the rest of the year?
Anna:
We've got some interesting shows coming up. I don't think I'll be doing anything quite as visually interesting as hand painted kimonos, but the costume accessories are important to the overall aesthetic of a costume. Nevertheless, I'm hoping to do more silk painting on the side and continue working on my degree in Illustration.
Gavin: Aside from the obvious, is there anything you'd like to promote or plug?
Anna:
My silk scarves are sold at the Opera Boutique during performances and I'm working on getting my Etsy business up soon under the name: Alter Ego Crafts.