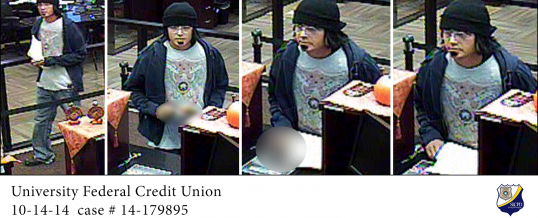 Salt Lake City Police Department are asking the public's help in identifying a man who robbed a credit union while wearing a black beanie cap, a fake wig and fake chin hair— giving his face the look of a 1950s beat poet while dressed in the jeans and sweatshirt of a typical college slacker.
Monday at approximately 5:20 p.m., the suspect entered the University Federal Credit Union at 3088 S. Richmond Street., brandished a weapon that had been concealed inside a manilla folder or envelope and demanded cash from a teller. After getting the cash, the suspect left the credit union and was last seen headed northbound on foot.
The suspect was notable for what appeared to be a fake black wig and fake patch of chin hair. The suspect is a white or possible Asian male in his late 20s to early 30s and stands about 5 feet 8 inches tall. At the time of the robbery he was wearing a blue hooded sweatshirt with a black beanie cap or ski hat.
Ridiculous as his fake facial hair was, Salt Lake City Police want the public to steer clear of the suspect as he is considered to be armed and dangerous.
Anyone who may have seen the suspect or may know the suspect's identity or location is encouraged to call 801-799-3000. Tips can be texted anonymously to 274637 with TIPSLCPD at the beginning of the text, which routes the text to the police department. Include any info and for reference mention case #14-179895.