Hello to all you beard-growing, hair-trimming, razor-sculpting, chin-shampooing, mustache-combing, food-catching, Movember enthusiasts! Yes, gentlemen, for the next month, you have an excuse for looking like shit, all in the name of prostate cancer and other "manly diseases" you may unwittingly be carrying. What you may not know about this rapidly growing yearly trend is that it was actually started in Australia back in the late '90s. So unless you're going to spend the next month drinking Fosters, watching Crocodile Dundee or at least talking like an Aussie – you're doing it wrong. In lieu of a 337 Wall update, here's some random art from downtown SLC.
Getting right to events for the next two weeks,
Craft Sabbath
returns to the downtown library tomorrow. From 1-5 p.m., the monthly craft fair will take over the promenade to feature dozens of crafters peddling their wares for you to buy. This will give you a chance to do a little early holiday shopping and get it out of the way. Say hello to our
City Weekly
reps and take some of their free goodies while you're there.
Moving onto Thursday, November 6,
Art Meets Fashion
returns to the public eye, this time taking on a new approach to their events as they'll be featuring a VIP event at
Publik
. The event will feature an exhibition called "Liminality: The Space Between Spaces," which will highlight the works of local artists like Jared Knight, Shelly Huynh, Richard Gress, Mark Seely and more with visiting artists from the States, Canad and the U.K. This is the only event they'll be holding until spring 2015, so be sure to check it out.
Meanwhile over at the Rose Wagner,
SpyHop
will be holding their annual PitchNic event. This is a chance for you to check out films coming from the talented students in their program, and giving you a glimpse of the filmmaking talent on the way for generations to come. You can snag tickets for this event through
ArtTix
for a whole $8 with the show starting at 7:30 p.m. If you're a lover of local film, I highly suggest you check it out.
On Friday, November 7,
Uprok
will be hosting a free event as Mexico's own Definition Rare make their way back into SLC. The evening will include an open wall for graff art, a dancefloor which will feature bboy battles, sticker swap and more. This event is all ages and again, completely free to the public to attend!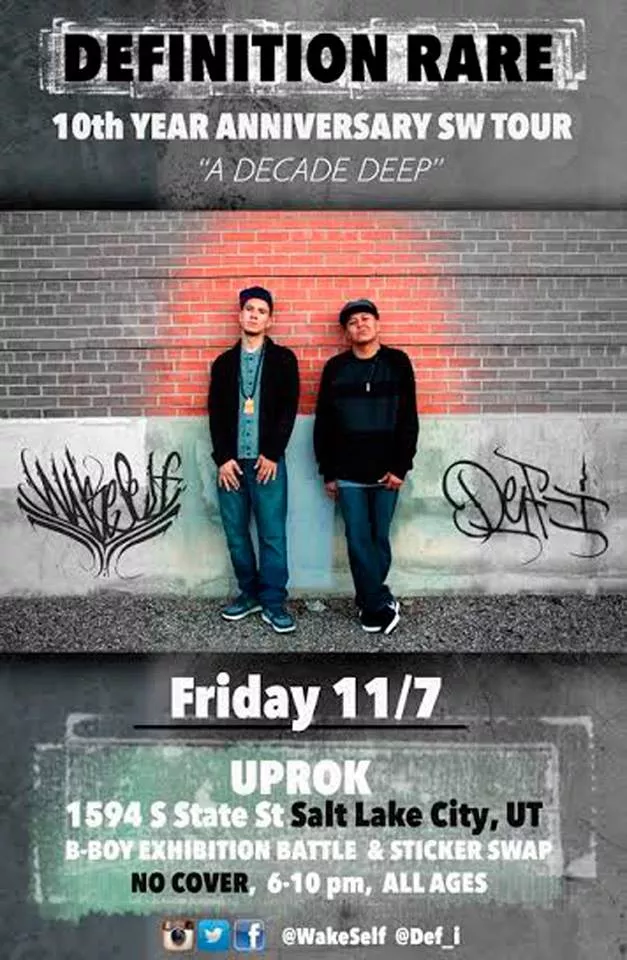 On Saturday, November 8, we have a couple of events for you to check out. First one is for the foodies as the
Ching Farm Rescue & Sanctuary
will present their annual Vegan Thanksgiving. For those not wanting to partake in turkey or any other edible items this holiday season made from or by animals, Ching pairs with several vegan-friendly spots to create a Thanksgiving dinner. Vertical Diner, Sage's Cafe, Cali's Natural Foods, Kodiak Produce, Western Nut and Great Harvest are just some of the places partaking in the food making. You can purchase tickets for the dinner
here
, which will be held at the Wasatch Presbyterian Church.
The other is more for the sports lover as the last roller derby tournament of the year will happen next Saturday. W
asatch Roller Derby
will play host a men's derby tournament, featuring SLC's own Unita Madness and three other teams from Oregon and Canada. The tournament is just $15 for a day pass, being held at the Derby Depot all day long.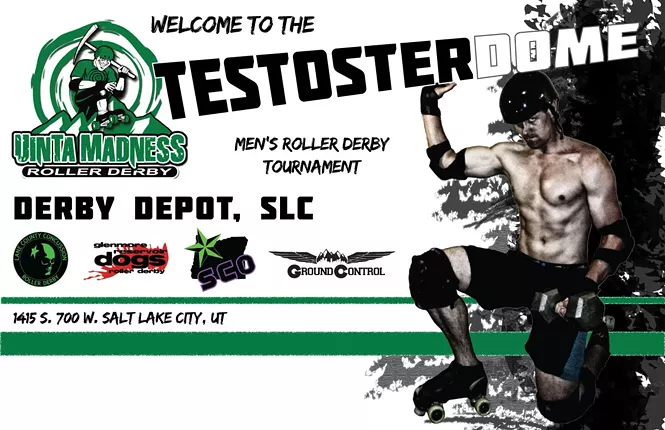 The following week, those looking for some classic theater outside of the bigger groups need look no further than Westminster College, where their theatre group will be performing Shakespeare's The Tempest. For those unknown to the playwright's works, this is viewed as one of the most poetic of the entire cataloged works and a great piece for those wanting to explore his works to start with. Check out the college's
website
for tickets, the play will kick off on November 13.
Getting to the end of next week, if you didn't know about it, November is also Transgender Education & Awareness Month with tons of events happening all around the city for November. The big one we'll focus on now is the sixth annual Genderevolution, taking place on Saturday, November 16. Presented by TransAction Utah at Rowland Hall, the event will focus on workshops and panel discussions, focused on educating the public and creating a stronger, safer community.
Also happening on that Saturday over at The Leonardo is the Yoga & Wellness Festival. From Noon until 4 p.m., the gallery's three floors will play host to several art classes, yoga workshops, sports science videos, hands-on injury prevention and various other opportunities to improve the body and mind through simple exercises and lessons. Click
this link
to RSVP, its just $10 with the Cycle Of Life option or $15 without.
And finally we'll end on a gallery event happening on November 15 as well.
The Life In A Day
is a monthly video series featuring skateboarders like Jovi Bathemess, Garrison Conklin, Eric Nguyen, Colin Brophy and more. The series serves as a creative experiment where the skater has 24 hours to produce a video and give an honest portrait of themselves.
CACU
on 200 South will be showing off a compilation of the first seven videos, with the eighth and final video premiering that night. You must RSVP through City Weekly to attend, and if you can't make it that night, they will continue being available through November 18.
As for the blog, we've got some concert coverage coming, as well as a couple artists, some standup comedy, a look at a podcast and a studio. At least that's the plan for now, who the hell knows how all this will go as the year starts rapidly winding down. As always, we'll see what happens.