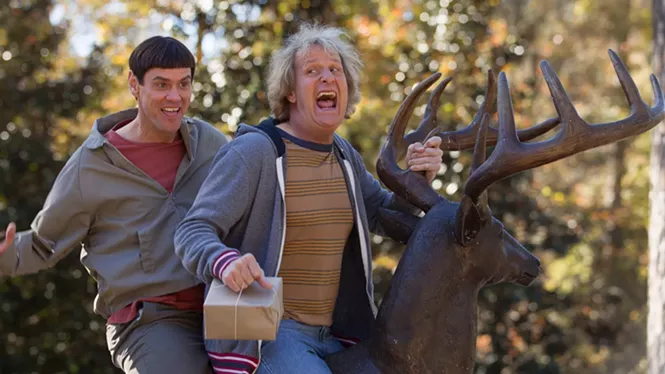 Harry and Lloyd are back, and Jon Stewart gets serious (as a filmmaker), in some of this week's new theatrical releases.
Scott Renshaw visits with Jim Carrey and Jeff Daniels (pictured) in the 20-years-coming sequel
Dumb and Dumber To
, and finds that the Farrelly brothers' devotion to The Gag still results in some big laughs. Writer/director Gina Price-Bythewood elevates Hollywood romantic melodrama to impressive heights in
Beyond the Lights
. At the Broadway, the Swedish satirical drama
Force Majeure
turns a couple's near-tragic moment during a ski vacation into some darkly funny scenes from a marriage.
Danny Bowes revels in the patient, thoughtful artistry of Studio Ghibli's
The Tale of the Princess Kaguya
.
Eric D. Snider praises the central performance of Gael Garcia Bernal in the fact-based political thriller
Rosewater
, but finds writer/director Jon Stewart's storytelling too earnest and stolid.
In this week's feature review, Scott Renshaw and Danny Bowes exchange thoughts on the Sundance documentary
The Overnighters
.