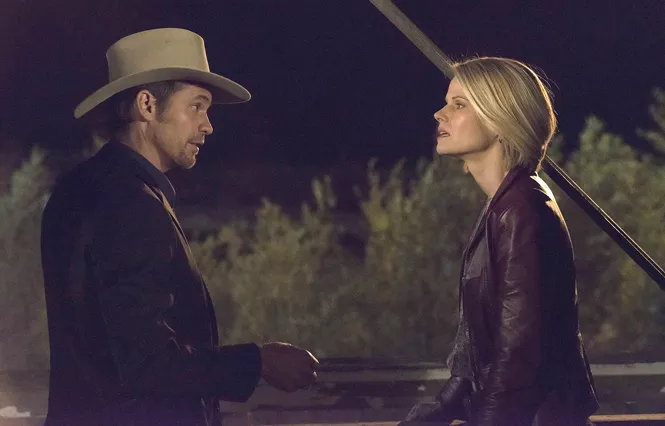 What's new on the tube tonight:
Justified (FX) Season Premiere: State of the Union? Whatever—tonght's all about the State of Harlan! Raylan's (Timothy Olyphant) endgame in the ... sigh ... final season of Justified, home of the best dialogue on TV, is to bring down frenemy Boyd (Walton Goggins) once and for all, using the love of Boyd's life, Ava (Joelle Carter)—obviously, it's going to get messy. Raylan and Boyd's Roadrunner/Coyote dance isn't the only drama afoot in Kentucky, however: Dixie Mafia heads Katherine Hale (Mary Steenburgen) and Wynn Duffy (Jere Burns) are plotting a multimillion-dollar robbery—to be carried out by Boyd—and there are some new heavies in town stirring up trouble (guest power-players Garret Dillahunt, Jeff Fahey and Sam Elliott—sans 'stache!). But with all of this coming down the pike, the biggest surprise of the Season 6 opener, "Fate's Right Hand," is a sad, touching performance from previously written-off hillbilly Dewey Crowe (Damon Herriman). Sons of Anarchy was tough, but Justified is the FX loss that's really going to sting.
The Flash, Supernatural (The CW) Winter Premieres: The CW doesn't care what Bronco Bama has to say, hence, new Flash and Supernatural tonight!