As we prepare to enter the thick of convention season in Utah, the first shot will be fired from a Mark 7 Disruptor Rifle off the side of an airship by a marksman trained in the fine art of mobile sniping. The Salt City Steamfest kicks off today at the Shearton Hotel in downtown SLC, bringing with it two days of costumed entertainment and exclusive events catered to the genre. For the hardcore fans who haven't exactly had a solid footing in any other convention around the state, this is a welcome environment, as they're able to converse and collide with other fans who enjoy anything with extra gears and a hint of lace. Today we chat with festival founder Nichole Hicks about the fest's history and this year's events. (
All photos courtesy of the festival's Facebook page.
)
Nichole Hicks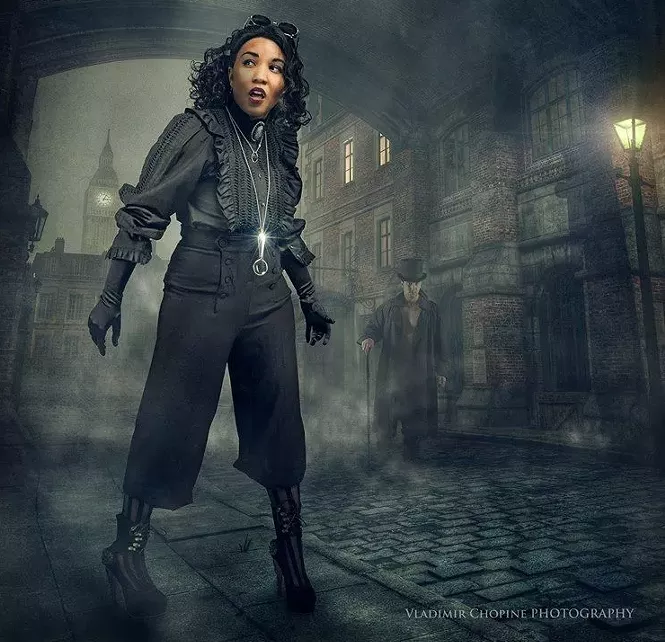 SaltCitySteamfest.com
Gavin: Hey Nichole, first thing, tell us a little bit about yourself.

Nichole:
Well I'm a level 28 Human, Lvl. 7 mother of one, I absolutely love costuming and have found myself involved more in event production, as well as promotion with various conventions and costume themed galas.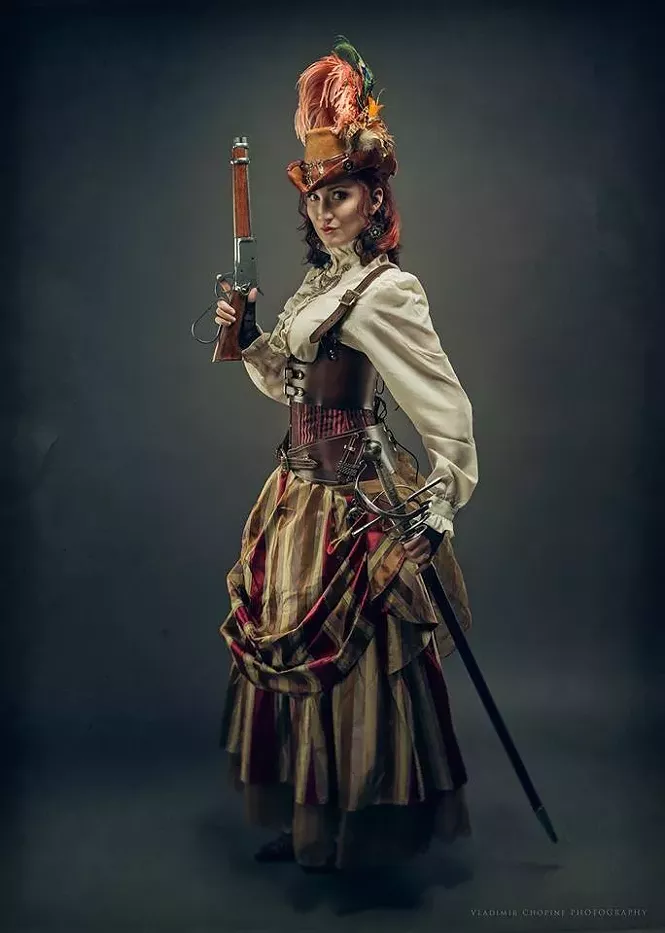 Gavin: When did you first take an interest in steampunk, and what was it that drew you in?

Nichole:
Well, I fell for steampunk when I was 12 years old, not really knowing what it was. I saw the Victorian fashion, sciences, and then BAM found this world called "costuming," and the rest was history. What really kept me was community; though not perfect, it's very welcoming, and so intelligently creative.
Gavin: What was it like for you going to events and taking part in both cosplay and role-playing events?

Nichole:
Enthralling! I love going to other events and learning—or, in turn, helping. I won't be ashamed to admit that Steamfest has learned some things that have worked, and [others that have] horribly failed with the con, thanks to supporting other events.
Gavin: At the time you were getting involved, what was the steampunk community like in Utah compared to other groups?

Nichole:
Sparse. Everyone was so spread out and distant from one another. Like they were ashamed of being into steampunk openly—so much so, that when it was announced there was a local convention catering to steampunk specifically, it was very well received.
Gavin: How did the idea come about to start a steampunk festival?

Nichole:
I was tired of not really fitting in at other events, and though it was cool to be gawked at in appreciation, I wanted my own community to walk into, laugh with, learn with, and commune with locally.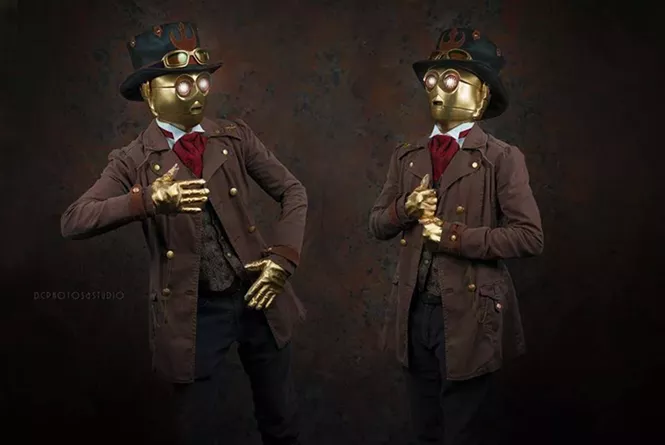 Gavin: What was It like for you and everyone involved putting it together, and making it an event worth checking out?

Nichole:
Very, very stressful at first! There's not many venues here who really think to give a budding festival or convention a chance without getting as much out of them as possible. It took some digging, patience and constant communication to really bring this beautiful garden to life, and it takes those same tools and traits to cultivate it still.
Gavin: The first one launched in 2012. What was the turnout like, and what events did you have going on at the time?

Nichole:
We had an amazing first year turn out hitting nearly 1,000 people over our two day event (granted, those numbers may seem trivial now, but they were the bee's knees then). We had our roleplay, panels, vendors and evening ball, which was very nice for us because it was truly a ball with stringed instruments and waltzing instead of someone suddenly dropping the bass on you.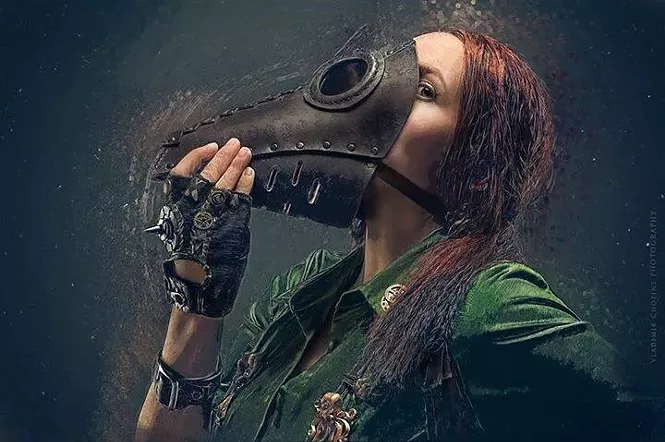 Gavin: Once it was done, did you have an idea you'd be coming back the following year, or was it still in the air?

Nichole:
Oh, the addition had settled. Steamfest MUST live on, and it did! However, with it being the first year, I was still very fresh as to how much work it would take to keep going, and what friendships I'd gain—and even lose—along the way.
Gavin: You're now entering your fourth year as a festival. What have been the biggest lessons you've learned between now and when you started it?

Nichole:
Some people make [better attendees than staff]—take the time to really vet which should be which, and trust in my own instincts when it comes to the community's vibe. I'm not always right, but I'm not always wrong, and being an event creator you just have to realize not everyone's going to dig your art form, and that's Salt City Steamfest for me. My living, breathing, community art project.
Gavin: Tell us about some of the events you have lined up this year.

Nichole:
We're pleased to announce our notorious Nerf Room is making a come back (Yay, bewm sticks!). Think lazer tag with foam darts meets capture-the-flag, played throughout the day, to the point there's even traditional Victorian-styled duels. We are also pleased to announce that Unwoman is making her return. IF you like Amanda Palmer, you'll ADORE Unwoman, followed by the amazingly musical talents of Doc Q and DEVM Deus Ex Vapore Machina (DEVM for short.) Like other fandoms, Steampunks do have their personalities and celebrities. Two of which have just been on the GSN for the new Steampunk game show,
Steampunk'd
(Surprise!) Which is like
Face Off
but 100 percent focused on the craftsmanship of those in the Steampunk Fandom. Those two were none other than Kato, acclaimed Steampunk fashionista and model, and Thomas Williford, who also made the Steampunk arm for
Castle
during that special episode. There are opportunities to meet with them, learn from them, and free photo ops. You'll also get the opportunities to meet notable authors such as Emilie P. Bush, Paul Genesse, dive with Utah Mermaids, LARP with Sarah Hunter, Captain Legrange, and make new memories with old friends. I'm proud of Steamfest and the fact that we have some of the most in-depth, educational, and craft-driven panels you'd ever seen locally.
Gavin: For those wishing to participate but don't know much about the genre, what do you recommend they do?

Nichole:
Just come out! It truly is an experience. You don't have to be dressed in Steampunk to be welcomed, you don't suddenly have to be overly in love with it to fit in, just come out. Have fun, be open to ideas, and be open to feeding your imagination. All of you. Moms, dads, kids, teens. All of you.
Gavin: Can people still volunteer to help out?

Nichole:
We're closed to volunteers for this year, but should any want to join the ranks for next year, we would love to have you. True, we will be going to a one-day festival, [but] it doesn't mean we don't need your help. This includes buskers too! We love our Ren family, our Arties, and our authors!
Gavin: Going a little geeky, what's your take on The Nerdist rating Utah as the geekiest state in the nation?

Nichole:
Took them long enough. I mean, how could they miss that? We let our geek flag fly so often. From our social media crusades to our pub quizzes. We're proud to be geek, and now the world knows it.
Gavin: When you started there were only two other pop-culture festivals happening in a year; now there are seven. How has it been for you watching that part of the community grow so quickly?

Nichole:
It's like realizing your little baby suddenly has six siblings that don't always get along, but all came from the same family. You love them, you really do, but you want to put them in time out and tell them not to come out until the know how to communicate and play nice. In short, it's a bit overwhelming, but it's all about endurance, and we're here to stay at Steamfest, even if it means trying a new approach here and there to keep our community—new members and veterans—comfortable.
Gavin: Are there any other facts or tidbits about the festival you'd like people to know before they attend?

Nichole:
This is the last year for Steamfest to be a two-day festival, so come out and enjoy as much as you can! We will be back for sure, but with Utah hitting con-puberty, we don't want to be another event exhausting the crowds schedule and yeah, even the wallet. My staff this year has been amazing at helping me plan this out, and thus I tip my hat to them. My co-director and great friend, Robert Bixler. He was great at keeping the troupes together, when health wouldn't allow me too. My Kat moms, Catherine Garcia and Kathy Uchman for being my extra hands, eyes, ears, and at times, hearts. Carter and Kellie Reid (The Zombie Nation), best art show organizers
ever
. Landon Olsen, Matthew Loftus, Christopher Uchman-Douglas, Alice and Roy Miller, Kate and Jeff Moir, Toby Dillon, and Vladimir Chopine, you guys are my backbone and at times my hope. You helped me when it got tough, and when I needed, got rough and played in the mud with me to create this event. Sean Keene and my RANC, thank you so so much for producing an enjoyable adventure for over 100 adventurers and counting!
Gavin: After the festival, what can we expect from you over the rest of 2015?

Nichole:
Well, truth be told, I have my own battle to still win and thus will be taking some time to recover health-wise. While I am recovering, you can best believe that I, along side Cameron-Walker Productions (the most amazing business consulting company ever!) will be tailoring, creating and conducting what's necessary to ensure Steamfest is enjoyable as much as possible until I let her rest. I will also be fine-tuning my online radio station,
GeekFactor-Radio.com
, a charity driven virtual radio station, and of course get my D&D and LARPing on with my friends. What, I live in Utah. Expect anything less?