Rather than rush to meet a deadline like many in my field, I held back and decided to let the weekend of Salt Lake Comic Con digest. After three straight days at the Salt Palace, I had a chance to experience some cool moments and some woes. Not everything I say will make people happy; in fact, a lot of fans who paid top dollar and had a great time will disagree with me. Ultimately, the Con got several things right, other things wrong—and some things offered with the best of intentions didn't come off as well as hoped. So here's my critique of the event: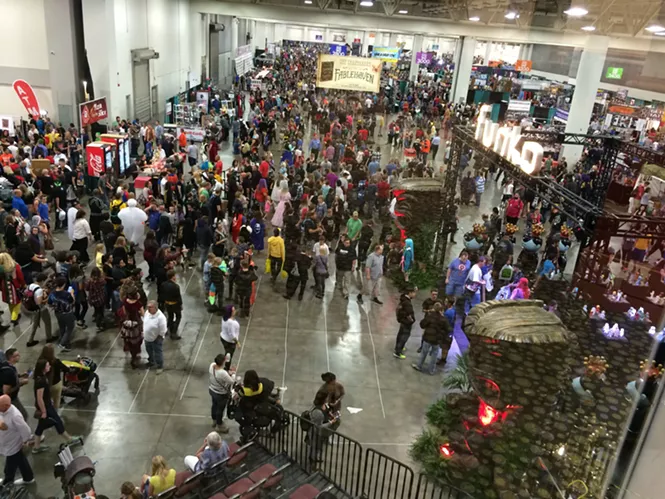 The Pros
Moderated Celebs
Rather than trying to
pack
100 celebrities into a weekend,
Comic Con
took an interesting approach and scaled back after nailing Chris Evans as a highlighted guest. This somewhat freed up the schedule for fans to browse the convention center and take in the con as a whole, rather than dashing off to wait in the next three-hour line. There's an argument to be made that they blew their budget on Evans, but who cares? It all worked out for the best.
World Record
On Friday, Salt Lake Comic Con grabbed an official world record from Guinness for most superhero-costumed people at a single event.
Totally official, too
. Now begins the race to see who can break that record over the next year.
Random Encounters
More so than any other local Con in the past, running into celebrities was a frequent occurrence. I got to have great chats with
Mystery Science Theater 3000
alums Joel Hodgson and Trace Beaulieu (who recognized me from previous events) and got to hear about Beaulieu's tour of the valley the night before. I also got to see John Barrowman as I was wandering through the Funko area. I gave him a salute and said "Captain," he saluted and smiled back. Those are the
perks
to roaming the floor and enjoying yourself.
Spread Out Floor
Speaking of the floor, this is the first time I think the floor's traffic was designed to be balanced. Previously, it was just row after row of
crammed
confusion. People don't walk how they drive, either; it's more like "wherever you can go." This year, everything felt spread out with mobility in every direction. I didn't feel like I was trapped in a pile of fire ants.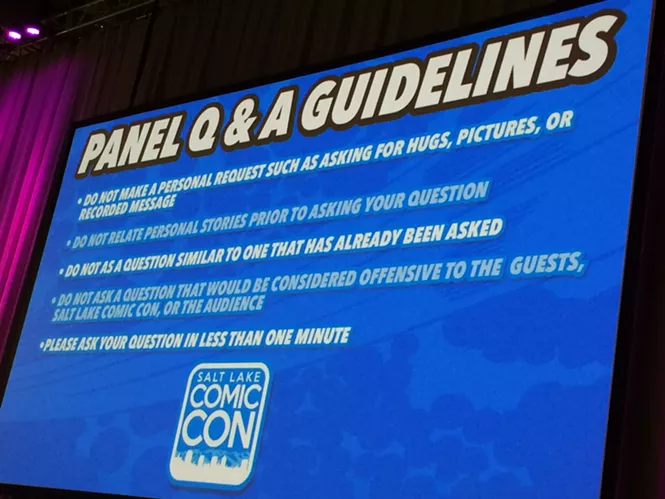 The Cons
Reduced Role for Cosplay
Now to be clear, I'm not saying cosplay was outlawed or anything like
that,
but did you notice a lack of events happening at the Con that featured competitions or items on display? That wasn't an accident; they cut those events out. They replaced them with the successful world-record attempt, but that's not as much of a fan-appreciation thing. And the few panels that I attended on cosplay had experts telling fans to "
go look
it up on Google." Bummer year for those playing dress-up. (Not saying if I was one of those.)
Women & LGBT
Just eight months ago, I was praising FanX for offering more women-centric panels, with some even dedicated to LGBT-related issues. This year, not so much. In fact, looking at the official app (we'll get to that in a second) and perusing the schedule, the most hyped thing for women at the Con was the Ladies After Dark panel. Don't get me wrong, I enjoyed watching a bunch of my friends talk dirty to one another, but at the same time, I didn't see much geared toward serious talk for women or LGBT folks. (For an alternate perspective, here's Scott Renshaw's take on Thursday's
feminism in geek culture panel
.)
The App/The Map
I've never found the map for Comic Con all that helpful. This year, they launched a digital version, but often, the locator would lead me to the wrong location. For example, when I went to search for Funko, it led me to ... the parking lot. And forget
looking
anything up, because unless you planned everything you wanted to see in advance with the schedule, scrolling through miles of text without a search function was exhausting.
The Ricochets
Artist Alley
Once again, the Artist Alley was located on the far south end of the convention center, and again, it was easily missed. The walkways are smaller than those for the vendors, making navigation a challenge. It didn't help that many of the artists who could have been there
were
instead at Baltimore Comic Con. Whatever good intentions the organizers had, placing the artists near the main entrance didn't achieve the desired effect.
Missing the VIP Party
No longer is there an exclusive VIP party where you could possibly get drunk with the voice talent from
Animaniacs
. Now, it's a three-day party at Club Sky, half a block away from the Salt Palace on Pierpont Avenue. I popped my head in on Friday night and saw some people enjoying themselves, as they were still able to party and remain in costume—but it's not the same as the VIP Party. Bring back the VIP party!
Non-VIP Access
One of the biggest things I heard from people standing in general-admission lines was that any ticket below VIP was worthless. I understand there's a system in place for a reason; not everyone can afford the same thing, and some access is better than no access. And yes, it is funny to see a kid flipping off all the VIPs as they walked
by,
because spending an extra $100 got them in the door 15 minutes faster. But if you're going to create this kind of system, there have to be perks to go with it. I could not see a clear distinction between Gold and general admission, other than that one gets a lanyard and the other doesn't.
Gaming
While there were abundant tables and video games, it didn't feel like gaming was a big part of the convention. Was this a response to Salt Lake Gaming Con doing its own thing just seven weeks prior, or was this the Con not caring as much about gamers and the gaming market? There were some cool premieres happening, but nothing seemed to be really marketed to the audience unless you were in the know.
The Final Verdict
As I left the Salt Palace on Saturday night, I felt disappointed, like I'd been invited to a party and then told I could only hang out in the living room and kitchen. Unless someone popped by to refill my cup, I didn't see a lot of things or talk to a lot of people. And keep in mind, I got in the door on a press pass; I can only imagine what others who paid admission may have felt as they struggled to see what their access got them. Because SLCC managed to get a lot of things right, such as making the RFID system flow and ensuring panel rooms start on time as opposed to previous long delays, maybe these are just growing pains. But for a convention that claims to be the third largest in the world and wants to be different from San Diego or New York, one that says everything it does is "for the fans," a lot of these concerns need to be dealt with—and they're totally fixable, if they want to fix them. After five major events in the span of 25 months, the learning curve should be over.
What was your Comic Con experience? Let us know how
you
think they're doing.