Hello to all you rope-jumping, lockup-grappling, tag-making, title-defending, history-making, gonna-grab-me-some-popcorn-and-watch-WrestleMania enthusiasts! The grandaddy of them all (oh, wait, I forgot, Vince McMahon won't let staff call it that anymore) is happening this weekend for the 32nd time (oops, forgot, Vince won't let you say the name anymore either because it's a reminder of age) and the card looks... okay. There's potential for great breakout matches from the Women's triple-threat match, Jericho vs. AJ Styles and the Intercontinental Championship ladder match. But the rest of that card looks underwhelming, especially because I don't need to see Triple H wrestle again, I just don't. Before we get into events for the next two weeks, here's a shot of the stained-glass window from Ichiban Sushi for no apparent reason.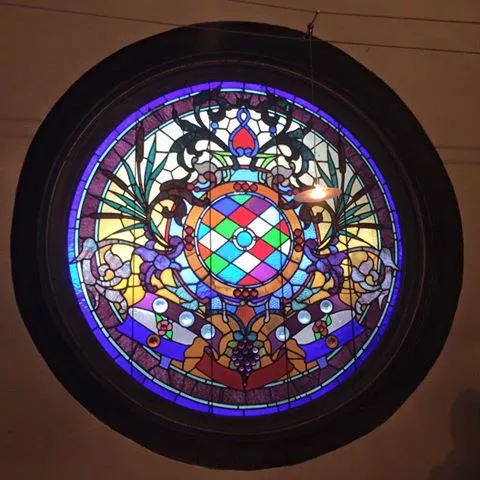 4/3:
Card Trading and Gaming
at Watchtower Cafe
4/3:
Craft Sabbath
at Sugar Space
4/3:
Cosplay Pub Crawl
in Sugar House
4/3:
An Evening of Comedy & Pancakes
at Wiseguys
4/4:
Monday League
in Sugar House
4/5:
Beyond Binaries: Nonbinary People Talk Back
at SLC Public Library
4/7:
Local Spring Market
at The Startup Building
4/7:
Ririe-Woodbury's Spring Season
at Rose Wagner
4/8:
Myriad Dance presents Doors
at Sugar Space
4/8:
Comedy & Music with "You Again"
at Sandy Station
4/9:
Spring Fling Vintage Market
at The Show Barn - Thanksgiving Point
4/9:
Spring Open Studio
at Poor Yorick Studios
4/9:
I am Salt Lake LIVE
at 50 West
4/14:
The Bee: True Stories From The Hive presents "Fer Rude"
at Urban Lounge
4/14:
Beer & Ballet
at Capitol Theatre
4/14:
RDT's Revere
at Rose Wagner
4/14:
Sugar Slam Team Selection Finals
at Watchtower Cafe
4/15:
Onesie Pub Crawl
in Downtown SLC
4/15:
Sketch Cabaret - INTIMATE
at Metro Bar
4/16:
Speak Now Walk
at Memory Grove Park
4/16:
New Consciousness EXPO 2016
at South Towne Expo Center
4/16:
Poetry, Prose, and Poses
at Centered City Yoga
4/16:
Beyond Bellydance
at The Fallout
4/16:
Queer Prom 2016
at The Leonardo
4/16:
White Out College Party
at Fiesta Palace