It was a salty kind of weekend for many of us with the heat beating down. Nearly reaching 100° in SLC, Friday night wasn't exactly what you would call the ideal weather for Gallery Stroll, but art lovers pressed on as galleries offered cool water at nearly every stop. This month we popped into
CUAC
to see a dual show featuring NYC-based abstract painter Fran O'Neill, and local professor/artist Matthew Choberka. Today we chat with Choberka about his works, along with pictures from the evening that you can check out in person for the next month.
Matthew Choberka
MatthewChoberka.com

Gavin: Hey Matthew, first thing, tell us a bit about yourself.

Matthew:
I'm a professor of painting and drawing at Weber State University in Ogden, and have been at the University for 11 years, since 2005. I came here straight from grad school at Indiana
University,
and was in NYC for most of the 10 years before that. I studied painting at the New York Studio School, and then worked at the Metropolitan Museum of Art in the department of Drawings & Prints for about five years, so I've been both studying and working around art for quite a while.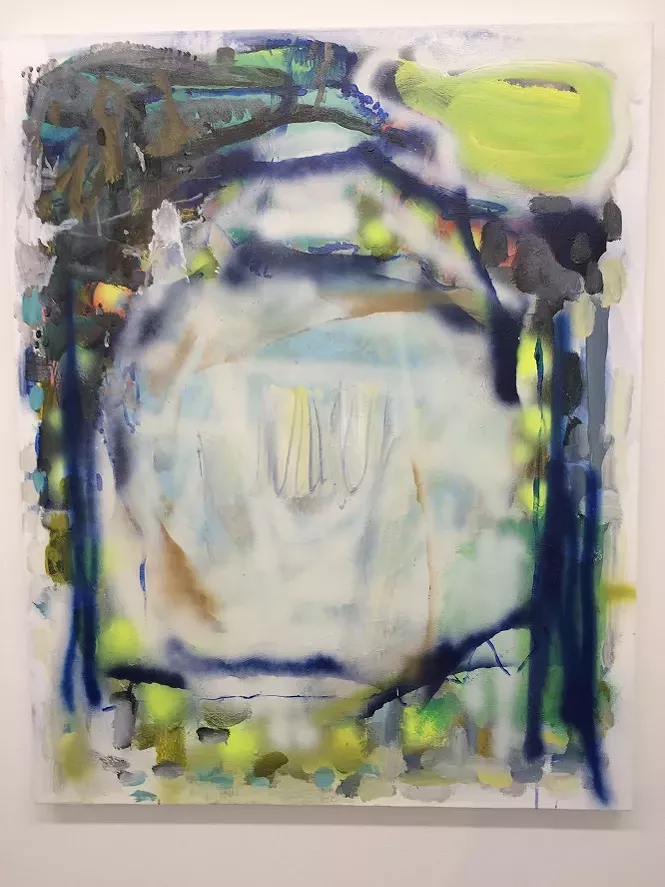 What first got you interested in art growing up? What major influences did you have?
Growing up, I drew a lot, but the influences were much more related to movies,
books
and subjects that I dug. I remember my friend Nicky and I would draw lots of sharks, killer whales and, of course, spaceships, stuff like that.
Drawing
was a way of exploring these worlds, and I don't really think I had any understanding of art in terms of pictorial, formal or conceptual traditions or dialogues until a lot later. I played in bands during high
school,
but wasn't really a musician. In college, at Columbia College in Chicago, I spent several years studying photography before a sort of re-discovery of drawing and painting.
What specifically drew you towards painting?
I took a drawing class as part of my major at Columbia, although my emphasis was still on photography at the time. I was pretty influenced by that drawing teacher, who was really a mentor. He was showing us all kinds of work, just bringing art books to class every week, letting us hand them around, discussing what we were seeing, asking us questions. Along with a few friends, I got really interested in Egon Schiele, Matisse, Roualt. But I think the real spark was when my teacher showed us the work of the contemporary British figurative painter, Lucian Freud. The intensity and physicality of that work
was
apparent, even reproduced in a book, and it was the first time that I think I really understood that painting was something that artists were doing as a vital contemporary form. Of course, at that point, we were just a few blocks away from the Art Institute of Chicago, and so I started spending a lot of time there, looking at historical, modern, and contemporary work from lots of disciplines and geographies.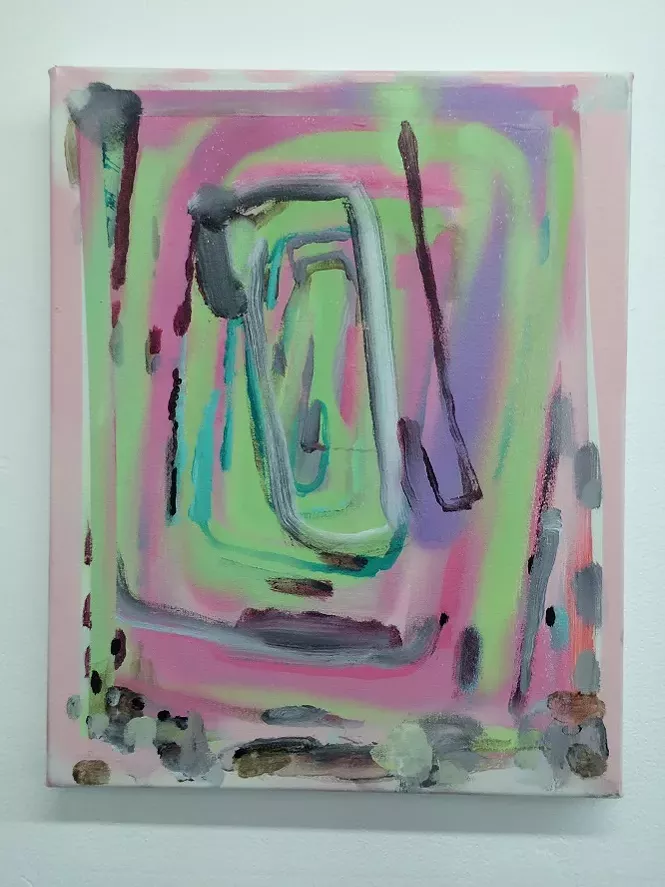 What was it like for you during your college years honing your craft and learning other genres?
Once the interest in painting really crystallized, I found out about the Studio School, in Greenwich Village, and decided to make the move to NYC. Columbia had been a broader undergrad experience for me, with courses in a range of studio areas around the focus on photography. But at the Studio School, it was eight-hour days, half spent painting and half drawing, with art-history talks at lunch and then visiting lectures from artists,
critics
and writers two nights a week. Those evening lectures could bring just about anything to the table, but the days were really focused and immersive, so didn't really emphasize a broad look at contemporary art. More like, at least for me, a "monastic" drawing and painting life. It was really only at grad school at Indiana University that I was challenged to think more broadly, to confront the role of painting specifically in contemporary art, take responsibility for that. That was really exciting, freeing, and scary, too. It sounds funny, but in lots of ways, I got much more connected to contemporary art in Bloomington, Indiana than I had been when in New York just a year earlier.
What eventually brought you to Utah, and what made you decide to stay?
I was incredibly lucky to be able to move right into a teaching position here at Weber coming out of grad school. I came out for the campus interview, was blown away by the faculty I met, so it was a pretty easy decision to make the move with my family. We've really never looked back.
How was it for you breaking into the local art scene?
It took that first year or so to get my bearings with teaching, life, etc., but I began to come down to exhibitions, open studios, museums in Salt Lake City and started meeting ambitious and interesting people pretty quickly. I had assumed, I guess, that most of my exhibiting life would be out-of-state, and I still work to be part of the dialog beyond Utah, but I got invited to a show called Postmodern Utah that Jim Edwards curated at Salt Lake Art Center (now UMoCA), which was a great opportunity for me. In fact, I remember that I first met Adam Bateman, Director of CUAC, at that opening, and I have been a friend, supporter, fan and showing artist at CUAC ever since, [first] in Ephraim and of course now in Salt Lake.
What's the process for you in creating a new piece? Is there any formal plan you have in mind as you create, or is it all spur of the moment?
These two seem to me closely-related questions, and part of a statement I wrote a couple of years ago might address them. There I talked about starting a painting...."...with something close to what Frank Auerbach once described as 'a lump' in the mind…something vague, unformed, but unyielding and demanding to be paid attention." Though it can cause some anxiety when beginning new work, I am pretty used to this state of things. Until I begin to work with that first gnawing impulse, nothing is going to happen. Once that first set of structures is there, I know that a big part of the process is going to be to undo, to cancel, at the very least to push around most of the early decisions in the painting, leaving them basically unrecognizable."
What's it been like for you getting shown around the U.S.?
This is something you just have to keep working at, sending the work out, making contact, keeping aware of what is happening in cities like L.A. and New York, of course, but also remembering that there are incredible people in this field outside those centers, too.
As we've mentioned before, your day job is teaching at Weber State as part of the art department. What's it like being a part of their program?
It's amazing, and for me, the atmosphere of the university really supports my work in my own studio. The faculty at WSU are really strong in their respective fields, showing nationally and internationally. That keeps you on your toes, and the students do, too. We keep things very collaborative and collegial, not just among faculty but also with the students, and I think that keeps things vital and moving.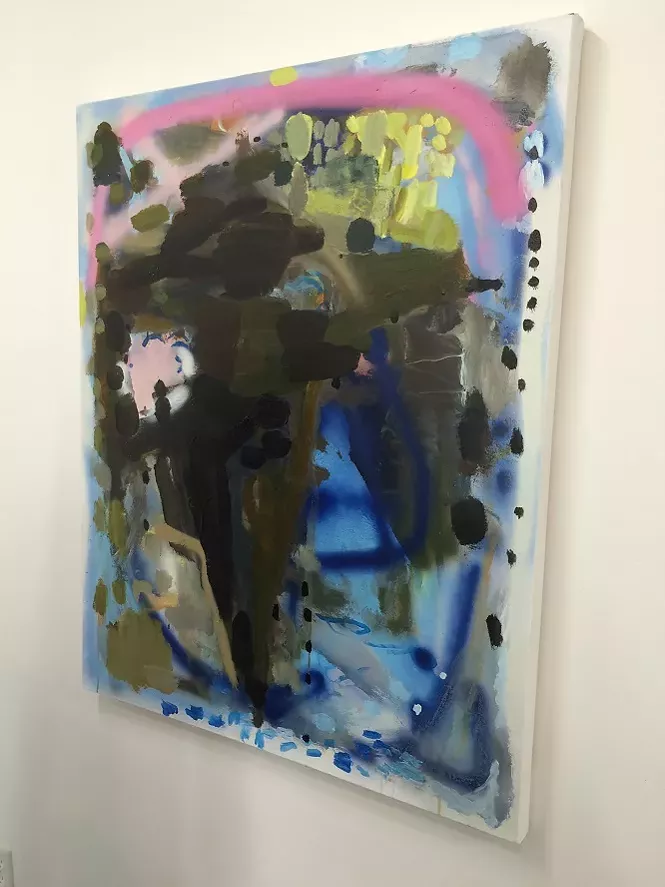 Tell us about the works you have on display for this month's Stroll.
What I said above about my work in general still holds. I have to be ready to handle the conversation/argument I get into with myself. This is definitely true for the pieces in the CUAC show. I'm thinking a lot now about the limits of my knowledge, of art and of the world, and how the extent to which art can respond to and impact the contemporary world—and so there is this guiding idea about the periphery of the picture being the place where things really happen, the pictures determined by those edges. I'm thinking about human ambition, politics, and hubris. My work is not purely formal, at least not to me. These paintings are actually pretty direct responses to our moment of politics and societal change, and I hope they are read that way on some level.
How as it been working with CUAC for this dual exhibit with Fran O'Neill?
Fran is a very dear friend, and it is an amazing chance to show with her. These really are two solo shows, but I think the connections and may be more important the contrasts, even between two "abstract painters" will be an exciting dynamic to experience. I'm looking forward to seeing our work in close proximity like this.
What's your take on the local art scene these days?
It's energetic and heading in the right direction. The art world is increasingly interconnected, and we have international-caliber artists working right here—but we also have UMOCA, the UMFA, WSU's Shaw Gallery, BYU's MoA, CUAC, and others bringing global art to us. Add to that the growing commercial gallery scene, artist-run spaces, and pop-up galleries, and it's a great time to be part of that picture.
Are there any artists you've been enjoying lately that you recommend?
That's a tough one, mainly because the answer could go on and on. But if I am just going to mention some painting that is in my head right now: Nicole Eisenman, Albert Oehlen, Sarah Cain, Ryan Mosley, Keltie Ferris, Joanne Greenbaum and Daniel Richter.
Is there anything you believe could be done to improve things around Utah's art culture?
I think that many constituencies in the state are increasingly understanding that art and culture are real drivers of the social, intellectual, and even economic health of the community, and I hope that understanding continues to grow.
What can we expect from you over the rest of 2016?
I have a solo exhibition upcoming at Beaux Arts des Ameriques in Montreal, Quebec this fall, and will also participate in the Biennial Faculty Exhibition at Weber State's Shaw Gallery, opening in early September. I am really looking forward to seeing that show, seeing what all of our faculty have been engaged with recently. My work is also represented by "A" Gallery in Salt Lake City, so I hope to be able to present some new work there.