Hello to all you coat-wearing, scarf-tying, beanie-donning, shovel-moving, car-slipping, slow-driving, ice-scraping, salt-carrying, winter-has-finally-decided-to-grace-us enthusiasts! I've been working from home lately, so over the past week or so I've been staring out my window with a rum and Coke in the morning and thinking to myself "well, that looks terrible." I've never in my life been so relieved not to have a 9-5 job than when the snow hit this week and didn't seem to stop. Sure, it cleared out most of the pollution, but give it two weeks and we'll get that back. Below are two weeks worth of events for you to beat the cold with. I don't really have anything to match the season we're in, so here's a random photo from Velour's bathroom of a Mother Mary statue being watched over by a paranoid bunny carving.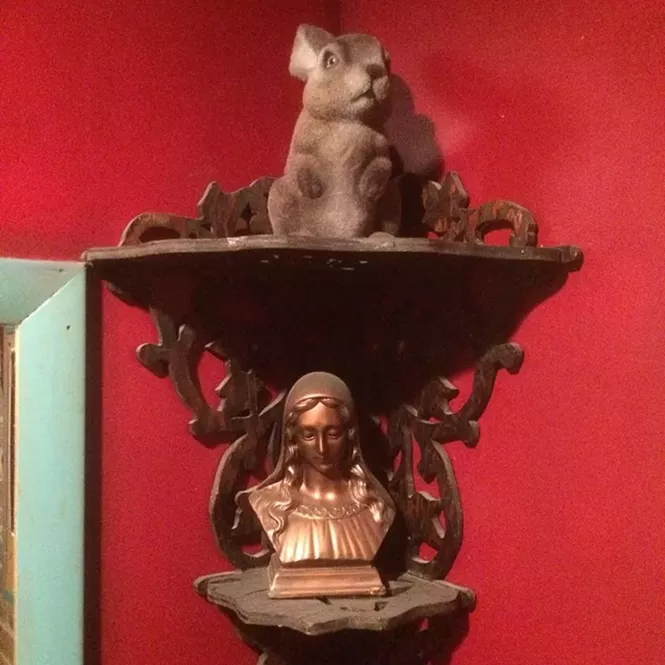 1/8:
Jedi Yoga
at Watchtower Cafe
1/8:
Open Craft Day
at Anarchy Girls Cospace
1/8:
12 Minutes Max
at SLC Main Library
1/10:
Poet Flow
at Lighthouse Lounge
1/11:
FanX 2017 Press Conference
at State Capitol
1/12:
Release the Footage! Rally for the Body-Cam Footage
at Utah State Archives
1/12:
Sugar Slam ft Daniel Garcia!
at Watchtower Cafe
1/13:
Opposition Gallery Series
at Impact Hub Salt Lake
1/13:
The Bee - Women's Work
at UMOCA
1/13:
Full Moon Ritual
at Crone's Hollow
1/14:
LEGO World Family Festival
at The Leonardo
1/14:
Infinite Possibilities Higher Consciousness Expo 2017
at Golden Spike
1/14:
The Trial of Joseph Smith
at Sugar Space
1/14:
Improv for Planned Parenthood
at The Comedy Loft
1/18:
End Of The World Party
at Urban Lounge
1/19:
2017 Sundance Film Festival
at Various Venues
1/20: Salt Lake Gallery Stroll at Various Venues
1/20:
Slamdance 2017
at Various Venues
1/21:
Street Fighter V Tournament
at GameTyrant
1/21:
STEM EXPO
at South Towne Expo Center
1/21:
2017 Clean Air, No Excuses Rally
at State Capitol