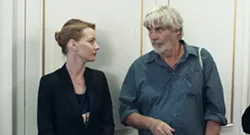 Two Best Foreign Language Film Oscar nominees and the Oscar-nominated documentary shorts come to town, along with a trio of multiplex releases featuring broad comedy, rampaging monsters and eels (not all in the same movie).
Maren Ade's sweet, weirdly hilarious
Toni Erdmann
(pictured) takes a familiar What Really Matters premise and crafts a unique portrait of a father/daughter relationship. Fellow Oscar nominee
The Salesman
(from previous winner Asghar Farhadi) presents another one of the filmmaker's trademark morality tales, this time wrapped up in victim-blaming and masculine pride.
The Great Wall
may be a goofy monster movie, but it's a rare one that's pretty gorgeous to look at.
Eric D. Snider finds
Fist Fight
bringing enough cartoonish mania to its premise—two school teachers (Charlie Day and Ice Cube) priming for an after-school brawl—to overcome its simplistic, potty-mouthed script.
MaryAnn Johanson celebrates the wide range of terrific works available among the
2017 Academy Award-Nominated Documentary Shorts
.
In this week's feature review, Gore Verbinski's impressive visual style collides with his tendency towards excess in the audience-alienating
A Cure for Wellness
.