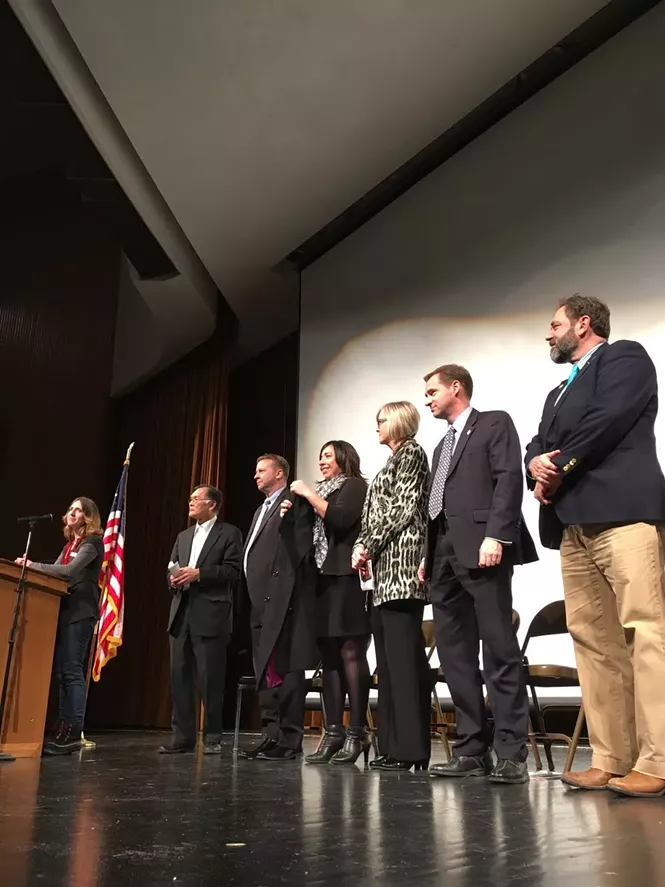 DW Harris
Legislators at the Town Hall for All
Here's an amusing series of events:

1) Rep. Jason Chaffetz, R-Utah, hosts a town hall meeting earlier this month.
2) The crowd asks tough questions, relentlessly boos his answers, and demands he cease being an entrenched partisan.
3) In the days following, the Utah Republican Party suggests politicians hold off future town halls.
To save face, Chaffetz claimed after his town hall that his detractors were paid, out-of-state infiltrators, though he's since clarified that he believes at least some of the protesters were non-Utahns.
It seemed as though the political climate—reminiscent of the same combustible groundswell that fueled the tea party movement around 2008—now had officer holders hiding away from the public they are charged to serve.
But Utah's vocal citizenry wasn't going to let that detail keep them from engaging their elected representatives. A Friday night crowd packed Cottonwood High School for A Town Hall for All.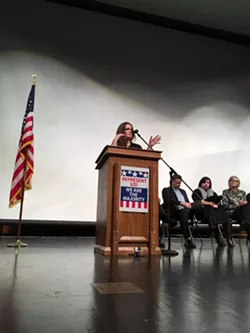 DW Harris
Madalena McNeil
The event, which had more than 30 co-sponsors, started as a call for public accountability but morphed into a movement of empowerment, says Utahns Speak Out organizer Madalena McNeil. Days leading up to the town hall, residents were encouraged to submit electronic comments or questions posed to Utah's delegation.
"The goal is to empower citizens and encourage people to be engaged in the civic process," McNeil said in a phone interview.
With input from Friday's event, along with electronic communications, organizers will compile a list of about 10 crowdsourced questions to pass along to senators and congressional representatives.
Seven state legislators spoke on the topic of civil responsibility and promoted a few of their bills.
Rep. Brian King, D-Salt Lake City, said he was encouraged by the political enthusiasm this season, highlighted by rallies such as the Salt Lake City Women's March.
"This is the way we're going to change for good for the state of Utah," he said.
Rep. Timothy Hawkes, R-Centerville called Friday's town hall the "biggest and loudest and most enthusiastic positive town hall I've ever been to."
The event was bipartisan by design, and indeed, both pink knitted "pussy" caps, as well as crimson Make America Great Again-emblazoned trucker hats could be spotted in the crowd. More folks present appeared to identify with left-leaning.
A representative from each co-sponsor—the American Civil Liberties Union, Utah Rivers Council, Constitution Party of Utah, and the Lupus Foundation of America Utah Chapter, to name a few—took one minute each to tell the crowd their brand of advocacy.
Kathie Allen, a member of the Fair Redistricting Caucus of Utah said although redistricting doesn't demand attention and headlines, her group is working to change that perception.
"We are making it sexy by emphasizing it is about power. Our state has been drawn and quartered," she said.
The evening concluded with a line of constituents who shared concerns or stories of hardship regarding immigration, child support, public education and other topics. Afterward, attendees were encouraged to mingle.
One resident hoped to ask Utah's elected officials why they voted for Betsy DeVos, newly appointed Education Secretary. She asked whether those members of Congress will listen to constituents "or will you continue to always vote along party lines?"