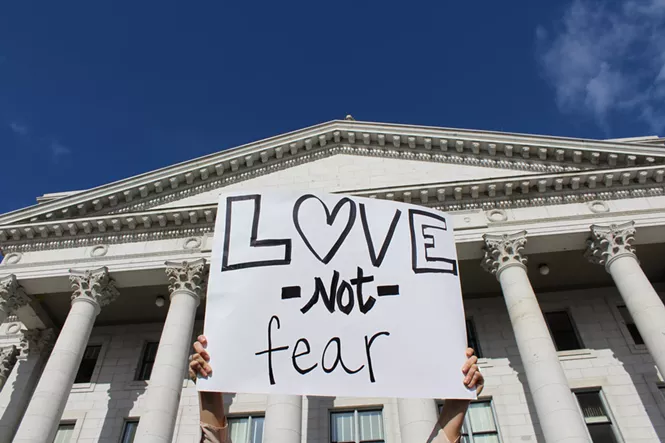 Utah's 2017 Legislative session wrapped up at Midnight on Thursday. Here's a look at the liquor bills that have passed this session and will become law after the governor signs them:
Zion Curtain
Legislators passed a bill allowing restaurant owners to do away with barriers shielding bartending from patrons. That's as long as they have a ten-foot buffer zone barring anyone under age 18 from sitting near the bar.
The so-called "Zion Curtains" went up in some restaurants under a 2009 compromise law that loosened restrictions on bars in the Beehive State. Restaurants said the wall was costly and a waste of space.
Orchestrators of the law counter that the partitions prevent eateries from having a bar-like atmosphere and limits children's curiosity about booze.
The new bill allows restaurants to take down the walls if they instate the buffer, dubbed by some as a "Zion moat."
Lower Legal Limit
Utah will have a new legal limit for drunk driving. Drivers who have a blood-alcohol level of 0.05, instead of a 0.08, will be arrested for drunken driving. The intention is to prevent anyone who's had even one drink from driving afterward.
Women can reach 0.05 BAC with just one drink, and men with about three.
The new limit isn't an invention of the Utah Legislature. Even though 4 in 5 lawmakers are Mormon and ostensibly abstain from drinking alcohol, they got the idea from federal transportation officials. The National Transportation Safety Board has urged the 0.05 limit for years, saying it would make roads safer. But Utah will be the first to adopt the new level.
Some of the other issues that took center stage during this session:
Air Quality
A bill requiring emissions testing for cars taking diesel fuels at all testing locations also has passed, and has support of the governor. Utah's Division of Air Quality believes unchecked diesel vehicles from are a significant contributor to Utah's sooty wintertime air.
"No Promo Homo"
The Legislature scrapped a Utah law criminalizing "advocacy of homosexuality" in schools, after Equality Utah sued the state saying the law discriminated against gay, transgender, and gender-nonconforming students by stigmatizing them.
Public Lands
Utah lawmakers approved a pair of resolutions asking federal officials to undo the Bears Ears National Monument declared near Bluff in December, and to shrink the 21-year-old Grand Staircase-Escalante monument over the opposition of state Democrats.
The resolutions are symbolic and lack the force of law. But they didn't stop the Outdoor Retailer show from leaving Utah, citing the state's policies on public lands.
Safety Emissions
Lawmakers also have done away with a requirement for car safety inspections, saying they were cumbersome and unnecessary for Utah drivers.
Rape Kits
A proposal to fund rape-kit testing of all the evidence kits in Utah also won approval.
HIV
A bill criminalizing sex without first disclosing HIV has passed the House but had not made it to the Senate as of Thursday afternoon.
School Grading
Teachers are toasting the Legislature's decision to scrap a much-debated grading system used to evaluate teachers in the Beehive State. Lawmakers originally hoped the program would make schools and instructors more accountable. But school and teacher's union leaders have said it puts too much pressure on test scores and not actual learning.