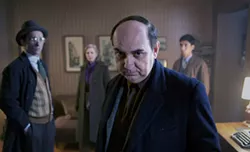 All possible multiplex challengers run to get out of the way of King Kong, while art house offerings profile a Chilean poet and Turkish cats.
Director Pablo Larraín (
Jackie
) offers up another unconventional biopic in
Neruda
(pictured), and once again stumbles a bit down his unique path. The documentary
Kedi
explores street cats in Istanbul, Turkey in a way that highlights human kindness as much as cute animals.
In this week's feature review, MaryAnn Johanson delights in the wild mix of horror, dark comedy and giant monster battles in
Kong: Skull Island
.