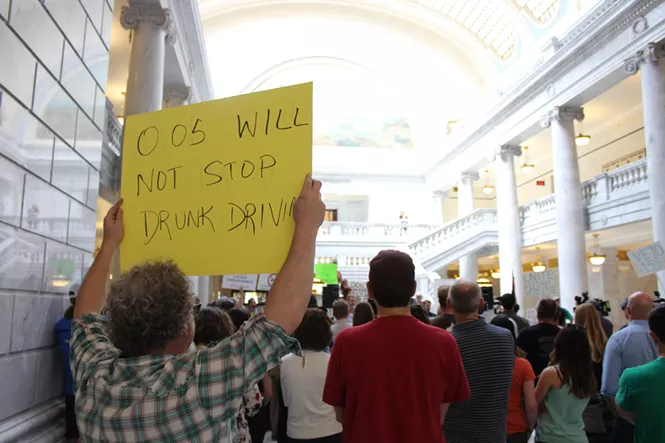 Enrique Limón
A Protester holds up an anti-HB155 sign last Friday at the Capitol.
Deciding whether to order a cocktail with dinner tonight? You should probably do it while you can.
Not long after Gov. Gary Herbert announced on Thursday that he planned to sign a bill that will lower the DUI limit in Utah to .05, the news started trending across social media. The proposal is seen by some netizens as a way to punish and discourage drinking altogether. It won't go into effect until Dec. 30, 2018.
This move is the latest in a history that sets Utah apart when it comes to liquor laws, some of which were examined this week in a City Weekly article. But while supporters of the measure agree that a .05 blood-alcohol level is unprecedented in the U.S., it's not uncommon worldwide to find BAC limits lower than the standard .08.
Herbert, who recognizes Utah has the lowest DUI rate in the nation, says the state has a "zero fatalities" goal, and lowering the legal limit to .05 will only help in that regard.
"After a thorough analysis, I believe that it is good policy and that this new policy will, in fact, save lives," he said at his monthly news conference. "I think it will move us closer to have safer streets and a better environment for us to in fact conduct our business and raise our families and enjoy the beauties and wonders of Utah."
The restaurant industry has emphasized it does not condone drunk driving and that its opposition should not be misconstrued. The Salt Lake Area Restaurant Association staged a rally last week at the Capitol urging the governor to veto House Bill 155, a piece of legislation it expects will harm tourism.
SLARA Executive Director Michele Corigliano argued that some patrons who enjoy a drink with their meal won't be impaired but still risk getting busted and charged with a DUI.
The American Beverage Institute, which ran full-page ads in both daily newspapers, released a statement Thursday condemning the governor's decision.
"It's a sad day for Utah," it reads. "Governor Herbert's decision to sign Utah's .05 legislation will not only harm the people of Utah, but cripple their restaurant and tourism industries. A 120 pound woman can now have little more than a single drink before being subject to arrest, $10,000 in fines, attorney fees, increased insurance costs, and the social stigma of being labeled a 'drunk driver'—which will lead many to forgo that glass of wine with dinner."
The American Beverage Institute went on to say that Utah's focus does nothing to crack down on "hardcore drunk drivers who cause the great majority of fatalities on Utah roads."
Citing the National Transportation Safety Board's recommendation of lowering the BAC limit to .05, Herbert said he supports the bill "with some caveats." The Legislature has been notified that Herbert intends to call a special session in late summer to tweak the bill.
"I think this will be an opportunity for us, in fact, to get to the right place for Utah when it comes to our blood-alcohol content when we drive on the roads of Utah," he said.