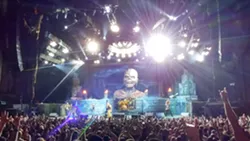 In the current issue of
City Weekly
,
I give several reasons why Iron Maiden is excellent
. On Friday night, I saw the band live for the first time, and now I have a zillion more. Except they all amount to the same basic "Iron Maiden is excellent because they're Iron Maiden" circular logic. Nothing more really needs to be said, because—as we like to say online—reasons.
But seeing Maiden live for the first time—after only reading about them in magazines like
Circus
and
Hit Parader
as a kid, and going through junior high, high school and early adulthood hearing everyone from stoner classmates to Arctic Circle bosses rhapsodize about the shows the morning after they happened—it's everything they said it would be, and everything I hoped it would be. Other than the fact they didn't play "Run to the Hills" or "2 Minutes to Midnight." But that's just it: Iron Maiden was so good that night under the stars at Usana that it wasn't that disappointing.
When singer Bruce Dickinson came onstage in a hooded robe, hunched over a sacrificial altar before a huge tapestry depicting Mayan temple ruins (keeping with the theme of their current album,
Book of Souls
), I wanted to weep. I love Mexican mythology, for some of the same reasons I love Iron Maiden—the lore, the science, the brutality and creativity all amount to Ed-ifying badassery. So as the show progressed—and classic Maiden songs blended with new ones and the show unfolded like a well-paced film—I was a 45-year-old Beavis-as-Cornholio. On the inside, anyway. I wasn't really gonna cry (although I'm sure my fellow Maiden fans would forgive such a thing in this case).
Except when, during a bathroom/beverage/churro break, I missed the opening of "The Trooper." I gave myself 50 mental lashes for that one, but I still made it back to my seat in time to see most of the song. I made sure, imaginary or not, that I felt every one of those lashes.
The rest of the show raced by me. But I had time to ruminate on the teamwork of guitarists Dave Murray, Adrian Smith and Janick Gers, and how they masterfully chose combinations of Strats and Les Pauls for sublime, perfectly-calibrated blends of fat tones and massive crunch. And the lyrics to "Fear of the Dark," which could've come straight from the heart of a younger, night-phobic me.
When the band's mascot Eddie made his walk-on appearance as a Mayan warrior in full paint, I took pictures like a tourist at Chichen Itza. When Eddie reappeared in full-on, 20-foot-tall animatronic resplendence behind drummer Nicko McBrain's riser, I really worked that shutter button. Between that and the appearance of a goat-like Satan just as large as Eddie during "The Number of the Beast"—and a few selfies with my buddy Jono and Sensei Bill Frost, who hired me at
City Weekly
16-17 years ago, and last saw Maiden in 1982 (lucky!), and was as stoically stoked as I was—I ran out of internal and SD memory. But my own hard drive will long retain memories of this night.