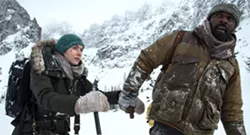 An intriguing mix of options—from blockbuster sci-fi sequel to survival drama, from documentary biography to historical biopic—makes for a busy early-fall weekend at local movie theaters.
Blade Runner 2049
tries fascinating new things, while also remaining a bit too beholden to its predecessor. Memory and identity also play a role in the sci-fi theatrical adaptation
Marjorie Prime
, which remains a bit too chilly in its philosophical musings. Pioneering activist Dolores Huerta gets a respectful but not worshipful documentary biography in
Dolores
. Lively tunes and an unexpectedly trenchant allegory for current politics give a kick to
My Little Pony: The Movie
. The fact-based feel-good family story of
The Stray
gets lost in its determination to emphasize goofy comedy.
David Riedel is grateful that attractive stars Idris Elba and Kate Winslet help distract from the absurd plot of
The Mountain Between Us
(pictured).
MaryAnn Johanson celebrates the return of Judi Dench to playing Queen Victoria in
Victoria and Abdul
, a charming tale of friendship and colonialism.
In this week's feature, plan your scary October movie-watching around the Tower of Theatre's month-long
"Tower of Terror" program
.