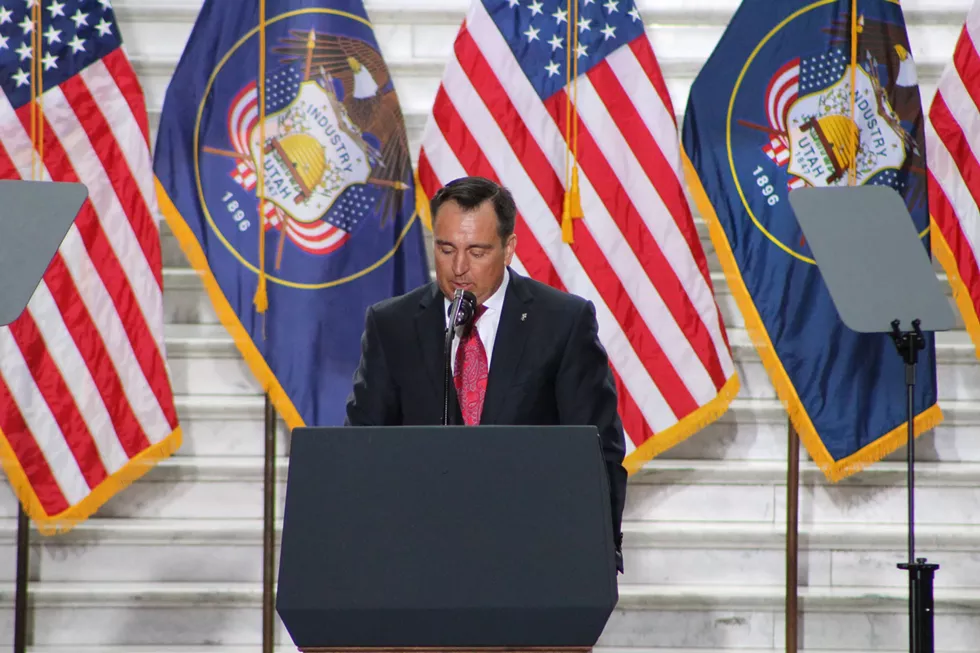 Enrique Limón/FILE
Utah House Speaker Greg Hughes
When House Speaker Greg Hughes pitched the state's plan to help folks out of homelessness, he got broad buy-in up until he approached the part where it's time to figure out where low-income housing should go.
Assisting homeless people who are trying get off the streets is complex, but one component is the need for low-income housing.
"At every single one of these community meetings, all the goodwill that we've had comes to a screeching halt when I say, 'How about here? Can we do it here?'" he said. "As long as you're talking in the macro, everyone believes in mixed-use and transitional housing. As soon as you suggest … 'right here,' you get immediate pushback."
The Speaker posed the problem of community support to two visiting experts who have extensive experience in social services across the country: Mary Hauser whose résumé includes working in Massachusetts as a behavioral health and addiction medicine expert, and Dr. David Smith, founder of San Francisco's Haight Ashbury Free Medical Clinic.
They spoke at a meeting Thursday morning inside the Utah House of Representatives building.
Hauser said in Boston, authorities also adopted a scattered site model for homeless folks based on demographics. But before they set up a resource center, service providers knew they needed community approval.
"I would seek out that one strong advocate in that community," she said. "The mom or dad who lost a child to an OD; the parent who couldn't understand why their child was struggling and later found out they lived in a tent in the park somewhere."
In Massachusetts, Hauser saw a shelter open an in-house detox center. Prior to this, the practice had been to turn away those who were intoxicated or high. Communities there, she said, also found places where homeless folks can escape extreme cold or heat.
Smith walked through the history of criminalization instead of treatment as it deals with narcotic abuse. He noted that when he first started helping people struggling with addiction, he did so in defiance of the law.
"The Health Department fought us. … They said, 'You can't treat this population. We want you to deny them health care, so they'll go away,'" he noted. "That's where I come up with the passion that healthcare is a right not a privilege."
Hughes, who announced this week that after 12 years in the legislature, he didn't intend to run again, has become enmeshed in the homelessness issue. He opened an office across from Catholic Community Services on Rio Grande Street, an area that over the last decade devolved into a mass congregation of homeless bodies where dealers hide out and peddle narcotics.
"I didn't expect to be as involved in this as I am," Hughes said. When he took meetings, even if they didn't pertain to homelessness, Hughes scheduled them at his Rio Grande office so those conferenced with could see the brazen drug activity and the harm it caused to people suffering with addiction.
"We had some entrepreneurs on the drug trafficking side that were rolling spice cigarettes as fast as their fingers could move who would watch us watch them," he said.
A collaborative city, county and state initiative called Operation Rio Grande, focused on arresting dealers, offering drug treatment or mental health-services to those in need, and transition other folks into housing.
To crack down on the crime, Hughes suggested police sweep the area with trained canines to root out methamphetamine and heroin. But he received pushback that "the block" would feel like an intimidating prison yard.
"So, we came up with an idea. We said, 'What about a springer spaniel? What about a cute dog?'" he said, "like, one that you'd want to come up and pet."
And, according to Hughes, over the last few months, a springer spaniel named Ike has been trained for that purpose. "This is what I love about him. When Ike smells drugs, it's like he's chasing a tennis ball. He is so excited. He is going to run up to you and wag his tail and lick you," Hughes said. "He's narcing you out."