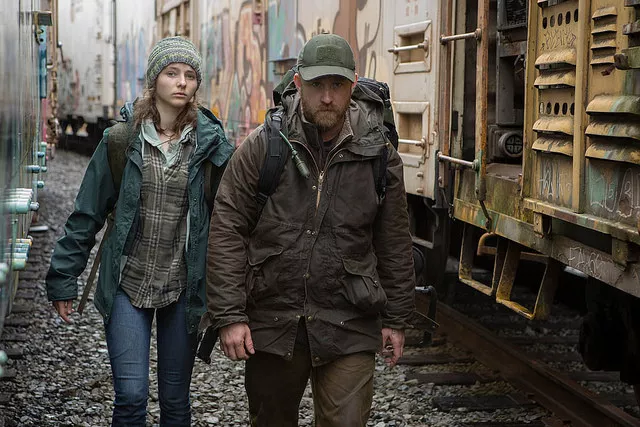 Leave No Trace
[Premieres] ****
This is a true rarity: a film filled with nothing but good people. Indeed, I'd struggle to name another such adult film with a conventional number of characters and real conflict. When you think about it after, you realize the conflict here is akin to that of a conventional teen coming-of-age story. But it doesn't feel that way as it unspools, so committed is director Deborah Granik to naturalism, to observation, to process and to life as lived daily, and so resistant is she to melodrama, sensationalism and sentimentality. There is never a moment when we doubt that Marine veteran father Will (Ben Foster) and teen daughter Tom (newcomer Thomasin Harcourt McKenzie) love each other, and have carved out an existence apart from society—homeless but handling it in the forest. They've chosen to live outside society, and Granik doles out details of that rejection perfectly without overemphasis—even the strangeness of mayonnaise and cheese-singles! The therapeutic-administrative state intrudes, but its tentacles aren't petty tyrants, and are trying to help the pair. But it is not good for man to be alone, and Tom begins to connect to the outside world—school, a trailer community. Will, however, wants nothing to do with society (we're given clues that thankfully never become the movie's subject) and constantly moves. How this dynamic ends is truthful and heart-breaking, and utterly earned. (Victor Morton)

Eighth Grade
[U.S. Dramatic] ***1/2
Online video celebrity-turned-standup comedian Bo Burnham made his name by mocking absolutely everything, so it's borderline shocking that his debut as writer/director is a deeply compassionate take on contemporary adolescence. Elsie Fisher stars as Kayla Day, who is wrapping up the final week of middle school as a nearly-invisible, deeply insecure girl, but trying to change all of that as she prepares to enter high school. While there might be nothing earth-shaking about suggesting that eighth grade is a miserable time for most American humans, Burnham's direction captures something piercingly insightful about the unique challenges of a generation immersed in social media, where your popularity is instantly quantifiable by liked Instagram posts and shared videos. And he offers unique spins on familiar types like the queen-bee bitch and the cute-but-vapid object of our protagonist's attentions. Mostly, though, Burnham commits fully to Kayla as a character, allowing Fisher's natural charms to permeate a young woman who covers her bathroom mirror in Post-It note affirmations, yet finds her days filled with reminders that she's never as funny, or desirable, or cool as she desperately wants to be. It's a lovely piece of acting, in which Kayla's attempt at being friendly with the popular girls fails miserably, but her "nailed it" smile makes you realize how much the act of trying can be an act of courage. (Scott Renshaw)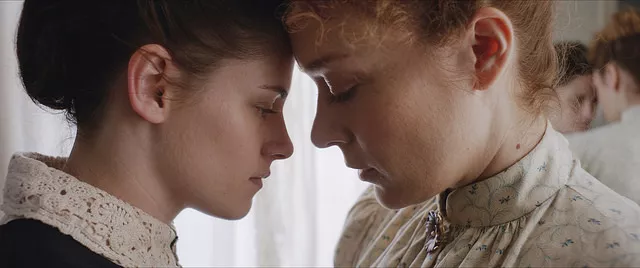 Lizzie
[U.S. Dramatic] **
Lizzie Borden took an axe/But there are things this movie lacks. Director Craig William Macneill and screenwriter Bryce Kass take on the story of the infamous accused parent murderer (Chloë Sevigny) in 1892 Massachusetts, exploring her life under the thumb of her domineering father (Jamey Sheridan) and her relationship with the wealthy Borden family's new Irish maid, Bridget (Kristen Stewart). Macneill goes heavy on the Gothic horror vibe from the outset, with ominous music and plenty of people creeping through the dark while holding candles. Meanwhile, Sevigny digs into the role of a woman who's a unique combination of strong and fragile—prone as she is to "spells"—at a time when both extremes could be used against women. Monstrous masculinity becomes the over-the-top villain here, however, in a way that makes all of the nods to female empowerment—including the sexual connection between Lizzie and Bridget, giving the crime a Lizzie-pold and Loeb vibe—feel more like opportunistic posturing than a genuine piece of insight. By the time we get to the gruesome staging of the actual murders,
Lizzie
feels like the material of a grim little genre picture covered in so many layers of commentary on class and gender that the whole enterprise winds up feeling more oppressive than liberating. (SR)
The Death of Stalin
[Spotlight] ***1/2
Yeah, yeah, Molotov wasn't foreign minister in 1953, Zhukov didn't lead the Red Army then and Beria's fall took months. But The Thick of It and Veep creator Armando Iannucci makes political farces that get the spirit and themes right, and are more fun than, say, Downfall. The opening scene shows Stalin demanding an immediate recording of a Radio Moscow Mozart program. It had been performed live, and nobody dares tell him this. The resulting effort to re-create the concert, to be recorded anew, is a classic opera buffa showcase, while also telling you everything necessary about how fear of Stalin defined Soviet life. Meanwhile the secret police round up people, and gunshots periodically go off. I don't mean to suggest that The Death of Stalin isn't enormously funny, and very much in the style of Iannucci; Jason Isaacs has a ball portraying Gen. Zhukov as a Peter Capaldi-esque fixer, and the "confusion" surrounding, for example, "all of you" and "no problem" is verbal comedy as its best. But it is a little more serious than I expected, as Khrushchev (Steve Buscemi; no, really … the casting throughout is physically wrong but psychologically perfect) explains to Svetlana Stalin that these ugly means are how good things have to be done (under a tyranny, anyway). Iannucci morally doubles down with the last shot … of a young Leonid Brezhnev. (VR)
Skate Kitchen
[NEXT] ***1/2
For around the first 20 minutes of this debut fiction feature from Crystal Moselle (
The Wolfpack
), I thought I was about to see greatness, before an unfortunate narrative detour leaves it in the enviable position of being merely really good. It's the story of Camille (Rachelle Vinberg), an 18-year-old living with her single mother in Long Island, spending her isolated summer days focused on skateboarding—until she finds a posse of other girl skaters via social media, and ventures into the city to connect with her tribe. Moselle brilliantly constructs the male-dominated skate world that frustrates Camille, and Vinberg's performance as a uniquely naive young woman is rich with the giddiness of discovering true friendship. The director complements the character work with a dizzyingly fluid way of capturing these women in exhilarating perpetual motion, with every musical choice providing a perfect emotional accompaniment. It's disappointing then, that the story opts to focus for much of its second act on Camille's crush on her grocery store co-worker (Jaden Smith), generating an internal countdown clock to when the inevitable "chicks before dicks" drama will commence. Still, there's a wealth of visual imagination on display, and a strong exploration of someone deciding if she wants to be one of the guys, one of the girls, or just herself. (SR)
Tiempo Compartido (Time Share)
[World Dramatic] ***
Sebastián Hoffman teases for so long with the promise of strange secrets that it's probably inevitable that the payoff would feel like an anti-climax. He sets his story at a Mexican luxury resort called Vistamar, where Pedro (Luis Gerardo Méndez) and Eva Alvarez (Cassandra Ciangherotti) have come with their young son for a bargain weekend to hear a time-share pitch and "heal" as a family. Hoffman plays coy with the nature of that healing for nearly the entire film, as well as the connection between the Alvarezes and two employees at Vistamar, estranged couple Andrés (Miguel Rodarte) and Gloria (Montserrat Morañon), whose story mostly runs parallel. There's plenty of intriguingly strange stuff in the interim, fortunately, including the clerical error that forces the Alvarezes to share their villa with another family, and Andrés's hallucinations of flamingos. Méndez makes for a great put-upon protagonist—his ineffectuality emphasized by the walking cast he's wearing when he arrives—as whispers of conspiracy swirl through the narrative, but ultimately the skewering of corporations' efforts to brand themselves as caring about you is fairly superficial. The creepy, digitally-manipulated images that play over the closing credits, though—that's the stuff of nightmares. (SR)
The Cleaners
[World Documentary] **
The title promises a better film than the one we get. When the focus is on several Philippines-based "cleaners" for Internet giants—deciding whether certain images and videos meet their content standards—I was interested. Anonymous and sometimes faceless, they have a POV not often seen: clearly exploited (technically they work for subcontractors, the tech giants outsourcing their dirty work for cheap), their souls damaged by their work (looking at images of sex and violence all day), and sometimes hilariously misinformed or malformed. But the directors decide that wasn't enough, and have to make a grand-statement issue documentary about how The Internet Is Killing Us, and It's The Corporations' Fault. Yawn. If you have any intellectual sophistication at all, you can tell from the choice of talking heads and clips what Idea X the film-makers are pushing you to think. I react by mentally arguing with such films for Idea Y and finding the inevitable intellectual holes, e.g., if these Filipinos are such bad censors, who are the good censors with no biases (or maybe just "my" preferred biases)? (VM)
Check out our daily Sundance 2018 dispatches here.