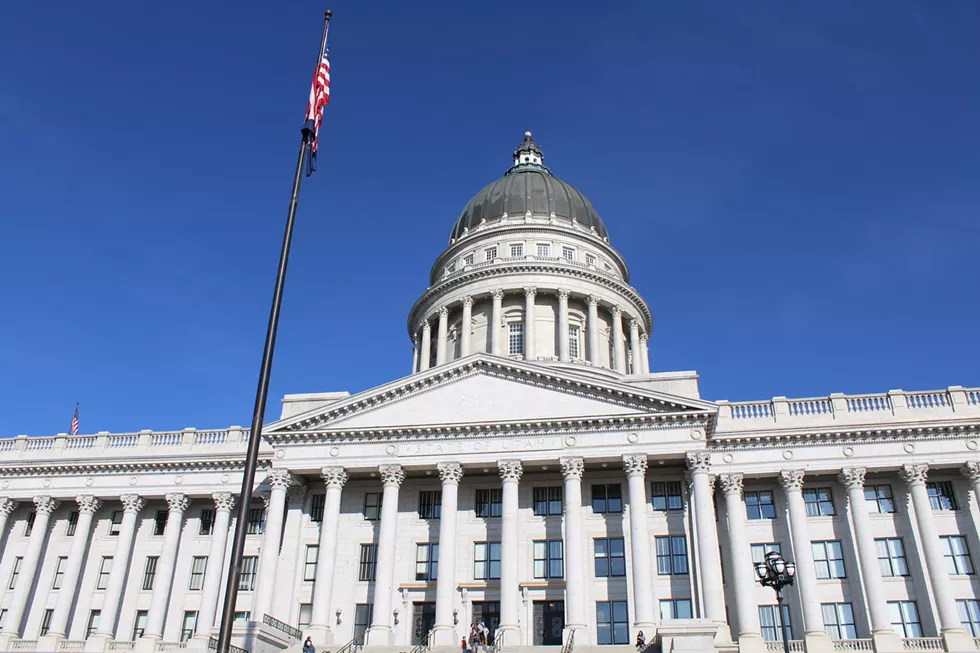 Just three weeks remain in this year's legislative session. Yep, you read that correctly. Three weeks. The session's final day, March 8, is coming up quicker than you know it, so let's see what's transpired so far.
If you were hoping legislators would take steps to address some of the state's greatest hits, well, you'll need to keep waiting. Surprise, surprise.
On Thursday, Gov. Gary Herbert said he doesn't expect the state to repeal or delay the pending law that lowers the legal blood-alcohol limit for driving from .08 to .05. The law will take effect on Jan. 1, 2019.
"We're not saying people can't drink," Herbert said Thursday. "You can have access to drink. You can drink till your eyes bug out if you want. We're just saying: don't drive."
As for medical marijuana, the House passed two bills allowing terminally ill patients access to it, but not without a few restrictions. Last week, the House failed to pass HB 197, which orders the Utah Department of Agriculture and Food to grow the marijuana for patients. The bill was brought up again this week and garnered just enough votes, 38, to pass.
Rep. Brian King, D-Salt Lake City, who voted against HB 197, said the bills are too narrow.
"The Legislature is taking baby steps when the people in the state of Utah make it pretty clear they want us to actually take bigger steps in the direction that they want to go," King said on the floor.
Advocates for marijuana access in the state agree.
"Those bills are too little and way too late," lobbyist Christine Stenquist told City Weekly. "Four years ago, we started with small steps and they still haven't done anything for patient research. They're [the Legislature] not wanting to help patients."
Expect the Senate to take those isuues up in committee this next week.
The Legislature is still moving forward on a bill that would ban abortions because of Down syndrome diagnoses. Despite a note on House Bill 205 that questions its constitutionality, the bill has passed the House. Herbert said Thursday that while he is pro-life, he wants to take a closer look at the bill.
Here are a few other items of note:
Environmental stewards
Despite some lawmakers resisting the concept of human-caused climate change, the House Committee on Natural Resources, Agriculture and Environment approved a resolution that "encourages the responsible stewardship of natural resources and reduction of emissions through incentives and support of the growth in technologies and services that will enlarge the economy."
House Concurrent Resolution 7, sponsored by Rep. Becky Edwards, R-North Salt Lake, passed the committee with an 8-3 vote. However, the resolution could have a tough road ahead. It will need to get through the House and the Senate, where legislators approved a resolution critical of climate-change science seven years ago.
The committee also voted 9-3 to skip any action on HCR 1, a resolution that would have recognized that "average global temperature and average Utah temperature have increased over recent decades, and that there is some scientific consensus that a cause for these increases may be human-caused emission."
Not a good sign for HCR 7.
K-9s
The Senate voted 20-6 this week to pass Senate Bill 57, which increases the penalty of intentionally killing a police canine from a third-degree felony to a second-degree felony.
A third-degree felony could result in a five-year prison sentence and $5,000 fine while a second-degree felony could result in as many as 15 years in prison and a $10,000 fine.
Biking
Cyclists, rejoice. The House Transportation Committee unanimously approved HB58 this week. The bill would allow bicyclists to treat stop signs as yield signs and stop lights as stop signs.
The bill's sponsor, Rep. Carol Spackman Moss, D-Holladay, said the bill would allow cyclists to keep momentum and more safely and quickly clear intersections.
Martha Hughes Cannon
If you're wondering what's going on with all the statue talk on the Hill, well it's almost done. The House overwhelmingly approved the resolution that would replace Philo T. Farnsworth's statue with Cannon's in Washington, D.C.
The resolution now moves to the Senate before reaching the governor's desk.