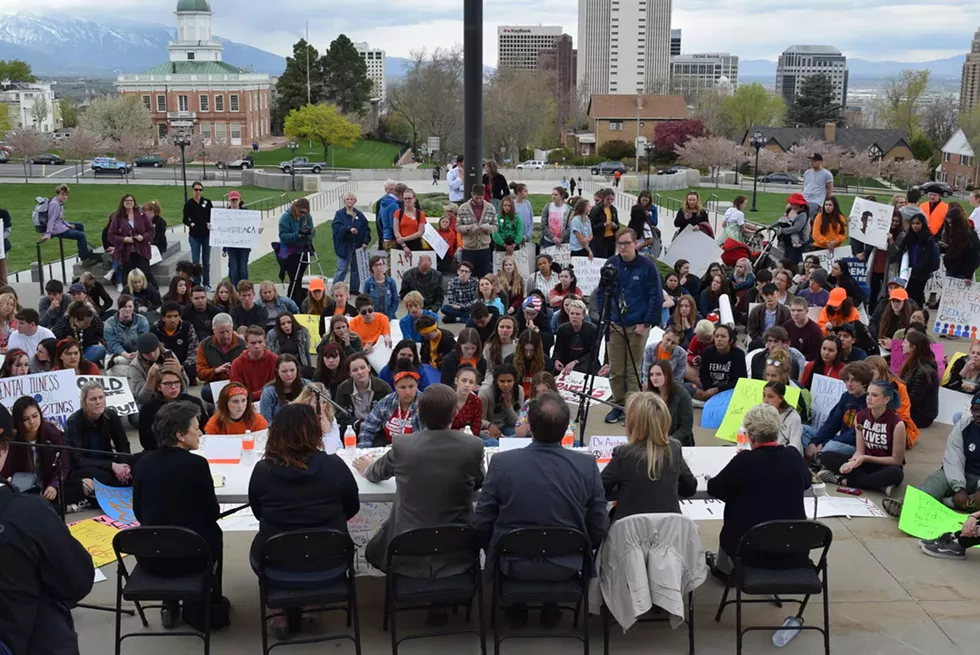 Students from across the Wasatch Front met at the Capitol on Friday afternoon to, in the words of organizer Gracie Shirley, protest "every school shooting that has ever occurred."
"We accept it as normal, but this is not normal. Our current laws are not keeping us safe," she said. "We are numb."



The demonstration was part of a nationwide protest marking the 19th anniversary of the massacre at Columbine High School in which 13 people were killed. "On this day we will not only be paying tribute to the victims of this shooting, but also taking action for common sense gun reform," the Utah School Walkout's website states.
Students from at least eight Utah schools participated in the movement, beginning with a 10 a.m. walkout followed by the Capitol rally, a six-minute-and-20-second "die-in"—to represent the length of the shooting at Parkland's Marjory Stoneman Douglas High School in February—and a panel with five state legislators and Trisa McBride, president and CEO of the James Mason Centers for Recovery.
Students and volunteers were also onsite to register crowd members to vote and pass out postcards to send out to federal lawmakers, none of whom were at Friday's protest.
Participating students demanded that legislators pass bills that prohibit the sale of high-capacity magazines and "assault weapons," close background check loopholes that allow "dangerous people who shouldn't be allowed to purchase firearms to slip through the cracks," institute a waiting period between when someone purchases and receives a firearm, raise the minimum age to purchase firearms to 21 and create a red flag law that allows law enforcement to "seize weapons from those deemed a threat to public safety."



Maren Moffatt, another organizer, said the demonstration was "really powerful" because it highlighted students' common identity. "We're the future, and we're the ones who are going to decide what happens to our elected officials," she said.
Zach Mallender and Sarah Dee, both seniors at Skyline High School, held signs warning representatives to "fear the youth vote" and encourage them to prioritize "kids not guns."
"I'm here because I don't want to see any of my peers get shot," Mallender said.
"I'm just a worried pacifist," Dee said. "I'd like to see less death in general across the world. And, I think this is one area I can make a difference."
The roughly two-hour gathering concluded with a panel that included McBride and Reps. Patrice Arent, D-Millcreek; Angela Romero, D-Salt Lake City; Joel Briscoe, D-Salt Lake City; Carol Spackman Moss, D-Holladay; and Brian King, D-Salt Lake City.
"You have to keep making your voices heard," King encouraged the students. "You have to keep going until you win."
Echoing his colleague, Briscoe added: "Don't give up easily. Keep pushing, please. We need you."


7 slides