Three British soldiers march a young Isaiah Thomas across Scera Park Tuesday afternoon so that he could be judged by a grand jury of his peers to determine if he should stand trial. "Do you lads see what I see?" a Redcoat asks. "There are patriots ahead!"
"Come, my fellow Bostonians, to the South Church!" an American patriot shouts, ringing his bell to draw attention. "They've arrested the printer with no due process!"
Such was the scene at Orem's Colonial Heritage Fest, a three-day living reenactment event that organizers say is the largest of its kind in the western U.S.
"It's the freedomest thing you can do on the Fourth of July," Daniel Pugmire, event co-chair who also plays the town's scribe, says of the festival, which also runs from 9 a.m. to 6 p.m. on Wednesday. Pugmire says the festival brings Independence Day back to its roots, helping those in attendance to learn why we commemorate the holiday and see how we developed values that inspired patriots to rebel against British colonizers.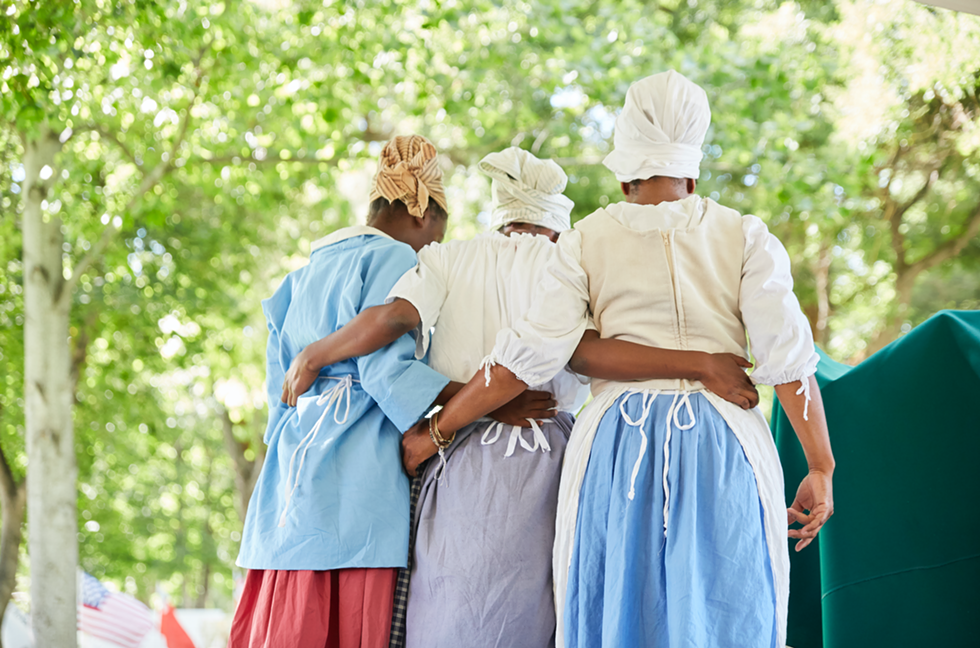 In the spirit of the holiday, festival volunteers dressed up as colonial era common folk and nobility alike—from blacksmiths and bakers to Founding Fathers like Benjamin Franklin, Thomas Jefferson and George Washington—bringing history to life as they engaged with festival goers and partook in public debates about how to shape the Constitution and whether to participate in the Boston Tea Party. Muskets and cannons were fired, as well, and children played games, completed chores and attended school the same way children did in the late 1700s. And, for the first time in the 12th annual festival's history, Ngoma y'Africa, a cultural heritage troupe, performed a short play that showed slaves' involvement in colonial life and the heart-wrenching decision many men had to make, whether to fight with the crown for their freedom—and leave their wives and daughters behind—or sit out and the war and remain slaves.
Dan Shippey, who plays George Washington, walked around the park all day as if he were a celebrity, taking photos and shaking hands with fans. Shippey is well-studied in Washington lore, allowing him to perform what he calls "historical interpretation" when people ask him questions about the war hero's life. "It was just a desire to find a better way to educate," Shippey says of his reasoning for delving so deep into his portrayal.
The historical debates that people can participate in tend to end the same way: patriots still decide to toss thousands of pounds of tea off ships into Boston Harbor; the Constitution is still written with the same rights; and Thomas, the publisher of the Massachusetts Spy newspaper, did not end up facing trial for calling for the Colonial Assembly to replace a royal governor with another who answers to the Massachusetts people.
Gove Allen, who helps set up and acts in the festival, and his family used to attend more traditional July 4 festivities before making the switch to the fest. "Fireworks to us, now seem so trite compared to coming here and seeing how our founding fathers lived," he said.