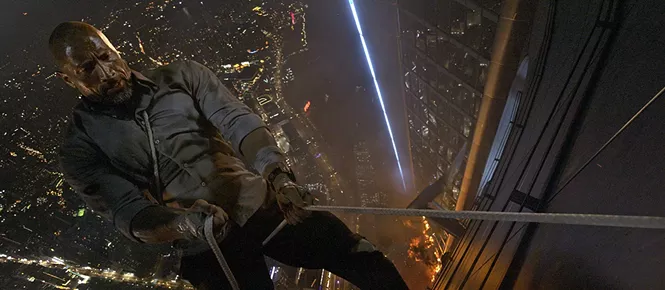 It's Dwayne Johnson to the rescue at multiplexes this weekend, while art house offerings include a bold racial satire, zombie apocalypse and one of the year's best dramas.
Skyscraper
(pictured) showcases the always-likeable Dwayne Johnson in a story that manages to rip off not just
Die Hard
, but a dozen other movies besides.
Hotel Transylvania 3: Summer Vacation
continues a franchise that was never funny or original to begin with.
Leave No Trace
finds Debra Granik diverging radically from her source material for a beautiful father/daughter relationship story.
Sorry to Bother You
showcases wildly imaginative satire that doesn't always navigate the tone shifts between amused and angry.
A zombie apocalypse becomes a chance to explore what real humanity looks like in
The Night Eats the World
.
In this week's feature, the co-director of the documentary
Church & State
talks about finding the heroes and villains in a landmark legal case.
Also opening this week, but not reviewed: a 50th anniversary re-release of the animated Beatles musical
Yellow Submarine
.