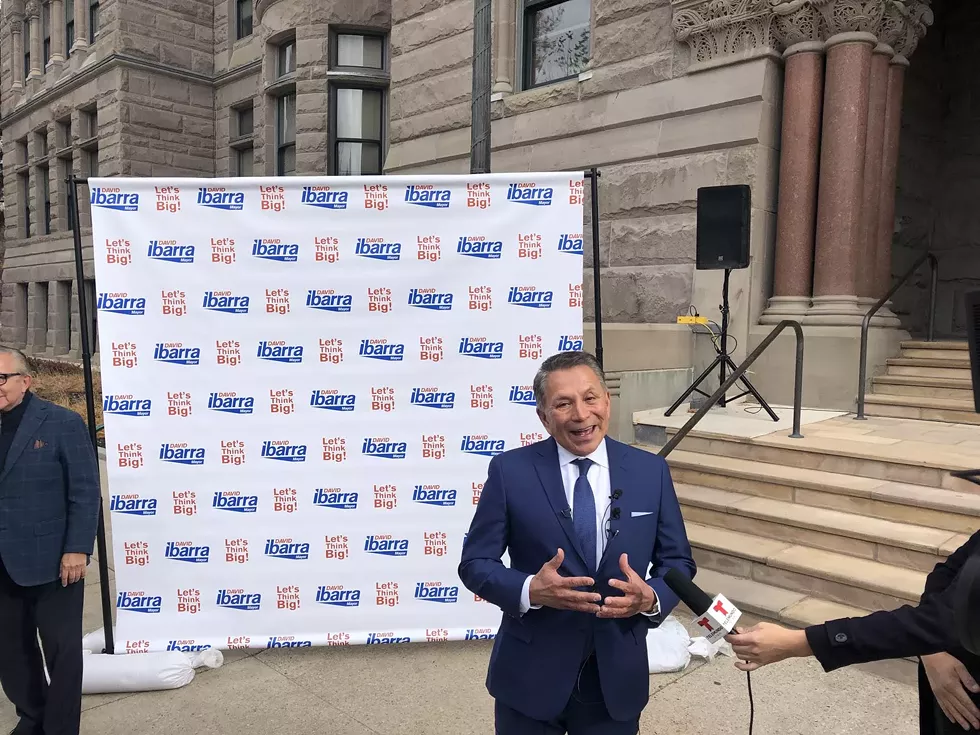 For the past 20 years, David Ibarra has ended his day with a 45-minute walk around downtown Salt Lake City's streets. Recently, he says he's noticed a change. The streets look dirtier and less inviting to residents and visitors. Homeless people are sleeping in tents, exposing themselves to the elements. Syringes are scattered across the ground.
"We can do better than this," Ibarra told reporters at the City and County Building on Tuesday. The local businessman and philanthropist declared he's taking matters into his own hands by announcing he's running for mayor. "I am here today because OK is not OK. Salt Lake City is not an 'OK' city. We have the potential to be an extraordinary city," the 66-year-old said. "As the capital city, we are the front room of our state, and just getting by can never be our goal."
If elected in 2019, Ibarra pledged to utilize his business acumen—he's founded four companies: eLeaderTech, the Ibarra-Brito Group and David Ibarra Enterprises in the US and eLeaderTech Limitada of Costa Rica—work ethic and leadership ability to attract talent back to Salt Lake City and help the metropolis flourish. "This city has come to a screeching halt, and it's time to get back on track," he said.
Former Mayor Rocky Anderson gave a short speech at the kickoff. He spoke highly of the Ibarra Foundation, a charitable organization that has awarded 127 scholarships and fully funded the college tuition of 89 college graduates, and Ibarra's mentoring of local small business owners. "Success is a way of life for David," Anderson said before outlining the qualities that make a successful mayor—leadership, coalition-building, a hunger to remain informed and a passion and respect for city employees. "David Ibarra has proven in his business life, his family, his charitable undertakings, his political support with his friends and through his mentorship of many people throughout our community that he possesses all of those qualities and will bring them to bear in being an extraordinary mayor for all the people of Salt Lake City."
Ibarra is the second person to announce he's challenging current Mayor Jackie Biskupski for her seat. Last month, ex-Salt Lake City Councilman Stan Penfold declared his candidacy, and state Sen. Jim Dabakis and Pioneer Park Coalition Director David Garbett have reportedly told the Deseret News they're "seriously" considering joining the fray.
Polls suggest Biskupski's seat could be up for grabs. In a utahpolicy.com survey published in September, 56 percent of Salt Lake City residents said Biskupski does not deserve another term. More than one-fourth of respondents said it was "definitely" time to elect a new mayor.

In a statement emailed to City Weekly, Biskupski said she was, "looking forward to the opportunity to highlight all my administration has done over the past three years on the issues residents care about most, including affordable housing, climate and the environment, job creation, transit expansion, infrastructure, and public safety. We have been leading by listening and will continue to do the work to truly build a City for everyone."
Salt Lake County District Attorney Sim Gill was also at the news conference. A family friend of Ibarra's for more than 30 years, Gill said in his prepared remarks that he and the newly minted mayoral candidate share a common vision to continue making Salt Lake City a "great American city." He praised Ibarra for building such a prosperous life after spending 15 years with his brother in the state's foster care system, an experience Gill said gave Ibarra a compassion and kindness that shaped him into the person he is today. "I have had conversations with David and the family for many, many years," Gill said. "I know his character. I know his moral worth. I know his passion and his commitment of the entire family."
After the speeches, Gill reiterated to City Weekly that he's supporting Ibarra because he knows his character and respects his business skills. "For me, as the first minority city prosecutor and as the first minority district attorney, I'm excited about the idea that, in the history of Salt Lake City, we will have the first [racial] minority mayor," Gill said. (Biskupski is the city's first openly gay mayor.)
Gill said Ibarra's early life gives him an understanding of the city's most vulnerable residents, a firsthand knowledge most people don't have. "The person that I know in David Ibarra is a man who is here to serve their needs," Gill said. "He knows their difficulties and their challenges, and he knows what is necessary, the discipline and the perseverance that's necessary to achieve the objectives that you want."