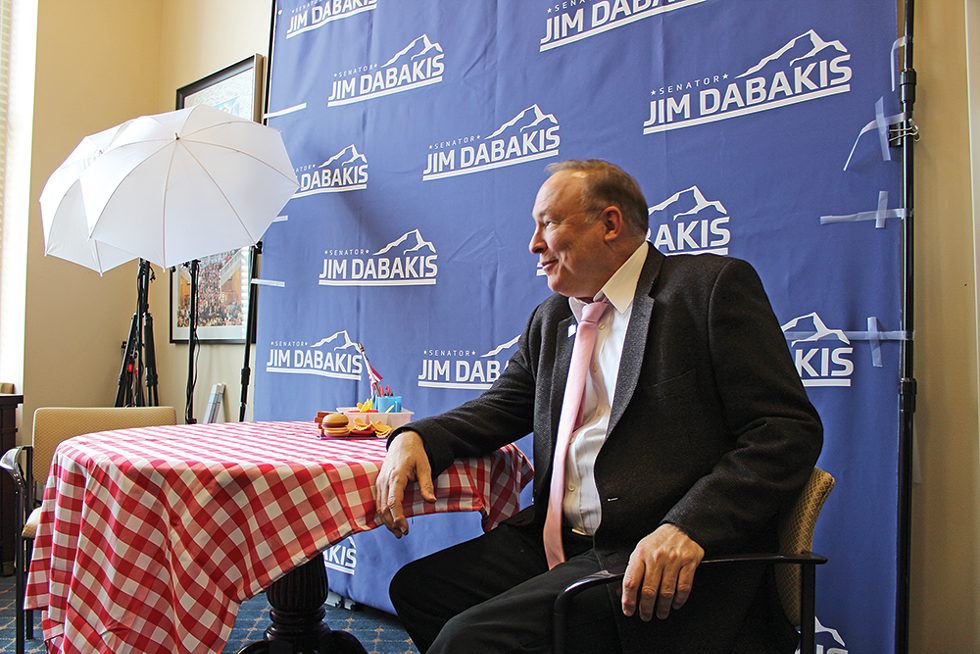 Enrique Limón/FILE
Salt Lake City mayoral hopeful Jim Dabakis says his arguments on the Take 2 podcast allow him to preach his liberal doctrine to a conservative choir. "We as liberals and progressive people are too silent," he says, adding that he thinks he bests his counterpart, Greg Hughes, most of the time.
Last February, Jim Dabakis issued an alert to the more than 60,000 progressive Utahns who subscribe to his newsletter, "The Dabakis Report." Beneath the links to late-night television monologues and a news report on Rep. Chris Stewart's modern-day Red Scare was a proclamation: "New Agreement With Channel 2 to Do a Weekly Podcast and Regular News Commentary! Finally, a Voice for Progressive Utahns!"
Billed as the "fastest-growing podcast in Utah," each Friday's Take 2 episode features Dabakis and recurring strange bedfellow, former House Speaker Greg Hughes, who debate local, state and national issues. KUTV General Manager Kent Crawford says the show's objective is to add context to the ongoing legislative session. "We've had really good response, good comments," he says, noting that the project will likely continue post-session. "Our goal is to super-serve our viewers, and I think from what we're seeing from the get-go, people are enjoying it," Crawford emphasizes.
The move, however, produced a double-pronged effect: Did the show give Dabakis a leg up on his political rivals in the crowded race for Salt Lake City mayor? And, did the outspoken ex-senator betray his progressive values by aligning himself with a local news station owned by Trump-touting Sinclair Broadcast Group?
In Take 2's inaugural episode, Dabakis tells debate moderator Heidi Hatch he's trying to earn a living, now that he has time to make more than the modest per-diem pay doled out to part-time citizen legislators. "I spend all day just wandering around neighborhoods, in coffee shops, pretending I'm working" he jokes. "Look for me in a coffee shop near you."
Missing from Dabakis' downtime laundry list is the fact he's running for Salt Lake City mayor. In subsequent emissions, Dabakis, not known for being a wallflower, hasn't once broached the subject of his mayoral campaign. That doesn't matter much to freelance journalist and fellow mayoral candidate, Richard Goldberger. "It doesn't pass the smell test, and in fact it stinks," Goldberger says of the unholy alignment. "He's getting an unfair advantage."
Even so, not all of Goldberger's competitors feel the edge is unsportsmanlike. David Ibarra, a local businessman and philanthropist, acknowledges that Dabakis and current Mayor Jackie Biskupski have been in public life for a long time. Giving Dabakis a regular broadcast makes sense. "He is a television personality—an entertaining personality—and he gets a lot of air time. ... That's kind of his style, and there's not much I can do about it," Ibarra says, pledging to "outwork everybody" in the race to "make it even."
David Garbett, another candidate, also seems unfazed. "He's out there entertaining people," the local attorney says. "My task is to get out and talk to voters about issues that matter to them."
Adding his voice to the rah-rah chorus is ex-city councilman Stan Penfold. "If people don't recognize your name and they don't associate that with running for office, then you don't have an audience," the mayoral hopeful says. "Any time, as a candidate, someone sees your name, no matter where it is, it increases your recognition."
That doesn't bode well for Ibarra or Penfold. Before announcing he'd run for Biskupski's seat, Dabakis released a survey showing 71 percent of respondents recognized who he is. More than three-quarters knew Biskupski. Less than one-quarter knew of Ibarra or Penfold. Garbett and Goldberger didn't make the cut, nor did fellow candidates Aaron Johnson or Christian Harrison.
Eager to turn that around, Penfold says he could start a podcast of his own, but predicts it wouldn't get off the ground in the same way as Dabakis'. "The question that comes up for me is the media sponsorship: Does that create an unfair advantage?" he wonders aloud.
The Federal Communications Commission has a rule—if a station licensee lets a candidate for public office use their facilities, it must also extend an equal opportunity to the other candidates, if they request it. However, there's a loophole. "That regards broadcasts," Benjamin Whisenant, an assistant professor at the University of Utah's Communications Department, notes. "It doesn't regard podcasts."
The responsibility to comply with FCC regulations lies with the broadcaster, not Dabakis. "When you have an opportunity to address an audience, then generally you take that opportunity," Whisenant says. "I don't see this as an ethical issue for Mr. Dabakis."
Whisenant, whose academic expertise is in media law and ethics, says this is a gray, unregulated area, but that doesn't mean it's illegal. "In the end, this is an issue of ethics instead of law," he says, though he's not sure there are any ethical concerns here, either, given Dabakis hasn't talked about his candidacy during the show. "If there's no discussion of the mayoral race, it makes it a lot less problematic."
Dabakis' Take 2 commentary isn't the first time he's been a part of a local news channel's programming at the same time he ran for mayor. In an email sent to City Weekly, ABC 4 News Vice President and General Manager Richard Doutre' Jones declined to comment on Dabakis appearing on Take 2, but he did note that Dabakis hosted several shows on his channel over an 18-month period that ended in 2015. "We stopped airing that program when Jim last announced his first candidacy for SLC Mayor because we didn't feel it was appropriate to have him on-air based on the FCC rules mandated for 'equal time,' Doutre' Jones wrote. Requests for comment from two other local TV stations were not returned.
KUTV's Crawford says there's no "hard, fast rule" that Dabakis can't talk about his candidacy on the show, "but he knows better." He knows down the line, Hughes might also decide to toss his hat in the gubernatorial ring. "We don't see it as a platform for either one of them to gain a political advantage," Crawford says. "Until we get closer to a political window, I think we'll probably continue, because the viewers seem to be appreciating what we're putting out there."
To call Dabakis attention-seeking might be an understatement. Showboating became a hallmark during the former state senator's tenure, like when he drank enough mimosas to acquire a .05 blood-alcohol concentration so he could speak out against lowering the state's legal DUI limit. "Sometimes a spotlight and sometimes cynicism and a bit of poking fun is the best way to call attention to the ridiculous," he told City Weekly in April 2018.
To wit, when reached for this story, Dabakis is on a break from rehearsals from Pioneer Theatre Co.'s staging of La Cage aux Folles, where he has a minor role. He says that by joining the podcast, he's merely reprising an old career. He was a television and radio talk show personality for 13 years before he entered the art business and, later, forayed into public service. There's also his role as fixture of KCPW 88.3 FM's Both Sides of the Aisle, a similar project, albeit without the backing of a major local news channel. "It's part of my soul. This isn't a paid deal. This has nothing to do with advancing where I'm going," he says of Take 2. "This is a continuation of what I've been doing ... it is explaining, it is imploring, it is begging the non-progressive people to just listen to us, because we would be a much better state with a lot more balance."
Dabakis says each of his fellow candidates bring their own advantages to their campaigns. For example, Garbett is the son of the owner of Garbett Homes, and his family's name is plastered on developments across town. And Biskupski is constantly in the news, since she's the sitting mayor. "Nobody talks about the conflict of interest when the mayor calls a press conference, or whatever," Dabakis reflects. "We all take advantage of our assets—and I don't know if it's an asset or not—but if people want to hear me talk about our progressive values and ideas, I consider it an honor and a privilege."
Biskupski declined to comment for this article.
Still, that doesn't cover the Sinclair elephant in the room. Millcreek resident Charlotte Maloney wasn't vexed by Dabakis joining KUTV's ranks because of the implications for the Salt Lake City mayoral race. Instead, she was troubled by who could potentially benefit from the venture—the station's parent company.
Best known for forcing anchors from its 163 nationwide stations to read a President Trump-friendly script about the "troubling trend of irresponsible, one-sided news stories plaguing our country," Sinclair-owned stations are considered to have a conservative slant and are required to air "must-run" commentary segments that parrot Trumpian talking points.
"I was really surprised" Maloney says of connecting the dots between the corporate media behemoth and true-blue Dabakis. "He's so progressive, and he's a Democrat, and I think he cares about, like I do, open and fair access to information, and I don't believe that Sinclair stations always feel the same way."
Noting that Sinclair is one of the largest broadcast companies in the country, the U's Whisenant cautions against painting its anchors and contributors with a broad brush. "It can be hard to continue to be employed and continue to avoid that company," Whisenant says of the current media landscape. Teaming up with a Sinclair-owned station, he adds, does not automatically mean aligning with the corporation or its values.
Maloney posted a comment on Dabakis' Facebook page asking how he could work with Sinclair. Dabakis replied by saying he was using the space to advocate for his ideals, and to be a voice for young immigrants and Utahns who could benefit from Medicaid expansion and medical cannabis.
"I was happy with his response, in that he's going to continue to speak out for what's right," a convinced Maloney says. "He's going to work with anyone who will let him speak."
Dabakis says a more varied audience gives him an opportunity to convince conservative Utahns that progressives aren't the socialist boogeymen they've all been warned about. Doubling down, he insists that without a platform like the podcast, all those masses would know is their own echo chamber. "How are the people in the state going to know there's another side?" he asks.
Pearl-clutching or not, it ultimately is all part of his unwavering mission to elevate the voices of Utah's more liberal residents, he says. "I would walk across coal, hot coal, and I would march into hell to talk to conservatives in this state about Medicaid expansion, and about all the patients who are suffering from a lack of medical cannabis, and to get decent education funding for our schools," a defiant Dabakis concludes. "These are live-and-die issues with me."