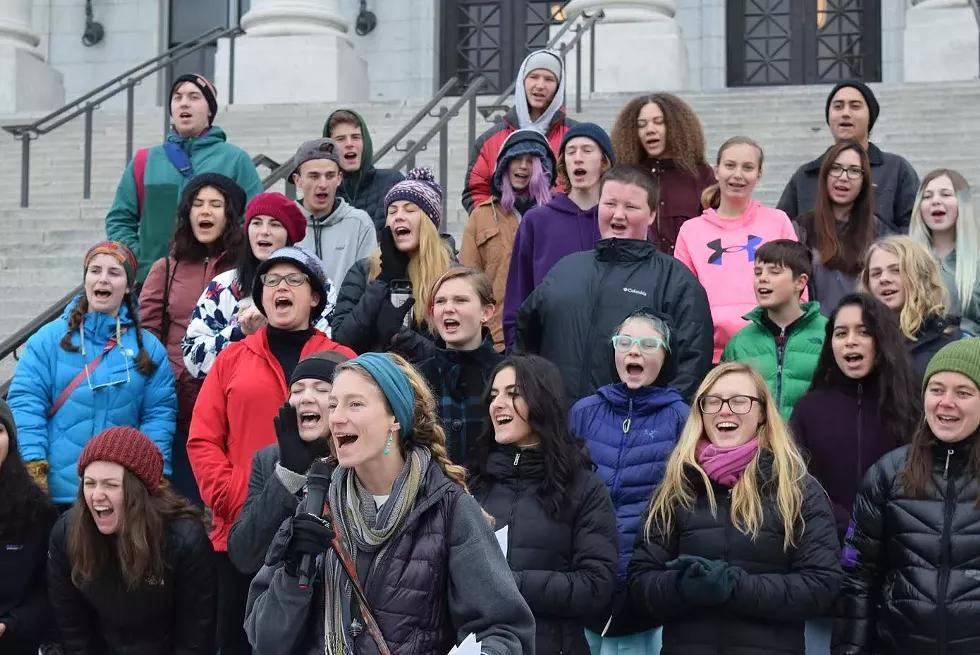 Ray Howze
Holly Lammert, front, a teacher from Realms of Inquiry, leads a chant in support of public lands outside the Capitol on Thursday
Gov. Gary Herbert's office received a special delivery Thursday: nearly 4,000 letters asking him to support and protect Utah's wild public lands.
But it wasn't any normal delivery: It had a noticeably feminine presence.
"Environmental advocacy and outdoor recreation is historically dominated by men, so getting younger-women identified voices into the mix is always a good thing," Josee Stetich, who organized the letter-writing, told the crowd outside the Capitol. "In a society that tells young women to speak softly, to not take up space and to not be angry, I'm here to tell them we should be angry because our public lands, public health and our future are at stake."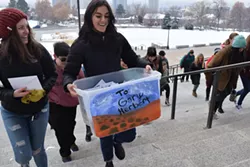 Ray Howze
Josee Stetich carries a box of nearly 4,000 letters in support of public lands addressed to Gov. Gary Herbert up the Capitol steps.
Stetich, a senior at Westminster College and an intern with the Southern Utah Wilderness Alliance, said she organized the letter-writing campaign because she was "wildly disappointed" with the Emery County Public Land Management Act backed by Sen. Orrin Hatch and Rep. John Curtis, both Utah Republicans. The bill, introduced in May, designates nearly 578,000 acres of wilderness, establishes the 336,000—plus-acre San Rafael Swell Western Heritage and Historic Mining National Conservation Area and expands Goblin Valley State Park. However, environmental groups such as SUWA say the measure is anemic and excludes nearly a million acres of land that should be designated as wilderness.
"It leaves iconic landscapes vulnerable like the San Rafael Badlands, which include indigenous history, and Muddy Creek, which is a really accessible wilderness area," Stetich said. "It only protects the western side of Labyrinth Canyon, even though both sides are ecologically the same. And, last of all, it excludes citizen input."
That's where Stetich and more than 35 other educators and "young womxn" students came in. Stetich emphasized the term "womxn" Thursday because she wanted to be inclusive—"womxn" is a term used to include people of gender orientations who identify as women or femmes—and give them a voice as well.
"I grew up in Bountiful, that's a super-conservative town, and I grew up kind of quiet and didn't really know how to find my voice," Stetich later told City Weekly. "So, I put this together to show younger women they do have a voice."
Ray Howze
Students drop off the letter bounty in support of public lands to Gov. Gary Herbert's office.
Holly Lammert, a teacher at Realms of Inquiry, brought students from her class to the Capitol to take part in the delivery. Almost exactly a year ago, she stood outside the Capitol to protest President Donald Trump's visit where he signed bills shrinking Bears Ears and Grand Staircase-Escalante national monuments. Lammert recounted taking students backpacking around the San Rafael Swell and how it's benefitted their education and growth. But the new bill, she says, "doesn't respect my students' voices ..."
"I feel that without the protection we will lose an incredible outdoor classroom, one that is complete with fully differentiated lesson plans for exploration, self-discovery and reflection," Lammert said.
Other students from Rowland Hall-St. Mark's and West High School also shared stories of their love for Utah's lands. Ella Baker Smith, a student at Rowland Hall, recited a letter she wrote to Mother Earth.
"Our president is attempting to turn another paradise into a parasitic wasteland," Smith said, reading from the letter. "And for what? Money?"
Following their speeches, students walked into the governor's office with a tub full of letters featuring a wilderness painting on the outside and the words "To: Gary Herbert" painted across the sky.
Hopefully, Stetich said, adding their voice to the conversation will help their conservation efforts.
In the end, she said, "The wilderness is for everyone."