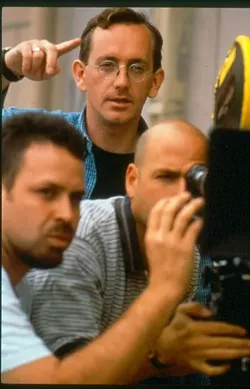 Twenty years ago, an independent drama by a local filmmaker named Richard Dutcher launched an unexpected phenomenon that came to be called "LDS cinema." For the 19th annual
LDS Film Fest
, the movie that started it all gets a center-stage recognition.
Dutcher (center, left, on the set of
God's Army
) is scheduled to attend tonight's opening night screening of
God's Army
at the
SCERA Center for the Arts
in Orem at 7 p.m. for a post-film Q&A.
Screenings continue through Saturday, Feb. 29, showcasing other films from the past two decades of LDS-themed films, including Dutcher's 2001
Brigham City
, the popular 2002 comedy
The Singles Ward
and its 2007 follow-up
The Singles 2nd Ward
, and historical dramas like
Handcart
and
Out of Liberty
.
Outside of film screenings, programming is scheduled to include filmmaker showcases and panels on Friday and Saturday, covering topics like distribution for independent filmmakers and adapting to the faith-based marketplace. Dutcher will also be one of the featured panelists, at 1 p.m. on Saturday. Visit the festival website for full schedule and information on individual screening tickets and full-festival passes.