Page 4 of 10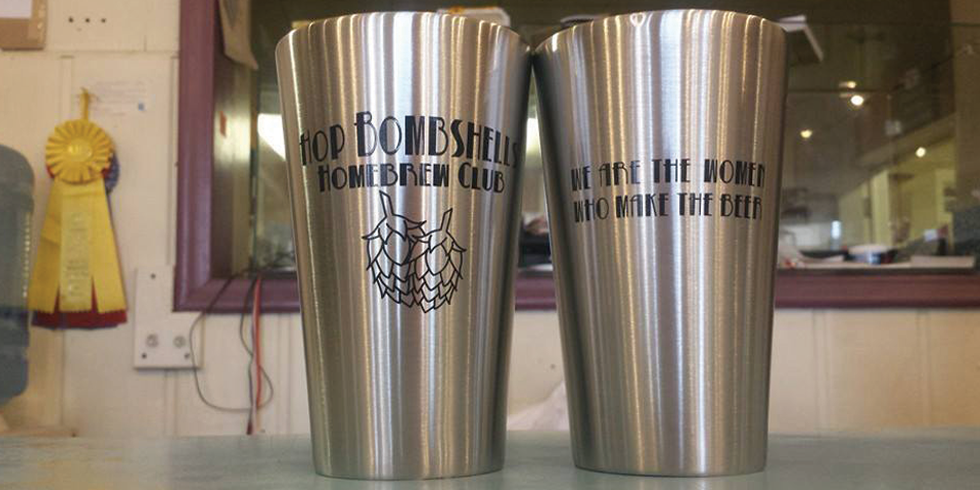 Hoppy Hour
Inside Utah's only all-women homebrew club.
By Sarah Arnoff
Founded in 2012, the Hop Bombshells Homebrew Club is Utah's first and only all-female homebrewing club. Club vice president Becky Peterson is one of the original founders and helped build the group after getting into homebrewing, finding that beer prices in Utah were much more expensive than in her native Colorado. President Emily Kleber joined Hop Bombshells after moving to Utah from San Diego in 2016 while searching for a homebrewing group to share her interests with. The club's monthly meetings are closed to the public, but they encourage women interested in homebrewing to attend their Hoppy Hour social gatherings that rotate to a different brewery or bar on the third Wednesday of each month. They announce the location on Facebook at facebook.com/hopbombshellshomebrew.
What prompted the start of Hop Bombshells?
Emily Kleber: Clubs are very male-dominated. A lot of women in our club seem to be in male- dominated fields professionally. It's just a breath of fresh air, to be honest. After a hard day at work, you can get better at something with people who care about the beer.
Becky Peterson: Jamie Burnham, who worked at the Beer Nut as a manager, noticed people coming into the store and she noticed the interest in jointing a homebrew club. So she started it.
What kind of atmosphere are you trying to create?
EK: It's not a very intimidating atmosphere. The focus of our club is not being all women; it's about the brewing process and becoming better brewers. There are a lot of scientists in our club. It's all about how to make our beer better. A lot of our women do really well in competitions. It's about creating a healthy atmosphere as brewers and as women.
What happens at club meetings?
EK: Women will bring their beers that they're trying to make or they want to send to competitions or they want to share. Or if someone goes out of town and brings back an interesting beer, they can share. Then we have a topic to discuss during the meeting. We have a discussion that's led by one of the Hop Bomshells about beer styles or sometimes we have an experiment where we try to learn about something different like hop varieties. We've had people from Solstice Chocolate come and do a pairing and we've done stuff on fermenting vegetables, etc.
What are the advantages to joining a homebrew club?
EK: The biggest advantage is that you have people to learn from. Some of the crazy things you tend to do by yourself you see other people are doing, too, and that's kind of fun. It's inspiring to see other people being interested in what you are because it's kind of a weird thing to be interested in.
BP: It's nice to find other like-minded women. You find women who are interested in building and making things. There's camaraderie. We have equipment, if you're a beginner. We have a lot of resources.
How do you know when your beer is ready for a competition?
BP: You don't have to be awesome or have ever entered a beer in a homebrew competition. Really, the point of a homebrew competition is to get feedback from people who aren't your friends. It's a blind tasting.
EK: We as a club really encourage our members to enter their beers in competitions because there's a severe underrepresentation of women in competitions. So we pay for the fees to send it out to the brew people. There's some women who do really well in competitions and you can be like, 'Hey, can you try this? It smells a little weird, is it good?' You can get feedback from the club or just be like, screw it, I'll just send it off and see what happens.