Page 6 of 10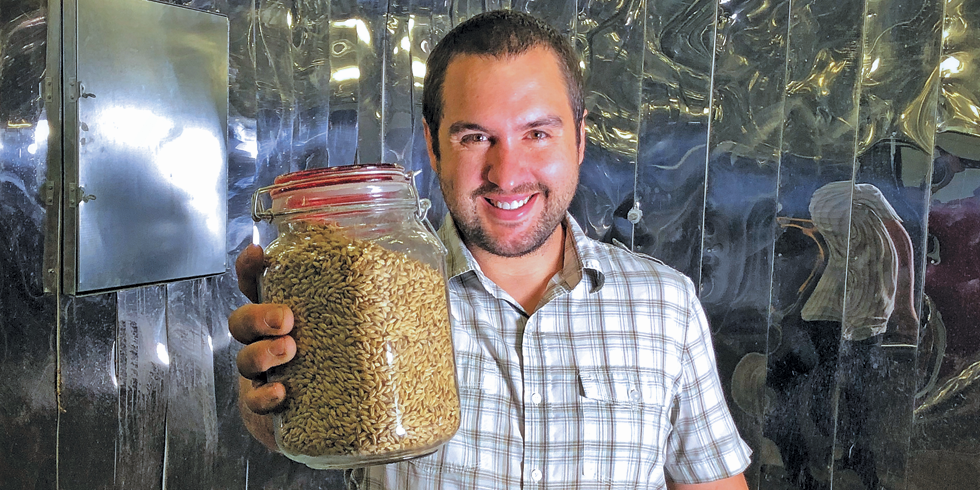 Fertile Ground
Solstice Malting Co. puts the "craft" in craft beer.
By Mike Riedel
Consumers like things local. No matter if it's bread, cheese or sausage—if they can get their paws on that homegrown goodness, their tables and tummies will be in territorial bliss. Beer is no exception. Right now, craft beer is huge; people can't get enough of brews made right in their own neighborhoods, and that behavior has fueled a local-beer renaissance never before seen in our little corner of the universe. One local guy has found a way to make those civic-minded suds even more provincial by malting the grains right here in the 801. James Weed, owner and head maltster of Solstice Malting Co., hopes his Old World methods will enhance the local beer scene.
A finance guy by trade, Weed, pictured, enjoyed success as a stockbroker and investment advisor. Still, he yearned for something more. "My wife said that I needed a hobby, so I found home brewing," he reminisces.
As often happens with perfectionists, that first dip soon became the tip of the iceberg. "Eventually, I began growing my own hops and even started malting my own barley," Weed notes. Trust me, as someone who has tried this in my own kitchen, malting is a huge pain in the ass. "I wanted to look into more efficient ways of malting my grains," Weed says. "Then I came across the North American Malting Guild and I found a few companies that supported making malt on a local level." Weed then decided that malting was his game and Utah was fertile ground to begin.
It was no small feat. As far as I can surmise, there has only been one malting plant in the state's entire history: the Becker Brewing and Malting Co. For 75 years, Becker operated along the banks of the Ogden River, weathering Prohibition and two world wars. Sadly, production costs and competition from larger breweries forced the once-bustling operation to shut its doors. "Nobody in Utah has ever tried this after they closed," Weed says. "I spoke with members of the Becker family and they said the malting part of their business shut down around 1953. I want to bring the malting industry back to Utah."
But what is malting? Essentially, it's the process of germinating and drying the grain. In the germination process, starches in the grains begin to convert to sugars (this is where the fermentables in beer come from). "The trick is to stunt that process by kiln drying," Weed says. "Different flavors can be achieved by changing the drying/toasting schedule, and that's how it's basically done." Weed takes that old-school process a step further by "floor malting" the grains. "I basically spread the wet grains out in a large climate-controlled room and allow the germination process to take hold until it's done," he explains. "It's the same way breweries and distilleries have been malting grains for centuries."
Solstice Malting Co. churns out about four tons of malt a week. "That may sound like a lot," Weed warns, "but compared to the big guys? They'll do more in one batch than I'll do in an entire year."
That's fine by us. We like our batches small and our comfort food and drinks homegrown. For now, Weed is producing base malts for local breweries. As revenue builds, he'll look into buying a roasting machine that'll be able to produce malts that will flavor darker and more rounded beer styles. If you'd like to sample some of the most locally made beers around, look to Squatters, Proper and Strap Tank breweries (to name a few). Their small-batch beers currently feature Weed's homespun malts, thus solidifying the craft in Utah craft beer.