Page 4 of 7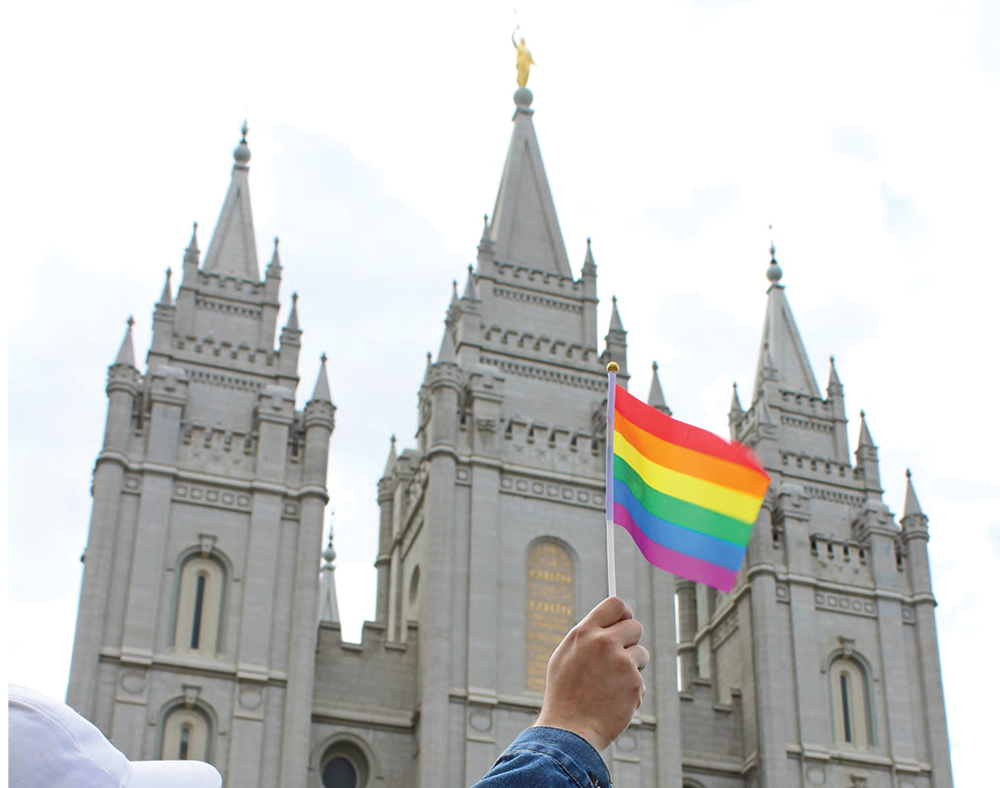 Best Dubious Policy
No Flags Allowed on Temple Square
Boasting a yearly visitor rate in the millions, Temple Square's 35-acre grounds are among Salt Lake City's top tourist spots for believers and heathens alike. It's private property, so they can enact rules as they please and signs specify the code of conduct for visitors, including no smoking, cycling and scootering. A new one to add to the list? No flags, a lesson learned over Pride weekend, when City Weekly needed a cover image for a story on the church's "November policy," and the limbo many have found themselves in the aftermath of its reversal. Armed with a postcard-sized rainbow flag, I headed to the square, boyfriend in tow, to get the shot. I was wearing a T-shirt emblazoned with the message "Love wins" so I wasn't quite flying under the radar. We were swiftly approached by two teens doubling as security guards who were as intimidating as cole slaw and escorted off the premises. "We don't allow flags on church property," one "guard" declared. The same property that has a staff behind the temple flying the American and Utah state flags and is littered with sister missionaries displaying their country-of-origin flags under their name tags. Whateves; you best believe I got the shot. And lo, a new revelation: God hates flags? (EL) templesquare.com
On That Note,
Best Totally Awesome Rebranding
The Church of Jesus Christ of Latter-day Saints
Since its origin story way back in the 1800s, the The Church of Jesus Christ of Latter-day Saints has been associated with the acronym LDS and terms Mormons, Mormonism, etc. But then ... a revelation! "The Lord impressed upon my mind the importance of the name He decreed for his church," President Russell M. Nelson said, "the Church of Jesus Christ of Latter-day Saints." Immediately, official communiqués, email addresses for 3,000 leaders and employees, names of 300 web-based apps, even the beloved Mormon Tabernacle Choir were rebranded. Nelson went on to say the move was neither inconsequential, cosmetic or a whim. Whew! Now church brass can finally focus on lesser matters, like women's rights, staying out of state politics and taking care of its LGBTQ+ members. (EL)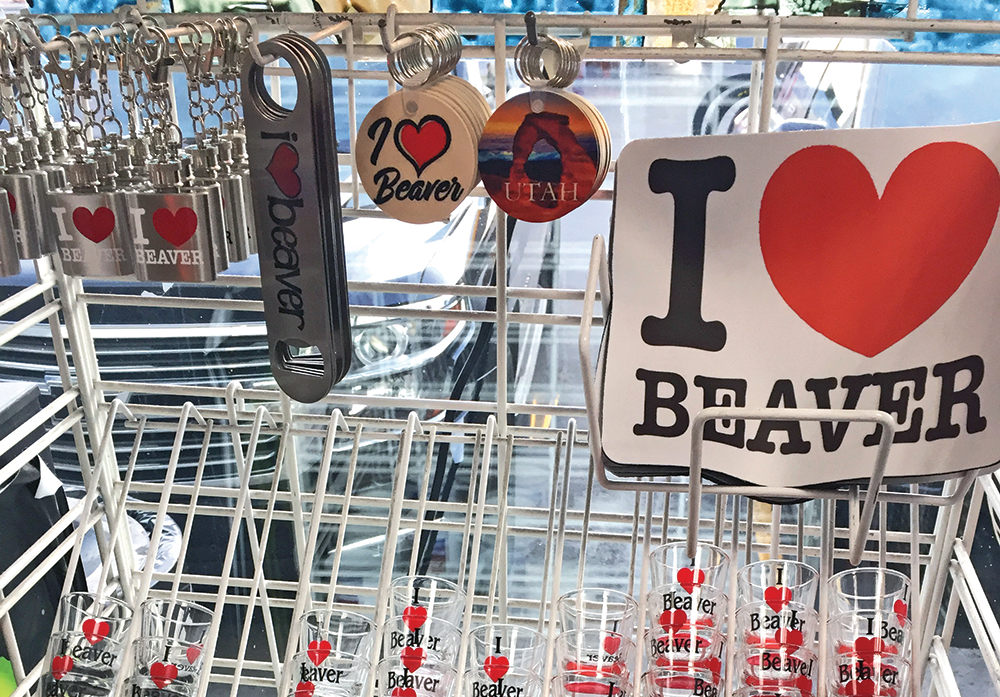 Best Display of Civic Pride
ILoveBeaver.com
If you've ever gone on a road trip to Vegas, there's a good chance you've passed through the lovely town of Beaver, Utah—and seen the vast array of "I Love Beaver"-branded memorabilia for sale at the local gas stations. The family-owned business behind this branding campaign has taken its message nationwide with a website called ilovebeaver.com, where clients from across the states can order all the coffee mugs, flasks, lip balm and stuffed beavers they want. You can even request custom-designed, beaver-lovin' swag. We're sure this has nothing to do with a certain sexual euphemism that also involves the beloved woodland creature. (PH)

Best Herbal Apothecary and Collective
Mobile Moon Co-op
In recent years, there's been a trend toward becoming more environmentally conscious, but for grassroots educator Rikki Longino, being eco-friendly and sustainable is not a trend, it is her livelihood. Longino, an urban ecologist, spearheads the Mobile Moon Co-operative in West Valley City. The co-op is not just a center for inclusiveness and education, it is a full-blown herbal apothecary, tea shop and botanical education center on four wheels. A few years ago, Longino bought an old school bus and converted it into an apothecary, which serves as the hub for the activities and ongoings of the Mobile Moon Co-op. The collective has partnered with other entities to stage community workshops. And they've recently partnered with the nonprofit Utah Permaculture Collective. Women, transfolk and femmes assist Longino in running the operation. The all-inclusive apothecary and herb shop studies alternative medicine and offers holistic herbal practices, dedicating their efforts to "preserving communities and ecosystems through education, empowerment and botanical stewardship," the co-op's Facebook page says. (EH) mobilemooncoop.org

Best Deal You Can Feel Good About
Hive Pass
Salt Lake City has made it hard to justify not taking advantage of its public transportation system. For just $42 a month, city residents can take unlimited rides on UTA trains and buses. That's a 50% discount from a regular UTA monthly pass, just because you live in Salt Lake City. Plus, the nifty card includes a free one-year GreenBike membership. You know that vehicle you're driving is making Utah's air more toxic. Who needs a car when you can sit in an enclosed space with strangers, smug with the knowledge that you're helping make the Wasatch Front's air more breathable? Here's hoping the push for free transit continues. (KL)

Best UTA Bus Route
2/220
The Double Deuce. Deuce Truce. Big Twofer. These are just some of the nicknames we've given to the 2 and 220 bus lines. Both routes were adjusted by the UTA in August, as a result of a budget windfall and in collaboration with an initiative from Salt Lake City. Now, these routes work with the conjoined efficiency of trapeze artists or Siamese twins, providing speedy service at double time along 200 South from downtown to the U, with the 220 then taking riders to Sandy. It's just as the Old Testament says, "Two are better than one." (PH)

Best Thing to Come From the Salt Lake City Council
Free Feminine Hygiene Products
The Salt Lake City Council has faced a lot of tough decisions on what to do about affordable housing, homelessness and infrastructure this year. But probably its best no-brainer move was to set aside $20,000 in June to start a one-year pilot program to make feminine hygiene products available for free in some city buildings. The three female councilmembers spearheaded the "menstrual equity" initiative, according to The Salt Lake Tribune, in hopes that it will push state lawmakers to do the same. The products have been available in bathrooms for usually a quarter, but now that will change. (RH)

Best Hand-Made Toy
Level Ledges Bricked Barricade
I'm too old and out of shape to risk breaking a bone doing kickflips on a skateboard like when I did back when I was 13. But I still have the spirit of skateboarding inside of me so I keep myself occupied with a "fingerboard," a finger-sized skateboard built to resemble the real thing. In Highland, Utah, Jared Ibey gives us fingerboarders an environment to skate on with Level Ledges, a brand of miniature concrete barriers and ramps. I recently got my hands on the "Bricked Barricade" ($20.99) a hand-engraved brick wall perfect for grinds, slides, wallrides and other tricks. I must say I've never encountered a slab of concrete so buttery smooth or carefully crafted. (PH) levelledges.com

Best Way to Commute, See the City and Exercise, All At Once
Biking
Salt Lake City offers few things as freeing and thrilling as riding a bike on a crowded street, exhilarated but petrified that Ford Focus isn't going to see you in their rear view mirror as they make a right-hand turn into Trader Joe's. Danger be damned, biking on SLC's streets is among the best activities the metropolis offers. Whether you just want to see what the city looks like from two wheels, bike down a mountain trail or take a quick trip to your local coffee shop or farmers market, the city and county's bike map is available online, for all your cycling planning needs. No bike? No problem? The Hive Pass has you covered. (KL)

Best Utah County Sustainable Garden
Utah Valley Permaculture Design School
In the desert climate of Utah, located in the foothills of Orem, is the state's best permaculture garden and design school. Director and designer Denise Devynck has spent the last few years transforming the less-than-an-acre space into a luscious garden designed in a way that models the most environmentally friendly way to cultivate a self-sustainable and regenerative food forest. The garden is home to "59 fruit and nut trees, 34 kinds of berries, and hundreds of roots, herbs and perennials," Devynck says. The nonprofit organization is a multifaceted entity offering a certified Permaculture Design Course, workshops, classes and volunteer work. (EH) permaculturedesignschool.org

Best Festival
Antelope Island Spiderfest
Yes, this is exactly what it sounds like. But before you run away screaming, I beg you to give Spiderfest a chance. It is an annual celebration of the millions of spiders that hit adulthood on Antelope Island and are drawn into the open by the Great Salt Lake's brine flies. And while they feast, entomologists, park rangers and other arachnid-lovers host a variety of crafts, guided walks, and yummy (spider-free) food. Once you get to know these critters, it's easy to lose at least some of your fear and start to love them. Antelope Island State Park entry fees apply, though the festival is free. (KE) 4528 W. 1700 South, Syracuse, 801-725-9263, stateparks.utah.gov/parks/antelope-island

Best Thing To Do Before Football Season
Speed Week
It's the dog days of summer. There isn't much sports action going on. When the calendar turns to August, sometimes all we can think about is Week 1 of the college football season. To help pass the time in August, visiting the annual Speed Week at Bonneville Salt Flats might cure some of that craving for competitive action. Some vehicles are trying to set new land speed records and you can almost assuredly see some regularly approach the 300 mph mark. And if you want to see what makes these speed demons go, take a walk through the pits and strike up a conversation with the newest Evil Kenevil. (RH)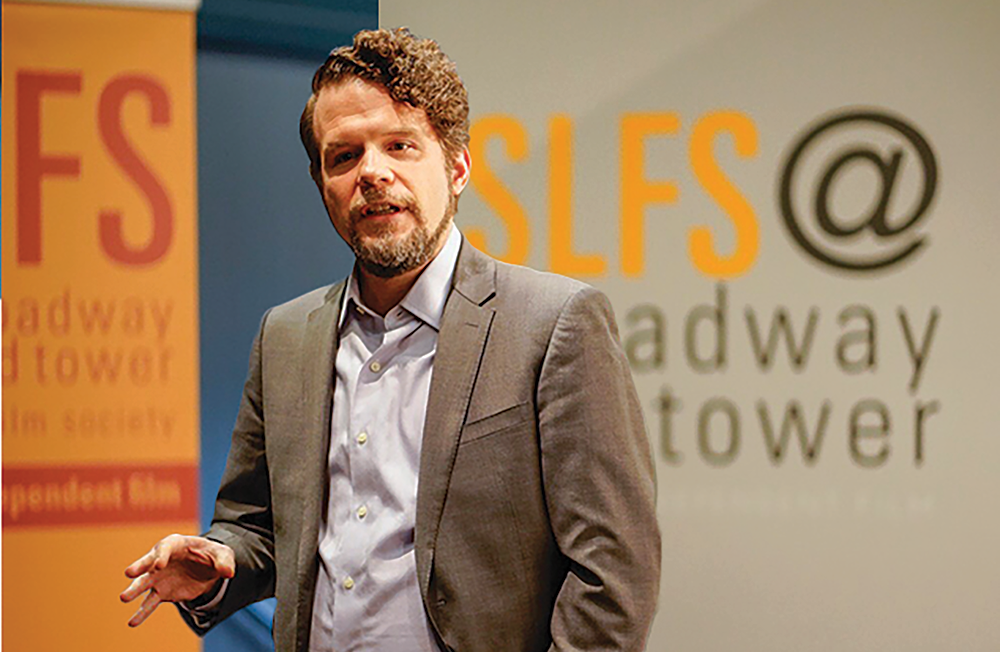 Best Local Artist Incubator
SLFS MAST Program
Too often, Utah artists in certain media—animation, filmmaking, game design and more—have felt that the only way for them to make it big was to leave Utah. The Salt Lake Film Society's new Media Accelerator Studio (MAST) program looks to stem the artistic brain-drain from our state, and provide a place for local artists to develop and grow. A wide range of workshops and fellowships, with participants drawn from annual competitions, provide the tools required for creators to control not just where and how their work gets out into the world, but where and how they can create it. (SR) slfs.org

Best Train Ride
Heber Valley Railroad's Themed Trains
Heber Valley Railroad has a train for every occasion. You need a birthday present for your nerdy friend? The Harry Potter Wizard's Train and Star Wars train have you covered. Need something to do in December that doesn't require bundling your child in 12 layers? Try the North Pole Express. Each themed-ride takes place within a historic train and lasts about 90-minutes. Train hosts don costumes and hand out snacks and prizes. It's fun, it's incredibly silly and a one-of-a-kind ride. Fares vary from $3-$15 to $25-$45 depending on the kind of train you board. (KE) 450 S. 6th West, Heber City, 435-654-5601, hebervalleyrr.org

Best Sign We're Living in Utah
The Ash Wednesday Melee
In an "Oh gosh, we really do live in Utah" moment, one Davis School District teacher asked her student to remove a black mark—ashes in observance of the religious holiday Ash Wednesday—from his forehead. The teacher, Moana Patterson, claimed ignorance and Sen. Todd Weiler, R-Woods Cross, held an odd news conference at the capitol defending the teacher. "This is something that happens when people aren't necessarily exposed to other cultures, other religions," he said. Uhh, ya think? Only in sheltered Utah communities might someone be unfamiliar with a practice of one of the world's largest (and predominantly white) religions. (RH)

Best Cemetery
Union Pioneer Memorial Cemetery
Opened in 1851, this is a quiet, peaceful little cemetery tucked away on a long road next to an LDS church. Dozens of first-generation pioneers who arrived to Salt Lake beginning in 1847 now lay their heads here beneath the ground, and among them are two once-enslaved black men regarded as key figures in Latter-day Saint and Utah history: Green Flake and Hark "Lay" Wales. So lie back, rest up on the grass and take a chance to reflect on the sweep of history in this sanctuary from urban existence. (PH) 1533 E. Creek Road, Cottonwood Heights

Best Way to Say Goodbye to Your Furry Loved One
Pet Crossings
Saying goodbye to a pet is never easy. One local company, though, recognizes that a home can be more peaceful than a veterinarian's office when it comes time for euthanasia. Pet Crossings offers advice and in-home veterinary care when your furry loved one is approaching the end of their life. And when the time comes, they offer an in-home euthanasia service to give you the peace of mind that your dog or cat crosses the rainbow bridge peacefully. (RH) 801-232-1088, petcrossings.com

Best Artistic Memorial
DaveyFest
The nonprofit foundation created in honor of local actor/artist/filmmaker David Ross Fetzer after his death in 2012 has supported a wide range of creative endeavors, from new plays to short films. In 2019, that foundation gave rise to a full-fledged festival of short films, including several films supported by grants from the Davey Foundation. Visiting filmmakers even get a chance to stay together, providing that collegial interaction that can make a festival environment so special. (SR) thedaveyfoundation.org

Best Summer Late-Night Indoor Activity
Tower's Summer Late Nights
Do you consider film-watching more of a social activity? Summer is a great time to be outside and Salt Lake City summers are second to none. Sometimes, though, a movie theater is the place to be. The Tower Theater in the 9th & 9th neighborhood isn't just any normal theater. It's an old-school movie house with a balcony, and shows all kinds of indie flicks. During the summer months, you can catch late-night showings of cult film classics such as Cannibal: The Musical, Akira, Idiocracy and many, many more. Grab your friends and don't miss out on the rowdy late-night crowd. (RH) 876 E. 900 South, 801-321-0310, saltlakefilmsociety.org

Best Small-Town Film Festival
Logan Block Festival
For the last eight years the Logan Block Festival (formerly the Logan Film Festival) has brought local and national performers, directors and artists to Cache Valley for a two-day multi-venue event. Started by Utah State University professor Alan Hashimoto and some of his students in 2011, the festival takes place the last weekend of September at the Ellen Eccles Theater and the Utah Theater in Logan as well as performances at The Cache and The Crepery. After Hasshimoto's death in 2012, festival organizers decided to to honor his legacy by giving northern Utah an outlet for their art. (EGW) theblockfestival.org

Best Hometown Hero With Her Own Netflix Movie
Amberley Snyder
After a car crash left her paralyzed from the waist down, Amberley Snyder was determined to ride again. The rodeo star from Logan told her inspiring life story, and earlier this year, saw it shared with the world as a Netflix original movie. Walk. Ride. Rodeo details Snyder's crash in 2010 and subsequent physical therapy. "It took a lot of time to accept that riding wasn't going to be like it was before. It was a challenge both on and off my horse," Snyder said. The biopic is streaming now. (EGW)

Best Swan Song
The Swan Princess Turns 25
Once upon a time, there was a Utah-based producer named Selden Young, whose transition from selling direct-to-market historical and Biblical animated shorts to a feature film based on Swan Lake seemed to end in box-office catastrophe in 1994. But 25 years and seven-going-on-eight sequels later, The Swan Princess remains a viable and beloved franchise, as Young and the artistic team picked up the pieces and found a way to turn disappointment into profitability, all based on the tale of a princess who wanted a prince to think more of her than that she was beautiful. (SR) swanprincessseries.com

Best New and Super Secret Record Store
Peasantries & Pleasantries
I don't know how many people love their business enough to also live in it, but owner of Peasantries & Pleasantries Parker Yates does just that. Zoned residentially, by law one must make an appointment with Yates via Instagram DM or text to visit the shop, but it's well worth it if you want to find something you love in one short dig. Seminal albums join rare gems in his well-curated crates, which sit across the minimally-furnished space from a weighted shelf of Yates' private collection. I've found special records there myself, and either recognized, already loved or was intrigued by the rest I flicked through. So if you're going to slide into anyone's DMs, make it Parker Yates'. (Erin Moore)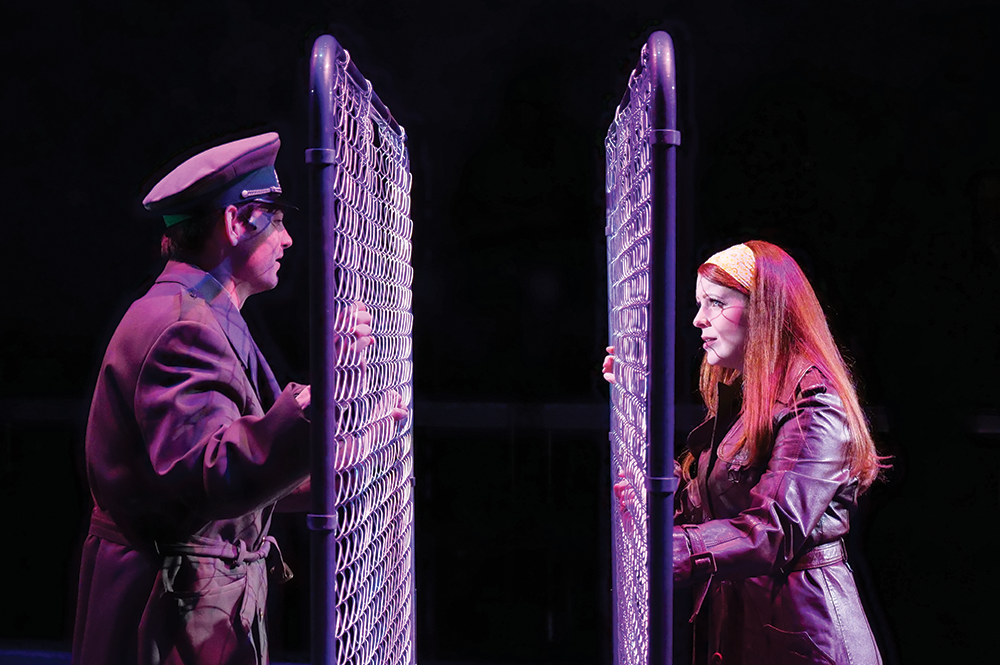 Best Step on the Road to Broadway
A Wall Apart Premiere
Creating an original musical theater production is a longer, more drawn-out process than most people could ever imagine, requiring years of development and millions of dollars. So it was a long-awaited key part of that process for the Utah creative team of Sam Goldstein, Craig Clyde and Air Supply songwriter Graham Russell when A Wall Apart—their epic romantic drama set in Berlin Wall-era Germany—made its full-production premiere at the Grand Theatre. The powerful, intimate production design offered a terrific "proof of concept" that should help any potential investor see a future on the Great White Way. (SR) awallapart.com

Best Fairytale Interpretation
SB Dance's Sleeping Beauty
Using minimalist set design and costuming, a dance company would have to rely on an outrageously talented troupe to tell a story with precision and creativity. With SB's version of Sleeping Beauty, the production could get away with a bare stage and dancers in straitjackets and their interpretation would still be the best one ever. Through an adventurous entanglement of dance and theater, SB's unconventional fairytale is far from any virtuous version with a clever assemblage of innovative artists. When it returns in January 2020, don't waste any time getting tickets as they will quickly sell out. (CF) sbdance.com

Best Paper Walls
Pygmalion Theatre Co.'s Sweetheart Come
A theatrical set is, generally, a temporary thing, built only to be dismantled at the end of its run. But for Pygmalion Theatre Co.'s production of Melissa Leilani Larsen's Sweetheart Come, disposability turned into a wonderful asset for the psychological drama. As the story begins to explore the mental illness of its main character, the walls of the set—made from butcher paper—evolve from a place for notes about the story's time frame to a representation of the protagonist's fragile psyche, and eventually a place for things to burst through into her reality. (SR) pygmalionproductions.com

Best Family History with an Edge
Katharine Coles' Look Both Ways
When former Utah Poet Laureate Katharine Coles undertook the task of turning correspondence and journals from her grandmother into literary form, she really didn't know what she was getting herself into. Over the course of 20 years of stops and starts, Coles ultimately took long-buried family secrets and combined them with stories of her own travels to places where her grandparents lived and worked. The result was a fascinating mix of memoir and family history, which ultimately comes together as a chronicle of gender roles over the years, considering both how much has changed with regard to women's opportunities and limitations, and how much remains the same. (SR)

Best Community Resource for Exploring Printmaking and Collaborating with Other Artists
Saltgrass Printmakers
Allowing open access for key holders, Saltgrass Printmaker's workspace is packed with equipment and supplies for artists to expand their knowledge of printmaking. An incredible educational resource in SLC, they also provide numerous workshops throughout the year for newbies looking to explore this exciting medium. Endlessly supportive of established and emerging artists, they are a creative conduit in connection and collaboration with other artists from near and far. The nonprofit organization works hard to promote and nurture the art community by hosting open press times, studio events and gallery exhibits. (CF) 412 S. 700 West, saltgrassprintmakers.org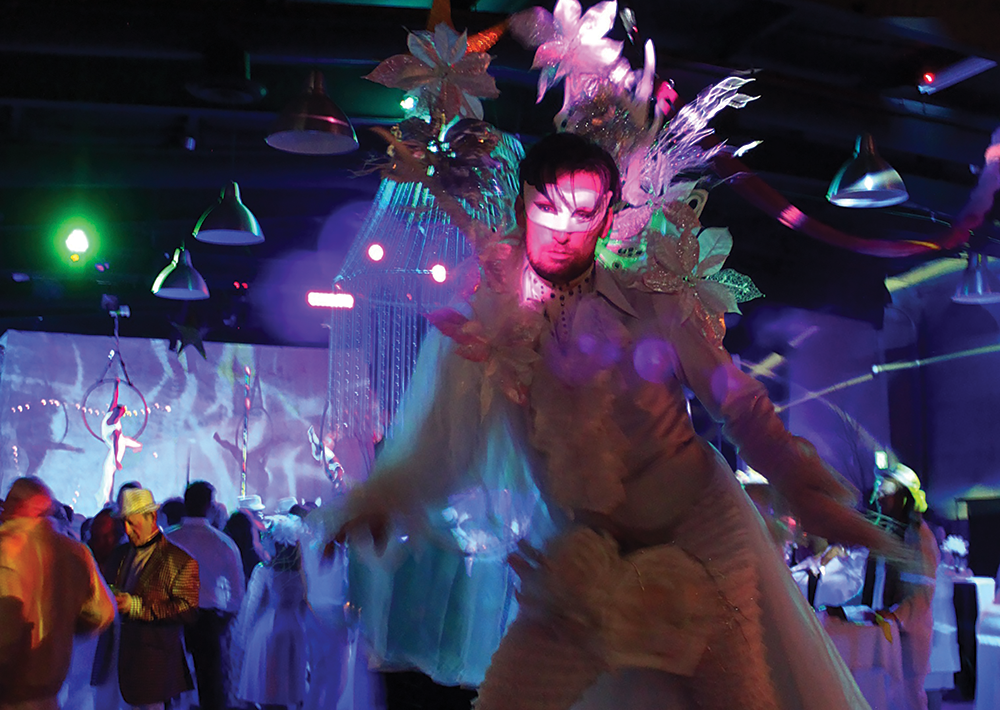 Best Themed Benefit Bash to Let Your Diversity Flag Fly
Utah Arts Alliance's White Party
With a theme open to interpretation, SLC's annual White Party has only one rule, "wear white with flair." Abiding by this will lead to an exciting den of peculiarity featuring jaw-dropping entertainment in many forms, delicious food and special cocktails. Glowing manically under black lights, partygoers are immersed into a whimsical world overflowing with fantasy while playing dress-up takes on a whole other meaning. The chill environment unabashedly embraces individual expression, even those in sloppy costumes like me. This bash is the best place to just let loose and have an unforgettable time. (CF) slcwhiteparty.com

Best Support for a First-Generation Artist
Pilar Pobil Legacy Foundation Scholarship
Everyone understands the daunting prospect of emerging from a university education with mountains of student debt; now compound that anxiety with the financial uncertainty of pursuing a career in the humanities, and compound it further with coming from a family without many financial resources. The Pilar Pobil Legacy Foundation—named in honor of the celebrated local writer, painter and sculptor—has dedicated a full scholarship to help alleviate those anxieties. Its annual recipient will be a first-generation college student, transferring from Salt Lake Community College to the writing and rhetoric studies program at the University of Utah's College of Humanities. (SR)

Best Playful Pairs
Salt Lake DuoFest Improv Comedy
Improvisational comedy, in any form, is a tightwire act of trust, as stage partners spin on-the-spot concepts into skits, sketches and bizarre anecdotes. The inaugural DuoFest, held in April, looked to hone in on that need for a trusting relationship by focusing on two-person comedy teams creating off-the-cuff entertainment. "For me, improv is really about human connection and emotion," founder Danielle Susi-Dittmore told City Weekly, and her Sugar Space showcase offered that opportunity in a way that doubled down on DIY. (SR)

Best Crystal Balls
Treasures 'N' Creations
The "crystal guardians" who run this shop will not blink if you ask them to direct you to seer stones that you'd like to use to look into the future. They'll be happy to explain how to program a stone according to your emotional or physical needs. Since opening in June, the shop has boasted an impressive selection of crystals said to offer various healing properties, according to traditions that have ancient roots in various cultures. To gain extra clarity, spring for the quartz crystal—whose white streak and translucent qualities make it ideal for clairvoyants and scryers. (PH) 3419 S. State, 801-679-1717, treasuresncreations.com

Best Hand-Made Flutes
Wowflutes
The Wowflute is a pocket-sized ocarina made of clay, reminiscent of the one Zelda plays in the Nintendo 64 game The Legend of Zelda: Ocarina of Time. The handy little flutes, ranging in price from $9.95 to $349.95, are made by Utah UFO Festival co-founder Joseph Cowlishaw, who does them up in a range of delightful swirl colors and tunes them so you can teach yourself to play songs like "Oh! Susanna" and the X-Files theme. It's just the tool you need to serenade a fellow geek, or woo a beautiful being from outer space. (PH) wowflute.com

Best Non-apology
Alex Jamison
So, you're the co-owner of a trio of successful vegan eateries who really wants to get his name out there. What do you do? If you're Alex Jamison of Monkeywrench, Buds and Boltcutter fame, you spray a dude in the face with a fire extinguisher, naturally. The incident, recorded on video, featuring Jamison spraying a smoker at point blank, spread like wildfire across broadcast news, and Jamison did a public about-face on one of his restaurant's social media channels as a way to diffuse the "toxic hate, negativity and threats," he said his staff were facing. He then referred to his personal Facebook page for further updates. There, in a since-deleted post, he went on several tangents, including an "I'll show them"-style rant on coming back like a phoenix rising. Sure, Jan. More like a plucked chicken (or, you, know, seitan). (EL)

---
Readers' Choice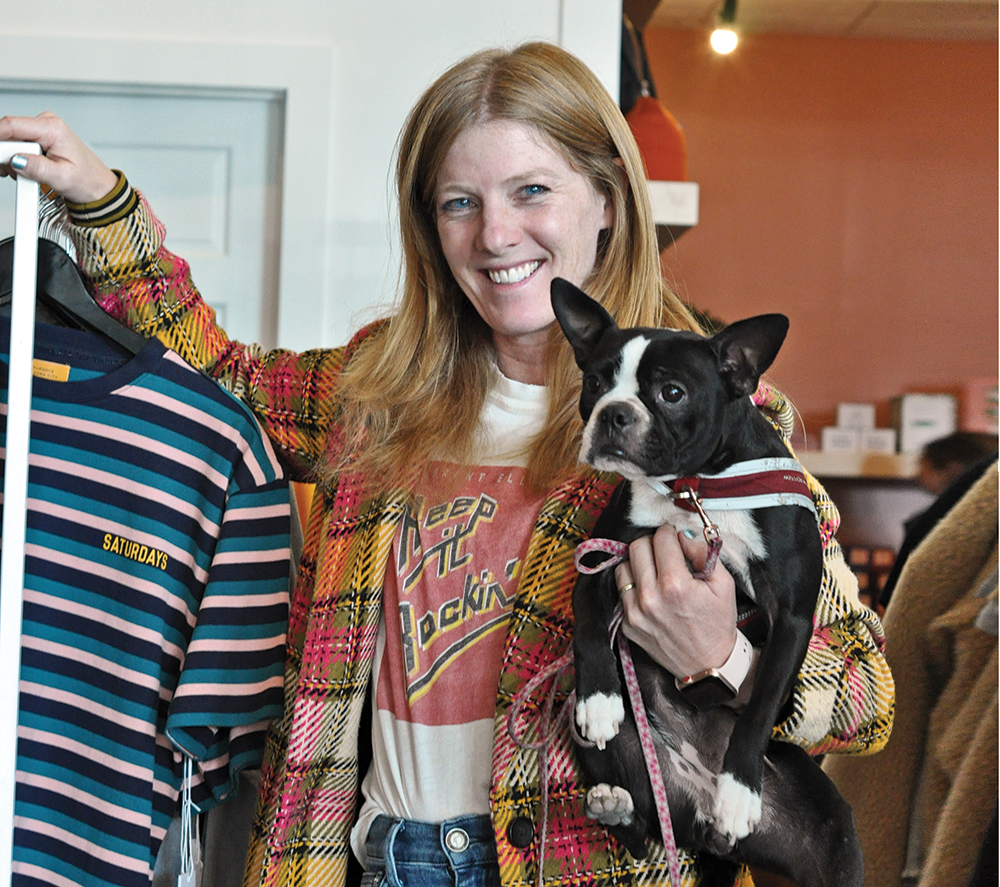 Best Boutique
The Stockist
Located near 9th & 9th, this modern boutique chooses products that are made to last. You'll find items for the home, women, men and kids and it's stock-full of brands you'd find in high-end stores in SoHo. Their clean and industrial style storefront full of helpful employees is sure to make shoppers feel welcome. Timeless textiles and fashion will have you coming back for more. 875 E. 900 South, 801-532-3458, thestockistshop.com
2. Iconoclad
3. A La Mode

Best Barber Shop
Ray's Barber Shop
With two different locations and more than 45 barbers, Ray's Barber Shop is sure to get you looking sharp. Ray's offers cuts for all as well as beard trimming, razor lineup and the classic barber shop shave. Walking into Ray's you'll feel a sense of nostalgia and tradition while leaving with a fresh cut. 154 S. Main, 801-359-7297; 1330 S. 2100 East, 801-583-7297, raysbarbershopslc.com
2. Jed's
3. Liberty Wells

Best Bookstore
The King's English Bookshop
Books, books galore! The King's English Bookshop has everything a bookworm could want and more. Book groups, author appearances and, of course, a plethora of books. This whimsical bookshop has been serving readers of all ages since 1977. Stop by to search for your perfect read or go to their website for e-books. 1511 S. 1500 East, 801-484-9100, kingsenglish.com
2. Weller's Bookworks
3. Ken Sanders Rare Books

Best CBD for Pets
Koi Pets
Um, CBD for pets? Yep. Koi Pets offers CBD soft chews and CBD oil spray for your fur babies. These products give your furry-friend the same benefits it gives humans. These full spectrum CBD items are veterain formulated and non-GMO. They are made to restore your pets' diet or just to improve their overall health. koicbd.com
2. Roxy Pets
3. Healthy Hemp Pet Co.

Best CBD Product
Hemplucid
"Experience Life Again" is Hemplucid's vision. Oil, muscle rub, gummies and more are what you can find on its website. And it even has products for your pets, too. Hemplucid offers full-spectrum CBD products and raves about their quality and purity. They share their test results with the public to show how their products perform. 4844 N. 300 West, Ste. 202, Orem, 385-203-8556, hemplucid.com
2. Muscle MX
3. PhatLeaf

Best CBD Retailer
Koodegras
When it opened in 2015, Koodegras was SLC's only CBD shop. With the rising popularity of CBD, Koodegras stands its ground as the city's best. Koodegras wants to help people live cleaner and healthier lives. Their CBD specialists will help you meet your goals with the right education and products. Multiple locations, koodegras.com
2. Blackhouse

Best Comic Book Store
Dr. Volt's
Calling all comics! Dr. Volt's Comic Connection offers more than just collectables. They carry comics, card games and action figures. For 30 years and counting, this has been the go-to for the comic cravers. Their knowledgeable staff will happily help you navigate their extensive collection. You won't miss any issues as they offer a hold service. 2043 E. 3300 South, 801-485-6114, drvolts.com
2. The Nerd Store
3. Hastur Games

Best Garden Supply Store
Cactus & Tropicals
Walking into a Cactus & Tropicals store you're transported to a jungle of sorts. They offer indoor and outdoor plants as well as a divine cut floral service. Events like weddings, receptions or a corporate dinner can be held at either location for a unique setting. Their experienced staff will help fulfil any home or office decor fantasy. 2735 S. 2000 East, 801-485-2542; 12252 Draper Gate Drive, Draper, 801-676-0935, cactusandtropicals.com
2. Millcreek Gardens
3. Glover Nursery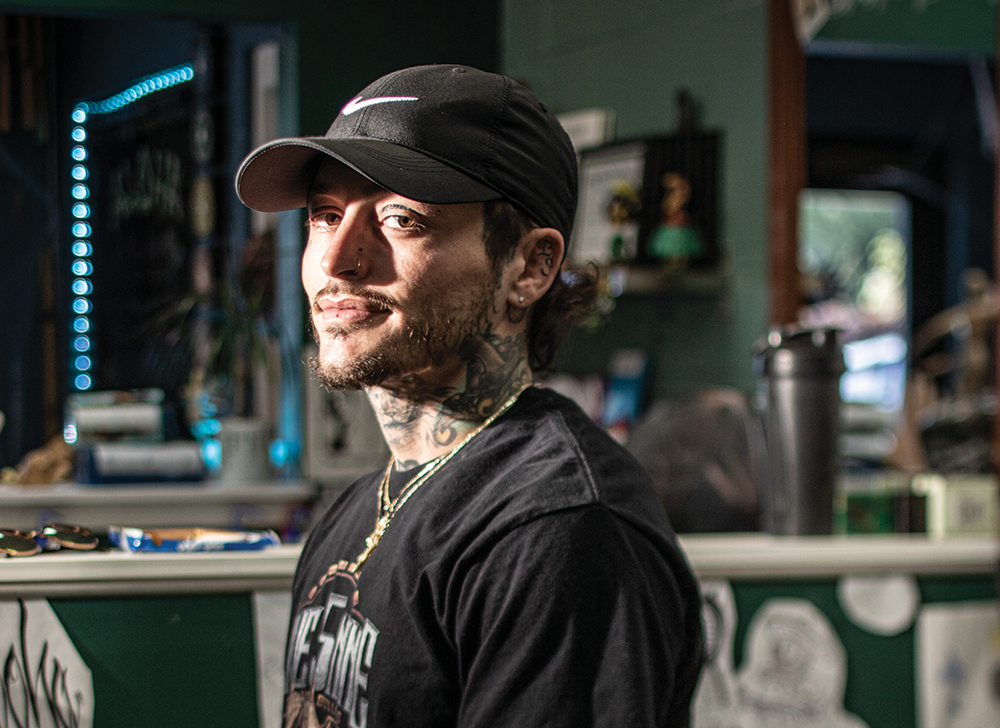 Best Tattoo Artist
Luke Jensen
Luke Jensen is a newbie in the tattoo bizz but his talent would make you think differently. He currently practices his artistry at Aloha Salt Lake Tattoos, which he co-owns, and hopes to one day travel the world creating long-lasting work. He can do anything from black and grey realism to new school style ink. Watch this young, passionate artist become a SLC favorite. 6657 S. State, Ste. 4, 801-609-8288, alohasaltlaketattoos.com
2. Mason Atlas
3. Sarah de Azevedo

Best Pet Supply Store
Paw Paws
Paw Paws is a self-serve dog wash and pet boutique. Their washing area has a tub for every size of doggo. They carry premium, organic, grain free and raw dog or cat food. Healthy and yummy treats for your furry pal also are found here. And they carry West Paw Design beds and toys along with local brands. 624 S. 300 West, 801-531-4200, pawpawsdogwash.com
2. Dog's Meow
3. Rockstar Pets

Best Piercer
Enso's Dustin Robbins
Dustin Robbins, owner of Enso Piercing + Adornment, has been piercing the good people of SLC for over 20 years. Robbins builds relationships with each client and creates a clean, comfortable experience. Utah's winning piercer is not only a quality professional but a family man, a dog lover and occasional gamer. 265 E. 900 South, 801-953-0201, ensopiercing.com
2. Courtney Marriott—Abyss
3. Patrick Bogdanich—Koi

Best Piercing Studio
Iris
Getting a new piercing can be intimidating—but with the right studio behind you, it's cake. Iris' piercing studio is a treat because it also doubles as a jewelry gallery. It's full of astounding pieces along with a helpful, kind staff. You can make an appointment for your new modification or just walk in. 2431 S. Highland Drive, 801-486-0112, irispiercing.com
2. Enso
3. Koi

Best Salon
Lunatic Fringe
Racking up awards since '04, Lunatic Fringe can make your dream hair come true. This salon prides itself in educating clients—and in making sure they can create their in-salon hairstyle at home. With multiple locations, anyone can book an appointment at a Lunatic Fringe. Their modern salon will draw you in, but their gorgeous styles will keep you coming back. Multiple locations, lunaticfringesalon.com
2. Landis
3. Troubadour

Best Smoke/ Vape Shop
iVape
Vape shops are plentiful with the new rise in e-cigarette use. But not all vape shops are like iVape with amazing customer reviews, quality e-juice and hardware. This shop also offers an outdoor "flavor bar." Education matters to the iVape staff so they are happy to help customers learn the basics before venturing into the vape life. 4523 S. Redwood Road, 801-268-8273; 6657 S. State, 801-290-2605, Ste. 5, ivapeslc.net
2. Blackhouse Vapors
3. Peak Vapor

Best Tattoo Shop
Aloha
Friendly, clean, professional with the "spirit of Aloha" is the atmosphere this shop creates. Aloha is new to the SLC tattoo scene, but nonetheless, a fantastic one—staffed by diverse, talented and friendly artists who can tattoo anything. Aloha also offers a financing and a loyalty rewards program, a first for Utah. 6657 S. State, Ste. 4, 801-609-8288, alohasaltlaketattoos.com
2. Yellow Rose
3. The Hive

Best Thrift/Consignment Store
Iconoclad
Iconoclad is an SLC staple and favorite. This thrift/consignment store offers new and "previously rocked" clothing. Selling your own clothing couldn't be easier. Sellers get 50% of what Iconoclad makes on your clothing (and you can watch the action online). Don't forget to say hello to the shop cat. 414 E. 300 South, 801-833-2272, iconoclad.com
2. Pib's Exchange
3. Decades Vintage Clothing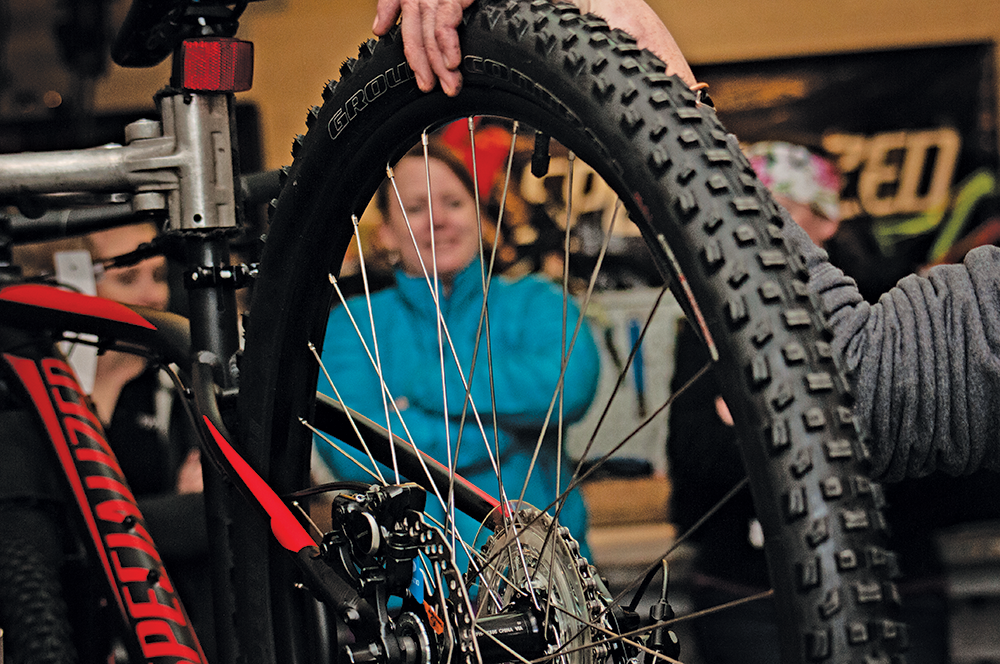 Best Bike Shop
Bingham Cyclery
For more than 50 years, Bingham Cyclery has helped riders throughout the Wasatch Front get tuned up on two wheels for the trail or the road. If you're looking to get that perfect bike fit, you can schedule an appointment at one of their four locations to meet with a specialist who'll analyze every part of your body to be sure you're riding efficiently. Multiple locations, 1-888-611-2453, binghamcyclery.com
2. Saturday Cycles
3. Highland Cyclery

Best Public Golf Course
Bonneville
With plentiful views of the Salt Lake Valley, Bonneville Golf Course is situated in one of the best spots around to play 18 holes. Located on the East Bench above Foothill Drive, Bonneville has a driving range and an expansive course. If you're planning to walk 18 holes, be prepared for a workout because the course changes in elevation. Or you know, rent a golf cart. 954 Connor St., 801-583-9513, slc-golf.com
2. Mountain Dell
3. Eagle Wood

Best Bike Path
Jordan River Parkway
Sure, Salt Lake City is looking more like a concrete jungle every day, but there are still spots you can take in its scenic green spaces and waterways. Start by hopping on your bike and riding part of the more than 40-mile urban trail known as the Jordan River Parkway. It stretches from Utah County north to Davis County and will leave you savoring what green we have left.
2. Parley's Trail
3. Bonneville Shoreline Trail

Best Bowling Alley
Bonwood Bowling
There's a reason Bonwood Bowling has been around since the 1950s: Its 42-lane alley takes pride in hosting experienced bowlers or walk-in customers. Whether you're rolling a 300 or gutter balls, there's no judgment from the folks at Bonwood. Check out their league options and stop by the pro shop to find all your bowling alley needs. 2500 S. Main, 801-487-7758, bonwoodbowl.com
2. All Star Lanes
3. Olympus Lanes

Best Hike Path
Donut Falls
This 3 ½-mile trail up Big Cottonwood Canyon is a great idea for a quick getaway during the warmer months. You've probably heard people mention the hike before and it's for good reason. The trek features a picturesque waterfall that you'll certainly want to photograph on your phone—no Instagram filters needed. It's also a trail friendly for all hiking abilities. Mill D Trailhead, Big Cottonwood Canyon
2. Ensign Peak
3. Bells Canyon

Best Local Gear Brand
Black Diamond
If you're looking for quality back-country skiing or climbing gear, Black Diamond is the place to go. The company has been serving outdoor enthusiasts along the Wasatch Front since 1992, and since then, they've only built one of the most trusted outdoor gear brands. Stop by their Salt Lake City location for your Black Diamond needs as well as a selection of complementary brands. 2092 E. 3900 South, 801-278-0233, blackdiamondequipment.com
2. Cotopaxi
3. Klymit

Best Recreational Sports Store
Recreation Outlet
State Street's Recreation Outlet gives you a chance to get outdoors without making a serious dent in your wallet. The reasonable prices and knowledgeable and experienced staff help you select what's trending in the outdoors world and what equipment can keep you safe. Be sure to keep this place on your short list before you head out into Utah's backcountry. 3160 S. State, 801-484-4800, recreationoutlet.com
2. Level 9
3. Milosport

Best Skate Shop
Milosport
Forget those corporate chain outlets and let the local experts at Milosport help you with all your shredding needs. The shop has been a go-to location for skaters and boarders alike on Salt Lake City's eastside for 35 years thanks to their friendly staff, product selection and quality gear. Don't miss this shop next time you plan to hit the skate park. 3119 E. 3300 South, 801-487-8600, milosport.com
2. Modern Monark
3. Raunch

Best Running Event
Salt Lake City Marathon
The annual Salt Lake City marathon is truly a high-altitude event. Starting at 4,835 feet above sea level, the course is a gentle downhill run through Salt Lake City's Avenues neighborhood, Memory Grove, downtown and Sugar House and Liberty parks. The course ends at Library Square where you can celebrate with hundreds of others after 26.2 grueling miles. saltlakecitymarathon.com
2. Ogden Marathon
3. St. George Marathon

Best Ski/Snowboard Shop
Level 9
Located in an old warehouse in Salt Lake City's Granary District, Level 9 boasts some of the best selection of ski gear at "rock-bottom prices" so you and your family can afford to get outside without busting the budget, according to the shop's website. Make sure you have enough time to check out their 12,000 square feet of retail space and think about coming back with your bike in the warmer months. 625 S. 600 West, 801-973-7350, levelninesports.com
2. Milosport
3. Ski 'N See

Best Ski Resort
Deer Valley
It might be a ski-only resort, but that doesn't stop Deer Valley from consistently being ranked as one of the top destinations in North America. By limiting its ticket sales to 7,500 per day, it's never too crowded. Enjoy Utah's snow with this resort's high-end amenities and you'll be feeling high class in no time. 2250 Deer Valley Drive, 435-649-1000, deervalley.com
2. Snowbird
3. Brighton

Best Snowboarding
Brighton
If you're looking to get on the board, Brighton's the spot for you. The resort at the top of Big Cottonwood Canyon gets plenty of powder and features more than 1,000 acres of terrain as well as multiple terrain parks to get your shred on. Check out their night skiing option, too, if you're looking to save a few bucks. 8302 S. Brighton Loop Road, Big Cottonwood Canyon, 801-532-4731, brightonresort.com
2. Canyons
3. Solitude

Best State Park
Goblin Valley
Ditch the crowds at Utah's national parks and spend some time in state parks like Goblin Valley. Millions of years of sandstone erosion have created magnificent mushroom-shaped rock formations, known as hoodoos or "goblins." Explore the park via hiking, biking or even the 9-hole disc golf course near the campground. Goblin Valley Road, Green River, 435-275-4584
2. Antelope Island
3. Dead Horse Point

---
PEOPLE
PLACES + ENTERTAINMENT
GOODS + SERVICES
EAT + DRINK
NIGHTLIFE + BARS
COMMERCE