It flirts with cliché, but it's also true: You don't always fully appreciate something until it's gone. For much of the past 18+ months, we've had to deal with a world in which a lot of things we took for granted weren't always available to us: favorite restaurants, well-loved live performance venues, the places we just went to get away from it all. Some folks and businesses came out on the other side of the worst part of the pandemic still kicking; not all of them did.
City Weekly's annual Best of Utah issue has always been, for more than 30 years, a celebration of community, and we've felt the need for that community more than ever lately.
These recognitions are a chance for all of us—those lucky enough to work for this publication, and those who read and support it—to pay our respects to the people and places that make our city and our state unique. We've always been a local voice, listening to other local voices, as they support still more local voices.
These pages are full of authentically Utah things, some 374 and counting, that the readers who voted and the staff who wrote about them authentically love.
The 2021 City Weekly Best of Utah issue features a lot of the great things you've come to expect, plus a little bit more, including special recognition for some entities that went the extra mile during the pandemic in putting public health first. That's because love for the community is represented by how we help take care of one another.
Love for this community is why City Weekly exists, and why this issue exists. Thanks for reading, and for helping us spread the love.
—Scott Renshaw
Scott Renshaw is City Weekly's longest-tenured editorial staffer, serving as film critic and arts and entertainment editor since the early aughts. He's also written the book Happy Place: Living the Disney Parks Life.
Best of Utah contributors also include: Katharine Biele, Carolyn Campbell, Aimee L. Cook, Babs De Lay, Lance Gudmundsen, Erin Moore, Cat Palmer, Aspen Perry, Jenny Poplar, John Rasmuson, Mike Riedel, Eleni Saltas, Michael Saltas, Alex Springer, Megan Wagstaff, Benjamin Wood and Jerre Wroble.
---
MEDIA & POLITICS | Readers' Picks
Best Elected Official
Salt Lake City Mayor Erin Mendenhall
It can be hard to understand the logic of state leaders who insist the best way to fight the coronavirus is to prevent any and all decision-makers from fighting the coronavirus. So, it's refreshing to see Mayor Erin Mendenhall's level-headed approach of following the recommendations of health professionals, ordering masks in schools, tracking the results with infection data and largely leaving lawmakers to hoot, holler and foam at the mouth from their Davis and Utah County homes. Punishment from the all-knowing Legislature is all but guaranteed, but Mendenhall doesn't seem to care. More of this, please. @slcmayor, slc.gov/mayor/staff/mayor-erin-mendenhall,
2. Utah Gov. Spencer Cox
3. Utah Sen. Mitt Romney
Best Weathercaster
Allison Croghan
It's not often that you get a chance to watch somebody grow into their passion on-air, but Fox 13's Croghan didn't come to Utah as a meteorologist. Instead, she spent seven years in training after joining the Fox 13 team, and in her role as midday meteorologist, she conveys all the energy that went into that education with a confident presence that puts to rest the old "weather-guesser" cliches. fox13.com
2. Kevin Eubank, KSL5
3. Alana Brophy, ABC4
Best Utahn
Angela Dunn, MD
In Greek mythology, Cassandra was a priestess whose unfailing prophesies were unfailingly ignored. Nowadays, a Cassandra is typically a physician or scientist. Some of them track hurricanes churning toward North America. They make dire predictions and issue evacuation orders only to be ignored by those who vow to "ride it out" (but expect others to risk life and limb to rescue them). In the COVID-19 pandemic, Angela Dunn took up the Cassandra portfolio. Her prophetic voice has been as clear as a trumpet in a cathedral while unvaccinated and unmasked Utahns bray and Republican politicians pander. Bone-weary doctors and nurses sing her praises. From the crowded hospitals comes the tearful chorus: "If only we had listened." Twitter @DrAngelaCDunn
2. Donovan Mitchell, Utah Jazz
3. Gail Miller, Larry H. & Gail Miller Family Foundation
Best TV Reporter
Ben Winslow
Fox 13's Ben Winslow is the top dog, that is unless you're a lawmaker on the Hill hassling him on Twitter. Earning his cred as a radio, then newspaper reporter, Winslow is the one to follow on social media to learn about the legislative intrigue and backroom deals. He also keeps an eye on the DABC and lets viewers in on all the latest booze news. We love seeing what dapper mask he will don for the evening news. He's an informative class act and a snappy dresser to boot! @BenWinslow, fox13now.com
2. Alex Cabrero, KSL 5
3. Chris Jones, KUTV 2News
Best Nonprofit Organization
Best Friends Animal Society
In 1984, a group of animal lovers constructed a small shelter in Kanab, Utah, to house disabled and abandoned pets. What began as a labor of love eventually blossomed into the seat of a powerful movement to transform every shelter in America into a no-kill shelter. The good people of Best Friends Animal Society are truly earth angels who offer untold comfort and sanctuary to countless fur babies every single day. 5001 Angel Canyon Road, Kanab, 435-644-2001, bestfriends.org
2. Community Animal Welfare Society (CAWS)
3. Planned Parenthood Association of Utah
Best Social Cause
Black Lives Matter
How do Black Lives not matter? The fledgling activist group burst onto the Utah scene in 2014 after the death of Mike Brown in Ferguson, Missouri. The 2020 killing of George Floyd gave BLM renewed drive to pursue police reform. But the local chapter's founder, Lex Scott, left Utah amid increasing death threats, and now, 30-year-old Rae Duckworth has taken the BLM reins with a broader focus on marginalized communities. 385-482-1172, blacklivesmatterutah.com
2. Clean air/climate change
3. Ending homelessness
Best Local Podcast
Cold
The KSL-branded Cold podcast was an instant sensation in 2018 when host Dave Cawley took a deep dive into the Susan Powell case. They returned strong in 2021 with another fascinating tale: The August 1985 disappearance of Joyce Yost after she reported being raped by Douglas Lovell, who ultimately confessed and was convicted of her murder. The podcast has even generated new leads in the search for her remains, helping on the road from a cold case to closure. thecoldpodcast.com
2. Geek Show
3. I Am Salt Lake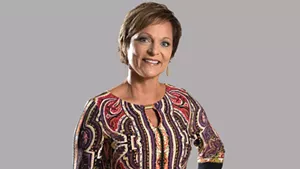 Best TV Anchor
Mary Nickles
Who doesn't love Mary Nickles, the weekday co-anchor of KUTV's 2News This Morning and 2News at Noon? Nickles embodies the grace and stamina many female anchors lack. Her public journey with breast cancer made her a local hero and solidified her news chops. But always, Nickles is the girl next door, your mom, your sister and your trusted source for the news. @KUTVMary, kutv.com
2. Mark Koebel, KUTV2
3. Kerri Cronk, FOX 13
Best Sports Reporter
David James
Next year, David James will celebrate his 30th anniversary covering sports in Utah, and his longevity is no fluke. Whether as host of his long-running Talkin' Sports program on KUTV2, or as co-host of 97.5/1280 The Zone's morning drive show, James brings an easy-going, accessible vibe to his knowledgeable takes on local and national sports, avoiding the bluster that characterizes so many sports-media personalities. It's a pleasure listening to someone convey that he loves sports, rather than that he loves letting you know how much more he knows about sports than you do. @DavidDJJames, kutv.com
2. Wesley Ruff, ABC4
3. Dave Fox, KUTV2
Best Real Housewives of Salt Lake City Member
Heather Gay
Bravo's Real Housewives of Salt Lake City definitely turned some Utah stereotypes upside-down, and like all reality shows, brought with it a cast that some viewers love and some love to hate. Heather Gay became a unique presence by offering openness about being a single mother to girls, and about her own divorce and eventual separation from the LDS church. That personality has resonated to the point where she's working on a memoir about her experiences, due for release in summer 2022. bravotv.com
2. Whitney Rose
3. Jen Shah
Best Radio Station
KRCL 90.9FM
There will always be the big media players, but KRCL 90.9 FM proves that the community loves the little guy. This listener-supported community radio station has that edge that keeps you coming back for the music and the politics. With shows like RadioACTive, Democracy Now, Loud and Clear Youth Radio and Smile Jamaica, where else can you breathe this kind of freedom? This is a local expression of you and for you. 535 W. 300 North, Ste. A, SLC, 801-363-1818, studio 801-359-9191, krcl.org
2. X96
3. KUER 90.1FM
Best TV Station
KSL 5
There's something about the known and comfortable. On the air since 1949, you can't argue with history and its family-oriented programming. The NBC-affiliate is owned by Bonneville International, the for-profit arm of The Church of Jesus Christ of Latter-day Saints. That affiliation has given KSL-TV the resources to reach around the Intermountain West, covering news and events like no other station can. 55 N. 300 West, SLC, 801-575-5555, ksl.com
2. Fox 13
3. KUTV 2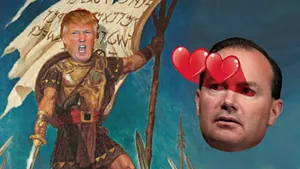 Best Political Scandal/Controversy
Sen. Mike Lee Compares Trump to Captain Moroni
Utah Sen. Mike Lee's true nadir came two months before the Jan. 6 insurrection, when he appeared at a rally in Arizona. Speaking before a crowd, Lee likened Donald Trump—whose vulgarities are too numerous and obvious to describe—to the Book of Mormon's Captain Moroni, a figure revered by members of The Church of Jesus Christ of Latter-day Saints. That the comparison is absurd and inappropriate doesn't matter. Lee's aim was to use a shared religious experience for secular gains, reminding Trump's audience that this was not a battle of political ideals but a battle of moral posturing. In so doing, Lee showed that nothing he claims to believe in is worth a damn. lee.senate.gov
2. AG Sean Reyes travels outside Utah to question other state elections and kiss Trump butt
3. Utah Legislature bans mask mandates
Worst Utahn
Sen. Mike Lee
Out of the thousands who have and will yet serve in the U.S. government, only an exceptional few are truly remembered—for good or ill. And while he may yet secure a legacy of his own, Utah's Republican Sen. Mike Lee is perhaps most useful as an embodiment of conservative politics during the twenty-teens. In 2010, the fury and rage of the nascent Tea Party carried the unknown, pocket Constitution-waving lawyer into the Senate. Since then, Lee has surfed that wave of sanctimonious anger and fragility through two terms, gleefully exacerbating the win-at-all-costs gamesmanship in Washington and turning a blind eye as the flames he helped fan crashed down on the U.S. Capitol last January. lee.senate.gov
2. U.S. Rep. Chris Stewart
3. U.S. Rep. Burgess Owens
Best Radio Show
Radio From Hell, X96
Whether they're together in the studio or collaborating remotely from home studios, the X96 morning radio team of Kerry Jackson, Bill Allred and Gina Barberi continue to be a haven of sanity, 25 years after the trio first united. For four hours, beloved segments like "Boner of the Day," "Geek News on the Radio" and "Beat Gina" offer fun and frivolity, all anchored by the chemistry and camaraderie of the hosts. x96.com/radio-from-hell
2. RadioACTive, KRCL 90.9 FM
3. Frankie and Jess, 97.1 ZHT
Best Newspaper Reporter
Robert Gehrke, The Salt Lake Tribune
Utah doesn't have many recognizable journalists anymore. The days of Rolly & Wells and Robert Kirby are gone, but The Salt Lake Tribune has evolved. Robert Gehrke is the best part of that evolution. You might call him a columnist now, but Gehrke has 20 years of government and politics reporting under his belt, with time reporting in Washington, D.C. He holds our politicians accountable by his well-researched columns, and he's always relevant. @RobertGehrke, sltrib.com
2. Andy Larsen, The Salt Lake Tribune
3. Katie McKellar, Deseret News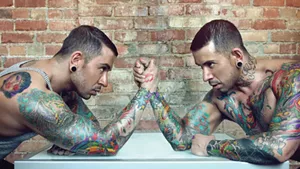 MEDIA & POLITICS | Staff Picks
Best Alternative Soul
Gorgeous Jared Gomez
Many readers recall Gorgeous Jared's previous BOU wins as hair stylist extraordinaire. His 22 years in the biz have garnered him loyal clients that flock to him for his color and styling chops but also to steal a glance at his sleeves of tattoos and sexy biceps. Unbeknownst to many, though, those big guns were dealing with challenging musculoskeletal maladies that tend to show up among hair professionals due to repetitive movements. The struggles spurred Gomez to return to college to pursue a master's degree in social work. Now in his third semester, he finds himself metamorphosing into someone new. Fear not, his return to academia has made him no less alternative. He still shows up for drag performances throughout town, donning stilettos and inspired attire certain to make a statement. Keep an eye on Gomez—we're guessing he'll continue to make life in the Beehive ever more caliente! IG: @gorgeousjared
Best NIMBYs
ADU opponents in the Avenues
Whether or not you like the look of Ivory Homes' planned Capitol Park project, objecting to its incorporating built-in mother-in-law apartments is among the shorter-sighted reactions to Salt Lake City's housing crisis. People like to complain about apocryphal Californian hordes scooping up homes in the city, but less attention is paid to the local homeowners who are forced to hand over their keys and cash out in the face of skyrocketing property values. Mother-in-law apartments and other accessory dwelling units (ADUs) offer a potential alternative, empowering longtime residents to capitalize on the housing demand without relocating. Ivory Homes should be applauded, not jeered, for pushing the city to loosen its zoning rules—yes, even in the Avenues.
Best Bridge Builder
Billy Palmer
You've likely heard of Billy Palmer if you live in Salt Lake City. He's known for his more than 20 years of empowering the community, building bridges and amplifying west-side voices. A radio host for RadioACTive, a staple in the community, he recently came in second place for a Salt Lake City Council seat. You can see him depicted in a mural by artist Blondine Jean-Packard at the Patagonia Outlet at 2292 S. Highland Drive in SLC. Twitter and IG @billypalmerSLC, billypalmerSLC.com
Best Made-Up Controversy
Critical Race Theory
The modern-day Republican Party has made an artform out of fabricating faux controversies out of thin air. First, they tried to protect us from the transgender bathroom predators and student athletes who don't exist. Then, they took a solemn stand against virtually every tool for ending this damned pandemic. And now, they're giving educators a new reason to hate their jobs by insisting that children never learn anything that might motivate them to strive for a more perfect union. It would be funny if it wasn't so terrifying.
Best Boundary Pushers
Decarcerate Utah
Do prisons deter crime or rehabilitate offenders? Does a police presence keep society safe? Those are the tough questions local abolitionist group Decarcerate Utah wants local citizens to start thinking about, as its members work toward more holistic means of addressing crime in our state—means that center on compassion, community and groundbreaking thinking. decarcerateutah.org
Best Podcast for History Buffs
Demolished Salt Lake
Making its debut in 2021, Demolished Salt Lake episodes provide a fascinating glimpse into life in Utah's yesteryears. From historic homes to hospitals, penitentiaries and brew companies, this podcast has something for everyone. While you can bounce around, we recommend listening from start to finish, as many episodes reference people or places from a prior show. anchor.fm/demolishedsaltlakepodcast
Best Kicking Against the Pricks
U.S. Sen. Mitt Romney
When Utah's Mitt Romney joined Democrats in the Senate voting to convict Donald Trump of high crimes and misdemeanors, he became the first senator in U.S. history to support the impeachment of a president from his own party. No surprise that Romney took heat from fellow conservatives on the Hill, but after a Trump-inspired mob attacked the Capitol, many softened their criticism. Now in the Biden era, Romney was the only Utahn to support the bipartisan infrastructure bill and looks to be the only member of the state's delegation willing to get anything done. romney.senate.gov
Best Joie de Vivre
Masuda Medcalf
By day, she's an administrative law judge with the Utah Department of Commerce, and by evening, she's a well-known and much-beloved fitness instructor at various rec centers. Whether she's splish-splashing through the moves of aqua Zumba at Cottonwood Heights Rec Center or getting her groove on as a kickboxing Bollywood dance and yoga instructor at Central City Rec Center, she brings smiles to the faces of those fighting for fitness and has them singing, hooping and chirping along with the beat. Her enthusiasm is truly contagious. Did we mention she's also an assistant to the stars at Star Trek conventions? Beam us up, Masuda. bollyx.com/instructor/masuda-medcalf
Best Media Upstart
Building Salt Lake
As legacy media organizations shriveled under declining revenue, they doubled-down—tripled-down? quadrupled-down?—on the three pillars of local news: politics, sports and weather. That leaves a lot of stories untold, particularly in the capital city where beaucoup Utahns still live when all the partisans, athletes and meteorologists head home. Most of the state's new media sites merely replicate the red-vs.-blue coverage being done better elsewhere, which makes Building Salt Lake's targeted focus on construction and development (kind of a big issue these days) a welcome alternative to the usual cacophony of hot political takes. buildingsaltlake.com
Best Excuse to Stop Driving
GREENbike's Electric Fleet
Biking is great exercise and good for the environment, but the prospect of showing up to your destination drenched in sweat can be a tough sell. That cost/benefit equation gets a welcome adjustment with the increasing availability of electric bicycles through GREENbike, Salt Lake City's nonprofit bike-share service. While you still need to pedal, the assist from an electric motor takes the bite out of SLC's sloping streets and makes a trip through downtown so breezy, you might just leave the car at home. greenbikeutah.org
Best Bellwether Towns
Henefer and Oakley
No doubt Oakley's town fathers took notice when a drinking-water shortage caused neighboring Henefer to suspend new home construction in 2019. Now Oakley, finding itself in similar straits, has followed suit with a moratorium on connections to the town's water system. The two towns in Summit County are bellwethers for all the state's fastest-growing counties. Utah's love affair with unlimited growth depends upon unlimited resources. Not only is water a limited commodity, Utahns squander it, consuming a gluttonous 170 gallons per person per day. Moreover, the population is projected to increase from the present 3.3 million to 5.5 million thirsty, lawn-loving souls by 2050. The handwriting is on the wall in Henefer and Oakley: Water will have the last word on future development.
Best Front Yard Hope
Little Free Library
The city's residential neighborhoods are fast being retrofitted with what look to be pedestal-mounted dollhouses. However, the miniature houses are actually weatherproof book exchanges. Installed close to the sidewalk, they are designed to tempt passers-by to take a book or leave one. The "little free libraries" are the stock in trade of a 12-year-old nonprofit, Little Free Libraries, based in Wisconsin. On its rolls are more than 100,000 "book houses." It's a hopeful development. Just when it seems that all is lost, just when it seems America is becoming ungovernable and mean, hope springs from the words, "Free books!" littlefreelibrary.org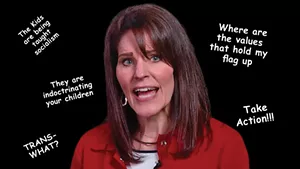 Best Schoolmarm
Natalie Cline
The Utah Board of Education has seen its fair share of cuckoo birds. But few have been as woefully misguided as Bluffdale's Natalie Cline, whose incessant diatribes against anything outside her black-and-white fantasy of "traditional" values culminated in an unprecedented formal reprimand from her board colleagues. There's a perennial debate at the Utah Legislature over whether the school board should be elected or governor-appointed. Maybe, thanks to Cline, removing voters from the equation isn't the worst idea. schools.utah.gov
Best BIPOC Women Networking
Melanin Squad
The professional and workplace experience of women of color comes with its own unique challenges and often a sense of wondering where you belong. Sarah Vaughn recognized a need to bring together those dealing with such challenges, and in 2019 created Melanin Squad as a hub for networking events and safe spaces for conversation so everyone can feel seen, heard and understood. From pre-pandemic live events to more recent virtual offerings—plus a directory of local businesses owned by women of color—it fills a gap in the local professional landscape. melaninsquad.com
Best at Illustrating Utah's True Colors
Pat Bagley
The Salt Lake Tribune's editorial cartoonist and author Pat Bagley has been ruffling feathers since 1979. Syndicated in U.S. newspapers and abroad, Bagley won the Herblock Prize for editorial cartooning in 2009 and was named a Pulitzer Prize finalist in 2014. A local and national treasure (even when visiting Paris, he gets recognized!), Bagley's critics love to hate him and give him free space in their heads. His fans adore his brilliance and cannot wait to see what he comes up with next. No matter what, he has kept everyone talking for four decades. Twitter: @PatBagley, IG: @BagleyCartoons
Best Trip Down Memory Lane
Rachel Quist on Instagram
From posts on visits from Hawaiian royalty in 1875 to the racist ways of the Salt Lake Hot Springs Sanitarium at 52 W. 300 South in 1893, Rachel Quist tackles both Utah's light-hearted and heartbreaking moments. In addition to sharing vintage cards and catalog clippings—fancy a $57.50 fur from the 1919 Sears Roebuck catalog?—history at-a-glance has never been more fun. IG: @Rachel_SLC_History
Best Common- Sense Champion
Rep. Carol Spackman Moss
They say a woman's place is in the House. Too bad there aren't more of her. Moss has been in the House of Representatives since 2001, a Democratic Don Quixote as she pushes common-sense legislation against a largely myopic white, male majority. Who wouldn't want schools to teach that children cannot legally consent to sexual contact? Oh, those male legislators. She's worked to stanch opioid addiction, call out distracted driving and encourage immunization. It's all too sensible. 801-647-8764, csmoss@le.utah.gov
Best Shameless March
SLUTWALK (The Walk of No Shame)
SLUTWALK is celebrating its 10th year. Originating in Toronto, Canada, and now spread worldwide, we're lucky to have a Salt Lake City SLUTWALK chapter. Focusing on fostering a consent culture while ending a rape culture, the 2021 march to the State Capitol took place in late September. Visit their Facebook page to learn how you can support their ongoing efforts. facebook.com/slutwalkSLC
Best Xeriscape Incentive
The 'Flip Your Strip' Program
As Utah suffers through a historic drought, many of us are looking for ways to address the new realities in a state where a lush green lawn might not be the best landscaping choice. For those who have been waiting to start the xeriscaping process, the state offers rebates of up to $1.25 per square foot for converting parking strips with a living lawn to approved combinations of mulch/gravel and drought-tolerant plants. Specific water districts and other geographic restrictions apply; visit the website to determine your eligibility and get the ball rolling. utahwatersavers.com
Best at Fighting for Fairness on the Hill
The ACLU of Utah and Equality Utah
Even though it was her freshman year, Rep. Kera Birkeland, R-Morgan, made herself known as someone who would come after the LGBTQ community. After the ACLU and Equality Utah brought pressure to bear, a Republican colleague finally shut down Birkeland's bill that discriminated against transgender kids. In fact, lawmakers, sensing how unfair it was, decided not even to vote on the bill. It's a good reminder for citizens to vote and get involved on a local level. And of course to support nonprofits like the ACLU of Utah and Equality Utah. acluutah.org, equalityutah.org
Best Cynical 'Locals'
The Salt Lake Tribune
After Spencer Cox defeated Jon Huntsman Jr. in the 2020 Republican primary for governor—to the embarrassment of Salt Lake Tribune publisher Paul Huntsman (brother of Jon)—heads rolled. Editor Jennifer
Napier-Pearce left and other senior editorial staff were displaced in favor of an out-of-state editor. No talent in town? Soon came a new out-of-state chief revenue officer. OK, we understand the "no talent in the building" rationale. But the CRO quickly hit the streets with an off-the-shelf "best of city" survey using out-of-state software replete with lame stock marketing photos (didn't they save any dining column photos?) culminating in a "locals" fete event produced by an out-of-state events planner, headlined by out-of-state musicians. But it's all about locals. Yeah, whatever. So on point for a "local" newspaper that even prints out-of-state. What's next, Paul Huntsman, a mid-week edition aimed at arts and entertainment, perhaps? sltrib.com
Best Way to Learn About Beehive Boss Ladies
This Is Her Place Podcast
This well-researched podcast covering Utah's badass boss ladies is an absolute must-listen. Each episode uncovers fascinating tidbits about the lives of women past and present who work in the same or intersecting industries as you or other women you know do. Whether you skip around to learn about the women in sectors you find the most intriguing or binge from start to finish, the 12 clever episodes will not disappoint. thisisherplace.org
Best Threat to Democracy
Utah Legislative Redistricting Committee
The dark cloud of redistricting has again descended on The Beehive State, and lawmakers are adamant they did nothing untoward in scattering the Wasatch Front to the four winds. Never mind the chorus of opposition. Never mind the blatant falsehoods about blending urban and rural areas together. And never mind the voting majority who asked for an independent redistricting commission. Expect more of the same for the next decade: entrenched incumbents; disenfranchisement; and laws that fail to represent the will of the state.
Best Exercise of Truthiness
Utah Legislature
In the exercise of truthiness, a feeling trumps all. Facts are superfluous. If something feels true—or if you want something to be true—that's good enough. No need for empirical evidence. Truthiness is next to godliness in the chambers of the Utah Legislature. It's on display as the elected hold forth on guns, marijuana, sex ed, elections, climate science, public health—no subject is beyond reach in the quest for probity. Earlier this year, legislators dredged up critical race theory and transgender athletics from obscurity. It was truthiness in action: solutions in search of problems. Alas, the post-truth result of such malarky is legislation shaped by emotion and personal belief, not reason and fact.
Best Microenterprise Spin-Off
Utah Refugee Goats
After eight years collaborating with the International Rescue Committee to develop a stockyard microenterprise, Utah's East African refugee community has launched a nonprofit corporation called Utah Refugee Goats. The business plan is straightforward: Operate a ranch a few miles from downtown Salt Lake City to meet the demand for affordable, halal goat meat. That 87-acre tract of land will accommodate 100 Boer goats. Nearby, the ranch's fast-growing northwest neighborhood includes an airport, an inland port and a new state prison. Of the four enterprises, only one epitomizes the American Dream. 1200 N. 6550 West, SLC, refugeegoats.org
Best Overdue Reality Check
City Newspapers Ceasing Their Daily Print Editions
Some problems simply can't be fixed, and anyone who has worked in media—or who has a basic understanding of supply and demand—has long known that the act of printing a comprehensive newspaper every day is a relic of a bygone age. That bell was finally rung in Utah, definitively, at the start of the year when the Deseret News and The Salt Lake Tribune ceased daily publication. Unfortunately, both newsrooms spent so long scraping the bottom of their budgets and delaying the inevitable that they were left with no clear plan for how to evolve. Here's hoping something positive fills the void on the local journalism podium.
Best Real Housewives Cameo
Valter Nassi
One of the best things about having a Real Housewives show set in Salt Lake is trying to guess the local set piece. The best instance of this visual scavenger hunt came in Season 1, Episode 5, when Mary Cosby and Jen Shah engaged in a tableside feud at Valter's Osteria in front of proprietor Valter Nassi himself—who looked relatively nonplussed at the whole affair, like the consummate professional he is. 173 W. 300 South, SLC, 801-521-4563, valtersosteria.com
Best Apocalyptic Flock Support
Wildlife Rehabilitation Center of Northern Utah
Just when you thought 2020's reign of terror had ended, along came 2021 with its extreme winds, flooding and simultaneously record droughts. This year's brand of climate extremes, along with the usual threats of rodent poison and human impacts, resulted in WRCNU treating 33 percent more sick, orphaned or injured wildlife than in 2018 and 2019 combined. Thanks to dedicated volunteers and staff, they were able to rehabilitate many of our feathered friends. For tips on what you can do for the birds in your hood, visit their website. 1490 Park Blvd., Ogden, 801-814-7888, wrcnu.org
Corrections
In City Weekly's Nov. 18 Best of Utah print edition, the dessert home-delivery service, Twisted Tiramisu, was inadvertently referred to by its former name, Tasty Tiramisu. The restaurant, Ivy, and the bar, Varley, were listed as separate entities, and we've since learned the establishment (located in Caffe Molise's old location on 100 South) is now known as Ivy & Varley. The website for V&R Bakery was incorrectly shown. It should have been vrbakingco.com. The Highlander Club is now known as Highlander Pub. These errors have been corrected in the online version.
---

Arts & Entertainment
Goods & Services
Restaurants
Food & Drink
Nightlife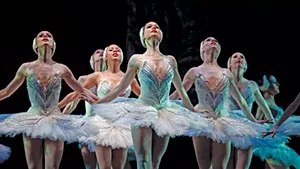 ARTS & ENTERTAINMENT | Readers' Picks
Best Dance Company
Ballet West
It was weird for a Christmas season to go by without live performances of Ballet West's Nutcracker, but the company showed its commitment to the community by arranging to broadcast a previous year's recorded production to fill that hole. That was just one of the ways Ballet West remained present and vital throughout the pandemic, including the documentary series In the Balance about its efforts at continuing performances and offering its summer intensive program. As effortless as the dancers make their art look, we're grateful for the hard work they put into providing it for us. Capitol Theatre, 50 W. 200 South, No. 200, SLC, 801-869-6900, balletwest.org
2. Ririe-Woodbury Dance Co.
3. Repertory Dance Theatre
Best Movie Theater
Brewvies Cinema Pub
For more than a year, the beloved local tradition of enjoying a beer and a movie at Brewvies was denied to us. But the regulars streamed back once the venues in Salt Lake City and Ogden reopened in June, allowing folks to enjoy blockbuster offerings like F9 and No Time to Die not just on a big screen, but accompanied by all your favorite pub fare. And they came back to a re-painted, spruced-up place that was even more inviting. 677 S. 200 West, SLC, 801-322-3891; 2293 Grant Ave., Ogden, 801-392-2012; brewvies.com
2. Broadway Centre Cinemas
3. The Tower
Best Visual Artist
Cat Palmer
We offer the disclaimer that Cat Palmer contributed editorial content for this issue, but considering the number of times she's won reader awards in our Best of Utah or Arts issues, we probably could've seen it coming. For years, she's found the sweet spot as both a commercial artist and a creative provocateur with an eye for politically charged compositions. Having a byline doesn't change the esteem in which she is held by the local arts community. catpalmer.com
2. Hannah Lofgreen
3. Andrew Alba
Best DJ
DJ Teo
DJ Teo knows how to throw it down in party spaces all around SLC. If you've visited The Palace or Echo, you've probably caught his wild mixes. He's also made appearances with music collectives like The Amé House and wicked Halloween parties like The Purge at The Complex. One thing is for certain, no matter where you go, if Teo's at the deck, it'll be a good time. Twitter @MateOWNS, officialdjteo.com
2. DJ Juggy
3. DJ Bangarang
Best Drag Entertainer
Jason CoZmo
The host of one of SLC's finest drag traditions, Viva La DIVA, brings home the gold again in this category, and is rightly deserving! The celebrity impersonation performances CoZmo hosts at Salt Lake's Metro Music Hall bring to life his alter-ego, Dolly Parton, as well as Liza Minnelli, Julie Andrews and Bette Midler and Disney characters to boot. They're a constant source of drag entertainment, in a show where CoZmo has built a grassroots following while appearing regularly at many other local shows. Viva La CoZmo! IG: @mrjasoncozmo, vivaladivashow.com
2. Gia Bianca Stephens
3. Sister Molly Mormon
Best Concert
Jason Isbell
Red Butte Garden's Outdoor Concert Series came roaring back this year, kicking off the 2021 season with a July 30 debut show from Jason Isbell that sold out quickly. A sold-out show because of the charismatic country rocker's popularity, yes, but also because he teamed up with the equally beloved goth mother of Americana, Lucinda Williams. redbuttegarden.org/concerts
2. Post Malone
3. Garth Brooks
Best Muralist
Josh Scheuerman
If you drive anywhere through the streets of Salt Lake City, you've almost certainly seen the vibrant work created by Josh Scheuerman on Utah walls. His work has honored individuals on a local (Stein Eriksen) and national (Harvey Milk) scale, and he's provided everything from colorful branding for local businesses to a call-to-arms to restore Bears Ears National Monument. For those who wonder if the only walls where great art can be found are in galleries, just check out the buildings graced by Scheuerman's hand. joshscheuerman.com
2. Shae Petersen
3. Joseph Toney
Best Music Festival
Ogden Twilight
This year's festival was jam-packed with Ogden Twilight favorites—from Purity Ring and Portugal. The Man, to Grouplove and The Flaming Lips. The festival featured popular artists from years past alongside newbies like Noah Cyrus and Ant Clemons, plus the ever-present local openers, who included Brother., Josaleigh Pollett and Angel Magic, to name a few. 343 E. 25th St., Ogden, ogdentwilight.com
2. Country Fan Fest
3. Das Energi Festival
Best All-Ages Venue
Kilby Court
Salt Lake City's perpetual "little venue that could" has seen untold numbers of incredible pre-fame acts pass through its tiny, tiny stage. Many are the Utah music fans who can tell you their story of seeing "X" band play Kilby right before they broke multi-platinum, and how the act that now fills stadiums once packed into a garage in SLC's Granary district so tight that you could practically strum the guitars yourself. With new development and financial attention descending on the neighborhood, Kilby has only risen to the opportunity, staging new events like the Kilby Court Block Party while maintaining a particularly intimate setting that regularly punches above its weight. 748 W. Kilby Court, SLC, kilbycourt.com
2. Red Butte Garden Amphitheatre
3. The Complex

Best Museum
Natural History Museum of Utah
The architectural jewel that is the Natural History Museum of Utah holds 10 permanent exhibits showcasing the state's gems, minerals, dinosaurs, flora, fauna, Native cultures and more. These installations are worth revisiting time and again, but the special exhibits, such as the "Time of the Pharaohs" are not to be missed, either. The installation is in place through Jan. 2, 2022, and is the next-best thing to being at an excavation site on the Nile. Spotlighting rulers as well as the average citizen, this exhibit is full of unique artifacts and insights into ancient Egyptian life. Even the most sullen of tweens won't be able to, "meh," their way through this exhibit. 301 Wakara Way, SLC, 801-581-6927, nhmu.utah.edu
2. Utah Museum of Contemporary Art
3. Utah Museum of Fine Art
Best Theater Company
Salt Lake Acting Co.
You were missed, SLAC! The Salt Lake Acting Co. was back in the saddle performing to live audience this past summer with a new and improved musical parody, #SLACabaret. In the tradition of Saturday's Voyeur, which ended its run in 2019, the updated production gleefully skewers Utah culture in a variety-show format. The cast took the audience on a musical tour of the newly renovated airport that incorporated all things Utah, from the 2002 Winter Olympics to a hilarious rendition of the world-class complainer, "Caren" aka Karen. The performance concluded with a musical number featuring the new SLC "housewives." After the past two years, never has a celebration of Utah's quirks been more appreciated. 168 W. 500 North, SLC, 801-363-7522, saltlakeactingcompany.org
2. Pioneer Theatre Co.
3. Hale Centre Theatre, Sandy
Best Local Band/Group
Pixie and the Partygrass Boys
This local band earns their namesake over and over again—because they really do bring the party wherever they go. While 2020 put a wrench in their usually busy show schedule, they still managed to make frequent appearances at establishments all over the place. The group also found the time to finally put out a new album, which fans of the band have surely heard already at one of their recent shows. pixieandthepartygrassboys.com
2. Royal Bliss
3. Get It Write
Best Live Music Venue
Red Butte Garden Amphitheatre
This summertime treasure is a no-brainer pick. Not only does Red Butte Garden bring in some of the biggest and best artists to our valley for their summer concert series, but the views that can be had of said valley from the green lawn can't be beat. This past summer, the festival returned with an absolutely stacked lineup, and it felt like a celebration that some things—like their big green lawn filled with people—were back to normal.2155 Red Butte Canyon, SLC, 801-585-0556, redbuttegarden.org/concerts
2. USANA Amphitheatre
3. The Depot
Best Vinyl Shop
Randy's Records
A winner for the quadrillionth time probably, and it's for good reason. In operation since 1978, Randy's Records has reliably the largest selection of any record store in SLC, and their modest digs on 900 South are a great place to find amazing treasures. Ask any of the knowledgeable staff for help finding the rare record you seek, and/or maybe ask for some recommendations. 157 E. 900 South, SLC, 801- 532-4413, randysrecords.com
2. Raunch Records
3. Graywhale Entertainment
Best Public Art
Spiral Jetty
When the late artist Robert Smithson spied the Great Salt Lake's blood red waters and stark, barren northeastern shore, he knew he had found the perfect spot to construct his massive earthwork sculpture. Smithson's Spiral Jetty—which rises from the shore of the Great Salt Lake like a giant fossilized tentacle—has captivated onlookers since 1970. Thanks to the Great Salt Lake's ever-changing shoreline, no two viewings of the Spiral Jetty are alike. Rozel Point, Great Salt Lake via Corinne, diaart.org
2. Black Lives Matter murals
3. Tied: Gilgal Sculpture Garden, Squatters' mural
Best Gallery
Urban Arts Gallery
Every gallery has its own unique personality, but Urban Arts Gallery feels like the kind of place that appeals to everyone, even those who don't think of themselves as "art gallery people." Throughout the year, they showcase local creators in ways that are sometimes fun and playful (like the annual nerd-themed "Heroes and Villains" group show), sometimes socially conscious (like June's showcase of work on queer themes) and always fascinating to experience. 116 S. Rio Grande, SLC, 801-230-0820, urbanartsgallery.org
2. A Gallery
3. Phillips Gallery
Best Friend of the Arts
Utah Arts Alliance
Even if you aren't familiar with the name "Utah Arts Alliance," you've likely benefitted from all of the programming and support for artists provided by Derek Dyer and his great team. From providing studio space and resources at the Utah Arts Hub to inviting the community to the annual Urban Arts Festival, and even inviting emerging artists to get a chance at gallery showing with the "Connect" pop-up events, UAA keeps Salt Lake City vital and crackling with new, exciting creative work. 801-651-3937, utaharts.org
2. Eccles Foundation
3. Gail Miller
Best Community Event
Utah Arts Festival
Utah's annual celebration of all things creative has a little something for everyone. Seasoned art collectors and festival goers who simply wish to stroll through the crowd munching on a ginormous gyro can partake in food, music, dance and visual art galore. With so many options for entertainment and enrichment, it's no wonder that nearly 70,000 people attend the Utah Arts Festival each year. Festival location: Library Square, 200 East 400 South, SLC, 801-322-2428, uaf.org
2. Pride Festival
3. Greek Festival
ARTS & ENTERTAINMENT | Staff Picks
Best Youthful Creativity
Salt Lake Arts Academy
Salt Lake Arts Academy is a diverse free public charter school in downtown SLC dedicated to "Building Creative Minds." Kids come to SLArts from 29 different ZIP codes to have daily arts experiences in dance, drama, music and visual arts, engage in rigorous academics and learn to navigate our city. Serving grades 5-8, admission is by lottery and open to all students. 844 S. 200 East, SLC, 801-531-1173, slarts.org
Best Slam Poet
Ashley Finley
She's a lauded birth keeper, a published writer, a keynote speaker, a certified yoga instructor and an educator. Finley's favorite work involves creating a sacred space where collaborators can explore what it means to use their unique talents and abilities to begin the work of decolonization and liberation. She has a published piece in an upcoming anthology by Torrey House Press. This mama is a brilliant badass—through and through. IG: @findafinley, findingfinley.com
Best Music From a Van
Banyan Collective Van Sessions
Local podcasters The Banyan Collective have their talkative fingers in every type of podcast pie—they record podcasts on news, events, visiting artists, local creatives, athletics and, of course, live music, all from inside their vintage 1960 Aristocrat "TanVan." Parked inside The Monarch Building in Ogden's Nine Rails Creative District, they host a number of local artists for their Van Sessions series, where artists play and talk and the podcast is recorded live, often with a live audience seated right outside the van. 455 25th St., Ogden, thebanyancollective.com
Best Backyard Music Staple
Carolyn's Summer Garden Music Series
This underground invitation-only garden is magical. And if you have been one of the lucky ones to be in the know, well, then you know. Everyone from Tiny Home to Michelle Moonshine to Pixie & the Partygrass Boys has played in this gorgeous garden. Folks bring a dish to share and pull up a chair to quietly listen to the talent unfold. This music series is not to be missed. Visit their Facebook page for updates. 1443 E. Kensington Ave., SLC, 801-694-7417, https://bit.ly/2ZB2oX2
Best Hybrid Shows
Excellence Concert Series
The downtown tradition that opened up the Gallivan Center stage for free entertainment and swing dancing on warm summer nights faced challenges during the pandemic, which they were able to overcome with live-stream shows. Excellence Concert Series amassed millions of views while regularly streaming and posting shows on YouTube, a practice which they've held onto even as they returned to live programming this summer. Gallivan Center, 239 S. Main, SLC, 801-718-3862, excellenceconcerts.org
Best Utah Arts Community
Helper, Utah
Our favorite Utah destination is an old mining town less than two hours from Salt Lake. Thirty years ago, David Johnson, Tom Williams, David Dornan and Marilou Kundmueller started the art scene in Helper. It blossomed over the past decade thanks to a focused effort to achieve sustainability—a combination of art, history and natural assets. Local artist Kate Kilpatrick-Miller and Mayor Lenise Peterman have helped nurture this growth. A sampling of artists/galleries to grace Main Street include: Helper Art Space; Tim J. Morse Studio; Kathleen Royster Ceramics; 3 on the Tree; Beg, Borrow & Steele, Steven Lee Adams Fine Art; Boxcar Gallery; K2 Gallery; AMJWorks; Scott Yelonek Gallery and Canvas Alchemy Artist Collective. IG: @helperfirstfridays, castlecountryevents.com
Best Voice of an Angel
Michelle Moonshine
It only takes hearing Michelle Moonshine's voice one time to be won over. She's a local must-see. You may have heard her on The Voice or have seen her opening for Mason Jennings, Lake Street Dive, Wayne "The Train" Hancock, Lukas Nelson, Judy Collins or other badasses. She's about to release her newest album with bandmates John Davis and Bronk Onion, and her fans could not be more excited. Look for her performances with husband, Andrew Wiscombe, with their band Turtle Dovin'. IG: @michellemoonshine, michellemoonshine.com
Best Music Man
Randy Barton
As executive director of the Egyptian Theatre Co. in Park City, Randy Barton is by now the most seasoned talent booker of them all in the Utah music scene. His pedigree goes back decades, so you can count on
him to deliver the very best to Utah audiences. His Egyptian Theatre lineup this season covers the gamut of hip, modern, alternative, country, blues, bluegrass including 10,000 Maniacs, Del McCoury, and Tinsley Ellis but also oldies like Family Stone, Peter Yarrow, Peter Noone of Herman's Hermits and at the end 2021, the three punch of the Coasters, the Drifters and the Platters. Toss in some classic plays and musicals, and it's another home run for Randy Barton. Egyptian Theatre Co., 328 Main St., Park City, 855-745-SHOW, egyptiantheatercompany.org
Best Whale Watching
"Out of the Blue" by Stephen Kesler
Not since the relocation of Coffee Garden has Salt Lake's 9th and 9th neighborhood been so divided, but whether you're a whale watcher or whale whiner, Stephen Kesler's whale statue is coming to a roundabout near you. As of press time, the exact unveiling date is TBD, but it is confirmed that local artist and longtime 9th & 9th resident Mike Murdock will paint the inaugural mural—an abstract interpretation of the neighborhood's sunrises and sunsets. 900 South and 1100 East, SLC
Best Busting Out of a COVID Cocoon
SLC Busker Fest
Being cooped up for over a year left the majority of us feeling more socially awkward than ever. When and how to re-enter society feels somehow daunting. Then came the all-ages, fun and quirky outdoor SLC Busker Fest. Thanks to the acrobatics, sword jugglers, magicians, live music and mimes, hitting the streets again wasn't so scary after all. buskerfestslc.com
Best Wetting Your Whistle With Wildlife
Zoo Brews
Utah's Hogle Zoo knows that even the most kid-friendly activities are often more enjoyable without kids. Case in point, the adults-only Zoo Brews fundraisers. Clear your evening and spend it strolling among monkeys, giraffes and polar bears sans strollers while sipping on beer, wine or seltzer. You can even ride the train or take a spin on the carousel without having to fight off a 5-year-old for dibs on the lion, not to mention proceeds go toward animal rescue. 2600 Sunnyside Ave., SLC, 801-584-1700, hoglezoo.org
Best New Theater
SLFS Studio Backlot Motor Cinema
When COVID-19 shut down virtually all businesses, and particularly arts and entertainment venues, fans of the big-screen film experience were able to find a social-distancing friendly outlet with the expansion of the Salt Lake Film Society to a third location at the Redman Movies & Stories backlot. Over two years, Redman and SLFS have created a unique filmgoing experience that somehow marries the best elements of a drive-in and art-house theater experience—and on the west side, no less—screening a range of classic and cult favorites. 1075 S. 700 West, SLC, 801-321-0310, slfs.org
Best Innovators
Social Antidote
Another disciple of the hybrid model, Social Antidote, started bringing music back to fans early in the pandemic, pioneering a model of professional, high-quality productions for live-streaming that highlighted local artists. Then, they shifted back to live, albeit in a socially distanced outdoor setting during events like downtown's Open Streets on Main Street, with neon-lit build-outs like "The Cube." socialantidote.live
Best Street Art
South Salt Lake Mural Festival
Want to appreciate art from the comfort of your car? South Salt Lake's Creative Industries Zone is home to the largest collection of street art in Utah. 2021 artists included: Bill Louis, Brooklyn Ottens & Matt Monsoon, Emily Ding, George Baker, Hayley Barry, Himed and HOKZYN, Joseph Toney, Miles Toland, Roots Art Kollective and Traci O'Very Covey. 2250 S. West Temple (area), SLC, themuralfest.com
Best DIY Space
The Beehive
One build-back-better success story is that of The Beehive, which, after floating through the pandemic on Patreon funds earned by putting on virtual shows on that platform, came back better than ever with a renovated space and a strong mix of touring and local acts alike. Real-life SLC punks find their homes here and play their loud-ass music. 666 S. State, SLC, 385-645-3116, beehivecollectiveslc.com
Best Ogden Cultural Pollinator
The Monarch
Why does Ogden get to have all the fun? Not only does their nightlife boast historic 25th Street but now their arts scene can lay claim to the Monarch arts center, housed in an industrial parking garage from the 1920s. After updating its vintage architecture in 2019, developers opened this cultural hub of artist studios and exhibit spaces, shops, various event and performance venues and a date-night dining spot, thereby becoming the heart of the Nine Rails neighborhood, a dedicated area in Ogden for arts and culture to thrive. Ogden obviously knows how to celebrate its history, rather than tear it down to make way for mediocre urban dwellings. 455 25th St., Ogden, 801-893-6605, themonarchogden.com
Best Lunch-Break IG Scroll
Urban Sketching With Surbhi
Having a rotten day and need to hit the reset button? The phenomenal sketch art by this artist is the perfect lunch-break Instagram scroll to get your mind back in good-vibes mode. The mixed media of sketch and watercolor bring new life to our local landscape. We're particularly fond of the sunset sky in a post from Little Cottonwood Canyon that can restore your calm whenever necessary. IG: @surbhi_urbansketcher
Best Intro to Utah Comedians
Wiseguys' Lake City Showcase
Wiseguys comedy clubs have long been a premier destination to see some of the best-known touring comedians in the world, but it's also where a lot of local comedians can get their start at open mic nights. Between the rookies and the veterans is a place where rising Utah comedy stars can take center stage. The semi-regular Lake City Showcases generally feature a roster of five funny locals, including a Spotlight headliner getting a chance to be at the top of the bill. Check out all the laughs that are coming from our own backyard. Multiple locations, wiseguyscomedy.com
---

Arts & Entertainment
Goods & Services
Restaurants
Food & Drink
Nightlife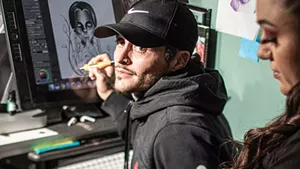 GOODS & SERVICES | Readers' Picks
Best Tattoo Shop
Aloha Tattoos
This shop and its artists have been poking ink into skin suits for years now, and the accolades just keep coming for the beauty of what they bring to life. Jon Poulson, Luke Jensen, Jesse Payne and Nico lay down delicate dot work and patterns but also bring in cultural styles like Polynesian and Native markings. Due to high demand, they've added cosmetic tats (think eyebrows) to their wide range of piercings and ink work. Located in Salt Lake and Park City, they offer super clean chairs and equipment and high-quality ink for every customer. Plus, they bring in celebrity artists periodically and can also be found on Sundays at the Park Silly Market. 6657 S. State, Murray, 801-609-8288; 738 Main St., Park City, 435-731-8317; alohasaltlaketattoos.com
2. Yellow Rose Tattoo
3. 27 Tattoo Studio
Best Pet CBD
Beehive Buds CBD
Autumn and Inga—the magic behind the hive at Beehive Buds—partnered up with the mission to help the wellness of the community. Both were introduced to plant-based medicine early in age, and their knowledge and expertise in the field is exceptional. Pet CBD is best for furry friends with anxiety, arthritis or hurting from pain, and Beehive Buds delivers just the high-quality product for your pet. 9329 S. 1300 East, Sandy, 801-900-4483, beehivebudscbd.com
2. Hemplucid Pets
3. Healthy Hemp Pet Co.
Best Smoke/Vape Shop
Blackhouse Vapor Co.
The back-to-back winner in this category, Best of Utah voters know that Blackhouse Vapor is the place to go for high-quality e-juice, devices and high-quality hemp and CBD products. They created their own line of e-liquid, CBD and CBG, all made in-house in their own state-of-the-art lab, where they produce and package all in one location. 2148 S. 900 East, SLC, 801-467-6526, blackhousevapor.com
2. Smoke Break Huka Outlet
3. Robertsons
Best Comic Book Store
Dr. Volts Comic Connection
Neither rain nor snow nor COVID nor remodeling construction this year can keep Utah's longest continuously operating comic-bookstore down. Dr. Volt's began a new era in 2021, as long-time owner Dave Landa handed over the reins to The Nerd Store operators Charles and Roger Prows. In an era when the nerds have conquered the pop-culture landscape, it's still good to know there are places like Dr. Volts that have been here all along. 2043 E. 3300 South, Millcreek, 801-485-6114, drvolts.com
2. Heebeegeebeez Comix & Games
3. The Nerd Store
Best Piercer
Dustin Robbins
There's a huge difference in getting your ears pierced with a hand-held piercing gun at the mall vs. the delicate piercings through your nose septum or nostril, the daith (the cartilage on the inside of the ear) and the helix (the cartilage on the upper ear). Dustin Robbins has pierced about every part of the exterior of human anatomy and is considered by many to be the kindest and gentlest piercer around. His studio is über-sterile, and he's a go-to for piercing aftercare whether he did the job or not. He's a big tree of a guy with a voice as comforting as a death doula, and his calmness will help anyone work through the nerves that arise in facing the needle. Enso Piercing & Adornment, 336 E. 900 South, SLC, 801-953-0201, ensopiercing.com
2. Courtney Marriott, Abyss
3. Kory Sagendorf, Modified Piercing
Best CBD Product
Hemplucid
Provo's Hemplucid is on a steady climb to becoming one of the biggest CBD companies in America. Just this year, they achieved a coveted USDA status that only a select few hemp and CBD companies achieve. Also in 2021, they invited NBA great Lamar Odom to participate in a month-long journey to find healing in plant-based medicine and made a documentary to boot. What other Utah company can do that? You can find them in just about any retailer that sells CBD, or order online at Hemplucid.com. 4844 N. 300 West, Provo, 385-203-8556, hemplucid.com
2. Farmer & Chemist
3. Koodegras
Best Boutique
iconoCLAD
First-time and veteran Burners know this shop well for its trendy and groovy clothes and accessories and others know it's a great consignment store for "previously rocked stuff" (secondhand clothing). You won't make it five feet into the place without grabbing something that makes you smile because of its uniqueness. They have strict rules for clothing consignments or donations (no plastic bags, everything must be washed, de-haired and folded neatly in a structured container, one box per session). Sell or buy your Lululemons, Doc Martens, Free Peoples and Jeffrey Campbells there anytime but forget high-end designer items or business casual clothes. Not their jam. They are a fun, funky and affordable place to shop. 414 E. 300 South, SLC, 801-833-2272, iconocladslc@gmail.com
2. Hip & Humble
3. Name Droppers
Best Piercing Studio
Iris Piercing
This group has studios in Michigan, New York, Oregon, Colorado, Utah and Illinois and are poking their way into more cities as their reputation grows for safe piercings without compromise. Many know them for their amazeballs choice of piercing jewelry designed locally and from around the world made from natural substances like stone, wood and gems by designers like Pupil Hall, Shiva, Neometal, Future Primitives and Suzanne Kalan. They have Google reviews from medical professionals raving about the attention the piercers pay to assure a sterile work environment. Some of the piercers were trained by the late world-renowned Fakir Musafar, and Iris has helped set standards and protocols for aftercare of your piercings. 2431 Highland Drive, SLC, 801-486-0112, irispiercing.com
2. KOI Piercing Studio
3. Abyss Piercing
Best Tattoo Artist
Jesse Payne
This artist calls Aloha Salt Lake Tattoos his home base, and despite his fame, you can often walk in and get in his chair without an appointment. Whether you're looking to create a sleeve or cover up that homie tat you and your friends put on each other in high school, Payne is the creative genius you should meet. It's worth the time to make an appointment for a consultation with Payne so he can see your vision and translate that into the ink that's right for you. Maybe it's a pretty butterfly that only takes an hour to complete—or maybe it's a major back piece that will take several sessions. Payne has the experience to plan the art that will be with you for life. Aloha Salt Lake Tattoos, 6657 S. State, Murray, 801-609-8288, alohasaltlaketattoos.com
2. Luke Jensen, Aloha Tattoos
3. Josh Pitchford, Golden Cage Tattoo
Best Thrift/Consignment Store
Pibs Exchange
Pibs Exchange has been buying and selling the hottest clothes, accessories, and costumes since the grunge era. The flannel shirts that Pibs sold to their first costumers in 1994 are now coveted vintage items. In addition to selling new and used clothes, Pibs sells hair dye, fishnets and plenty of other eye-catching accessories to help you achieve your current or retro look. 1147 E. Ashton Ave., SLC, 801-484-7996, pibsexchange.com
2. iconoCLAD
3. The Other Side Thrift Boutique
Best CBD Retailer
Koodegras
Some people take CBD and say, "But I didn't get high!" That's kind of the whole idea! CBD is all about offering similar health benefits to THC without the high. While some CBD have trace amounts of THC, Koodegras offers THC-free CBD, so you won't get a psychoactive reaction. Since 2015, Koodegras has offered a massive line of products including CBD topicals, water-soluble tinctures, softgels and pet products. Multiple locations, Koodegras.com
2. Beehive Buds CBD Wellness Center
3. Farmer & Chemist
Best Salon
Landis Lifestyle Salon
While it's true that a salon is only as good as its stylists, one cannot discount the importance of product, which is why Landis is a cut above the rest. One of few Aveda salons in the city, it offers signature services such as botanical therapy hair treatment and Pramasana scalp facial, plus custom facials, manicures and pedicures complete with exclusive Aveda hand and foot treatments. 1298 S. 900 East, SLC, 801-485-5506; 569 N. 300 West Ste. A, SLC, 801-364-3354, landissalon.com
2. Lunatic Fringe
3. Salon O
Best Garden Supply
Millcreek Gardens
You shouldn't take an institution for granted, just because it's been around longer than you've been alive. Millcreek Gardens' beautiful grounds provide a haven even if you're just browsing, but if you're serious about making the inside or outside of your home more beautiful, that's when you really benefit from their year-round knowledge and commitment to helping folks find plants that make the most sense for your specific needs, and Utah's general climate. 3500 S. 900 East, 801-487-4131, Millcreek, millcreekgardens.com
2. Glover Nursery
3. Cactus & Tropicals
Best Barbershop
Salt Lake Barber Co.
Need a beard trim? Want to learn how to treat your facial hair so that it's softer? Maybe you're looking for a haircut that doesn't set you back a week's wages? Step into a chill barbershop that's modern but has an old-timey vibe, that's clean and COVID-19 aware. If you're vaccinated, you're welcome to not wear a mask, otherwise keep one on. You can usually get in without an appointment, but if you're looking for one of their top barbers like Jesse, Kyle or Ambrisha, you probably ought to go online and book yourself some "me" time in one of their comfy chairs. Treat yourself to a straight razor hot-lather shave, beard trim or haircut and enjoy lively repartee with your skilled barber. They also aren't afraid to give your kid their first haircut, and the staff will clean up your entire family, no matter their sex or age. 10 E. 800 South (corner of 800 South and Main), SLC, 385-261-2196, saltlakebarberco.com
2. Jed's Barber Shop
3. City Barbers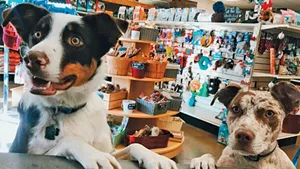 Best Pet Supply Store
The Dog's Meow
With stores in Millcreek and Draper, Alexis Butler and her daughter have been providing the best dog and cat foods to animal lovers for 25 years. Here, the pickiest owners can find natural dog and cat foods. Whether your furry friend is on a gluten- or grain-free diet or is older and needs a hemp chewy for creaky joints, this is your go-to pet store. It's safe to say you'll probably not find the products this store sells at any chain store, nor will you get the sage dietary advice the Butlers carefully dole out to dedicated customers. The Draper location has a DIY self-serve dog wash, and both have in-store pickup service. It's nice to know pets can get holistic care and healthy products here, plus their humans can find smart outfits and swell toys for their cat and dog friends. 2047 E. 3300 South, Millcreek, 801-486-0700; 866 E. 12300 South, Draper, 801 501-0818; dogsmeow.com
2. Paw Paws
3. Healthy Pets Mountain West
Best Bookstore
The King's English Bookshop
It's been quite a tumultuous year for all of us, and The King's English was no different. Still, a transition in ownership from founder Betsy Burton provided at least some reassurance that the beloved bookstore would survive anything. As was clear last year when patrons came through with early holiday orders that kept the place afloat during its pandemic closure, we all want to be part of making sure The King's English isn't going anywhere. 1511 S. 1500 East, SLC, 801-484-9100, kingsenglish.com
2. Weller Book Works
3. Ken Sanders Rare Books
Best Medical Cannabis Dispensary
Wholesome Co.
Cannabis? In Utah? The Utah Medical Cannabis Program has now been activated for over a year and a half. There were some kinks at the onset and some still remaining to be worked out by the state, but Utahns now have an avenue to help alleviate their qualifying conditions with cannabis. One of the 14 cannabis pharmacies in Utah, Wholesome Co., delivers quality information and products to their customers. Patients may visit their sleek brick-and-mortar location, or set up a delivery time for medical cannabis. 580 W. 100 North, Bountiful, 801-695-4480, wholesome.co
2. Dragonfly Wellness
3. Beehive Farmacy
GOODS & SERVICES | Staff Picks
Best Advent Calendar
Les Madeleines
Renowned for her kouign amanns, Les Madeleines owner Romina Rasmussen pulls another tasty treat from up her floured sleeve every holiday season—the advent calendar. Filled with pâtes de fruits, chocolates and other sweets, each door reveals a hidden surprise as you countdown to Christmas. Keep an eye out for pre-orders on social media, they sell out fast! 216 E. 500 South, SLC, 801-673-8340, lesmadeleines.com
Best Sustainable Store
Animalia
At Animalia, they not only sell bulk soap, detergents, toothpaste, facial and body washes and so much more, but also sustainably made and harvested botanical balms, salves and other body and face products that look and smell amazing, plus handy tools for making chores and leisure alike waste-free. Adorable, ethically (and often locally) made home goods and accessories dot the shop, too. If you decide you want to try out the bulk life, they've even got free containers donated from customers for you to take for your first time. 280 E. 900 South, SLC, 801-521-4425, animaliaslc.com
Best Corner Store That's Actually a Pizzeria
Central 9th Market
This new market offers big-city diversity, selling fresh produce (including the most gorgeous locally grown mushrooms), fancy chips, hot sauces, cheese, meats, seltzers, sodas and bags of agua fresca. But the star of the show is its killer breakfast and lunch-time sandwiches, squished between their housemade focaccia, which, like their hit-the-spot pizzas, are baked to perfection in a blazing brick oven. 161 W. 900 South, SLC, 385-332-3240, central9th.com
Best Dining Trend
Delivery and Takeout via Social Media
While this was a survival tactic back in 2020, the idea of delivery- or takeout-only restaurants has seemed to click with both vendors and customers alike. With more stories about how food delivery services like DoorDash and Grubhub screw over local restaurants, it's nice to see those restaurants eliminating the middleman and operating their own delivery or takeout services via social media.
Best New Mixer for the Masses
Drupe Fruit
Bartenders know all about the beauty of the fruit shrub. Derived from a 15th-century English fruit preservation method, shrubs are a syrupy combination of fruit-infused vinegar and sugar or honey that's perfect for making cocktails but also refreshing when added to soda water. Local small-batch shrubbers Drupe Fruit make inventive new flavors every week that they sell at the Downtown Farmers Market. It's also stocked at Animalia, Central 9th Market, Zest Kitchen & Bar and Boozetique. drupefru.it
Best Brewery Merchandise
Fisher Beer
If you're even somewhat active in Utah's drinking and nightlife scene, you'll have seen someone sporting a distinctive Fisher Beer logo on their hat or shirt. The iconic, bold red parallelogram is derived from the original Fisher Brewery, which opened in 1884. It's telling at how well loved the brand name is when the majority of guests at Fisher are wearing their clothing on any given day. 320 W. 800 South, SLC, 801-487-2337, fisherbeer.com
Best Joy of Shopping
Got Beauty
It's a thing of great beauty, this shop. Don't mistake it as a boring retail outlet where you buy expensive hair products. It feels fun entering this store—celebratory, in fact, as you gaze upon mugs, magnets, adornments and, yes, quality beauty and hair products stacked impressively to the ceiling. You'll find audacious trinkets and collectibles that make you laugh out loud. In the back, you can reserve spa services such as pedis, manis and waxing, or book a makeup sesh before your Christmas party. It's an energizing hub created to pamper and empower. So, indulge, ladies, indulge. 904 E. 2100 South, SLC, 801-474-2090, gotbeauty.com
Best Urban Renewal
Green Phoenix Farm
The mythical phoenix was reborn in the ashes of a funeral pyre. Similarly, the aptly named Green Phoenix Farm has risen from the ashes of a blighted, 1.4-acre lot, six blocks west of downtown Salt Lake City. There, within earshot of the freeway, a showcase garden has taken root since the site was acquired by Wasatch Community Gardens in 2016. It has flowered, literally and figuratively. Two greenhouses and well-tended growing beds produce organic vegetables, which are donated to low-income families; seeds, which are sold to the Snake River Seed Cooperative; and jobs for women contending with homelessness. Would that every urban-renewal project harvested so much success in so short a time. 622 W. 100 South, SLC, 801-359-2658, wasatchgardens.org
Best Pancake Syrup
Hammer Spring Distillers
Founded in 2016 by JP and Vita Bernier, this distillery celebrates Rocky Mountain life with small-batch spirits such as their single-barrel, wheated (with a "spicy zip of rye") 94-proof bourbon. They also offer two gins: one crystal-clear with notes of mountain sage and juniper and another a soft gold color that's finished in oak rye barrels. And then there's their outstanding potato vodka—truly "farm to glass." But for a real treat, indulge in JP's World Famous Whiskey Pancake Syrup, aged in whiskey barrels and inspired by JP's time as a Burning Man breakfast chef. If you haven't tried their offerings, call ahead and take a tasting tour at their plant. 3697 W. 1987 South, Building 5, SLC, 801-599-4704, hammerspring.com
Best In-Store Gelato Bar
Harmons Grocery
Ten Harmons grocery stores in the Salt Lake area offer gelato bars as part of their in-store cafes. Eighteen Harmon's gelato flavors regularly rotate, explains bakery manager Tynan Montano. Blackberry cheesecake is the most popular flavor. Gelato has less fat and fewer calories than ice cream, and Harmons sorbettos—blood orange, grapefruit and limoncello—are water-based and nondairy. Many ingredients—and even the cups and spoons—are imported from Italy. Multiple locations, harmonsgrocery.com
Best Upscale Delivery
Hive Eats
The COVID-19 pandemic forced a lot of folks to think creatively about how to get their food, from grocery deliveries to more outdoor dining locations. Hive Eats launched as a way to get the fantastic preparations of some of the Salt Lake Valley's best restaurants—including Pago, Finca, Cannella's, Mazza, Publik and more—directly to customers at their homes, with meals specifically designed for reheating upon delivery. While the service took a summer break, it's returning in the fall with new restaurant partners and a broader menu, so that those who aren't quite ready to sit down in restaurants yet can still enjoy the pleasures of their food. hiveeatsslc.com
Best Tea Party to Go
Honey Teahive
Mika Lee appeared on our radar as a writer for Devour Utah, City Weekly's erstwhile foodie magazine. Who knew that even as she interviewed chefs and cooks throughout Utah for the magazine, she yearned to create her own enterprise—which was to offer Salt Lake denizens a traveling tea party! Lee brought her dream to fruition during the rise of COVID-19, and in spite of all the obstacles the pandemic created for entrepreneurs, she has become one sought-after culinary queen. From brewing unbelievably delicious tea (she learned all about it from relatives in Taiwan) to creating divine pastries and sweets (ever tried mooncake?), Lee can either bring the tea party to you, or you can pick up a "tea party in a box" from her operation based out of the Square Kitchen. Plus, she will cater your special events. In whatever way you come to her, be prepared for a taste treat unlike any other. 801-998-2057, honeyteahive.com
Best at Blooming Where They're Planted
Lincoln Street Farms
Nico and Nat Dicou transformed their backyard into an urban farm where they grow flowers and plants and make candles and soap—all on 0.2 acres in downtown Salt Lake City. This company is 100% women-owned, women who love upcycling and anything antique. In fact, their farmhouse was built in 1896, and they restored the antique greenhouse on their farm in 2020. This is where to get starters for your own garden. Keep an eye out for when they have pop-up shows or host music so you can check it out. lincolnstreetfarm.com
Best Bookstore that Could
Marissa's Books
In an era of depressing news about the state of independent bookstores, along comes Marissa's Books with a welcome, happy story. Named for a wide-eyed granddaughter of owner Cindy Dumas who was taken in by her first bookstore experience, Marissa's has grown from a humble store in Midvale into its own good-size building in Millcreek where it is known for fun décor, great prices and an offering of sections that stretch the gamut of religion to mysticism to adult fiction, then back again, and of course....children's. 3302 S. 900 East, Millcreek, 801-262-2873, marissasbooks.com
Best Sharp Piece of Art
New West Knife Works
New West Knife Works founder Corey Milligan believes that cooks need the best tools for the job. He previously worked as a line cook in local restaurants and his interest in cutlery came from a desire to create a knife conveying his passion for cooking. His handcrafted knives are a beautiful combination of quality and craftsmanship—just holding one in your hand makes you a better cook. The powder-metal steel is not only durable but also easy to sharpen. In addition, the company will tune up your knife at any time for no charge. Multiple locations, newwestknifeworks.com
Best Breakfast in Bed
Valley House Inn of Utah
Want to sweep your sweetheart off their feet for a romantic vacay? Forget Paris. Huntsville, je t'aime. A historic, 150-year-old Victorian mansion awaits you with a romance package at Valley House Inn of Utah. This boutique hotel owned by Rachel Dalby pampers with long-stemmed roses, custom cakes and sweets, local truffle chocolates and artisan bath products. Fancy breakfast in bed? Enjoy a gourmet three-course brunch with locally sourced, organic ingredients delivered to your room. Speaking of rooms, each features a fireplace and a whirlpool or clawfoot tub. Book the Nelson suite and you'll score a private sauna as well. 7318 E. 200 South, Huntsville, 801-745-8259 valleyhouseinn.com
Best Home and Lifestyle Treasures
O. C. Tanner Jewelers
You may be under the impression that O.C. Tanner Jewelers just sell (stunning) jewelry. But their Home and Lifestyle collection will overwhelm you with a vast array of luxury, from handmade ceramics by Montes Doggett that will adorn any surface to exquisite fountain pens by David Oscarson—sure to improve the worst of penmanship. Find that statement piece of home décor or the perfect gift for that hard-to-buy-for person in your life right here at O.C. Tanner. Multiple locations, octannerjewelers.com
Best Tattoo Oil
Olio Skin & Beard Co.
If you give a damn about what goes on your skin, these are the products for you. Their Tattoo Oil, which we found at the Downtown Farmers Market, will get you hooked. We also love their Beard and Face Oil (even if you are a woman... let's be honest, ladies sometimes have a beard!), and their natural deodorant is just what our stinky pits need. 2065 E. 2100 South, SLC, 801-441-0966, olioskin.com
Best Mexican Meals at the Market
Rancho Market
More and more savvy shoppers are finding the produce sections of Rancho Markets offer all kinds of savings. They are finding that butchered meats are better than that stuff in Styrofoam and plastic. They're also finding that great meals are found at the Rancho Market. While the best you can do in most grocery stores is paper cup coffee and a Danish (c'mon—do better, big boys!), when you eat at a Rancho Market kitchen, you're taken into deep Mexico via dishes like molcajete and chilaquiles among the favorites on their full menu boards. Seriously good food. Multiple locations, ranchomarkets.com
Best Dining District
Salt Lake Chinatown
Anchored by Utah's largest Asian grocery, the aptly named Chinatown Supermarket, Salt Lake City's Chinatown is a six-acre development bursting with activity—especially for dinners and brunchy weekends. The supermarket is filled with amazing items you'll never find at your local grocer including meat cuts that time forgot. But it's the dining opportunities that shine, with over a dozen different Chinese, Vietnamese, Japanese and Korean options calling that will take you through sweets, desserts and pastries to extraordinary and exotic main-course fare you just don't find easily in Utah. 3390 S. State, SLC, saltlakechinatown.com
Best Reasonably Priced Anger Management
Smash It
Thanks to the trauma of 2020, virtually all of us have a little extra pent-up rage these days. Smash It Rage Rooms offer patrons the opportunity to pay a modest fee to smash dainty tea cups, throw glass bottles against the wall or even smash your ex's cherished action figures and mixtapes to smithereens in a festive, controlled environment where you don't have to clean up the mess you make. Smash It Salt Lake City, 1154 S. 300 West, Ste. D, SLC, 801-690-3758; Smash It Ogden, 2254 Washington Blvd., Ogden, 801-690-0578, smash-itragerooms.com
Best Home Car Detailing
Sunny
This mobile car detailing service really lives up to its name, leaving your vehicle and your mood with Sunny vibes. No need to purge items, the detailer carefully places all your Chapsticks and sunglasses neatly in small bags. Upgrade your service and have your leather seats deep cleaned and conditioned or shampoo your floors. Got pets? They clean up that unwanted hair, too. 1375 S. 500 East, No. 143, American Fork, 801-901-0390, drivesunny.com
Best Mobile Bartending Service
The Hammered Copper
An eco-friendly, traveling bartending service? Yes! The Hammered Copper is into beautiful, creative, delicious drinks. Plus, they teach classes and serve at weddings and corporate events. (And they have your
non-drinking friends covered, too.) We want this company to be on everyone's radar. IG: @hammered.copper,
801-448-7891, thehammeredcopper.com
Best Shop Vibes
The Stockist
Not only are the carefully curated brands on The Stockist's racks to-die-for, but the shop itself has the friendliest and least pretentious staff we've ever encountered. Whether you're on the prowl for candles, coffee, jewelry or new duds, this shop will put you at ease the second you walk through the door. Just don't buy any straight leg jeans when they're back in stock—at least not until we get a pair first! 875 E. 900 South, SLC, 801-532-3458, thestockistshop.com
Best New Place to Hunt Vintage
Vintage Market
Fans of the Urban Flea Market rejoice, because there's a new way to browse ungodly amounts of vintage racks in one place. First appearing in 2019, Vintage Market SLC gets together some of SLC's finest vintage vendors all in one place for a one-day pop-up—usually at the ClubHouse on South Temple, though last year, they innovatively went virtual with a week-by-week vendor who would sell by taking over the Vintage Market SLC Instagram for a day. Follow them online to keep up with future dates. IG: @vintagemarketslc
COMMERCE | Readers' Picks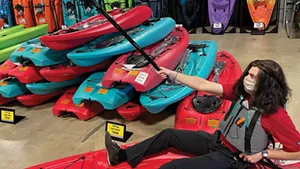 Best Local Manufacturer
Lifetime Products
Not everyone knows this company is based here in Utah, but most of us use and love their products. What started as an idea in a garage in Riverdale, Utah, the Lifetime Products founder simply wanted to build a better basketball hoop for his family. He created the company in 1985 along with his Quick Adjust basketball hoop/standard. They soon leveraged that success to branch out into affordable plastic-molded picnic tables and chairs, sheds, kayaks, playsets and more. The company has more than 1,500 employees worldwide, but they still feel like a small local company that gives back to the community. Their recent bear-resistant coolers are a hit with campers. The company continues to listen to what customers are looking for in affordable and durable outdoor products. 801-776-1532, lifetime.com
2. Kuhl
3. Black Diamond
Best Family-Owned Business
Glover Nursery
This nursery is known as "Utah's first family nursery, where a love for plants runs deep." What few know is that there actually was a "Glover" who ran the nursery with his son, Parley. He came from a long line of nurserymen, one of whom trained under Queen Victoria's gardener. The business is now run by a modern family of college graduates and professional horticulturalists with more than 200 years of expertise. They stock seasonal items such as vegetable starts, flowers, bulbs and Christmas trees as well as water features, gardening supplies, soils, mulch, bark and rock—all on a 10-acre campus. Customers rely on longtime employees for annual planting and seasonal advice. Online comments note how responsive the nursery was in bringing in more drought-resistant and native plants to sell to customers. 9275 S. 1300 West, West Jordan, 801-562-5496, glovernursery.com
2. All Hours Plumbing
3. Young Automotive Group
Best Minority-Owned Business
Fillings & Emulsions
This "Latin and eclectic patisserie" may not have been around Salt Lake for very long, but they've risen to the top of Utah desserts and pastries. Owner Adalberto Diaz has been slapping bread dough and lightly piping icing on tiny cakes for 30 years and has won the Holiday Baking Championship on the Food Network. He also was the semi-finalist of Best Baker in America. Chef Al is a renowned employer who loves his team of pastry chefs and stands up as a crusader for human rights in Utah. If you know the difference between a macaron and a macaroon and seek out the freshest flavors, or just want to learn how to make them, this place is "yum" in all ways. Check out classes for wannabe pastry chefs from Chef Al and his talented (and sweet) staff. Locations in SLC, Provo and West Valley, fillingsandemulsions.com
2. Icy Mountain
3. Sapa Sushi Bar & Asian Grill
Best Local Bank
First Utah Bank
Founded in 1978, this local bank never sold out when the economy was good or bad. They grew from a tiny one-stop bank to be one of the largest community-focused banks in the state, with seven branches in Salt Lake and Utah Counties. They love to say they can do anything a big corporate bank can do, but they can do it faster, better and probably for less money. That means your checking account won't have outrageous fees, and your home loan won't have excessive closing costs. One customer pointed out that the staff doesn't turn over constantly like other banks they've used, which means FUB has to be a pretty great place to work. Multiple branches, 801-308-BANK, firstutahbank.com
2. Cyprus Credit Union
3. University of Utah Credit Union
Best Made-in-Utah Product
Hemplucid
A top 10 mention in Forbes' "20 Best CBD Oils to Try This Year," Hemplucid is a CBD juggernaut found in Provo. Provo! Chase Hudson founded the company with the vision of creating quality and superior products. Hudson started from humble beginnings, and in a short amount of time, his Utah-based Hemplucid has risen off the charts. They have incredible programs to learn about hemp and cannabis, as well as great resources for employees suffering from mental-health issues. 4844 N. 300 West, Provo, 385-203-8556, hemplucid.com
2. Beehive Cheese
3. Utah Truffles
Best Bank for Small Businesses
Mountain America
With over $9.5 billion in assets, this locally grown credit union has won the race against big national banks for many of its customers. Residents of Salt Lake, Duchesne, Wasatch and Uintah counties appreciate service with a local touch, especially where they entrust their savings and checking accounts. "MACU," as people call it, began in 1934 in the hell of the Great Depression. Back then, it was hard to convince any banker to lend money to small businesses that had no history of profits, yet MACU brought honest banking practices and immediately filled a need to help dreams come true. Their 95 branches in six different states prove personalized local credit unions are a great alternative to banks. Multiple locations, macu.com
2. America First Credit Union
3. Utah First Credit Union
Best Tech Company
Qualtrics
How many surveys do you get each week? From the moment you leave your doctor's appointment to the concert you attended last night, surveys are as common as tomato on a BLT. Qualtrics doesn't call what they do "surveys"; they prefer to be known as "experience managers." Founded in Provo in 2002, this NASDAQ-traded firm has proven that their research platforms are crucial for businesses to measure employee experiences and brand awareness through key metrics. Their customers include BMW, Microsoft, Under Armour, Chobani, JetBlue and Yamaha to name a few. The more a company knows how to measure customer interactions, the better they can build a smoother experience for the customer and a better brand that will lead to customer loyalty. 333 W. River Park Drive, Provo, 801-374-6682, qualtrics.com
2. BambooHR
3. Domo
Best Trade School
Salt Lake Community College
As Utah's largest and most diverse higher-education institution, Salt Lake Community College plays an essential role in the academic machinery of the state. Whether they be young adults progressing along the learning ladder or nontraditional students enhancing their workforce credentials, tens of thousands of Utahns and their families rely on SLCC and its ever-increasing number of degree and certification programs. Multiple locations, slcc.edu
2. Davis Technical College
3. Paul Mitchell The School Salt Lake City
Best Company That Gives Back
Stubbs Dental
Many of us dread going to the dentist. There are scary noises, instruments you can't see being stuck into your mouth and sometimes there's pain. It's such a common fear that patients will avoid getting regular checkups and then eventually end up with dental problems. The dentists at Stubbs start with a great mission: They donate the proceeds of all new-patient exams to a deserving member or organization within the community. One couple, Eric and Jody, were recipients of Stubbs love. Eric was diagnosed with stage 4 colon cancer. He lost his job and had steep medical bills. Both of them contracted COVID-19 and pneumonia. Soon after, Eric suffered a stroke and died. The father of 12 left a wife who couldn't work due to her medical problems, but Stubbs stepped in with $4,215 to help cover funeral expenses and future medical bills. The staff keeps the fundraiser active on their website, as well as details on their dental services. That's some feel-good info to calm your nerves. Locations in Bountiful, Layton, Murray and Lehi; stubbsdental.com
2. Cotopaxi
3. Qualtrics
Best Business School
University of Utah David Eccles School of Business
Forbes magazine named the U's School of Business one of the best in the country a few years ago, and the accolades continue to roll in. One reason for the great ranking is because the school is committed to making significant investments in full-time MBA education by hiring prestigious faculty from around the world to serve as mentors, by offering more scholarships and by including a broader range of classes. This was a close vote between three outstanding Utah business schools. It's clear that Utah students' strong interest in business programs is what attracts diverse and talented instructors. Having a diploma from any of our MBA programs is a bold highlight on any job applicant's resume, and statistics prove that high graduation rates lead to excellent opportunities for alumni. 1655 Campus Center Drive, SLC, 801-581-7676, eccles.utah.edu
2. Westminster College Bill and Vieve Gore School of Business
3. BYU Marriott School of Business
Best Local Company to Work For
Young Automotive Group
City Weekly ace investigators interviewed employees at Young Automotive Group (YAG) to learn why they liked working for the company. The adjectives just rolled off their tongues...Fun! Amazing people work here! Great benefits! Like a family! One person said 'It cares deeply for all employees. Not a single person here have I seen not be included in meetings, games, events, community and of course, competition." Apparently, there are great opportunities for employees to learn from one another, and the company provides the tools and training to be successful. YAG has 27 locations in Utah and Idaho and sells new and used Chevys, Volkswagens, Hondas, Toyotas, Jeeps, Audis, Buicks, Fords, Kias, Chryslers and powersports. With that many locations and so many types of vehicles, any gearhead can pick and choose their passion to follow a career path in a company that cares not just about the bottom line but about those who make YAG run smoothly. Multiple locations in Utah and Idaho, youngautomotive.com
2. Utah Jazz
3. O.C. Tanner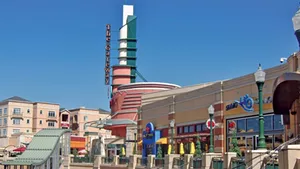 Best Community Spirit
The Gateway Mall
Never did we think we'd award a mall, much less one we called the Beige Way! But that was before City Weekly's marketing director, Jackie Briggs, left us and went to work for the mall's new owners, Vestar, which promised to spend millions restoring Gateway to its former glory. Lucky for them, Briggs showed up with her City Weekly soul intact and sense of community spirit rarin' to go. Overcoming challenges such as being located across the street from a homeless shelter, losses of anchor tenants, shoppers staying home due to COVID-19 and more, Briggs and her team have attracted a new following for the mall as an entertainment destination. It's also a welcoming venue for nonprofits to stage community events, a place to enjoy live bands on summer nights or even a setting for goat yoga! It's easy to be cynical about a mall but Gateway is reinventing itself, and we think a certain Ms. Briggs is keeping it real. 400 W. 200 South, SLC, 801-456-0000, atthegateway.com
Best Local Company to Go Public
Traeger Pellet Grills
On July 29, 2021, Jeremy Andrus, CEO of Traeger Grills, rang the opening bell at the NYSE. Traeger's IPO opened above the planned price at $22 a share, with the ticker name "Cook". Andrus and his crew have built a community around the brand, the "Traegerhood" where the most novice of cooks can create something delicious on the versatile pellet grill. 1215 E. Wilmington Ave., SLC, 800-872-3437, traeger.com
OUTDOORS & RECREATION | Readers' Picks
Best Ski Shop
Sports Den
Founded in 1972, Sports Den has been suiting up outdoor enthusiasts for generations of Utahns. Their ski shop services run the gamut from a basic buff and wax to base refinishing and stone repair. If you need new gear, it's your one-stop shopping from head to toe. Along with their diverse selection of ski gear, Sports Den is stocked up with bikes and accessories for the warmer months. 1350 S. Foothill Drive, SLC, 801-582-5611, sportsden.com
2. Level Nine Sports
3. Ski 'N See
Best Scenic Drive
Alpine Loop
There is nothing quite like driving the Alpine Loop at the height of fall, when gold, orange and red leaves create an airy tunnel. The arresting beauty of American Fork Canyon, Mount Timpanogos and the Unita National Forest are truly some of the most striking vistas that the state of Utah has to offer. SR-92, American Fork Canyon
2. Mirror Lake Highway
3. Guardsman Pass
Best Bike Shop
Bingham Cyclery
For nearly six decades, Bingham Cyclery has been the go-to spot for bicycles and bike maintenance up and down the Wasatch Front. Its friendly staff and welcoming showrooms are there for the new customer shopping their first frame as well as the gearheads shopping the latest and greatest in bike tech. Multiple locations, binghamcyclery.com
2. Contender Bicycles
3. Saturday Cycles
Best Local Gear Brand
Black Diamond
Black Diamond has made such a name for itself in the outdoor recreation world that you'd be forgiven if you forgot it's based in Holladay. Since making the Wasatch Front its home more than 30 years ago, Black Diamond has grown into a powerhouse, supplying the equipment that connects climbers, skiers and other adventurers with mountains around the world. blackdiamondequipment.com
2. Cotopaxi
3. Kuhl
Best Public Golf Course
Bonneville Golf Course
With its hilly terrain and challenging greens, Bonneville is one of the most popular golf courses in Utah. Just five minutes from downtown, it's become the go-to spot for a full 18, quick 9 or tune up on the driving range. The Salt Lake County public course offers great views of the mountain range and wonderful sunsets—it's the perfect course for Utah to flex its muscles for out-of-town guests or friends. 954 Connor St., SLC, 801-583-9513, slc-golf.com
2. Mountain Dell
3. Bountiful Ridge
Best Bowling Alley
Bonwood Bowl
It's hard to top a classic, and no bowling alley captures the perfect blend of traditional and modern quite like South Salt Lake's OG pinsters Bonwood Bowl. Whether you're a pro fighting for that 300-point game, an open-play normie who enjoys eating pizza and tossing balls or a wanderer looking for a chill place to drink a pint and catch the game, Bonwood is there to welcome you with open arms an a pair of freshly sanitized shoes. 2500 S. Main, South Salt Lake, 901-487-7758, bonwoodbowl.com
2. Pins and Ales
3. Olympus Lanes
Best Snowboarding
Brighton Resort
Utah's original ski resort is also the favorite of local snowboarders. Known for its low-key vibe and its extensive network of backcountry runs, Brighton's perch at the top of Big Cottonwood Canyon offers unrivaled access to the Cache-Wasatch National Forest and a pristine, thrilling showcase for the greatest snow on Earth. 8302 S. Brighton Loop Road, Brighton, 801-532-4731, brightonresort.com
2. Snowbird
3. Powder Mountain
Best Paddle Board Lake
Causey Reservoir
Causey Reservoir is one of Utah's worst-kept secrets, as one trip to this alpine dam is all it takes to realize what you've been missing. Located a short drive east from Huntsville, Causey is restricted to only human-powered floatation devices and small fishing boats, creating a natural, untamed atmosphere that is also easily accessible. Parking fills up fast, so be prepared to go early or walk a ways, and don't be afraid to jump the cliffs—water-level depending—or join a makeshift flotilla. State Route 39, Weber County, fs.usda.gov
2. Tibble Fork Reservoir
3. JordanelleReservoir
Best State Park
Goblin Valley
Utah is home to a wealth of beautiful, fascinating landscapes, but even among that elite group there are few that are as singularly unique as Goblin Valley, with its sprawling fields of hoodoos that burst out of the ground like boiling earth or some alien terrain. Make the trip if you haven't and make it again if you have. Goblin Valley Road, Green River, 435-275-4584, stateparks.utah.gov
2. Antelope Island
3. Dead Horse Point
Best Bike Path
Jordan River Parkway
Cutting a 40-mile path through the center of Salt Lake County, the Jordan River Parkway is a multi-jurisdictional marvel and transportation corridor rivaled only by the considerably less pleasant and inexcusably dangerous State Street. Developed over decades, the Parkway has reached an inflection point that offers the state's best visualization of what a car-free future could be, offering pedestrians, cyclists and kayakers a new path through the places they call home. Lehi to North Salt Lake, west of Interstate 15
2. Parleys Trail
3. Bonneville Shoreline Trail
Best Hike Path
Lake Blanche
Big Cottonwood Canyon is home to one of the more popular hikes around, Lake Blanche. The heavily trafficked trail has limited parking and the shoulder of the road piles up with parked cars, so get there early for your excursion. But boy, is the 6.8-mile hike worth it. The mountaintop lake offers spectacular views with plentiful wildlife, including the occasional moose. Make sure to pack plenty of water and snacks before embarking. Big Cottonwood Canyon
2. Living Room
3. Dog Lake
Best Skate Shop
Milosport
Snow or skate, if you're heading out with a board in your hand, you can and should gear up at Milosport, Salt Lake and Utah's original board shop. They have the answers to all of your questions, and if they don't, they'll find out for you, in order to get you set up to roll out. 3119 E. 3300 South, SLC, 801-487-8600, milosport.com
2. Raunch Records & Skate
3. Directive Boardshop
Best Recreation Sports Store
Recreation Outlet
The big names in outdoor recreation do big business, but like the difference between a department store and a tailor, the team at Recreation Outlet offer a shopping experience that provides all the top brands and best prices with an intimate and locals-friendly level of care. A great adventure requires the right tools, Recreation Outlet has what you need. 3160 S. State, South Salt Lake, 801-484-4800, recreationoutlet.com
2. Wasatch Touring
3. Level Nine Sports
Best Ski Resort
Snowbird
Happy (slightly early) 50th birthday to this beloved Utah ski destination, which launched in December 1971. It's no exaggeration to suggest that it's only grown better and more popular with each passing year, particularly for those who like runs that challenge them. Snowbird's perpetual quest for innovations and improvements continues this year with the "Fast Tracks" upgrade for those who want shorter wait times, plus an improved on-site power station that heats the resort through recycled thermal waste. 9385 S. Snowbird Center Dr., 800-232-9542 Snowbird, snowbird.com
2. Brighton Resort
3. Alta Ski Area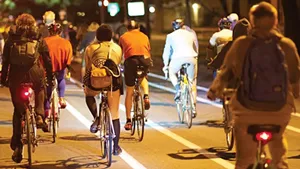 OUTDOORS & RECREATION | Staff Picks
Best Weekly Bicycle Social
The 999 Ride
Around 9 p.m. each Thursday, the intersection of 900 East and 900 South begins to fill with cyclists. Hundreds infiltrate from all directions, creating a convivial scene that is more flash mob than Tour de France. More motley garb than lime-green spandex. More fixies than e-bikes. More beer than Gatorade. Two bikes are ablaze with LED string lights. One, with ape-hanger handlebars, tows a trailer with speakers the size of milk crates. The woofers thump. The growing crowd mills around until 10 p.m., when, like a flock of starlings, it is up and off into the night. Thump! Thump! Thump! Nary a police car in sight. facebook.com/999ride
Best NPS Hidden Gem
Capitol Reef National Park
Utah boasts five national parks, and although Capitol Reef isn't the least visited (that award goes to Canyonlands) it is relatively off the beaten path as the unofficial "backyard" of Torrey, UT. This means cheap stays year-round, uncrowded dining options and overall less of a touristy vibe than the likes of Cedar City, Moab or Springville. Just 3.5 hours from Salt Lake, it's also the closest national park, making it perfect for a short weekend getaway. Torrey, 435-425-3791, nps.gov
Best Forest for Your Griswald Christmas
Fishlake National Forest
Trekking into the woods to cut your very own Christmas tree is the ultimate holiday DIY activity, and Fishlake National Forest in Sevier and Wayne counties is the ideal locale. With the proper snow gear, chain saw, permit and a can-do attitude, you and yours will be the jolliest bunch of assholes this side of the nut house. fs.usda.gov/main/fishlake
Best Abandoned Spiritualist Commune
Home of Truth, San Juan County
In 1933, a grief-stricken New Jersey widow named Marie Ogden founded a spiritualist commune that housed 100 people in Southern Utah. Ogden hoped to communicate with her dead husband, Harry. Instead, she became Public Enemy No. 1 when she made a botched attempt to reanimate a deceased woman. The remains of her commune are still visible near Newspaper Rock and the Needles District of Canyonlands National Park. Visitors are welcome to snap photos from the side of the road. 195 State Highway-211, Monticello
Best Calf Workout
Mount Timpanogos Trail
At 11,752 feet, "Timp" is the second-highest peak in the Wasatch Range. The trail to the summit is 16 miles out-and-back with 5,600 feet of elevation gain. It will absolutely wreck your legs, but the accomplishment and views of Utah County are well worth the trek. Bring more water than you think you'll need, plus food and a camera to document your journey along the way. Mount Timpanogos Trailhead, UT-92, Provo
Best Sunset Stroll
Oquirrh Lake at Daybreak
In a time of drought, Oquirrh Lake, a 65-acre, man-made lake located at Daybreak, just below one of the top producing copper mines in the world, provides a truly idyllic setting for an evening stroll. Thanks to the water piped in courtesy of long-standing Kennecott water rights, homeowners here who live on streets like Paddleboard Way and Bayshore Drive enjoy lakefront vistas and nautical adventures, even if the entire urban simulacrum rests on mine ponds and sludge that have been moved to parts unknown. At sunset, the lake ebbs and shimmers throughout neighborhoods of fancy-schmancy homes, bridges, docks and boardwalks. With more than 3 miles of paved pathways that skirt the lake's perimeter, you can watch kids throw in their fishing lines and listen to ducks quacking in the reeds while you marvel at this fake but marvelous bustling bit of suburbia that is all in all quite glorious. daybreakutah.com
Best Bike Playground
Corner Canyon
Sharing trails with mountain bikers can be frustrating for all parties involved, but not so much in Corner Canyon, where Draper and the Corner Canyon Trails Foundation have built a staggering concentration of all-ages, all-skill-level cycling facilities. Uphill- and downhill-only areas help to minimize trail conflicts and on any given weekend, riders from age 8 to 80 can be found catching air above the jump lines at the bike park or spraying dirt off the berms up the canyon. Various trailheads including Lower Corner Canyon, Coyote Hollow and Potato Hill, Draper, CornerCanyonTrails.com
Best Enduring Pandemic Trend
Outdoor Roller Disco Parties
What at first seemed like a frenzied, cabin-fever inspired trend at the beginning of 2020 has turned into an enduring lifestyle hobby for many in 2021. With skating came roller disco revival, and outdoor skate night parties have endured, often hosted by the Salt Lake City Skate Babes and their host of slick DJs. Utilizing venues like Jordan Park, they've fused their boogie with activism, hosting fundraisers for local orgs and fun-themed nights like skate prom. IG: @slcskatebabes
Best Dog Connection
Rancho Luna Lobos
This family owned and operated local dog-sledding business is much more than a pack of dogs that run, and win, races. Fernando and Dana Ramirez, along with their five children, have dedicated their lives to their 83 donated and/or rescue pups. These dogs of mixed breeds share a common purpose: to live their best life and give back to Fernando. Fernando works tirelessly to cultivate a connection to each dog, some of whom are blind or have temperament issues, building relationships of trust. Through time and discovery, he and his pack are a mushing team unlike any you've seen. Give yourself a gift and take a tour. Open year-round. 4733 W. Browns Canyon Road, Peoa, 435-783-3473, lunalobos.com
Best Inspiration for Waterwise Plants
Red Butte's Water Conservation Garden
Want to free yourself from the water-sucking green grass but unsure where to start? Red Butte's Water Conservation Garden provides plenty of water-wise inspiration—complete with plant names, preferred sun exposure and watering frequency—for turning that humdrum lawn into a blooming feast for the eyes. 300 Wakara Way, Salt Lake City, 801-585-0556, redbuttegarden.org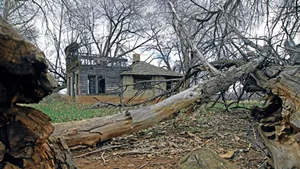 Best Paranormal Weirdness
Skinwalker Ranch
Skinwalker Ranch—located in Ballard, Utah, roughly a 2 ½ hour drive from Salt Lake—has reportedly been a hot spot for UFO and unexplained paranormal activity for nearly 50 years. More recently, Skinwalker Ranch has received international attention due to the History Channel show The Secret of Skinwalker Ranch that attempts to unravel the many mysteries associated with the area. The ranch is as fortified as Area 51, but if you're curious about UFOs, a drive to remote Ballard may be worthwhile. Located in the Uintah Basin, near Roosevelt off Hwy. 191
Best Trailhead at Twilight
Squaw Peak Overlook
Plenty of ink has been spent cataloguing the trailheads along the Wasatch Front. Almost all are boot-worn and dog-whizzed. None has enough parking. Some are targeted by smash-and-grab thieves, and overflowing trash cans are the norm. On the "scenic" scale, not many rank as high as the Squaw Peak Overlook if only because of its panoramic view of Salt Lake Valley. Accessed by a right turn off Highway 189, three miles beyond the mouth of Provo Canyon, a paved trailhead offers hiking trails on Squaw Peak and Buffalo Mountain. For afternoon hikers who plan ahead, the velvet hour finds them back at the overlook in time to uncork a bottle of wine as the sun sets beyond Utah Lake. Provo responds with a grid of night lights. Squaw Peak Overlook, Squaw Peak Road, Provo
Best Dog Paradise
Tanner Park
Tanner Park is Salt Lake's official unofficial best off-leash dog park. Located at the mouth of Parleys Canyon where Interstates 80 and 215 intersect, the 13 acres of off-leash area and two watering holes are ideal places for furry friends to roam and play. Dogs of all shapes and sizes can be found playing fetch, swimming and enjoying time with their humans. Ever wonder what heaven looks like? Visit Tanner Park. 2660 E. Heritage Way, SLC, 385-468-7275, slco.org/parks/tanner-park
Best Daylighting
Three Creeks Confluence Park
Salt Lake City is a community "founded by faith and nourished by irrigation," wrote Wallace Stegner. The Mormon pioneers' irrigation scheme relied on the seven canyon streams flowing out of the Wasatch Mountains. That those streams disappeared into pipes as the city grew is a monumental irony. Even the artful Seven Canyons Fountain in Liberty Park fell into waterless neglect. Then, in 2012, City Creek's eponymous shopping mall daylighted flowing water in the belief it would be good for business. Nine years later, three more streams have been outed in a $3-million park adjacent to the Jordan River Parkway Trail on 1300 South. In the Three Creeks Confluence Park, streams from Red Butte, Emigration and Parleys canyons meet in a stretch of newly restored channel. Its reach is just 200, day-lit feet, but it's a good start for a desert city. 950 W. 1300 South, SLC, sevencanyonstrust.org/three-creeks-confluence
---

Arts & Entertainment
Goods & Services
Restaurants
Food & Drink
Nightlife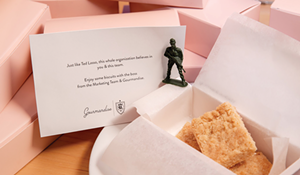 RESTAURANTS | Readers' Picks
Best Bakery
Gourmandise
While one could wax poetic about Gourmandise's pastries, particularly crowd-favorites like the baba au rum, passion fruit mousse cake and mille feuille, it was a humble shortbread biscuit that caught CW readers' attention this year. Capitalizing on the popularity of Emmy and Golden Globe award-winning TV show Ted Lasso, Gourmandise ran a limited-edition run of buttery Boss Biscuits, complete with pink box and green army guy figurine. Marketing genius? Yes. But also the best shortbread we've ever tasted. Multiple locations, gourmandise.com
2. Fillings & Emulsions
3. Tulie Bakery
Best Coffee Shop
Beans & Brews
There's just something about the java at Beans & Brews. They say their bean-roasting process (which takes place in Utah at 4,400 foot above sea level) gives them "a significant advantage" over the competition, lending their coffees a "smooth intensity." And isn't that how we all like to feel after ingesting our morning cup: smoothly intense? They even have a system that measures the flavor, body and acidity of their beans, so you can have your coffee just the way you like it. A Utah success story, "Beans" (as their regulars call them) is family-owned since 1993 by Jeff and Kevin Laramie, who operate or franchise some 58 locations in Utah, Idaho and Nevada. Plus, they are a wholesaler of coffee beans. We know these stats are beside the point when you sit down to enjoy your morning joe and avocado toast over a copy of City Weekly. You're just after the smooth intensity. Multiple locations, beansandbrews.com
2. Coffee Garden
3. Publik Coffee Roaster
Best Indian Restaurant
Bombay House
Keeping their steady standing at the top, Bombay House serves up consistently good and authentic dishes of curries, tandoori and Indian flat breads. Aromatic and colorful dishes, with a variety of proteins for both vegetarians and carnivores, served in a casual setting, make the dining experience a go-to for locals and visitors alike. Multiple Locations, bombayhouse.com
2. Saffron Valley
3. The Kathmandu
Best Wine List
BTG
Maintaining the spot at the top is no small feat, but BTG has managed yet again. Offering a whopping 75 wines by the glass, cocktails, beer and small plates, it is safe to say there is something for the most seasoned drinker. Red and white wine flights in 2-ounce pours are available for those wanting to try a variety. 404 S. West Temple, SLC, 801-359-2814, btgwinebar.com
2. Tuscany
3. Pago
Best Italian
Carmine's Italian Restaurant
Freshly made pasta, cloth tablecloths and exceptional service help to make Carmine's a fine dining experience in a comfortable but classy atmosphere. Serving authentic Italian dishes like Neapolitan pizzas and sauces brought from his hometown in Naples, Italy, Chef Carmine creates quality dishes with a keen attention to detail. 2477 E. Fort Union Blvd, Cottonwood Heights, 801-948-4468, carmines.restaurant
2. Sicilia Mia
3. Osteria Amore
Best Thai Restaurant
Chabaar Beyond Thai
With Thai restaurants popping up on nearly every corner these days, how is it that Chabaar Beyond Thai is a perennial winner? The answer is Anny Sooksri, the entrepreneur who's now launched a veritable family of Thai restaurants, including Chabaar Beyond Thai, Tea Rose Diner, Fav Bistro and Bakes N' Bubbles. Located in what was once a coffee shop in a Midvale strip-mall parking lot, what Chabaar lacks in curb appeal, it makes up for with its creative take on Thai. Sooksri's recipes reflect her own palate, and she's taken creative license with some of her dishes, fusing them with other cuisines. Open seven days, Chabaar also serves breakfast, including Thai breakfasts, along with vegan, vegetarian and gluten-free fare—everything made to order. You'll want to try this Thai cuisine! 87 W. 7200 South, Midvale, 801-566-5100, chabaarbeyondthai.com
2. Sawadee Thai Restaurant
3. Fav Bistro
Best Downtown SLC Restaurant
Copper Onion
I don't like to give away my secret brunch spots, but when one serves up homemade cacio y pepe and $5 bloody marys with house pickle juice, it's only a matter of time before the recognition starts to roll in. Copper Onion is a downtown staple for consistently good food any time of day, whether you're craving wagyu bone marrow, scallops with herbed spaetzle or the quintessential Copper Onion burger with duck fat aioli. And dear Lord, save room for the Valrhona chocolate pudding. 111 E. 300 South, No. 170, SLC, 801-355-3282, thecopperonion.com
2. Oquirrh
3. Takashi
Best Non-Downtown Restaurant
Cliff Dining Pub
Serving up sensational views and sushi, this south valley hot spot is an adult hang out with some of the best elevated "bar food" around (think sushi nachos). Craft cocktails, local brews and a decent wine list round out the eclectic menu. Minors are allowed, as they have both a restaurant and bar license, so a family-friendly dinner or brunch is not out of the question. 12234 Draper Gate Drive, Draper, 801-523-2053, cliffdiningpub.com
2. Mint Tapas and Sushi
3. Provisions
Best Utah County Restaurant
Communal
There are so many things to love about the food being served up at this Provo eatery. Touted as a New American Restaurant, offerings like locally sourced braised Clifford Farms pork belly and agnolotti pasta with ricotta and Parmesan filling using roasted local mushrooms make me giddy. 102 N. University Ave., Provo, 801-373-8000, communalrestaurant.com
2. Strap Tank Brewery
3. TRUreligion Pancake & Steakhouse
Best French Restaurant
La Caille
Maintaining the top spot, La Caille serves the best French cuisine in an elegant atmosphere. Situated on beautiful grounds—20 acres of amazing flowers, trees, perfectly manicured lawns and a three-acre vineyard—your dining experience can only be extraordinary. Open for dinner seven days a week and brunch on the weekends, chef Billy Sotelo is a master at the helm. Try the French onion soup and the garlic butter roasted prime rib. 9565 S. Wasatch Blvd., Sandy, 801-942 1751, lacaille.com
2. Franck's
3. Eva's Bakery
Best Atmosphere
Log Haven
The thought of eating dinner in a century-old log cabin might not conjure up images of plates like grilled octopus, pan seared ahi with lobster sauce or a glass of Pascal Jolivet Pouilly-Fumé, but at Log Haven, that's exactly what's delivered. Decked in twinkling fairy lights among 40 acres of pine trees and waterfalls, this Millcreek gem also serves up elevated renditions of rustic fare like grilled elk NY strip with huckleberry gastrique and porcini-crusted chicken with king trumpet mushrooms, all served beside their crackling fire. 6451 Millcreek Canyon Road, SLC, 801-272-8255, log-haven.com
2. Carmine's Italian Restaurant
3. La Caille
Best Vietnamese
Oh Mai Sandwich Kitchen
Oh Mai! how we have grown! (That visit from Guy Fieri might have helped fuel the growth.) There are now eight locations of this fast casual eatery in the Salt Lake Valley, plus one in Orem, making it ever-easier to enjoy their spectacular soups, salads and banh mi sandwiches, in which meat, vegetables and Vietnamese seasonings find perfect harmony in a crisp baguette. Order what Guy ate! Multiple locations, ohmaisandwichkitchen.com
2. SOMI Vietnamese Bistro
3. Little Saigon
Best Desserts
Pie Fight
If the last hand pie you had was of the Hostess variety, run—don't walk—to Pie Fight's walk-up window in the 9th and 9th neighborhood. With an ever-changing menu of flavors, you'll want to add this tiny patisserie into your regular dessert rotation so you can try them all, like the bourbon caramel apple, blueberry lemon or pumpkin cream cheese crumble pie. And if you're back in the office, they do corporate catering orders too. 937 E. 900 South, SLC, 385-222-5373, thepiefight.com
2. Fillings & Emulsions
3. Doki Doki
Best Chinese Restaurant
Mandarin
Do you find it odd that Utah's best Chinese food restaurant is in Bountiful and is operated by a Greek family? Just get in your jalopy and make the trip to Bountiful. You'll see why Mandarin is a shoo-in. The Greek tradition is one of consummate hospitality, and that's what you'll find entering the doors of the Mandarin. Since 1977, the owners have spared no expense in creating the best in Chinese dining (they've traveled to Hong Kong and San Francisco to hire the chefs) and to create a lavish setting appointed with eye-popping Chinese art and décor. They even maintain gorgeous Chinese gardens outside. The extensive menu offers all the basics Utahns love as well as more adventurous Chinese dishes and even some fusion entrees. Quality, consistency and service is what you'll find here, as the owners are hands-on and make each visit to the Mandarin memorable for all the best reasons. 348 E. 900 North, Bountiful, 801-298-2406, mandarinutah.com
2. Red Maple Chinese Restaurant
3. Little World
Best Mexican Restaurant
Red Iguana
The North Temple location of Red Iguana (there are now three to choose from) has long been a Salt Lake mainstay, through good times, bad times and worse times. These days, you're almost guaranteed to see construction cranes for new apartment buildings while you wait in line on the sidewalk, meaning scores of incoming residents are about to get an up-close introduction to one of Salt Lake City's Mount Rushmore restaurants. The entire neighborhood appears to be on the rise, and the consistency and excellence of this family-run cafe serving world-class moles and traditional dishes has a lot to do with that. Multiple locations, rediguana.com
2. Blue Iguana
3. Mi Lindo Nayarit
Best Park City Restaurant
Riverhorse
The crew at Riverhorse on Main must be getting used to the view from the top. Serving up unique dishes like the Durham Ranch buffalo short rib and Morgan Valley lamb lollipops has earned them a Forbes rating for good reason. An extensive wine list and a solid cocktail/beer/cider menu are also on deck to pair with your meal. 540 Main St., Park City, 435-649-3536, riverhorseparkcity.com
2. Handle
3. Hearth and Hill
Best Breakfast
Penny Ann's Café
Originally from upstate New York, the Willey family envisioned an East Coast family-diner atmosphere when they opened Penny Ann's Cafe in Salt Lake. Now with locations in Draper and Taylorsville, all offer signature light and airy sour-cream pancakes, hash browns cooked crispy on the outside and fluffy inside, housemade corned-beef hash, fried scones with honey butter and killer biscuits and gravy. At lunch, try their famed grilled Reuben, trademark burgers, wraps and fresh salads. Multiple locations, pennyannscafe.com
2. Park Café
3. Eggs in the City
Best Bar Brunch
Piper Down
There is no shortage of boozy brunch locations around town, but the folks at Piper Down have really gone above and beyond with their community building—and it helps that their brunch menu is amazing. With an old-world Irish pub aesthetic and a menu that caters to both carnivores and herbivores alike, a visit to Piper Down is a great way to kick off a weekend morning. 1492 S. State, SLC, 801-468-1492, piperdownpub.com
2. Green Pig
3. Purgatory
Best Middle-Eastern Restaurant
Mazza Cafe
Like many of the restaurants on this list, Mazza has been a gateway eatery for local diners. Many of us tried Middle Eastern classics like baba ganooj and muhammara for the first time at Mazza, and it's stayed warm in our hearts ever since. Even after our inaugural visits, there is always something to come back for at this Salt Lake staple. 1515 S. 1500 East, SLC, 801-484-9259, mazzacafe.com
2. Laziz Kitchen
3. Beirut Café
Best Restaurant Patio
Ruth's Diner
Ruth's large courtyard patio offers a variety of seating choices and plenty of shade with the canopy of leafy trees. There are also heaters if the temperature dips a bit. It's the perfect place to enjoy the signature fluffy mile-high biscuits that are amazingly light. The flavorful, homemade raspberry jam really sets them off. " People come here to find comfort," says co-owner Tracy Nelson. "We rarely change the menu, and customers like to go where the food is consistent." 4160 Emigration Canyon Road, SLC, 801-582-5807, ruthsdiner.com
2. Tuscany
3. Ivy & Varley
Best Restaurant Brunch
Sunday's Best
You know that Sunday's Best has made a commitment to its specialty when it's chosen as its website URL "brunchmehard.com." And yes indeed, they will brunch you hard, with an all-day brunch menu seven days a week—not just Sundays—featuring stalwart dishes like Eggs Benedict, avocado toast and beignets alongside specialties including breakfast tacos and hamachi tostadas. Add a little bubbly to your bill if you're feeling extra naughty. 10672 S. State, Sandy, 801-441-3331, brunchmehard.com
2. SLC Eatery
3. Pago
Best Vegetarian Restaurant
Vertical Diner
When you consider the history of Utah's plant-based cuisine, it's hard to think of a restaurant that has been more influential than Vertical Diner. It helped dispel the myth that plant-based dining consisted of sparsely dressed arugula salads drizzled with lemon juice by creating a diner-style menu packed with bold flavors. If you don't believe plant-based food can be awesome, let Vertical Diner prove you wrong. 234 W. 900 South, SLC, 801-484-8378, verticaldiner.com
2. Zest Kitchen and Bar
3. All Chay
Best Innovative Restaurant
Table X
A favorite date-night spot, Table X is an experience for the senses from start to finish. They source produce from local farms or grow it in their own onsite garden. Their bee mural is a nice touch, and the chef's tasting menu is where it is at. Reservations are recommended; double-check their hours. In case you're wondering, their gluten-free and veg options are superb! 1457 E. 3350 South, SLC, 385-528-3712, tablexrestaurant.com
2. Arlo
3. Oquirrh
Best Japanese Restaurant
Takashi
While Takashi is known for their exceptional sushi (and yes, that's the Best, too), they don't stop there when it comes to Japanese cuisine. Their marriage between keeping things traditional with an influx of contemporary is a perfect pair, such as dishes like the spicy mussel shooters, kuro buta pork belly or agedashi tofu. Takashi's armada of available nigiri, sashimi and sushi ensure that more than one stop is necessary to get through the menu, not that that's a bad thing. 18 W. Market St., SLC, 801-519-9595, takashisushi.com
2. Kyoto Japanese Restaurant
3. Sapa Sushi Bar & Asian Grill
Best New Restaurant
Ivy & Varley
It didn't take long for Ivy & Varley to win the hearts of local diners. This approachable yet hip space seemed to demonstrate a keen understanding for what Utahns wanted from an upscale restaurant. From its menu of contemporary American comfort food favorites executed with meticulous detail by chef Neza Prieto to its roster of creative craft cocktails, Ivy & Varley knew exactly how to open with a bang. 55 W. 100 South, SLC, 801-895-2846, theivyslc.com
2. Arlo
3. Carson Kitchen
Best Greek Restaurant
The Other Place
A restaurant that has withstood various restaurant trends and fads in the neighborhood, The Other Place simply offers good food at reasonable prices, a quality desperately appreciated in the downtown area. While there's an unwavering breakfast crowd, The Other Place also plates stoutly traditional Greek cuisine like moussaka (layered potatoes and veggies), pastichio (the Greek version of lasagna) and a number of takes on roasted lamb. 469 E. 300 South, SLC, 801-521-6567, theotherplacerestaurant.com
2. Manoli's
3. The Local Greek
Best Ogden Restaurant
Tona Sushi
Utahns have high standards when it comes to sushi in the state. There's no reason to eat subpar sushi when you live here, and Ogden's Tona on Historic 25th Street is some of the best you'll find, period. At Tona, quality and elegance define the restaurant experience. The Brad Roll, a combination of spicy tuna, avocado, cucumber fried with panko and drizzled with sriracha and Japanese mayo, is one of the tastiest rolls you'll ever try. 215 25th St., Ogden, 801-622-8662, tonarestaurant.com
2. Rovali's Ristorante Italiano
3. Prairie Schooner Steak House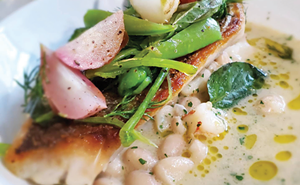 RESTAURANTS | Staff Picks
Best Marmalade Miracle
Arlo Restaurant
Opening in the midst of a pandemic (and surviving) is a bit of a miracle. And the offerings themselves are miraculous. The freshest ingredients come together in each picture-perfect dish from chef Milo Carrier, who's been working in the kitchen since he was a teenager—and it shows in every detail. His take on meaningful food launches patrons on a culinary expedition, first tasting with their eyes, as each plate is a visual masterpiece. Then, to diners' delight, their first bite. The flavors, textures and soothing experience of food created with intention is a rare gift waiting to be enjoyed at Arlo Restaurant. 271 W. Center St., SLC, 385-266-8845, arlorestaurant.com
Best Street Cart Named Breakfast
Beehive Breakfast
Downtown dwellers should rejoice at the existence of Beehive Breakfast. The perfect casual weekend bite-grab and the remedy to running-out-the-door mornings, this brekky cart across the street from Johnny's on 2nd is a lifesaver. Offering a simple lineup of breakfast sandwiches (eggs, meat of your choice or hash browns for the veg heads and choice of cheese) for an easy-going price, Beehive Breakfast is the early morning street food you didn't know you needed. 166 E. 200 South, SLC, 978-778-4386, beehivebreakfast.com
Best Vegas Import
Carson Kitchen
Las Vegas has given us a lot of new restaurants over the past few years, but Carson Kitchen seems to be the only one that brought a bit of Vegas along for the ride. It's an ideal medley of comfort food classics, sophisticated culinary talent and eye-popping entrees. Next time you need a trip to the City of Sin but don't have travel time to spare, pop in here and get your fix. 241 W. 200 South, SLC, 385-252-3200, carsonkitchen.com
Best Thai Takeout
ChaiYo Thai Togo
Rising to the top tier of Utah's Thai restaurants is quite the accomplishment, and ChaiYo is definitely among our favorites. We're especially happy with their takeout-only model, since places that offer consistently delicious takeout have become increasingly important over the past year. ChaiYo's fried rice is an absolute bomb of Thai flavors—we highly recommend checking it out. 3804 S. Highland Drive, Ste. B2, Millcreek, 801-890-0036, chaiyothaitogo.com
Best Butcher Comfort Food
Chop Shop
Owners John and Paige Courtney know a thing or two about good eats, both having been in the biz for years. Finding a new niche in Park City was no small feat, but the couple found success behind their butcher counter and in front of their imported Italian wood-fire oven. If you crave craft delicious wood-fire sandwiches (such as the Butler Dip) and Detroit style pizzas, stop in for some quality meats and stay for a meal. 1177 Center Drive, Ste. J2, Park City, 435-604-0244, chopshopparkcity.com
Best Restaurant Save
Cotton Bottom Inn
It seemed every local fan of The Cotton Bottom Inn and its magnificent garlic burgers held their not-as-garlicky-as-they'd-like breath when its official reopening took place last year. Thankfully, the Bar X Group lovingly restored this Utah institution and brought garlic breath back into the limelight where it should be. Whether you're a garlic burger veteran or rookie, this place continues to be a good time. 2820 E. 6200 South, Holladay, 801-849-8847, thecottonbottom.com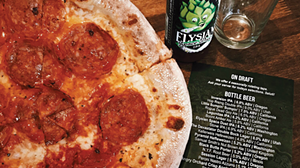 Best Pies for Feasting Anon
Centro Woodfired Pizzeria
How far would you go for pizza? The answer should be approximately 251 miles, assuming you're coming from Salt Lake, because that's how far it is to Centro Woodfired Pizzeria. When you get there, expect light-as-air crust with the perfect amount of chew and plenty of "leopard spots" (the good charred bit imparted from cooking with real flame). Speaking of heat, order the dolce diavola with spicy calabrese and hot cherry peppers, fresh mozz, whipped ricotta and a sweet drizzle of honey. 50 W. Center St., Cedar City, 844-385-3285, centropizzeria.com
Best 9th & 9th Bar Bites
East Liberty Tap House
Aside from East Liberty Tap House's adorable 9th & 9th patio, the food is amazing and much of it is gluten-free. Our true love? Their chorizo-loaded french fries. They also have plenty of options for your veg-head friends (like the corn cakes—a brunch must!). ELTH is a bar, so leave the little ones at home and bring your ID. 850 E. 900 South, SLC, 801-441-2845, eastlibertytaphouse.com
Best East-Side Morning Skillets
Eggs in the City
Eggs in the City moved out of their 1300 South and 1700 East location and into their new Millcreek digs, and it's been a happy marriage in the community ever since. The newer location has a bigger kitchen, seating area and patio, alleviating waits while accommodating more people for their superb breakfast and lunch. For breakfast fare, go for one of their savory skillets, or if you have a sweet tooth, the pancakes are some of the best you'll find around town. Also, their chile verde may be the best in town. 2795 S. 2300 East, Millcreek, 801-581-0809, eggsinthecityslc.com
Tastiest Community Cause
Flourish Bakery
Don't mistake Flourish Bakery's nonprofit status for some run-of-the-mill bake sale. The pies, cookies and biscuits coming from their ovens are legit! Hands down, they have the best jalapeno and cheddar biscuit in town, and their lemon chess cutie pie and solstice Uganda chocolate pie are a revelation. If this is what giving people a second chance to thrive tastes like, you can sign me up all day. 752 W. Center St., Midvale, 385-474-0371, flourishslc.org
Best Pastry Superheroes
Mad Dough
Once you've had a box of the pillowy, flavor-filled doughnies that have made Mad Dough local pastry superheroes, it's tough to go back to conventional donuts. When you combine owner Mandy Madsen's bubbly, sunshiny personality with a rotating menu of flavors that range from Boston cream to peanut butter pie and vanilla fig, it's easy to get addicted to these sweet confections. Check them out online or in person at the Central Ninth Market. 161 W. 900 South, SLC, maddoughslc.com
Best Ethiopian
Mahider Ethiopian Restaurant & Market
Ethiopian cuisine is characterized by thick stews, vegetables and spicy meat dishes placed in piles atop injera, a thin layer of elastic textured bread. Ethiopians eat their community-inspired meals by tearing off chunks of the bread and scooping up bites from the dish. Open since 2008, Mahider is Utah's premiere Ethiopian restaurant offering rich, flavorful meals with fresh injera made daily. Just the place to expand your palate! 1465 S. State, SLC, 801-975-1111, mahiderethiopian.com
Best Bakery for Night Owls
Munchie's
Most bakeries close up shop before those post-dinner cravings kick in, which is why we're grateful for Munchie's. Their famous brownies, cakes and cinnamon rolls are available from 7 to 11 p.m. on Thursdays, Fridays and Saturdays, which is usually when we start thinking about putting something sweet in our bellies. They also offer monthly specials that are always worth checking out. To those about to munch, we salute you. 3838 S. Highland Drive, Millcreek, 385-252-8718, munchiesslc.com
Best Restaurant Relocation
Rio Grande Cafe
Making the decision to relocate a restaurant isn't one any owner takes lightly, but in the case of Rio Grande Cafe, it was nudged along to the tune of a 5.7 magnitude earthquake in March 2020. The Rio Grande Station, historic home to the Cafe, suffered structural damage that left it unfit for residence. Turning lemons into lemonade, or rather limes into margaritas, Porcupine Pub & Grille on 1300 E. transformed into the Rio Grande Cafe's new home, and tacos have been flying out the door ever since. 258 S. 1300 East, SLC, 801-364-3302, riograndecafeslc.com
Best Pandemic Recharge
Oasis Café
Due to the pandemic, 2021 was the year of dining al fresco. The patio scene in Salt Lake City remains competitive these days. Still, there is no question that the Oasis Café's serene flower-lined grotto is the best spot to catch your breath downtown and recharge while sipping a glass of Sauvignon Blanc or a piping hot cappuccino. 151 S. 500 East, SLC, 801-322-0404, oasiscafeslc.com
Best Slippery Sweets
Meet Fresh
As much as we love desserts that smack us in the face with sugary goodness, we haven't been able to stop thinking about the bao bing at Meet Fresh. Sweetness takes a back seat to texture with their shaved ice bowls topped with chewy taro balls or slippery grass jelly. Bao bing is immensely fun to eat and is perfect for Utah's scorching summer heat. 3390 S. State, Ste. 32, South Salt Lake, 385-549-1134, meetfresh.us
Best Restaurant Survival
Oquirrh
There's never an "easy" time to start a restaurant, but it was only a year after opening Oquirrh in 2019 that veteran chef Andrew Fuller (formerly of locations like Copper Onion and Pago) and his wife, Angelena, suddenly faced the existential threat of the pandemic. Yet they managed to make it through, and if you haven't had a chance to try their inventive menu of locally-sourced American fare—with everything from house-prepared sourdough bread to Niman Ranch pork chops—it's a great time to prove that all the angst over the past year has been worth it. 368 E. 100 South, SLC, 801-359-0426, oquirrhslc.com
Best Morning-After Breakfast Spot
Roots Café
Delicious espresso? Yes, please. Big veggie omelet with or without bacon? Um, heck yes. Buckwheat gluten-free pancake bigger than our face? You know it. Roots is a favorite breakfast spot. Their portion sizes will give you enough for three meals and are well worth the weekend wait, during which you can pop next door to the most darling consignment shop. 3474 S. 2300 East, Millcreek, 801-277-6499, rootscafeslc.com
Best Basement Bar
O'Shucks Bar & Grill/Ahh Sushi
You can get down at the Salt Lake location of O'Shucks because it's downtown and downstairs in a brownstone at 22 E. 100 South. That coolness alone is worth a nod. But they also serve specialty sushi rolls, courtesy of a resident sushi chef, and mega-schooners of beer. The specials, like a Tuesday $3 burger special (add fries for $2!) and Wednesday $3 and $4 roll specials are unreal! This laid-back oasis is ground zero for those who crave sushi and booze at bargain basement prices. Oh, and don't forget their original dive bar: O'Shucks Bar and Grill—on Main Street in Park City for the past 26 years—and their all-ages eatery at Pinebrook off I-80 (that serves breakfast). Multiple locations, oshucks-ahhsushi.com
Best Way to End a Camping Trip
Ray's Tavern
Stop me if you've heard this one: A girl walks into a bar... but make that bar a tavern and said girl has been camping in the desert for several nights. The punchline isn't as funny as it is delicious—a juicy burger on a sesame seed bun, hand-cut fries and a slice of homemade pie all washed down with a cold beer. Is it the best burger in Utah? After a week of tinfoil dinners, hot dogs and jerky, Ray's serves up manna from heaven. 25 S. Broadway, Green River, 435-564-3511, facebook.com/RaysTavern
Best Murray Mexican
Restaurant Morelia
Murray residents regularly congregate at the family-owned Restaurant Morelia for lip-smacking Mexican fare. Two dishes showcase the legendary chile verde and relleno sauces: the Laura Special (a chile verde burrito topped with relleno sauce, cheese, sour cream, cilantro and avocado slices) and the David Burrito (a chile verde burrito stuffed with a chile relleno). (Yep, Laura and David are the owners.) But if combo plates are the only thing to stave off your raging hunger, go with the Larry Miller (2 cheese enchiladas, 2 beef tacos and a bean tostada). Did we mention their reasonable prices? In these inflationary times, affordable and delicious basically seal the deal. 6098 S. State, SLC, 801-265-8790, restaurantmorelia.com
Best Soul Food
Sauce Boss Southern Kitchen
Growing up living in homeless shelters, Chef Julius Thompson's most memorable exposure to homemade food was at his grandmother's table. Today, he showcases both of their culinary skills at Sauce Boss Southern Kitchen, where his recreation of her fried chicken is one of the most popular dishes. While she often served bread pudding and fried apple together, Thompson tops his traditional bread pudding with apple cream. His shrimp and grits, catfish and cornbread are all evidence that it's now possible to deliciously visit the South at the south end of Salt Lake County. 877 E. 12300 South, Draper, 385-434-2433, saucebosssouthernkitchen.com
Best Sushi for Under $3
Sushi Groove
With creativity ga-lore, Sushi Groove is one of Sugar House's hidden gems. Enjoy fresh fish flown in throughout the week and check out their Tuesday night $2.50 specials, veggie rolls, impressive sake selection and live music. Don't be surprised if you become a regular and bring out-of-town guests to bask in all their delicious raw-fish glory. 2910 Highland Drive, SLC, 801-467-7420, sushigroove.us
Best Holy Union
Tandoori Taqueria
Combining the savory flavor aesthetic of Indian cuisine with the convenience and cultural clout of tacos is a tricky beast to pull off—but Tandoori Taqueria has cracked the code. This upstart from Southern Utah recently staked a claim on the Wasatch Front, and things will never be the same. Tandoori chicken stuffed with cabbage slaw and wrapped in a buttermilk naan tortilla is something everyone needs to try. 3540 S. State, South Salt Lake, 801-590-9473, thetandooritaqueria.com
Best Lake Views
The Lakehouse on Deer Creek Reservoir
The panoramic lake views from both the deck and inside the restaurant might be enough to get you there, but when coupled with the impressive offerings created by chef Tamara Stanger, all your senses commit to the experience. Stanger finds inspiration for her dishes within the stories of the ingredients. From there, she finds ways to complement the ingredients, building a delicious masterful dish. 5317 S. U.S. Highway 189, Heber City, 435-210-7474, thelakehousedeercreek.com
Best Menu Update
The Rose Establishment Teams Up With Pallet's Buzz Willey
If ever there were a silver lining to Pallet closing its doors, it's the expansion of The Rose Establishment and its menu collaboration with Pallet chef Buzz Willey. While nothing quite replaces the hole left in our hearts—or stomachs—that was once occupied by Pallet, Chef Willey's Cubano sandwich with tea-braised Snake River Farms kurobuta pork, sliced ham, Gruyère cheese, pickles and garlic aioli is a good start. 235 S. 400 West, SLC, 801-208-5569, theroseestb.com
Best Portion Sizes
Venezuela Mia
For those proudly proclaiming to be in the Clean Plate Club, those who seldom leave a restaurant with leftovers packed in a box, you may have met your match. Each time we've visited Venezuela Mia, we've had to hang our heads in shame as we shuffle out the door toting our doggie bags. Whether it's gigantic, cheese-stuffed cachapas or arepas overflowing with an abundance of carne asada, this is a place that delights in generous portions. 9460 S. Union Square, Ste. 104, Sandy, 801-831-6420, vzlamia.com
Best Build-Your-Own Meal
Vessel Kitchen
The term "fast casual" evokes assembly line preparations that might be convenient, but don't generally scream "healthy" or "interesting." Locally launched in 2016, Vessel Kitchen made a commitment to from-scratch preparations with a wide range of flavors and menu items for every dietary preference, from vegan to keto. In addition to great salads and tacos, they offer market plates that allow a combination of one delicious meat, seafood or vegan entree, plus a pair of sides that range from mac 'n' cheese to Israeli slaw or Thai-spiced carrots. Your taste buds will never know how quickly it all came to you. Multiple locations, vesselkitchen.com
Best Seasonal Menu
Wildwood
There's comfort in visiting a restaurant and keeping it safe by ordering favorite dishes you know you enjoy. At Wildwood, executive chef and owner Michael Richey keeps customers on their toes with a menu that changes with the seasons. But don't fret—some dishes remain year-round but with flavor twists—such as their chicken wings that shouldn't be missed. The wings are always cooked crisp and served as an order of eight or so, but currently, you can enjoy the warm flavors of a spicy sambal sauce, drizzled in sesame dressing and served with a side of slaw. 564 E. Third Ave., SLC, 801-831-5409, wildwoodslc.com
---

Arts & Entertainment
Goods & Services
Restaurants
Food & Drink
Nightlife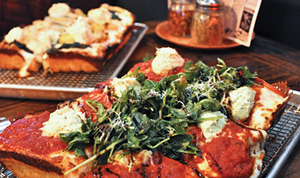 FOOD & DRINK | Readers' Picks
Best Pizza
Bricks Corner
For many Salt Lakers, their first introduction to Detroit-style deep-dish pizza has come by way of Bricks Corner, which opened late last year. Its general construction is similar to deep-dish pies you've known, but its crisped-up edges and bonkers toppings—grilled Spam and pineapple jam, anyone?—put this pizza in a league of its own. Expect this tasty trend to start sweeping the state in no time. 1465 S. 700 East, SLC, 801-953-0636, brickscornerslc.com
2. The Pie Pizzeria
3. Este Pizza
Best Donuts
Banbury Cross
If you're craving donuts or pastries, Banbury Cross has whatever you're seeking. Choose from fresh flavorful donuts such as cinnamon crumb, maple frosted or chocolate glazed. Other selections include apple or cherry fritters, muffins and cinnamon rolls. The parking lot entrance is mainly used for the drive thru window. For quick service at peak times, park on the street around the corner and walk in. 705 S. 700 East, SLC, 801-537-1433
2. Fresh Donuts and Deli
3. The Big O Doughnuts
Best Burrito
Beto's Mexican Food
Whether it's a tried-and-true Texano (chicken, potatoes, sour cream and cheese) or a hulking ham, egg and cheese breakfast burrito, Beto's has provided burrito therapy for us all when we're feeling low. We don't know if it's the sheer size of a Beto's burrito that nets this award or if it's because they're so reasonably priced. Either way, we know what we're getting, and it's always what the doctor ordered. Multiple locations, betosmexicanfood.com
2. Red Iguana
3. Lone Star Taqueria
Best French Fries
Bruges Waffles & Frites
Best fries is a particularly competitive category for Utah, what with the Beehive State being the home of fry sauce after all. However, Bruges makes it look easy with their Belgian-style frites—a twice-fried symphony of taste and texture. It's made perfect with any one of Bruges' wonderful dipping sauces. 336 W. 300 South, SLC; 2314 Highland Drive, SLC, 801-363-4444, brugeswaffles.com
2. Lucky 13 Bar and Grill
3. Hires Big H
Best Appetizers
Caffé Molise
There's no doubt that Caffé Molise is one of the most charming dining locales in downtown Salt Lake, and its selection of traditional Italian appetizers complements that charm perfectly. The antipasti al giorno is always fun to check out for a bit of charcuterie surprise, and their polenta is hearty and soul-warming every time. 404 S. West Temple, SLC, 801-364-8833, caffemolise.com
2. Bambara
3. Mazza Cafe
Best Ethnic/Specialty Market
Caputo's Market & Deli
Caputo's Market & Deli is Salt Lake City's premier purveyor of distinctive Italian and Southern European foods. With its inventory of cured meats such as salami and prosciutto, selection of 200 cheeses and 500 chocolate bars (to say nothing of the available samples), Caputo's is a feast for both the eyes and the palate. It's a fantastic source of recipe ingredients, and it's the logical stop for gourmet sandwiches that you can take home or consume onsite. Multiple locations, caputos.com
2. Chinatown Market
3. Rancho Market
Best Seafood
Current Fish & Oyster
Go ahead and let all those East and West Coasters think they're the only ones privy to fresh seafood—that just means more oysters for you ... and crab, black cod, shrimp, halibut, scallops, prawns ... the catch goes on. Current Fish and Oyster has established itself as the biggest fish in our small pond, led by chef Alan Brines (yes, Brines). It's so serendipitous you can't not go, but save some clam chowder for me. 279 E. 300 South, SLC, 801-326-3474, currentfishandoyster.com
2. Harbor Seafood & Steak Co.
3. Market Street Grill & Oyster Bar
Best Local Spirit
Five Wives Vodka
The Ogden distillery's flagship spirit quickly endeared itself to Utah's adult drinkers buy concocting a personality-driven vodka that's full of depth. For a spirit that essentially has no distinct tasting notes, Five Wives enhances the flavors of its cocktail pairings better than most of the vodkas out there, which is why its reputation in Utah is highly regarded as a consumer's and mixologist's favorite. 615 W. Stockman Way, Ogden, 801-458-1995, ogdensown.com
2. High West Rendezvous Rye
3. Dented Brick Gin
Best Burgers
Lucky 13 Bar & Grill
No luck necessary here—the Ballpark neighborhood staple retains its title as Utah's dominant patty-slinger, offering its mouthwatering and often daring spins on the classic sandwich that incorporate everything from smoking-hot peppers to peanut butter. That the incredible food is complemented by an impressive drink menu and one of the best patios in the city is just icing on the bun. 135 W. 1300 South, SLC, 801-487-4418, lucky13slc.com
2. Proper Burger
3. Rich's Burgers-n-Grub
Best Ogden Pizza
Lucky Slice
Co-owners Mike, Nick and Will cooked up an idea together to deliver Ogdenites top-notch pizza, a category the region lacked. The three amigos settled on Historic 25th Street for their initial location of Lucky Slice—it was a huge success, and there are now three northern Utah locations that serve a full menu of slices, pies and appetizers. Lucky Slice also has a food truck in their arsenal that makes the rounds in Salt Lake and beyond. Multiple locations, theluckyslice.com
2. Slackwater Pub & Pizzeria
3. The Pie Pizzeria
Best Sandwiches
Moochie's Meatballs & More
With three locations serving Salt Lake County, Moochie's menu of hot and cold sandwiches, salads and desserts is the perfect answer to a growling stomach. While best known for its signature meatball and Philly cheesesteak subs, Moochie's has something for everyone and offers one of Salt Lake City's quintessential locations to kick your feet up and take a tasty break, plus some of the best fry sauce in the city with its Jumpin' Jalapeno recipe. Multiple locations, moochiesmeatballs.com
2. Caputo's Market and Deli
3. Feldman's Deli
Best Cookies
RubySnap Fresh Cookies
With 20 cookie varieties baked fresh daily, RubySnap is a cookie paradise. Bestsellers like the Mia, a vanilla-bean sugar cookie with buttercream beet frosting, and the Trudy, a traditional chocolate chip cookie from a family recipe, join forces with creations like the Vivianna (dark chocolate chip with mango) and monthly cookie specials for a singular taste treat. Buy fresh cookies at the Third West flagship bakery, or check online for local grocers that sell pre-portioned frozen RubySnap dough for bake-at-home freshness. 770 S. 300 West, SLC, 801-834-6111, rubysnap.com
2. Crumbl Cookies
3. Chip Cookies
Best Hard Cider
Mountain West Cider
Mountain West prides itself in using local ingredients from the region to make its highly acclaimed hard apple ciders. We especially love the barrel-aged Stillwater Cider. With a dry profile and a slight vinegar undertone, it joins the rest of the lineup, none of which have sugar added. Schedule a tour or stop by their weekend Garten and enjoy your cider with a side of live music. 425 N. 400 West, SLC, 801-935-4147, mountainwestcider.com
2. The Hive Winery
3. Etta Place Cider
Best Culinary School
Park City Culinary Institute
If you dine out anywhere in Utah, you've likely benefitted from the expertise passed along to local chefs by Park City Culinary Institute. But it's not a place exclusively for professional chefs— home cooks, too, have made use of the wide range of course offerings, from basic knife skills to advanced knowledge about specialty food preparation, even mixology. And you can attend in-person or virtual live courses to fit your scheduling needs. 1484 S. State, SLC, 801-413-2800, parkcityculinaryinstitute.com
2. Salt Lake Community College
3. Utah Valley University
Best Soups
Porcupine Pub & Grille
Here's what you need to know about soup at Porcupine: Chicken noodle (yes, that creamy chicken noodle) is available every Wednesday and every day during ski season, starting Nov. 1. Potato beer cheese is available during Oktoberfest, which runs the month of October. Tomato basil is offered every Monday. Cream of mushroom pops up on Fridays. Outside of that, there are three rotating soups daily. You might want to clip this and hang it on the fridge, you know, until you have it memorized by heart. 3698 E. Fort Union Blvd., Cottonwood Heights, 801-942-5555, porcupinepub.com
2. Soup Kitchen
3. Café Zupa's
Best Chicken Sandwich
Pretty Bird
Pretty Bird's menu may be simple, but why complicate perfection? From its twin locations downtown and in Sugar House, customers can get their spicy chicken fix from chef Viet Pham's perfectly crispy and wonderfully seasoned sandwiches and tenders. Round it out with some fries and a drink, and don't be surprised when your taste buds bring you back for more. 146 Regent St., SLC; 675 E. 2100 South, SLC; prettybirdchicken.com
2. Cluck Truck
3. Grid City
Best BBQ
R&R Barbeque
If you're eating R&R's spareribs in Lehi or their smoked turkey in Midvale, you're getting the same quality, flavor and experience that was created on day one. It's a credit to both the team's love of barbecue as a medium and their love of competition. We'll always have a special place in our hearts for pulled pork tacos and barbecue nachos. Multiple locations, randrbbq.com
2. Pat's Barbecue
3. Sugarhouse Barbeque Co.
Best Local Beer
Shades' Pina Colada Sour
Owners Alexandra Ortiz and Trent Fargher began brewing as Shades of Pale (shortened to Shades later on) with modest means and supplies. Fast forward to a decade later, and it's become a Salt Lake staple with creative offerings such as the Pina Colada Sour, Plum Berliner Weisse, Apricot PB&J, their own light craft beer (Livli) and a taproom slurry maker. 154 W. Utopia Ave., South Salt Lake, 435-200-3009, shadesbrewing.beer
2. TF Brewing Ferda
3. Bewilder Kolsch
Best Salads
Spitz
It's not that Spitz has an impressive salad menu—there's just one salad. But geez, is it impressive! The Doner combines all your favorite Mediterranean flavors in one bowl: cucumber, olives, feta, pepperoncini, tomato, green pepper, crispy garbanzo beans, onion and carrot over a bed of romaine and cabbage garnished with homemade tzatziki, fried lavash chips and pita strips and a side of creamy house balsamic. Ask for extra dressing to dip your fried pita into and thank us later. Multiple locations, spitzrestaurant.com
2. Café Zupas
3. Café Rio
Best Brew Pub
Squatters
Many brew pubs have opened since Squatters debuted in 1984. Only Squatters has had the staying-power and selection to keep its legend alive in the hearts of Salt Lake's beer faithful. The wide-ranging and ever-evolving menu of food and local ales and lagers of the downtown SLC brewery have made it a favorite with families, travelers and beer aficionados alike. Now with three other locations, Squatters has changed the capital city's beer scene forever, and we are eternally grateful. Multiple locations, squatters.com/brewpubs
2. Red Rock Brewery
3. Wasatch Brewery
Best Distillery
Sugar House Distillery
Utah's distillery scene is booming with more than a dozen distilleries statewide. Since its inception, Sugar House Distillery in South Salt Lake has endeared itself to Utah's spirituous enthusiasts. From flavorful vodkas and gins to whiskeys that are aged in locally made craft beer oak barrels, customers line up outside the unassuming distilleries' doors, eager for the newest groundbreaking releases from this true homegrown craft distillery. 2212 S. West Temple, No. 14, South Salt Lake, 801-726-0403, sugarhousedistillery.net
2. High West Distillery
3. Ogden's Own Distillery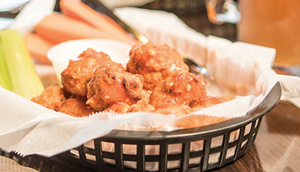 Best Wings
Trolley Wing Co.
There are those among us who think that Buffalo wings are all created equal—which is how we know they've never been to Trolley Wing Co. From the pre-game prep and fry to the end-game sauces, Trolley Wing Co. prepares every wing with a whole lot of love and a whole lot of Scovilles. Multiple locations, trolleywingco.com
2. The Wing Coop
3. Tie: Wingers/ Legends Pub & Grill
Best Brewery
T.F. Brewing
Owner/head brewer Kevin Templin has been building his reputation in Utah's craft beer scene for the past 20-plus years with various breweries in Salt Lake County. When Templin decided to go out on his own and open the Templin Family Brewery, it was the quality of the beer and the adherence to family and friends that was most important. It's no wonder that in the three years T.F. Brewing has been around, beer lovers have responded by clamoring for the insanely traditional lagers and the most cutting-edge sour ales and juicy IPAs. 936 S. 300 West, SLC, 385-270-5972, tfbrewing.com
2. Fisher Brewing Co.
3. Shades Brewing
Best Sushi
Takashi
If you know sushi, you know Takashi. Among the best restaurants Utah has to offer, Takashi has an unbridled enthusiasm to innovate their sushi menu—along with the regular rolls in the menu, the floor-to-ceiling chalkboard is always showing something new and creative the sushi chefs have worked up. Be sure to try the Pounamu, a roll with New Zealand salmon, avocado, cucumber and kiwi-mango sauce topped with fresh chilis. 18 W. Market St., SLC, 801-519-9595, takashisushi.com
2. Tsunami Restaurant & Sushi Bar
3. Sapa Sushi Bar & Asian Grill
Best Tacos
Taqueria 27
Taqueria 27 introduced us to the wonders that duck confit could accomplish on a taco, and we've never really looked back. Now that its tacos and tequila concept has spread across the Wasatch Front, we're seeing how a team that is passionate about their food and drink can really make a splash locally. Multiple locations, taqueria27.com
2. Roctaco
3. Lone Star Taqueria
Best Food Truck
The Cluck Truck
With Utah's stock of fried chicken purveyors skyrocketing, it's no surprise that we love our fried birds that much more when they're mobile. The Cluck Truck earned this spot since their fried chicken is always crispy on the outside and juicy on the inside, but also from their ability to incorporate flavors from all over the world into their signature wraps. 801-750-6508, clucktruckutah.com
2. Waffle Love
3. Bomb Dilla
Best Ramen
Yoko
Ramen bars are inherently cool, and Yoko Ramen has done a spectacular job of tailoring that coolness to Utah's Downtown food scene. On top of yummy bowls of steaming broth and thick noodles, diners can branch out to their sandwiches—the Japanese Cubano is magnificent. It's an excellent place to warm up before a night on the town. 473 E. 300 South, SLC, 801-876-5267, yokoslc.com
2. Tosh's Ramen
3. Haru Ramen
Best Vegan
Zest Kitchen & Bar
Casey Staker really has created something special in this city. Zest is an over-21 restaurant featuring the city's best vegetarian and vegan fare, cocktails, DJ-mixed tunes and even dancing. The cocktails at Zest are beyond delicious and creative. Featuring fresh-squeezed juices and often adorned with a beautiful edible flower, they pair perfectly with a vegan gluten-free dessert. 275 S. 200 West, SLC, 801-433-0589, zestslc.com
2. Vertical Diner
3. Buds
FOOD & DRINK | Staff Picks
Best Not-Cho
Bewilder Brewing
Bewilder Brewing opened up shop in December 2019—not the best time to launch in light of COVID-19, but they burst onto the scene once people began heading downtown again. Bewilder's co-owners Cody McKendrick and Ross Metzger come from homebrewing backgrounds at Salt City Brew Supply, and their brewery serves up delicious ales, sausages, Bavarian pretzels and sharables such as kettle chip "not-chos" with sausage, salsa, pickle, garlic sour cream, all slathered in creamy beer cheese—not-cho mama's nachos! 445 S. 400 West, SLC, 385-528-3840, bewilderbrewing.com
Best Greek-Style Burger
Apollo Burger
Since 1984, Apollo Burger has provided Utahns quality and quick meals at affordable prices. They've burgeoned to over 13 locations across the state, and are known for their consistently good service, their breakfast bowls and of course, their char-broiled burgers, including their very own Athenian Burger. The Athenian is a 1/4-pound beef patty layered with red peppers, house made tzatziki (Greek yogurt sauce) and a healthy slab of fresh feta cheese. It's lowkey one of the best burgers in town, and a must try at your next Apollo Burger visit. Multiple locations, apolloburgers.com
Best Tri-Tip Salad
Bandits' Grill & Bar
Thanks to Shane and Jen Barber, residents of Cottonwood Heights can enjoy some tasty 'cue in their own hood in a gorgeous restaurant with an inviting bar and swank patio. After the couple opened the Cottonwood Heights Bandits' in 2015, it filled a BBQ void in the area but, as the owners like to say: They are so much more than BBQ. Even still, with so many dishes featuring their hand-cut, slow-roasted, wood-grilled tri-tip, you'd be missing out not to try their steak entrées, tacos, sandwiches and salads. If you're watching your carbs, the tri-tip steak salad—with its mixed greens, grilled red onions, tomatoes, avocado, blue cheese and roasted garlic vinaigrette—will keep you in your paleo or 360 groove. Pro-tip: Try the tri-tip Taco Tuesdays lunch specials. 3176 E. 6200 South, Cottonwood Heights, 801- 944-0505, banditsbbqutah.com
Best Gin Joint
Beehive Distilling
Beehive Distilling has become synonymous with great gin, and for good reason—the bread and butter for the distillery is their Jack Rabbit Gin. Its floral and juniper blend make it a favorite among gin lovers, and there's no better place to have a taste than Beehive's bar overlooking their stills. The bar is sleek, hip and welcoming, making it a great place to sit back and enjoy a martini or other specialty cocktail. 2245 S. West Temple, South Salt Lake, 385-259-0252, beehivedistilling.com
Best Utah Beer Festival Addition
Beers of the World
The 11th annual Utah Beer Festival, Utah's largest beer sampling event—one, in fact, sponsored by City Weekly—kicked off in August after a year hiatus. Held at The Gateway in 2021, the event was bigger than ever with over 300 different beers, ciders and seltzers representing 60 breweries. The surprise hit of the Utah Beer Festival was the Beers of the World room, featuring international beers like Singha (Thailand), Orion (Japan), Mythos and Fix (Greece), Chouffe (Belgium) and dozens of others from Canada, Holland and Mexico, to name a few. Look for Beers of the Universe again in 2022. utahbeerfestival.com
Best Pup Cup
Bjorn's Brew
Coffee and animals—does anything bring more joy at the start of the day? Bjorn's Brew sniffed out the opportunity and now serves its java while donating $1 for every punch card redeemed to the likes of Best Friends, Nuzzles & Co., Street Dog Crew and Salt Lake County Animal Services. Bring your pup to the window, and the staff will give you a full-size bone or Pup Cup (whipped cream) as well as a gingerbread cookie in the shape of a dog bone for the two-leggers. Multiple locations, bjornsbrew.com
Best Loaded Tater Tots
Bomb Dilla
The food truck craze has cultivated a unique dining experience in Utah. The Bomb Dilla food truck, owned and operated by Ruben Sauyun, brought a Los Angeles flair to the Beehive State with loaded quesadillas and tater tots. Sauyun dishes out tater tots piled high with mac 'n' cheese, grilled meats and delicious sauces. You can find Bomb Dilla at many festivals, breweries and food truck gatherings around Salt Lake Valley. 818-635-7500, facebook.com/bombdilla
Best Bread to Get Out of Bed for
Bread Riot Bakehouse
On Saturday mornings, there are usually two wolves inside me: one who wants to sleep in and nurse Friday night's hangover, and one that hungers for Bread Riot. The latter usually wins out, because Bread Riot's magnificent lineup of the crustiest loaves, dark brown pretzels, fragrant tordu and salty focaccia sells out at the Downtown Farmers Market at Pioneer Park really, really quickly—and for good, toothsome reason. Multiple locations, breadriotbakehouse.com
Best Grab-and-Go Burrito
Cafe Noir
Breakfast burritos may as well be one of the five food groups if you're a college student, and no one knows this better than Cafe Noir. This walk-up coffee shop three blocks from the U serves up toasty sausage, bacon or vegetarian spinach burritos with scrambled eggs and all the fixin's, including plenty of Cholula, Tapatío and Sriracha packets to go, alongside an impressive selection of iced teas, drip coffee and lattes. 1035 E. 200 South, SLC, 801-532-1888
Best Pit Boss
Cameron Treu, Bam Bams BBQ
Bam Bams BBQ has racked up numerous competition awards for their delicious, barbecued meats that include all the Texas classics—brisket, sausage, ribs, pulled pork, turkey and chopped beef. That builds confidence. But it's an especially confident Q'r who shares his secrets, and owner Cameron "Bam Bam" Treu does just that with his own barbecue classes. And it's an especially special BYU football fan who takes his Q game to the Ute tailgate to show respect and support after the death of Ute player Aaron Lowe. Tip of the hat, Bam Bams. 1708 S. State, Orem, 801-225-1324, bambamsbbq.com
Best Southern Utah Surprise
Capitol Burger Food Truck
The Capitol Burger food truck burgers—all of them—are arguably the finest in the state, and given the truck's station astride Capitol Reef National Park, their reputation extends far beyond Utah. Luke Fowles, the truck operator, was a teammate of Viet Pham's when he beat Bobby Flay on Iron Chef, so, he's got mad skills. Try the pulled pork or mac 'n' cheese burgers—and it will hit you instantly: Ahhh, that's what great burgers taste like. PS—The burgers are even better when paired with an Etta Place cider just down the road. Parked somewhere in Torrey during summer season or occasionally in Richfield during winter, 801-362-0226, facebook.com/capitolburgertruck
Best Deli Delight
Feldman's Deli's Sloppy Joe
Many a Salt Lake transplant longs for a 24-hour Jewish deli. But the fact that Salt Lake has at least one authentic Jewish deli (albeit only open until 8 p.m.) is cause for celebration. While they're famous for their corned beef and pastrami, their best sandwich might just be their sloppy Joe (it's not what you think). They make Reubens a dozen different ways. Bagels in the morning are the real deal. And Feldman's is the only place within 500 miles that makes must-have matzo ball soup. 2005 E. 2700 South, SLC, 801-906-0369, feldmansdeli.com
Best Smoky Blend of Whiskeys
Campfire by High West Distillery
Aptly named Campfire, this blend of scotch, bourbon and rye whiskeys has a definite smoky note that is sure to warm you up while you sip it neat or mix it up in a cocktail. Created in new, charred white American oak barrels and second use bourbon barrels, you get a hint of sweet and spice with the gentle smoke in each sip. Perfectly paired with a campfire, or firepit, as flames seem to enhance the experience. 27649 Old Lincoln Hwy., Wanship, 435-649-8300, highwest.com
Best Use of Gelato
Dolcetti Gelato's Affogato
Leave it to the Italians to comingle breakfast and dinner in a single-serving treat. Called affogato, its yin-yang balance depends on the size of a dollop of gelato dissolving in a shot of steaming espresso. (A splash of Grand Marnier or Amaretto adds nuance, if you are so disposed.) The measure of gelato tips the balance one way or the other. If you like the yin character of creamy gelato more than the manly yang of espresso, check out Fillings and Emulsions for its generous servings of gelato. If you favor strong espresso, a smaller scoop of gelato at Dolcetti Gelato yields an affogato with a bracing finish. 902 E. 900 South, SLC, 801-485-3254, dolcettigelato.com
Best Low-Carb Salad
Greek Souvlaki
Who isn't dieting, hoping to lose 18 months of COVID hibernation weight gain these days? When it comes to losing weight, everyone eventually defaults to salads—which are too often so boring, you soon return to pasta. The tastiest salads we've found for any diet are those found at Greek Souvlaki. A pork or chicken souvlaki stick (Utah's best) sits atop a heaping bed of lettuce, tomato and cucumber with just enough Kalamata olives and feta cheese to remind you that dieting can be heathy and tasty. Multiple locations, greeksouvlaki.com
Best Fairy Tale Desserts
Conte de Fee
The team at Conte de Fee specializes in creating cakes, confections and other baked goods that appear to have wafted into reality from a beautiful dream. Rainbow cakes that reveal a vivid-colored sponge, rich Basque cheesecake that melts in your mouth and mille crepe cakes stacked with light crepes and flavors like lemon curd and matcha all await you at this effulgent bakery. 7695 S. 700 East, Sandy, 801-987-8112, contedefeebakery.com
Best Locals Only Beers
Craft by Proper
One of Utah's staple craft breweries, Proper Brewing Co. has blossomed into five diverse locations. There's the original brewery, Avenues Proper, Stratford Proper, Proper Burger and Craft by Proper, each with their own flair and funk. In a state with now over 30 craft breweries, Craft invites them all to Utah's "locals only" beer bar. Nowhere else in the state can you enjoy such a variety of stouts, lagers, pilsners and other offerings from such an array of great breweries. 1053 E. 2100 South, SLC, 385-242-7186, craftbyproper.com
Best White Whiskey
Dented Brick Distillery
If these walls could talk! Dented Brick, named after a shootout that left impressions in the bricks of a weller's house where the distillery now resides, has one helluva story to tell with their spirits, too. Their White Whiskey is an ode to the first Utah distiller on record, Hugh Moon. The Hugh Moon White Whiskey is crystal clear and made from 100 percent Utah-sourced rye and filtered, artisan water from their in-house well. 3100 S. Washington St., South Salt Lake, 801-883-9837, dentedbrick.com
Best Chinese Takeout
Dragon Diner
With seating capacity that never came close to the demand for their reputable Chinese fare, Dragon Diner developed an efficient takeout system long ago. When demand increased ever more during COVID-19, the DD took it up a notch, switching to takeout only, where it continues to knock it out of the park. With a menu that spans diverse Chinese cooking styles, we can imagine how difficult it is to keep items fresh and tasty while whisking so many orders out the door. But Dragon Diner gets it ready for you to take home better than anyone in any food genre. 1331 E. 3900 South, Millcreek, 801-272-9333, thedragondiner.com
Best Ode to Utah's Past
Eight Settlers Distillery
Eight Settlers Distillery and their products are named after iconic and historic places from Utah's rich history. The newish Cottonwood Heights distillery name honors the first eight people who settled what was called Butlerville, which was colloquially known as "The Place to Be." Their whiskeys are named Ragtown and Devil's Gate, references to the landmarks of pioneers and miners of the Wasatch Front. They're darned good drinking whiskeys, too. Map 'em. 7321 Canyon Centre Pkwy., Cottonwood Heights, 385-900-4315, eightsettlersdistillery.com
Best Papusa
El Viroleño
El Salvadoran cuisine isn't as widely known as it deserves to be, and one trip to El Viroleño is enough to make a culinary convert out of anyone. The menu features a different take on recognizable items like tamales, quesadillas and empanadas, but the real showstopper is the papusa, a thick flatbread stuffed with cheese, meat, beans and/or vegetables, all topped with a tomato salsa and cabbage slaw. And at a couple bucks a pop, it gives street tacos a run for their money as a delicious, low-budget staple from south of the border. 471 W. 800 South, SLC, 801-595-7021
Best Innovative Brewery Menu
Grid City Beer Works
Besides the fact that Grid City is one of the best new breweries in town, their food is amazing—and, in particular, their default vegan menu (in a twist, all non-vegan items are the ones labeled). Menu staples like the Vegan Rachel feature fried seitan with salty slaw and pickle sauce, and nut-based beer cheese is a common special on their frequently changing menu. Bar food or not, vegan or not, this is one of the most innovative restaurants in the city right now. 333 W. 2100 South, South Salt Lake, 801-906-8390, gridcitybeerworks.com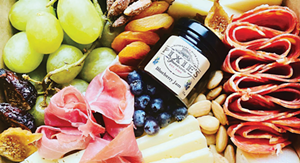 Best Charcuterie in a Box
Harvest & Honey
You gotta love meats and cheeses in a pretty box. Honestly, Harvest & Honey's packaging is so pretty, you don't want to disturb the contents. That is, until you do, and then you are even happier with what's inside. Jessica Gonzalez packs a punch in her boxes of charcuterie, from mini boxes that make great gifts or are perfect for snacking, to a large box that creates a beautiful grazing table, everything you could want on a board is inside. harvestandhoneyco.com
Best Big Bad Baptists
Epic Brewing
Over 10 years ago, Epic Brewing released their Big Bad Baptist Stout, an imperial stout aged in whiskey barrels and a knock-you-to-the-ground 11.7% ABV. It grew in popularity among the beer community, and now Epic has a "Baptist Season" every fall where creativity runs rampant and they brew specialty blends of their original Baptist, including the "Naked Baptist" or "Big Bad Baptist." In 2021, Epic brewed six new Baptist variants, along with the seasonal release of the original. 825 S. State, SLC, 801-906-0123, epicbrewing.com
Best Scrambled Eggs
Finn's Cafe
When it comes to cooking eggs, "over easy" is to "over hard" as "soft-scrambled" is to "scrambled." Ordering "soft-scrambled eggs" in a restaurant is an act of hope. Something invariably goes awry between the moment the server scribbles your order to the moment the plate of eggs is delivered. Maybe the server is careless. Maybe the cook is heavy handed. The upshot is that instead of moist eggs, you get a mound of overcooked eggs whose texture is like sodden styrofoam. Finn's Café is the exceptional exception. The clean, well-lit Norsk-inspired restaurant has been rewarding the hopeful with soft scrambled eggs since 1952. 1624 S. 1100 East, SLC, 801-467-4000, finnscafe.com
Best Taste of Tuesday
Franck's Tuesday Tasting Menu
Think tasting menus are only for restaurant critics and foodies with trust funds? Not so at Franck's, where the Tuesday Tasting Menu serves up three artful courses, including dessert, on a rotating weekly basis for just $45. All curated by chef Robert Perkins, you can check the current menu online weekly, but don't wait to make a reservation—the Tuesday Tasting Menu is highly requested. 6263 S. Holladay Blvd., SLC, 801-274-6264, francksfood.com
Best Pudding
Handle
When The New York Times (or a City Weekly foodie, for that matter) comes to town just to try your dessert, you know it's has to be delicious. The Times visited Park City and named Handle's Whiskey Caramel Pudding one of the best desserts in the country. It's a delicate balance of rich pudding, creamy maple mascarpone and a salty Chex Mix streusel. Handle nails it on the head. It's the type of treat that turns non-dessert lovers into pudding-aholics. 136 Heber Ave., Park City, 435-602-1155, handleparkcity.com
Capitol Reef's Best Pickled Carrots
Gifford Homestead
Sure, the pies may have been what put Gifford Homestead on the radar of Capitol Reef tourists, but we have to ask: have you tried the pickled carrots? With just the right amount of vinegar-induced pucker and a kick of spice from garlic and dried red peppers, you might find yourself wondering: what's better—the pickled carrots or the pies? Open seasonally from mid-March to end of October. Capitol Reef National Park, Scenic Drive, Teasdale, 435-425-3791, home.nps.gov/care/learn/historyculture/giffordhomestead.htm
Best Gluten-Free Nostalgia
Good Food Bakery
Remember those pink-and-white circus animal cookies covered in sprinkles you loved as a child? Do you miss fluffy, gooey, delicious cinnamon rolls? Good Food Bakery has you covered with gluten-free renditions of your childhood favorites. But be careful—you'll get hooked. IG: @goodfoodglutenfreebakery, 423 W. 800 South, No. A-113, SLC, 801-413-4978
Best Charming Candy Shop
Hatch Family Chocolates
A true mainstay in our community, Hatch Family Chocolates uses family recipes to deliver the best chocolate in town. Indulge in fun treats like chocolate dinosaurs or opt for adult-friendly affogato—Jared Gold has been working his magic with them, and it shows. Online, you can watch interviews and get to know Steve Hatch better with his "Short & Sweet" segments. Hatch's hand-dipped chocolates should be on offer for any gathering of friends or family. We love you, Kate and Steve. 376 Eighth Ave., SLC, 801-532-4912, hatchfamilychocolates.com
Best Lunch Special Trio
Himalayan Kitchen
Combining Nepali and Indian food under one roof, the Himalayan Kitchen is a staple for the downtown Salt Lake City lunch crowd and now for those lucky souls in South Jordan. Always known for their tandoori specials and inexpensive meals, the Himalayan plays on that theme three times over every day. There, you'll find three notable daily specials: the traditional Himalayan, the gluten-free Meat Lovers and the Veggie Lovers (vegan). 360 S. State, SLC, 801-328-2077; 11521 S. 4000 West No. 105, South Jordan, 801-254-0800; himalyankitchen.com
Best Colorful Martini
Holystone Distilling
Murray's Holystone Distilling is as sleek as it is smooth—each bottle is masterfully crafted and distilled in house. One of their staples, the Cerulea Gin, is lavender-colored and leaves behind notes of citrus and candied flowers with a hint of cedar and vanilla. The best part? Portions of proceeds of Cerulea Gin are donated to support breast cancer research. 207 W. 4860 South, Murray, 385-800-2580, holystonedistilling.com
Best Texas Ribs
Kaiser's Bar-B-Q & General Store
No matter the rib joint you find in Texas, you always find very nearly the same items: brisket, ribs, pork sausage and pulled pork, most often mesquite smoked. What separates them all is razor thin, be it the smoke, the grade of meat or just as often the love a proprietor puts into his servings. All of the above are found at Kaiser's, but especially the love—and Salt Lake is the better for it. Drop by, peruse the general store and leave with the most authentic style Texas ribs in the valley. 962 S. 300 West, SLC, 801-355-0499, saltlakebbq.com
Best Tasteful Noods
Hong Kong Banjum
When West Valley welcomed Hong Kong Banjum, an extension of the Paik's Noodle empire, Utahns got their first taste of Korean staple jajangmyeon, homemade noodles topped with a savory black bean sauce. It's an unassuming bowl that distills the comforting power of noodles and sauce into a complete and satisfying dish. Once you taste it, you might crave it at least once a week. 3513 S. Constitution Blvd., Ste. 100, West Valley City, 385-900-8607, paiksnoodleut.com
Best Sushi for Goths
Itto Sushi
Sushi and spooky season aren't necessarily two things that we have ever associated, but that was before we met the Dracula Roll at Itto Sushi. Initially created as part of a Halloween event a few years back, its popularity warranted a full-time spot on the restaurant's menu. Morbid sushi fans can get a tempura shrimp and spicy crab roll topped with crispy onions and sriracha entombed within a coffin filled with woodsmoke whenever the need strikes them. Multiple locations, ittoutah.com
Best Irresistible Tapas
Kimistyle Tapas
Kimi Eklund, the driving force behind her one-of-a-kind Sugar House eatery, leaves no stone unturned in bringing a European dining experience to Salt Lake diners. Her restaurant's distinctive decor, color scheme and large-format abstract art make it a place to sit and linger to soak up the ambiance. You may even feel transported to another space and time. But to complete the experience, consider ordering the "Kimistyle" tapas with a favorite beverage. The Mediterranean bruschetta is a no-brainer, and the golden beet carpaccio takes it over the top. Combine the luscious crab cakes and the totally munchable jalapeno bacon roasted Brussels sprout egg rolls with a crafted cocktail or exquisite wine, and that may be all she wrote. Oh, and you can still order the oysters! Kimi's Chop & Oyster House, 2155 S. Highland Drive, SLC, 801-946-2079, kimishouse.com
Best Smutty Corn
La Casa del Tamal
Adventurous eaters of Latin American food will have no doubt heard of huitlacoche, loosely translated as corn smut. It's a fungus that grows on corn cobs, and it's delicious. While hard to find here in Utah, La Casa del Tamal makes an excellent quesadilla that melds the earthy, umami flavor of huitlacoche with tons of melty cheese. If you're looking for something smutty to liven up your meal, La Casa del Tamal has you covered. 2843 S. 5600 West, Ste. 140, West Valley, 385-266-8729, lacasadeltamalutah.com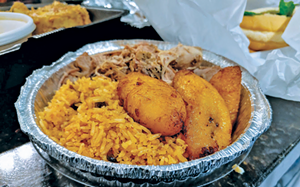 Best Laid Plantains
Papito Moe's
There are few sorrows that can't be alleviated with a perfectly cooked plantain. Luckily, the team at Papito Moe's specializes in mofongo, a versatile Puerto Rican dish that can be served up with anything from grilled shrimp to roast chicken. We're not sure whether it's the starchy texture or the slightly sweet flavor that's unique to the plantain, but it's risen pretty high in the ranks of our comfort food favorites. 7786 S. 5600 West, West Jordan, 385-529-5462, papitomoes.com
Best Rim-Defying Milkshakes
La Crepe OG
It doesn't take much talent to make a milkshake taste good, but making one look good? Yeah, that's a gift. The team at La Crepe OG celebrates the humble milkshake by topping their offerings with a fully assembled gooey s'more or an artfully shattered strawberry Pop Tart. Their work is something that truly needs to be seen to be believed, so get the lead out and check them out already. 2411 Kiesel Ave., Ste. 101, Ogden, 385-333-4549, lacrepeog.square.site
Best Menudo
La Puente
Few Mexican restaurants these days serve that tasty stew (and noted hangover cure) of oregano, spices, hominy and tripe called menudo. Nearly everyone loves a zesty bowl of pozole, which is almost the same dish but made with pork meats—not pork stomach. Menudo is a harder sell. That's too bad because when menudo is good, it's very good. And the very best of the very good is delicious at La Puente. Our recent bowl at the South Salt Lake location came with an optional pig's foot, Pata. Old school, yeah! Multiple locations, lapuenteslc.com
Best Beer and Pizza
Level Crossing Brewing
What's a better American combination than beer and pizza? Level Crossing hits the mark in both those categories with their award-winning brews and brick oven pizza. Their Suss It Out, a rye IPA, is a hit, as is their Look Up! amber ale. For food fare, the Sweet Home Chicago pizza is a must, which is topped with San Marzano sauce, roasted bell peppers, Italian sausage, onion and mozzarella. 2496 S. West Temple, South Salt Lake, 385-270-5752, levelcrossingbrewing.com
Best Meze
Manoli's
Meze, Greek for taste or bite (think Spanish tapas), is how Greeks tend to enjoy their meals instead of individual plates. The shared eating style encourages intimacy and community among the dinner table, and no one does it better in Utah than Manoli's. At Manoli's, you can enjoy a modern flare for traditional Greek dishes such as yemista (stuffed peppers), htapodi (charred octopus), tyropita (cheese pie) and the house staple, paidakia (grilled lamb riblets). 402 E. 900 South, SLC, 801-532-3760, manolison9th.com
Best Guacamole Burger
Rich's Burgers-N-Grub
The downtown Salt Lake workforce knows that the spot to get one of the best burgers around is at Rich's Burgers-N-Grub. The mainstay at Rich's is the guacamole burger, which is simple yet scrumptious. Rich's piles on the housemade guacamole and loads the bun with 100 percent Angus beef, pico, Monterey Jack cheese and lemon mayo. It's a must try for burger lovers. 30 E. 300 South, SLC, 801-355-0667, richsburgersngrub.com
Best Japanese Whiskies
Post Office Place
When it comes to booze, Utahns often assume they are somehow deprived. But it ain't necessarily so, especially when it comes to Japanese whisky. Thanks to Rich Romney, the GM for Takashi and the bar next door, Post Office Place, as well as the resident expert in Japanese spirits, Salt Lakers have a large array of Japanese whiskies to choose from. Romney and his team have assembled an expansive Japanese whisky selection, including the house label Ohishi Takashi Cask, as well as whiskies from Suntory, Nikka, Fukano and other notable distilleries. Don't know where to start? Stop by on Japanese Whisky Wednesdays (20% off on all whisky, all day) and experience Japanese cocktail culture at its Utah finest. 16 W. Market St., SLC, 801-519-9595, popslc.com
Best Prosciutto Sandwich
Mediterranean Market & Deli
Mediterranean Market & Deli, with its distinct Italian Sub hand-painted sign on State Street, was originally called Caneparis and was one of the city's first delis, opening its doors in 1958. It's now owned (for over two decades) by Annette Ravarino. Their Prosciutto sandwich, made with either domestic or imported prosciutto (and we highly recommend their imported) will melt in your mouth; the meat is great on a sandwich or DIY charcuterie board. 3942 S. State, SLC, 801-266-2011, medmarketSLC.com
Best Reason to take Frontrunner to Ogden
Ogden River Brewing
Ogden River Brewing's Pat Winslow has been an avid homebrewer and a part of the Utah beer community for ages. A former train conductor, he retired from his day job and started his dream of opening a brewery. Ogden River Brewery boasts a full brewpub menu as well as favorite beers such as the Hop Train Pale Ale and the Blasting Powder Coffee Stout. 358 Park Blvd., Ogden, 801-884-6939, ogdenriverbrewing.com
Best Wood-Fired Molten Wonder
Pizza Nono's Rocket Man
Pizza Nono, a mom-and-pop pizzeria in the 9th & 9th neighborhood (note: "nono" is Italian for "ninth") lays claim to the Rocket Man pizza, a pièce de résistance that brings together a symphony of cheeses and peppery arugula. Little wonder it seems to be catching on (as in "all the rage") with its layer of fontina and mozzarella melted upon a lightly charred thin crust. Added to that you'll find slices of prosciutto di Parma. Then it's dusted with Grana cheese and topped off with a handful of colorful arugula (which, oddly, is the actual namesake of the pizza, since arugula grows like "rocket"). May the cheese be with you. 925 E. 900 South, SLC, 801-702-3580, pizzanono-slc.com
Best Dog House
Porky's Kauai
Some folks dismiss hot dogs as classless, but we'll bet they've never been to Porky's Kauai. When you see one of these monstrous hot dogs topped with pulled pork, grilled onions and fresh pineapple, you'll forget every unkind word you ever said about a hot dog. These are glorious, physics-defying entrees and one of the best reasons to pay a visit to Utah County. 785 E. 200 South, Lehi, 801-803-3783, porkyskauai.com
Best Roshambo
RoHa's Shambo Juicy IPA
RoHa Brewing Project is home to iconic ales like the Back Porch, Maltese Cross and Steady Edge Imperial Red. How do the three partners come to agree on names of their creations? Well, with a friendly game of Roshambo, of course. Rob, Chris and Josh settle friendly disputes and naming of beers with rock, paper, scissors and even named their Juicy IPA Shambo in honor of their foolproof practice. 30 E. Kensington Ave., SLC, 385-227-8982, rohabrewing.com
Best Ogden Classic
Roosters Brewing
Every great city has great pioneers. Ogden—too often ignored in the past—has had its ups and downs but is certainly on the upswing these days. A good part of that credit goes to Roosters, which startled Ogden's notable 25th Street area awake back in 1995. Now with three locations that includes a taproom—all serving pioneering beers and super pub fares—Roosters is poised to keep it going for years to come. Multiple locations in Ogden and Layton, roostersbrewingco.com
Best Danish Aebleskiver
Ruca's
Because Ruca's is the only restaurant in Utah offering the pancake orbs known in Danish as aebleskiver, the Garden City eatery has no competition in the coveted "Best Aebleskiver" category. No matter. The
seasonal restaurant, which overlooks Bear Lake, does a brisk business. It serves 1,000 or more aebleskiver a day. Loyalists drive 100 or more miles for pancakes the size of lacrosse balls. Their popularity isn't too surprising since 15% of Utah's population traces its lineage to Scandinavia. Lots of kids grew up eating grandma's aebleskiver, freckerdiller and other traditional Danish dishes. 284 S. Bear Lake Blvd., Garden City, 435-946-3691, rucasbearlake.com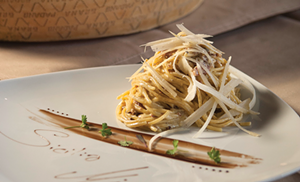 Best Flaming Cheese Wheel
Sicilia Mia
Spaghetti carbonara, a traditional Roman meal, gets a creative spin at Sicilia Mia. The family-run Italian restaurant's signature dish is prepared tableside with a heap of spaghetti, egg, cured pork, pepper all tossed in a fiery basin of cheese. The chef usually belts a song or two in Italian, making for one of the coolest dining experiences around. Multiple locations, siciliamiautah.com
Best Old-Timey Café
Sill's Café
They just don't make 'em like this any longer. From the busy counter to tables that are packed with patrons sipping their morning coffee, you know you've gone back in time. From the low key décor to the waitresses that are just a whole lot nicer than those at the shiny places down the road, you know you're inside a treasure. And from the giant plates of food, including Utah's best scone—a masterpiece!—you are left wishing you lived in your parents' era. Mark Sill's down for a visit. Your memories will thank you. 335 E. Gentile St., Layton, 801-544-7438, facebook/com/sillscafe
Best Patio Sushi and Sake
Sapa Sushi Bar & Asian Grill
In terms of elegance and extravagance, Sapa exceeds in both categories when it comes to their artistic sushi preparations. While indoor dining at Sapa is a delight, you should always vie for a table on their incredible, enclosed patio. The traditional Japanese architecture is stunning and provides plenty of ambiance as you take in your sushi and sake. 722 S. State, SLC, 801-363-7272, sapabarandgrill.com
Best New Vegan Cheese
Seasons Plant Based Bistro
Vegans these days have it so good. Not only are supermarkets ever expanding their vegan meats and cheeses (with ones that actually taste good), but we have local options, too. In 2019, the plant-based restaurant Seasons started offering cultured housemade cheeses in perfect little wheels—and, boy, are they good. Added to a charcuterie board or sliced for simple cheese-n-cracker snacking, these dairy-free wheels are flavorful and delicious. Buy them at the Downtown Farmers Market or at Seasons. 1370 S. State, SLC, 385-267-1922, seasonsslc.com
Best Gluten-Free Pizza
Settebello Pizzeria Napoletana
A gluten-free crust that doesn't taste like cardboard? What? A pizza that's even squishy and soft? Settebello's pizza will leave you asking your server three times, "Is this really gluten-free?" Pizzas are cooked on their own stones to avoid cross-contamination. When you come back to reality and realize you are in a food coma, you will have enough of your pie left over to enjoy the next day. After dinner, you can pop next door for some gelato, because there's no such thing as being too full for dessert! 260 S. 200 West, SLC, 801-322-3556, settebello.net
Best Drive-Thru Tacos
Sobe Eats
Thanks to Sobe Eats, we no longer need to settle for mediocre tacos and burritos at the expense of not wanting to get out of our cars. The award-winning team has brought their elevated take on Mexican favorites like birria and carnitas burritos and tacos to a cozy, unassuming location in Sandy. The only tricky part about becoming a regular is trying to eat these bodacious burritos while driving without spilling all over yourself. 120 W. 9000 South, Sandy, 954-616-7559, sobeeats.square.site
Best Gluten-Free Spring Rolls
SOMI Vietnamese Bistro
It's hard to find a gluten-free spring roll in this city that's not cross-contaminated. SOMI Vietnamese bistro delivers with locally sourced ingredients, to boot. But don't stop there: SOMI has an overall impressive menu, with several gluten-free options. Be sure to add an order of calamari served with Thai basil and jalapenos—yum! 1215 E. Wilmington Ave., Ste 100, SLC, 385-322-1158, somislc.com
Best Happy Valley Watering Hole
Strap Tank Brewery
It says something that this local brewery and gastropub occupies two pieces of high-visibility Utah County real estate. The brewery's antique-biker-bar-meets-circus-sideshow vibe seems at odds with the local culture, making it an even more fun place to visit. Not to mention the fact that their food and beer are consistently on point. Multiple locations, straptankbrewery.com
Best Korean Stunner
Stun Cube
As a one-stop shop for Korea's most notable dishes, it's hard to overlook Stun Cube and what it's doing for local Korean food. Their cube combos offer savory bulgogi with your choice of protein, and their bibimbap gets its rice just right for that crispy finish. On top of that, the tteokbokki is a life saver during the colder months of the year—it warms you up from the inside out. 2732 S. State, South Salt Lake, 801-419-0082, stun-cube.business.site
Best Salsa Bar
Taco Taco
This authentic taco shop was created by the owners of the erstwhile Cannella's. Their affordable meat and veggie tacos reach new heights courtesy of their fresh, loaded salsa bar. Taco Taco was created with all the festivity Mexico offers, celebrating the tradition of millenary cuisine symbolic of the bold Lucha Libre gladiators. Their tacos al pastor are a must ... and a favorite of many kids. Enjoy fantastic veggie options and an outdoor patio. You know it's good when there's a steady wait for lunch (and remember, they are closed Sunday and Mondays). 208 E. 500 South, SLC, 801-428-2704, tacotacoslc.com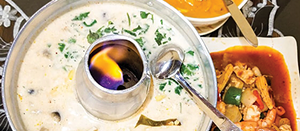 Best West Jordan Thai
Thai Delight
Family matriarch Lae Tranngoc oversees every entrée and roasts peppers to make her garlic chili oil for the flavorful and refreshing tom kha gai, a creamy, coconut chicken soup. "It's a good balance of all the ingredients—a sweet and spicy blend with a little heat," says son Win Tranngoc, who invites diners to dial their spice level before presenting the soup in a stainless-steel firepot. 6271 S. Dixie Road, West Jordan, 801-968-7626, thaidelightcafe.com
Best Ramen Wizard
Toshio Sekikawa
Toshio Sekikawa, owner and executive chef of Tosh's Ramen, orders custom ramen noodles from a California noodle factory to create five different flavors of delectable, premium ramen soup ranging from vegetarian to pork. A soft-boiled egg adds a delightful texture variation, and the shiitake mushrooms add even more flavor. Sekikawa prepares the noodles themselves to the perfect consistency—firm enough to hold their shape but so tender they nearly melt in your mouth. Tosh's Ramen, 1963 E. Murray Holladay Road, SLC, 801-278-8249; 1465 S. State, SLC, 801-466-7000; toshsramen.com
Best Sugar House Shooters
Tap Room
Where else are you going to find Yamazaki 12-year for under $15 a shot? This is another Sugar House hidden gem. If you love whiskey, you need to know about the Tap Room, a low-key joint with friendly staff, pool tables and a back patio that's great for hanging out with friends. 2021 S. Windsor St., SLC, 801-484-6692 slctaproom.com
Best Tiramisu to Your Door
Twisted Tiramisu
Yes, you can have tiramisu delivered! Paula Williams has been making the delicious treat for years and sharing it with friends in need of a pick-me-up. Searching for a new hobby herself, Williams decided to try her hand at creating interesting flavors, like pistachio and caramel apple, letting her foodie friends serve as taste testers. First-timers and seasoned tiramisu lovers alike can order through DM on Instagram. IG:@twisted_tiramisu twistedtiramisu.biz
Best Carb Delivery
The Carb Dealer
Each week the carb dealer releases her menu on Instagram with a selection of sourdough focaccia breads, cream puffs and meringues in a plethora of flavors. Having grown up in Fiji, tea time was a staple in her home and everything was made from scratch. Favorites include tomato basil focaccia, banana cream pie cream puffs and passionfruit meringues. Get a sampler and try them all; you'll thank me later. IG: @carbdealerslc
Best Treats to Bake at Home
The Dough Lady
Brainstorming flavor ideas together, Amy and Eric Lund launched their baking business over the holidays hoping to sell to family and friends. Today, through the power of social media and word of mouth, their little endeavor has turned into a much bigger project. Turns out lots of folks need that sugar rush. From classics like cinnamon rolls and chocolate chip cookie dough to apple pie rolls and spiced chai cookies, get your fix by ordering through DM on Instagram. IG: @doughladyslc
Best Surf and Turf on a Bun
The Garage Grill
It takes courage to add seafood of any kind to a gastropub menu, but the team at The Garage Grill is pulling it off nicely. Consider the Crabby Patty Wagon, a textbook pub burger stacked with spicy crab slaw and tempura shrimp. The crab slaw and shrimp add a welcome burst of sweetness, making it hard to go back to regular burgers knowing this beast is out in the world. 1122 E. Draper Parkway, Draper, 801-523-3339, thegaragegrill.com
Best Angel Wings
Tin Angel Reopening at the Eccles Theater
In 1967 a nondescript State Street bar named the Tin Angel hired a fashion show to boost business realizing too late that it was a drag fashion show, launching Utah's drag scene. That era faded, but fast forward to now, and the owner's son, Jerry Liedke Jr., and wife, Kestrel, opened their own Tin Angel, a creative, contemporary, award-winning eatery in the difficult-to-prosper Pioneer Park area. Later relocated into deluxe surroundings in the Eccles Theater, the Tin Angel was spreading its wings until COVID-19 hit. Finally, the Tin Angel is again open, coinciding with the long-awaited re-boot of the Eccles Theater 2021-2022 season. 131 S. Main, SLC, 801-328-4155, thetinangel.com
Best Chilaquiles
Tradition
Nothing beats weekend brunch in Salt Lake City, especially when you can dine across from Liberty Park and then walk off your full belly while strolling under the trees. Tradition is just right for brunch, offering as it does small plates like funeral potatoes, fried green tomatoes and pigs in a blanket and then, of course, the fabulous entrees: chicken and pancakes, biscuits and gravy and more. But for a gluten-free taste of the Southwest, you gotta try the chilaquiles (pronounced chee-lah-KEE-lays). Bites of tortillas are fried and covered in verde and braised pork, black beans and then sprinkled with Cotija cheese. Two fresh eggs rest on top. Sooo good. And don't forget to order an Old Fashioned to go with it. 501 E. 900 South, SLC, 385- 202-7167, traditionslc.com
Best Beer Sides
Emigration Brewing Co.
Little known fact: Utah's first brewery was built at the mouth of Emigration Canyon in 1865 by one Henry Wagener. Emigration Brewing Co., located next to Ruth's Diner, tips its hat to the canyon's brewing history, not by brewing beer but by collaborating with local crafters like Shades, Kiitos Brewery, Roha Brewing Project, Moab Brewery and even Mtn. West to create namesake brews and ciders. Plus, they have various locally brewed "guest taps," bottles and cans. But what snacks to pair with them? That's where Emigration Brewing's culinary squad shines. From tamari-glazed cauliflower to Dutch pull-aparts, warm chewy Bavarian pretzels and a killer charcuterie board, your drive (or bike ride) up the canyon will be amply rewarded. And we haven't even got to the legendary wood-fire pizzas or other entrees yet. That's for another time. 4170 Emigration Canyon Road, SLC, 385-800-1098, emigrationbrewing.com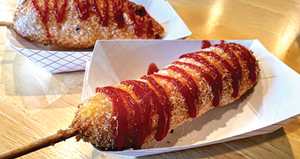 Best Panko-Encrusted Corn Dogs
Yummy's Korean BBQ
It's tough to improve upon the classic corn-dog formula, but thanks to a Korean trend that recently made its way to our neck of the woods, we're witnessing history in the making. Yummy's Korean BBQ serves up traditional corn dogs or cheesy variants slathered in panko, fried to perfection and then dusted with granulated sugar. When topped with a healthy spurt of ketchup, you've got something familiar yet daringly new. Multiple locations, yummysutah.com
Best Beast
V & R Baking Co.
From perfectly textured, slightly chewy ginger snaps to a ham, tomato and jalapeno-laden signature croissant nicknamed "the beast," to fudgy brownies in flavors such as mint, chocolate fudge, chocolate peanut butter and seven-layer bars, V & R Bakery is the best place to seek a bakery fix. Relish in the culinary talents of Victor Hernandez and Rosanna Wayman, who acquired their baking chops from years of working at V and R's former incarnation, Pierre's Country Bakery. 3239 E. 3300 South, Millcreek, 801-419-0050, vrbakingco.com
Best Authentic New York Pizza
Villaggio
The Jersey native who turned us on to this place says it reminds him of home. Villaggio imports its ingredients from New York City for a true authentic experience. They offer pizza by the slice and have a full menu that will not disappoint. Try the Pizza Bianca, Nonna's Meatball Parm sub or a jumbo calzone derived from Old World Neapolitan recipes. Tutti mangia! 3144 S. State, South Salt Lake, 801-410-4355, villaggio-slc.com
Best Taste of Philly
Vito's
Vito's, aptly dubbed "the Philly King of Bountiful," is a must-try for Philly cheesesteak lovers. Vito's is a simple crew of Vito himself cooking behind the counter and a roaming busser. That's all that's needed for Vito's to absolutely kill the lunch game in Bountiful. Upon entering, customers drop cash (no cards accepted) in a box and Vito takes your order, whether it's a classic Philly or garnished with favorites like jalapenos or mushrooms. 100 S. Main, Bountiful, 801-953-8486
Best Rotolo
Pago
Any true pasta lover has a soft spot for rotolo, fresh pasta rolled out into a large paper-thin sheet, filled with any variety of cheese, meat or veg and formed into a roulade. And if you are indeed a pasta lover, then you must roll into Pago 9th and 9th for their artichoke rotolo complete with herbed ricotta, tapenade, pomodoro and fried shallots. Bonus points if you opt to start off with Table X sourdough. 878 S. 900 East, SLC, 801-582-0777, pagoslc.com
Best Brewsie Marriage
Uinta Brewing and Nomad Eatery
When the popular Nomad Eatery moved crosstown to set up at Uinta Brewing, it was clear good things were happening. What could possibly be better than the pairing of some of Utah's best brewed beers with some of Utah's best casual dining fare? Want to walk the aisle with a Baba Black Lager or Hoodoo Kolsch? Then maybe set it off with a Knuckle Sandwich or Spicy Southwest Burger. Or for that long time commitment, go with a classic Cutthroat IPA and a batch of loaded fries. Great beer, great food—a real one-two punch at Uinta Brewing. 1722 S. Fremont Drive, SLC, 801-467-0909, uintabrewing.com
Best Southern Biscuits
Sweet Lake Biscuits & Limeade
Few restaurants dare to perfect a Southern dish, and fewer still dedicate their entire operations to pumping out biscuits and gravy, but Sweet Lake—with three locations in Salt Lake, Draper and American Fork—does it masterfully. Stopping in for the first time? Try the house favorite, Hoss, which is Sweet Lake's house biscuit, buttermilk battered chicken breast, bacon, egg, cheddar, housemade gravy and green onions. Multiple locations, sweetlakefresh.com
Best Craft Cheese
Beehive Cheese
When brothers-in-law Tim Welsh and Pat Ford filled their vat for the first time in 2005, they had a combined eight days of cheese-making experience. However, they turned their vision of a Utah creamery into a raging success over the past 16 years and Beehive Cheese is a premiere cheese factory in Utah. You can find Beehive cheeses in supermarkets or grocery stores statewide, or you can purchase cheese online and have their products shipped to your door and into your belly. 2440 E. 6600 South, Uintah, 801-476-0900, beehivecheese.com
Best Bar Longevity
Desert Edge Pub & Brewery
Desert Edge opened its doors in 1972 as a small watering hole serving Coors to college students fixated on the new trend of electronic video games and weekend folk or bluegrass music. They began their craft brewing in 1995, joining just a handful of craft breweries in the state. Over the years, they've become a sanctuary for beer drinkers at the bar, family dinners in the restaurant and a great place to meet up with friends. Always on tap at Desert Edge are their classics and favorites—a nitro stout, hefeweizen, pilsner and pale ale. Historic Trolley Square, 551 S. 600 East, SLC, 801-521-8917, desertedgebrewery.com
Best Beer Labeling
Red Rock Brewery
Since breaking dirt in 1994, Red Rock Brewery has amassed more than 100 regional and national awards. Their beers are on draft at many local bars and restaurants, but whenever possible, check out their awesome beer-bOttle labels. Many recognize the iconic Elephino Double IPA elephant and the Drioma Russian Imperial Stout spirit of the night, both original watercolor paintings by Chris Harlin, their head brewer at their downtown location. But keep sipping and looking, since other labels (i.e., Golden Halo Blonde Ale designed by former server Matt Dennis and Bobcat Nutbrown Ale, designed by Sanya Durich) are equally creative and memorable. Marvella! Multiple locations, redrockbrewing.com
Best Rebranding
Gaetano's Sub Shop
Need your hero fix? Gaetano's is your place. Curtis deLagerheim has been stacking sandwiches since 1996 at the State Street location of Grinders 13, which even dates back decades prior. From line cook to proprietor, Curtis became sole owner of that location in 2010 and rebranded it to Gaetano's Sub Shop in February 2021 after his great grandfather. The building has had a modern face lift, including a new take-out window, cementing new twists and flair into this East Coast eatery. 1618 S. State, SLC, 801-467-3676, GaetanosSLC.com
---

Arts & Entertainment
Goods & Services
Restaurants
Food & Drink
Nightlife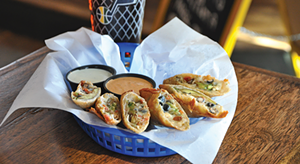 NIGHTLIFE | Readers' Picks
Best Salt Lake City Bar
The Green Pig Pub
Why do Salt Lakers so love the Green Pig? Well, for one thing, there's a rooftop patio, just the place where friends want to hang. There's pub food that's made from scratch daily (kudos for both stellar vegan and non-vegan bar fare), the varied entertainment (including a Monday blues jam plus karaoke and trivia nights—not to mention live bands and DJ Latu on the weekend), and the drinks, from pints of local beers to top drawer spirits to premium wines. And with over a dozen flat screens, it's the place to watch games. And we love those avocado rolls. Really, we do! 31 E. 400 South, SLC, 801-532-7441, thegreenpigpub.com
2. Gracie's
3. Ivy & Varley
Best Neighborhood Bar
A Bar Named Sue
A Bar Named Sue (Sue's for short) has a stronghold in Holladay and Midvale, and it's easy to see why. Each have diehard regulars at their weekly bingo, trivia and other themed nights, and the staff is amiable, the type that remembers their customers' faces and orders with ease. The food fare is worth the trip on its own—Sue's is known for their insanely tasty wings and sandwiches, such as their flagship Tennessee Turkey. 8136 S. State, Midvale, 801-566-3222; 3928 S. Highland Drive, SLC, 801-275-5578, ABarNamedSue.com
2. Dick n' Dixie's
3. Brickyard Bar
Best Late-Night Grub
Arempa's
Arepas and late-night grub have gone hand in hand forever, but it just took the opening of Arempa's to help us locals see the light. Giant, overstuffed corn tortillas filled with rice, beans, grilled pork or roast chicken just feel right when it's after midnight, and your body demands sacrifice. 350 S. State, SLC, 385-301-8905, arempas.com
2. Pie Hole
3. Beto's Mexican Food
Best Ogden Bar
Funk 'n Dive
Self-proclaimed as Ogden's "five star dive bar", Funk 'n Dive is a no frills, good-time bar that patrons have flocked to for years. Partners and longtime friends Bridget Gordon and Dave Morris (Green Pig, Piper Down, Ice Haus and others) teamed up to create an easy and affordable restaurant, and as with many of the Morris bars around town, an excellent vegan menu. 2550 Washington Blvd., Ogden, 801-621-3483, funkanddive.com
2. Brewskis
3. The Angry Goat Pub & Kitchen
Best Theme Night
Gays of '47
Each July, the Days of '47 celebrates the arrival of Utah pioneers in 1847. There are the usual parades, dances, rodeos, races and assorted festivities offered statewide. In recent times, those not of the pioneer heritage have created "Pie and Beer Day" (to rhyme with Pioneer Day). Still, there is no more of a unique celebration than the Gays of '47. This "Pio-QUEER" weekend has a gay rodeo, parties at both LGBTQ bars and straight bars, and of course, drag shows. Local queens like Jason CoZmo, Gia Bianca Stephens and a slew of DJs bring the music and glam as an alternative to the traditional parade and rodeo the Mormons hold every year. Portions of the cover charges go to nonprofits like Equality Utah, Utah Pride Center and the LGBTQ+ Chamber of Commerce. utahlgbtqchamber.org and Twist Bar & Bistro, 32 Exchange Place, SLC, 801-322-3200, twistslc.com
2. Viva la Diva
3. Drag Karaoke at Why Kiki
Best Bar Patio
Gracie's
We love heading to Gracie's tiered patio to grab a drink and meet with friends. The food and beverages combined with the downtown city views just give off a vibe of contentment. Plus, Gracie's does not disappoint with their taste in local bands. They offer live music or a DJ almost every night of the week. 326 S. West Temple, SLC, 801-819-7565, graciesslc.com
2. The Hog Wallow Pub
3. The Green Pig Pub
Best Non-Downtown Bar
The Hog Wallow Pub
Hog Wallow is where people post up before and after hitting the slopes in Big Cottonwood Canyon, including celebrity guest and nearby resident Post Malone, who is often spotted at the neighborhood watering hole. Music lovers flock to the always-impressive lineups they host (still waiting on that Post Malone booking), and their popular patio is one of the coolest spots in town to get a bite and beer. 3200 E. Big Cottonwood Canyon Road, SLC, 801-733-5567, thehogwallow.com
2. Ice Haus
3. Prohibition Bar
Best Dive Bar
Johnny's
If you go to this SLC dive often enough, you become family, or at least kissing cousins. The bartenders keep the bar but also the people, which is good since Johnny's beer selections (that include over 30 full strength and selected import beers) make patrons a little wild sometimes. It's all about the patio, pool tables, pub food, live tunes on weekends, shuffleboard and, of course, cheap booze. 165 E. 200 South, SLC, 801- 746-3334
2. Willie's Lounge
3. Bongo Lounge
Best Sports Bar
Legends Pub & Grill
As much as the cable companies want to believe that Utahns are proximity fans of "nearby" teams such as the Raiders or Broncos in the NFL or Diamondbacks and Rockies in MLB, Utahns by and large are fans of a wide variety of sports teams across the country. There's no better place for people to stream games across all the major sports than Legends. Along with their longstanding downtown location, they recently opened up a Sandy iteration. 677 S. 200 West, SLC; 10631 S. Holiday Park Drive, Sandy, 801-355-3598, whylegends.com
2. The Huddle
3. The Break
Best Park City Bar
No Name Saloon
No Name Saloon is one of those Park City bars that gets packed because, yes, it's on Main Street, oozes with local history and serves incredible buffalo burgers and craft beverages, but also because it's one hell of a charismatic bar. The rough and tumble Old West vibes are present, and their rooftop area is the perfect place to escape crowds and, during Sundance, scout for celebrities below. 447 Main St., Park City, 435-649-6667, nonamesaloon.com
2. The Cabin
3. O'Shucks
Best LGBTQ+ Bar
Sun Trapp
A perennial Best of Utah winner, Sun Trapp has the charm of a dive bar with its old school decor, but it can just as easily turn into a party bar and dance club when the music is right. The best part is that it carries both those qualities while fostering a space for local queer folks and their friends to drink beer out of Mason jars and feel welcome and right at home. 102 S. 600 West, SLC, 385-235-6786, thesuntrapp.com
2. Why Kiki
3. TryAngles
Best Beer Selection
The Bayou
In 2001, when The Bayou opened its doors, the idea of a craft beer bar was still a pretty novel concept. This bar that specialized in craft beers from around the world was an immediate success and its reputation grew from within and outside of the state as a must stop for beer lovers. Even two decades later, The Bayou still manages to endear itself to craft beer lovers by stocking its fridges with the hard-to-get bottles and cans that may not even be on the radars of other pubs. 645 S. State, SLC, 801-961-8400, utahbayou.com
2. Beerhive Pub
3. Beer Bar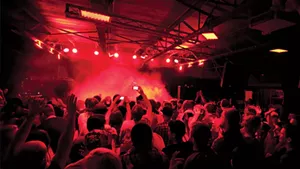 Best Live Music
Urban Lounge
Outdoor shows are still a norm everywhere these days, and the Urban Lounge has one of the most frequently used and beloved outdoor concert spaces. Sometimes it's used to double-book shows, with an early performance outside and a later one inside—it's a clever way for the venue to capitalize on show times and tickets, since both were scant in 2020. Performers love it, too—not just for the safety element but because being outside eases a lot of the chaos that can ensue at a packed-like-sardines indoor show. 241 S. 500 East, SLC, theurbanloungeslc.com
2. The State Room
3. The Depot
Best Liquor Selection
Whiskey Street
Holding steady in the top position, Whiskey Street is where the liquor is. When you have a wall lined with more than one hundred whiskeys from around the world and are situated on a road once designated "Whisky Street" by Brigham Young, you must be in the liquor business. The old-town vibe of the interior is the perfect backdrop for night out on the town. If you are not a whiskey drinker, don't fret, there are plenty of classic cocktails, wine and spirits to pander. 323 S. Main, SLC, 801-433-1371, whiskeystreet.com
2. Lake Effect
3. Water Witch
Best Karaoke
Highlander Pub
Karaoke is a Japanese term that means "empty orchestra." Japanese karaoke, with its plush private rooms and bar service, is a far different beast than our rowdier version in the USA. However, in Utah, one place seems to have karaoke well dialed in: Highlander Pub. With karaoke on tap seven days a week, their large space is great for celebrations. While you're waiting for your turn to belt out a tune, play a round of pool or dig into a basket of English-style chips. 6194 S. Highland Drive, SLC, 801-277-8251, highlanderutah.com
2. Piper Down
3. Club 90
Best Utah County Bar
The Owl Bar
Located 13 miles northeast of Provo, this 1890's bar is an easy winner because it's so cool. Not only does it have a wild origin story (wild as in it hosted Butch Cassidy's Hole in the Wall Gang when it was located in Thermopolis, Wyoming. Robert Redford had it moved to Sundance and restored), but it's one cool bar that hosts local and national musical acts on many Friday and Saturday nights. The resort offers views of Provo Canyon and Mount Timpanogos—no better place to enjoy the music, beer, cocktails and seasonally inspired food at The Owl Bar. 8841 N. Alpine Loop Road, Sundance, 801-223-4222, sundanceresort.com
2. ABG's Bar
3. Strap Tank Brewery
Best Dance Club
Twist Bar & Bistro
Yes, it's a dance club, especially on Thirsty Thursdays with DJ Mvdness, Friday Nights with DJ Dirty Dave & DJ Myze, and Saturday nights with DJ Dirty Dave & DJ Marcell Mesquita. And the expansive layout offers both a patio and main floor where the vibes can be just to your liking. But there's more: The drink specials are inspired and the food menu is indeed "bistro" dining at its finest, well beyond your average pub grub, making this not only a dance club but a date-night spot. Twist's location right downtown makes it perfect as your first stop or last of the night. 32 Exchange Place, SLC, 801-322-3200, twistslc.com
2. Why Kiki
3. Echo
Best New Bar
Ivy & Varley
The lounge vibe at Varley (the bar connected to The Ivy) is on point, serving up craft cocktails, delicious snacks and shareable plates. The Thai coconut curry mussels and grilled beet hummus are perfect options for an after-work get together. Dim lighting, comfortable seating and a thoughtful menu that pairs great with the cocktail options complete the mood, in case you want to get your lounge on and stay a bit. 63 W. 100 South, SLC, 801-203-4124, varleyslc.com
2. Aces High Saloon
3. The Palace
Best Craft Cocktails
Water Witch
Returning champs in this category, Water Witch doesn't just serve the best craft cocktails, their delivery and presentation is second to none. Try the flaming mai tai for an impressive and tasty good time. Patrons navigate the small space with ease. 163 W. 900 South, SLC, 801-462-0967, waterwitchbar.com
2. Bar X
3. Under Current
Best Bar Menu
White Horse
Returning to the top of the list, White Horse does a great job serving up enchanting bar foods. Sure, you'll find some of the old standbys like a bacon cheeseburger (wagyu beef, of course) but be sure to branch out and try something new. Don't miss the confit duck wings, Buffalo roasted cauliflower or fried oysters. 325 S. Main, SLC, 801-363-0137, whitehorseslc.com
2. Whiskey Street
3. The Bayou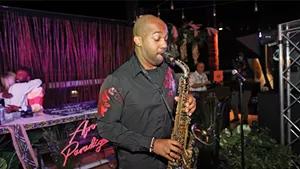 NIGHTLIFE | Staff Picks
Best New Social Celebration
Afro Paradigm
After a year or more of canceled events, Afro Paradigm seemed to sweep in at the perfect time. In August, Afro Paradigm introduced "The Interlude," a social celebration held on the rooftop of the Industry building. With permanent smiles, creatives, artists and local influencers danced all night long to the beats brought by DJ Joune's and other local artists. Look for Afro Paradigm's next event in the beginning of 2022—they are planning and looking forward to connecting more of Salt Lake City in a fun space. afroparadigm.com
Best Blues News
Open Blues Jam
If rainy days and Mondays always get you down, the Open Blues Jam at The Green Pig Pub will shore up your spirits. Gary Tada, Kevin Gardner and Ray Rosales kick things off on Monday nights with a 45-minute set. After that, they open the stage up to local musicians to get their blues jam on, so bring your guitar, bass, horns, harmonica, keyboard, cowbell—hey, even your blue suede dancing shoes! No cover charge (and no bongos, either). Mondays at10 p.m., The Green Pig Pub, 31 E. 400 South, SLC, 801-532-7441, thegreenpigpub.com
Best Racks
Big Willies Sports Bar & Grill
In the epic years of Utah bar crawling, there wasn't a tavern in town that didn't have a pool table or three. Those days are gone for now in favor of lavender scented cocktails, but at Big Willies, The Color of Money tradition continues. Not just classic pool tables, but Snooker, anyone? If that's not your fancy, Big Willies has other games from darts to dingers, along with drinks that don't bust your pocketbook. The only thing missing is the smoke. 1717 S. Main, SLC, 801-463-4996, bigwillieslounge.com
Best Bar Makeover
Brickyard Bar on Highland Drive
The old Lumpy's underwent a massive renovation and transformed into the gorgeous Brickyard Bar. It is still a great neighborhood sports bar, but it also brings in fantastic local music acts and even offers a Sunday morning yoga class. Hungry? You'll find a delicious balance of restaurant and bar food. Millcreek has upped its game. 3000 S. Highland Drive, Millcreek, 801-883-9845, thebrickyardbar.com
Best Late-Night Drinks
Duffy's Tavern
With the friendliest of bartenders, it is truly a good time there. No frills—no need for them there. You can even order a delicious veggie grilled cheese, cheesesteak sandwiches and other great bar food. And who doesn't love affordable beer? 932 S. Main, SLC, 801-355-6401
Best Happy Ending
Fall and Rise of the Tavernacle
It was gutting to hear about the Tavernacle closing when the team made the announcement last summer but hearing about their reopening only a few months later was enough to give me emotional whiplash. We've had a few local joints close only to reopen, but something about this quick turnaround gave me hope for those running our scrappy hospitality scene. Here's looking forward to another few decades of drag brunches and grand piano melee. 50 W. 300 South, SLC, 801-623-0987, tavernacle.com
Best Anticipation
Flanker Kitchen & Sporting Club
We've been hearing the buzz for a while, and at long last, Flanker is set to open on Dec. 8. This latest addition to the downtown nightlife scene fills the space left behind by the Punch Bowl Social at The Gateway. The kitchen and sporting club will boast a massive 17,500 square-foot complex that features a casual restaurant, three bars, 400 square-foot LED screens, private karaoke and sports simulator rooms, a nightclub and cocktail lounge. If you can't find fun at Flanker, you can't find it anywhere. So, get that bad boy open already. 6 N. Rio Grande St. No. 35, SLC, 801-683-7070, FlankerSLC.com
Best Monday Night Music
Garage on Beck
Back in May, Triggers & Slips started this cool new Monday-night music at The Garage on Beck. After a year of COVID, the city was craving something like this. We were freshly vaccinated and wanting to dance. Each band had guest musicians join them. It was so much fun! The Garage thankfully kept it going with Jonny Gold, George Charles Nelson III and Brother Carl Carbonell. Look for monthly Triggers & Slips Monday Night shows in November and December. 1199 Beck St., SLC, 801-521-3904, garageonbeck.com
Best Sugar House Brewery Crawl
Hopkins, Craft by Proper, Wasatch Breweries
Sugar House is bursting at the seams with an influx of new apartments and congested streets. But for those that rack up the miles on bikes or on their two feet, it's the perfect place to make three brewery stops—Hopkins, Craft and Wasatch are all within a stone's throw of each other. Hopkins and Wasatch both have great food selections to go along with their taps, while Craft by Proper is a locals-only beer bar fixed with a wide variety of Utah favorite beers. 1048 E. 2100 South, SLC, 385-528-3275, hopkinsbrewingco.com; 1053 E. 2100 South, SLC, 385-242-7186, craftbyproper.com; 2110 S. Highland Drive, SLC, 801-783-1127, wasatchbeers.com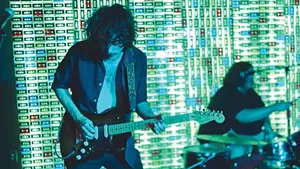 Best New Venue
The DLC in Quarters Arcade
In a year when many venues were just trying to stay open, another one got things rolling, practically for the first time. After a few shows right before the pandemic hit, Quarters Arcade Bar decided to open their in-bar venue space, The DLC, and try again. They've been booking mostly local shows steadily over the past few months, and while there are still tough decisions to be made as this pandemic continues, it's good to see a new space for music forging ahead. 5 E. 400 South, SLC, 801-477-7047, quartersslc.com/the-dlc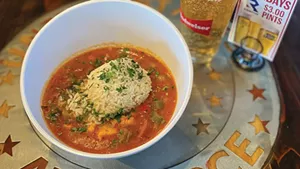 Best Pay It Forward
Redemption Bar & Grill
This south Salt Lake Valley club wears its patriotic fervor proudly. But it especially hits the right buttons when it comes to supporting veterans and first responders. Top-drawer kudos for that. Their creative way is to help those folks by offering $10 Challenge Coins that are delivered anonymously (if you wish) to patrons who have served country, county or municipality. You may not earn a full dispensation for doing this nice deed, but you're on your way—everyone needs redemption. 3517 W. Maradona Drive, Herriman, 801-938-9363, redemptionbarandgrill.com
Best Day Drinking With Locals
Junior's Tavern
Not long ago, a couple from Bangor, Maine, settled onto well-worn cushioned stools at Junior's Tavern. The guy surveyed the joint: A small but comprehensive selection of suds and booze, a lone TV set in the corner, a pool table in the back and, on the east wall, a case displaying hundreds of vintage beer cans. Oldies and jazz wafted from speakers. "Honey," he said, "it feels like home." Since 1974, proprietor Greg Arata has catered to an eclectic clientele making them feel "at home," too. Getting nostalgic? Check out Junior's—the consummate neighborhood bar—right in the heart of downtown. You won't regret it. 30 E. 300 South, SLC, 801-322-0318, juniorstavern.com
Best Upcoming Hot Spot
Tailgate Tavern
Dive of the gods. Centrally located in South Salt Lake, it's brand new, and they already featured all the hottest local acts playing here. Opening weekend they had Bad Brad Wheeler, Carl Carbonell, Muskrat Jones, Nate Spenser, JT Draper, Kelly Belerose and Timmy the Teeth. With pool tables and a great friendly vibe, this promises to be the place to be. 3550 S. State, SLC, 801-290-2531, tailgatetavernslc.com
Best $2 Drinks
Bongo Lounge
Since the Legislature wants to control how much liquor constitutes a drink at bars, we'll get an ounce no matter where we go. This is why we love dive bars—$2 drinks at the Bongo is our jam. Pool tables, booths and quiet corners are good for catching up with old friends. Oh, and the best juke box in town. Cash only. 2965 Highland Drive, SLC, 801-466-1577
Best Bar Ambiance
The Lake Effect
Immaculately curated cocktails and food prepped with intention is just what you'll find at the stylish Lake Effect. We were happily surprised to find they stocked a gin that we drank in Amsterdam that we loved so much. They book rad local musicians nightly, which adds to the ambiance and creates a memorable experience. It's also a really fun brunch spot. 155 W 200 South, SLC, 801-285-6494, lakeeffectslc.com
Best Perseverance
Will Bourne
In 2019, the Dick N' Dixie's family tragically lost one of their staff members when a vehicle struck him at the adjacent intersection at closing time. D&D's popular owner, Will Bourne, was also critically injured and spent nearly four months in the hospital. Bourne has since recovered and instead of folding in adversity, he grew. In 2021, even through COVID-19, he took on the old Tinwell bar spot and renamed it The Pines, opening a clean, complementary addition to Dick N' Dixie's. Congratulations, Will. Dick N' Dixie's, 479 E. 300 South, SLC, 801-994-6019; The Pines, 837 S. Main, SLC, 801-906-8418
Best Reggae Nights
The Royal
The Royal is the place for music lovers. Thursdays through Saturdays, The Royal hosts bands from a variety of genres. Local bands such as Ginger and the Gents and Royal Bliss are regulars on the stage. And The Royal also hosts weekly Reggae Nights on Thursdays—keeping the beats going—featuring bands like Newborn Slaves, Makisi and others. The affordable drinks and good eats are a plus, too. 4760 S. 900 East, Murray, 801-550-4451, theroyalslc.com
Best for a Get-To-Know-You Date
The Ruin
Work is a curse of the drinking class, and dating is the curse of the single class. If you fall into both categories, the Ruin's super-comfy leather lounge chairs are the perfect spot for a quiet conversation and a cocktail to break the ice. Their "Pearly Gates" cocktail is a favorite (made with gin, egg whites, bergamot and activated charcoal). And if the date goes well, then pop next door to SOMI. 1215 Wilmington Ave., Ste. 120, SLC, 801-869-3730, ruinslc.com
Best Bar Rescue
The Sidebar
The Walker Building in downtown Salt Lake once housed Walker Bank, which was owned by the Walker family who developed the Walker Lane area in Cottonwood and built a beautiful mansion there that was eventually sold to someone with little appreciation for old, fine things and thus demolished it. Which was great for Ogden's Own. They bought the mansion's early 1900s-era marble and oak back bar, rescuing it from a miserable life as an ice-cream counter, and returned it to the whiskey-pouring centerpiece it was meant to be at Sidebar, their new club within Ogden's Own distillery. For your sitting pleasure, try the 1800s English pub bench, too. 615 W. Stockman Way, Ogden, 801-458-1995, ogdensown.com
Best COVID-Conscious Pivot
The State Room
By choosing to stay closed during the entire pandemic—until this fall—we can say that The State Room played it the safest of any venue in town. But they (along with sister venue The Commonwealth Room) were also the first of venues around town to double down, requiring proof of vaccination or a negative test result to get into shows. It was a bold and controversial thing to do at the time they chose to do it, but they turned out to be leaders of the pack, as most venues have since ended up following suit. 638 S. State, SLC, 801-596-3560, thestateroompresents.com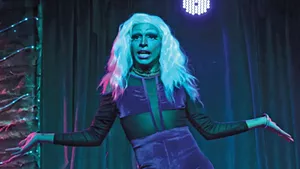 Best New Drag Bar/Tiki Bar Fusion
Why Kiki
When we heard about one of the new bars downtown, we thought it was "waikiki," a tiki bar. But it's Why Kiki. Turns out it's a tiki bar, but it's a drag bar, too! Island-themed drinks are spiked with swirling glitter, sharing menu space with mai tais and bulging fishbowls, plus drag brunch eats that include penis-shaped waffles (with gooey dipping sauce). And, of course, among all the kitsch (a mermaid-adorned ship's prow towers over the back patio) is camp to match in their regular drag shows and costume parties. 69 W. 100 South, SLC, 801-641-6115, whykikibar.com
Best Spirited Parties
The Westerner
Nobody parties like the Westerner. In any month at this sprawling club in West Valley City, you can let loose your inner party animal at such parties as this years' White Claw Ball, Burger and Beer Bash, Porters Party, Margarita De Mayo, Effen Party and the Jim Beam Orange Launch. Or how about the recent two weekends of Scare Tastic, celebrating Halloween? If not in the party mood, try the free mechanical bull, free line dancing or free pool. Top country bands in the area, to boot, no pun intended. 3361 S. Redwood Road, West Valley City, 801-972-5447, westerner.com
Best Millcreek Clubbin'
Liquid Joe's
Millcreek's bluest building is still ripping and roaring as usual, and clearly the readers of City Weekly know it. Home to the ever-loyal Spazmatics and their cover classics, plus tons of other local and touring acts on the regular, Liquid Joe's is always a dependable place for Millcreekers and Salt Lakers alike to dance and find a good time. 1249 E. 3300 South, Millcreek, 801-467-5637, liquidjoes.net
---

Arts & Entertainment
Goods & Services
Restaurants
Food & Drink
Nightlife