When Mike Stidham announced his plans to revamp his mixed martial arts cable show, The Ultimate Combat Experience, he told the fighters, several of whom were felons, to behave themselves outside of the fight arena. Act responsibly, he told them. Don't provoke any fights.
That same night, Jan. 11, 2009, Stidham went out with his fighters to a South Salt Lake strip club to celebrate a new chapter in his struggling weekly show. The program had made fight promoter Stidham, also the show's producer and presenter, a dominant force in Utah's thriving mixed martial arts (MMA) scene, but in recent years, both the show and Stidham's standing in the MMA community had become increasingly embattled.
According to security video footage from that night, as a bouncer escorted the promoter and fighters out, the bouncer threw a punch at one of Stidham's companions and a fight broke out. Stidham, a former kickboxing champion, wrestled the bouncer to the ground, only to be stabbed in the head by another assailant. "I inhaled my own blood," Stidham recalls. "I panicked." He hit the bouncer repeatedly in the face. Now, looking back, he says he was "stupid. I should never have been there."
Stidham was convinced that since the bouncer initiated the melee, an assault charge he faced stemming from that night would be dismissed. But 3rd District court judge Ann Boyden saw it differently. She found him guilty, and on March 28, 2011, sent him to the Salt Lake County lock-up for 30 days.
Word of 44-year-old Stidham's downfall was greeted by some in Utah's tightly knit MMA community with glee. "He should be in prison," snarled one fighter, walking into an interview about Stidham with another promoter. Others, however, saw tragedy in Stidham's rise-and-fall saga. "We've all stumbled and fallen," says West Valley cop Loren Brumley, who fought several pro mixed martial arts bouts.
Mixed martial arts, which combines stand-up muay thai boxing with jujitsu-based wrestling skills, "is the purest form of fighting," says Charlie "Vanilla Gorilla" Kent, another West Valley cop and former MMA fighter. "Just a referee and two guys—one saying 'I quit' when they tap out. It's a form of domination." Unlike Brumley, however, Kent is not a Stidham fan. "He's done more for MMA, because he's been doing it for years." But only beginners have benefited, he argues. "That's where it ends with Mike Stidham."
When it comes to Stidham, many in the community have an opinion, and some are far from favorable. Stidham knows he is a polarizing figure. "You either love me or you hate me," he says. Indeed, while some fighters and rival promoters revere him for taking MMA mainstream in Utah, others paint him as a "shady" opportunist who, as one gym owner says, "made dimes on the back of fighters."
What is undeniable is that Stidham forged a grass-roots empire that shaped the early careers of numerous nationally known MMA fighters, including such giants as Josh Burkman, DeMarques Johnson and Court McGee. But charting Stidham's rise to godfather of the local MMA scene and subsequent fall to felon isn't easy, especially given his undoing, says Hank "The Vice" Weiss, one of the few fighters to remain loyal to him. It is as much about self-inflicted injuries as the ingratitude of fighters with "delusions of grandeur" who started out with Stidham but eventually turned against him.
While Stidham's tempestuous, bridge-burning personality alienated fighters and other promoters, it also led to a confrontation with the Pete Suazo Utah Athletic Commission (PSUAC), whose five part-time commissioners and one full-time director license, regulate and sanction professional boxing and professional mixed martial arts fights in Utah (read more about the commission and its controversial history here). While the commission is charged with protecting fighters, some argue it favors promoters' interests over those of the men and women who fight. But in Stidham's case, he is the one who feels he is being victimized, accusing the commission of "killing the coolest thing in MMA in Utah," namely his TV show. Former city prosecutor turned defense attorney Lorenzo Miller represented Stidham in an administrative law hearing before the commission. "Mike's argument and beef is he is being singled out as a fledgling commission grapples with issues facing ultimate fighting as it moves to the next decade," Miller says. "People like Mike sometimes get burned in that process" of introducing regulation to an unregulated world. "Sometimes intentionally, sometimes incidentally."
In the past year, the outside-the-ring skirmishes between Stidham and PSUAC director Bill Colbert—between "Mr. MMA" and, in essence, Mr. Regulator—all but consumed the two men. Stidham alleges Colbert and commissioner Rich Montanez want to close him down, something both men adamantly deny. Colbert says he just wants Stidham to follow the rules and regulations.
Stidham thought he had the upper hand with Colbert after he discovered in June 2010, he claims, that Colbert knowingly overcharged him $2,000 for his fights in the months running up to his conviction by Boyden. The tables turned after Boyden found him guilty of assault in mid-December 2010, when the commission declined to renew Stidham's promoter license. Six months later, Stidham and the commission faced off in a hearing before an administrative law judge, although it was the commission that would decide Stidham's professional fate.
A.J. Stidham initially thought her husband paranoid when he told her the commission wanted to close him down. "I asked him, 'Mike, are you sure this is not all in your head?' '' she recalls. But after he went to jail and she promoted several Ultimate Combat Experience fight cards, she says she found herself battling with Colbert. "Now I say, 100 percent, they are after Mike," she concludes. His critics see it differently. Absolute MMA gym-owner Rob Handley says, "The one common denominator in all of his problems is himself. As many fingers as he is pointing at everybody else, that many and more are pointing right back at him."
BURNING BRIDGES
Stidham's business instincts were honed at a young age. He promoted keg parties and bands from when he was 14. But his brother John Stidham says Mike's impetus "was earning money to try to help" their terminally ill mother, buying her a color TV and a microwave, luxuries his family could not otherwise afford.
After 11 years as a police officer in Salt Lake County and Tooele, Mike Stidham ended up suing Utah's Peace Officers Standards and Training, claiming an agency official, intent on denying him positions in several police departments, had spread false rumors about him, notably that he had raped a young girl. If his police career had careened off the rails, his Kearns-based karate gym, the U.S. Black Belt Academy, was very successful, he says, boasting around 1,000 students by the late 1990s.
Stidham put on mixed martial arts bouts at nightclubs and bars from 2001 onward that he filmed as hour-long episodes of The Ultimate Combat Experience. Every two months, he would hold a big event at the then-named E Center, where the winners from the club fights would compete. Stidham bought space on the local UPN channel and sold advertising around weekly Sunday evening transmissions of his show.
With the local exposure the TV show provided, John Stidham says "everybody wanted to fight for Mike. A lot of guys who don't like him now, worshipped him back then. I don't think that was good for him." Weiss admired Stidham's "unique" model, he says. "He mass produced MMA experience."
The halcyon days for Stidham's show came after Tony Saiki and his wife, Laura, joined Stidham as his production crew just as fighter Johnny "Little ball of hate" Riche switched from pounding opponents to being Stidham's co-host in 2003. Stidham and Riche had a natural on-camera chemistry that flourished into friendship.
Mike Stidham, A.J. Stidham (who matched up fighters), Riche and the Saikis formed an ad-hoc family bound by the hectic schedule of producing fights and a TV show 52 times a year.
In 2004, Mike Stidham faced new rising costs as the Pete Suazo Utah Athletic Commission began regulating professional MMA. The commission wanted promoters to pay for fighters' insurance. While that was manageable for promoters who put on bi or tri-monthly shows, Stidham, with his weekly schedule, was faced with having to find $1,800 a week to insure his fighters.
Riche argues Stidham "burned many bridges" in the process of producing his show, including fighters angry at what they saw as dubious matchups by a promoter desperate to fill a weekly fight card but unwilling to pay fighters what they thought they were worth. Riche says, "It's always been the No. 1 bitch about his show that he don't pay the fighters jack."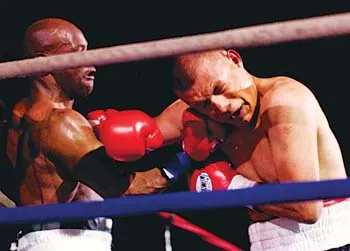 ROCKET SCIENTIST
In January 2007, Stidham perceived a threat to his livelihood in the form of politician Greg Hughes. Hughes sponsored one of several bills that legislative session aimed at moving the PSUAC out of the Department of Commerce. Hughes' critics saw it as an attempt to kill off MMA by a politician who, at that time, was managing a boxer. Hughes says his concerns about the commission emerged after he attended PSUAC meetings and saw how it favored Stidham over boxing promoter and Hughes' friend Eddie "Flash" Newman. Hughes told Stidham that he wanted to support MMA's growth and needed the promoter's help to mold the new commission.
Hughes asked his friend Bill Colbert, a Draper councilman, to be the PSUAC's new director. He chose Colbert because, although the former missile scientist knew nothing about the fight scene, he could build a new commission "from the ground up." Hughes also nudged a friend, lobbyist Alan Dayton, and Hughes' legislative colleague Ty McCartney, both MMA virgins, to become commissioners. Rich Montanez, a former highway patrolman and a member of former Utah Gov. Norm Bangerter's security detail, returned to the commission. Two years later, self-confessed fight fan Taylor Leavitt, son of former Utah Gov. Michael Leavitt, and Democratic party activist and one-time Utah Committee of Consumer Services Director Leslie Reberg were also appointed to the commission.
Along with the political maneuvering in early 2007, Stidham had other worries. "Suddenly everyone was opening [MMA] gyms," Tony Saiki recalls. Promoters would recruit fighters for their own shows in the locker room at Stidham's show.
One new competitor was nationally renowned fighter Jeremy Horn. "He's a very respected fighter who started putting on events," Riche recalls. "I think that scared Mike. If [Horn] got it right, they could take over the sport."
While many in the MMA community "thought Mike's show was a dive," Weiss says, "from the start there was jealousy. He was doing something a lot of people wish they could have done." But then Stidham made a move, Weiss says, "that set it all on fire."
On March 10, 2008, Stidham asked the PSUAC to enforce non-compete clauses in his contracts, which barred fighters from fighting for another promoter for three years or within 500 miles. The commission denied his request.
Undeterred, on March 20, 2008, Stidham posted on his MMA chat site, "If you have accepted payment to participate in Ultimate Combat Experience, you have agreed to not compete with this organization." If other promoters wanted to use UCE-registered fighters, Stidham was offering licensing opportunities.
That infuriated other promoters, who say they were faced with potentially having to pay Stidham thousands of dollars so fighters from their own gym could fight on their cards. Stidham says he spent "tens of thousands of dollars putting fighters on TV. They go to bars and people recognized them. I was developing characters. Then I should let Jeremy Horn swan off with them?"
Weiss recognizes the downside of Stidham's venture. "It could never grow past amateur, real green type fighters." He adds, "It was hard for Mike to see the fighters move on."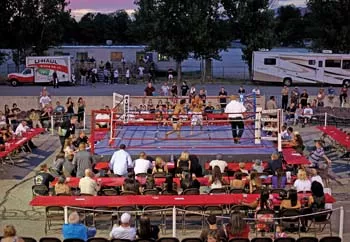 "SLEEPING WITH THE ENEMY"
On March 26, Horn and his partner, former fighter and promoter Jennifer Howe, along with another promotion agency, Throwdown, and seven fighters who had all fought on Stidham's cards, sued Stidham over the restrictive contracts, alleging he was seeking to "improperly chill the free flow of the MMA industry." Their complaint said that 46 fighters who had signed the non-compete had gone on to fight for other promoters. The judge ruled the non-competes were "invalid and unenforceable" and constituted "an unreasonable restraint of trade."
Some fighters boycotted UCE because of the contracts. Stidham argues the fighters were misinformed. "They heard I was trying to limit what they were doing. I was trying to protect those guys, help them by preserving their value."
In the midst of his battles with other promoters, Riche and Stidham's relationship ended in a screaming match over money. Riche called Tony Saiki, crying. "He loved the show, he put his heart and soul into it," Saiki says. Riche went to work for an Orem-based gym and fight promoter. "It was like a death in the family," Laura Saiki says.
Post-Riche, with a growing number of promoters providing fighters more cards to fight on and others joining Stidham's critics, Stidham found it harder to get good fighters. As the quality of his fights declined, the audiences attending the fights shrank.
Howe argues that where Stidham went wrong was in thinking that "his show built fighters. It's a wonder he hasn't realized fighters built his show." Stidham argues that while he couldn't have done the show without the fighters, equally, fighters couldn't have built up characters and reputations without the platform UCE provided them.
Weiss paid for his loyalty to Stidham, however, by being blacklisted by other promoters. One promoter told him, he says, "Hank, you're sleeping with the enemy."
SEWING CIRCLE
Despite Stidham's misgivings, 18 months after the legislature cut loose the commission from the Department of Commerce, the promoter posted how grateful he was to Greg Hughes on his MySpace page. The commission, which now operates out of the Governor's Office of Economic Development, was making "Utah a friendly place for promoters," he wrote. That was despite the fact he and Colbert had their differences, whether over fight cards handed over at the last minute, making it difficult for Colbert to assess if fighters were equally matched—an issue Eddie "Flash" Newman is also guilty of, says Colbert—or how expensive it was for the commission to supervise Stidham's weekly fights. But fighters like Weiss appreciated Colbert starting "to regulate it as a professional sport."
In June 2010, Stidham and Colbert's relationship hit a new low when the promoter accused the regulator of stealing from him by overcharging almost a total of $2,000 for 20 events. Four witnesses supplied Stidham with affidavits accusing Colbert of not only knowingly overcharging but refusing to pay Stidham back. Colbert, who blames the issue on a recording fee charged by the Association of Boxing Commissions, says they misinterpreted what he said.
At this point, Stidham says, Colbert came after him over the smallest matter, such as Colbert's insistence Stidham bring stools in for fighters to sit on rather than chairs.
Colbert upped the ante on Aug. 20, 2010, when he canceled Stidham's main event for being a mismatch. A seething Stidham posted the cancellation on the Internet, and added a post script: "Bill Colbert is a moron." Weiss is critical of Stidham's inability to be tactful or diplomatic. "Mike felt friction from some people and he has a tendency to fight back bitterly and not think it through. He has the mentality, 'I don't need you.' "
Stidham suffered bad news closer to home the following month when his cameraman, Tony Saiki, quit after six years "in the trenches." Tony Saiki cites Stidham's self-destructive behavior as a key reason for their departure.
When the Saikis left, they took Stidham's camera equipment, claiming he owed them around $30,000. Tony Saiki says Stidham had always told them it was collateral for the money he owed them, something the promoter says "is an absolute fabrication. We pay our bills. That's what we do. We wouldn't be around nine years later if we didn't."
The Saikis sued Stidham and the promoter counter-sued, alleging they had taken his equipment, fight footage and caused him to lose earnings from a national TV contract. A judge had a Salt Lake County constable repossess the equipment from the Saikis' home in the KOA mobile home campground on North Temple. Now the Saikis and Riche co-produce and Riche hosts another show, the action sports documentary series The Rockwell Chronicles on CW 30.
Stidham says the Saikis did what so many others who fall out with him do. "They ran to [my critics], formed a sewing circle, and swapped nightmare stories about me."
THE JOEY QUESTION
In the wake of Stidham's December 2010 conviction for assault, the commission decided, Rich Montanez says, to suspend Stidham's license and look at concerns they had about the promoter. Stidham's friend and fellow promoter Mike Memmot took over promoting UCE fights, while retaining Stidham as the fights' announcer. The commission allowed Memmot to promote UCE fights only if Stidham received no money from them. An angry Stidham at a February 2011 UCE fight card told the crowd, "I'm not the promoter of this show because my last name is not Montanez." That got him banned by the commission from Memmot's shows.
He was referring to Montanez's son Joey allegedly owning the fight-promotion business Fight King, which Stidham and other promoters view as a conflict of interest. Colbert and the Montanezes all say a local businessman was the promoter and Joey was the manager of the fighters who fought on the promoter's cards. Department of Commerce forms for 2009 and 2010, however, identify Rich R. Montanez as the owner, whom Rich Montanez notes is his son. In late August 2011, Joey Montanez became a licensed promoter.
Horn sides with Stidham, both viewing the relationship as troubling. "It's a compromising situation, and allowing that to happen casts a shadow of doubt over the commission," Horn says. Other promoters and gym managers wonder if it is fair, as one says, "that Joey has insight into purses, contracts and the details of other fight promoters."
Stidham hit rock bottom when Judge Boyden sent him on March 28 to serve 30 days in the Salt Lake County lock-up for assault, the day before his wife opened his new gym in a dilapidated, half-empty Draper mall on the cusp of redevelopment. His incarceration was "horrible," he says.
In jail, however, he discovered his TV show had made him a celebrity. "A guard asked for my autograph," he says. Corrections officers and his fellow inmates "were my people, my fans."
Days of introspection behind bars led a humbled Stidham to confront his own arrogance. "I did it to myself," he says, referring to his felon status.
After his release, Stidham returned to his fight with Colbert and Montanez, and his quest to get his license back. By the end of April, Stidham's promoting application had been dragged out for four months. In order to get a hearing on its renewal, he had to answer what would ultimately be 17 alleged violations involving, among other things, insurance claims from injured fighters Stidham had supposedly not honored.
Stidham contacted the Governor's Office of Economic Development, which houses the PSUAC, to complain about Colbert and Montanez. But he learned Hughes' transitioning of the PSUAC out of Commerce had ultimately left the commission accountable to no one. A government official informed Stidham via e-mail that "the Pete Suazo Athletic Commission is an entity with its own governing authority." That renders it unique among commissions who sanction pro boxing and pro MMA fights in the United States, says Association of Boxing Commissions President Tim Lueckenhoff. "All commissions with the exception of Utah are set up with governmental oversight," he writes in an e-mail. Commissioner Leavitt points out, however, that the commission is accountable to the governor's office.
NO SNICKERING ALLOWED
In July, Stidham and attorney Lorenzo Miller squared off in an airless room in downtown Salt Lake City with Colbert and Assistant Attorney General Rebecca Waldren before administrative law judge Carol Clawson, hired by the commission to preside over the PSUAC's first administrative law hearing.
Stidham doubted he would get a fair trial. After all, the very commissioners Colbert reported to, and worked for, were also the people who would decide on the merits of both Stidham's bid to get his license back and the state's allegations of code violations. "How on earth could the commission bring charges against me when they are the trier of facts?" Stidham asks.
But after two days of rancorous hearings, with Clawson acidly informing Stidham his snickering did not help his case, attorney Miller says all the assistant attorney general proved was that Stidham had not paid a 3 percent tax he owed the commission on his TV revenues and that he had made inappropriate comments about the commission. The judge urged the two sides to negotiate.
At the commission's monthly hearing in August, they handed Stidham a $1,500 fine, held in abeyance for the 18 months of his probation, and his license back. Stidham's fine was not, however, tied to any of the 17 allegations. Leavitt acknowledged that the hearing process took too long. Nevertheless, "it was healthy to hear Mike's concerns," he says. The commission also now had "a heightened awareness" of the controversial relationship between Montanez and his promoter son.
Stidham called the commission's conciliatory tone "a drop in the bucket. A lot more needs to be done." He also worries about the future. "Starting over is very, very difficult," he says. He needs capital and to build new bridges with a cable network. He plans to return to the fight scene in October. When he looks back, he says, for all the people criticizing him, "They weren't able to do what I did. It was a very hard time, I cut corners," but he built an empire, albeit one that a number of people, not the least Stidham himself, ultimately dismantled.
Weiss argues that Stidham needs "to be cordial, more diplomatic," if he is to make a comeback. Stidham's recent declarations on his Friday-night radio show that he has changed have "to stand strong," Weiss says.
A.J. Stidham has faith her husband, whom she characterizes as part New York go-getter and part Spartan warrior, will rise from the ashes. "He's very bold, very brave and he's not a quitter. Even if it's sinking him, he doesn't quit. He's a fighter. That's what he is."
Click for a profile of Jose Haro, a promising young boxer who's trying to put Utah on the map—and promote boxing in an MMA-centric state
Click for a profile of Augustin and Mario Espinoza, two brothers pursuing MMA glory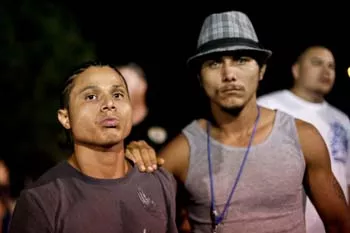 Click here for the behind-the-scenes story of the Pete Suaro Utah Athletic Commission