Page 3 of 3
THE JOEY QUESTION
In the wake of Stidham's December 2010 conviction for assault, the commission decided, Rich Montanez says, to suspend Stidham's license and look at concerns they had about the promoter. Stidham's friend and fellow promoter Mike Memmot took over promoting UCE fights, while retaining Stidham as the fights' announcer. The commission allowed Memmot to promote UCE fights only if Stidham received no money from them. An angry Stidham at a February 2011 UCE fight card told the crowd, "I'm not the promoter of this show because my last name is not Montanez." That got him banned by the commission from Memmot's shows.
He was referring to Montanez's son Joey allegedly owning the fight-promotion business Fight King, which Stidham and other promoters view as a conflict of interest. Colbert and the Montanezes all say a local businessman was the promoter and Joey was the manager of the fighters who fought on the promoter's cards. Department of Commerce forms for 2009 and 2010, however, identify Rich R. Montanez as the owner, whom Rich Montanez notes is his son. In late August 2011, Joey Montanez became a licensed promoter.
Horn sides with Stidham, both viewing the relationship as troubling. "It's a compromising situation, and allowing that to happen casts a shadow of doubt over the commission," Horn says. Other promoters and gym managers wonder if it is fair, as one says, "that Joey has insight into purses, contracts and the details of other fight promoters."
Stidham hit rock bottom when Judge Boyden sent him on March 28 to serve 30 days in the Salt Lake County lock-up for assault, the day before his wife opened his new gym in a dilapidated, half-empty Draper mall on the cusp of redevelopment. His incarceration was "horrible," he says.
In jail, however, he discovered his TV show had made him a celebrity. "A guard asked for my autograph," he says. Corrections officers and his fellow inmates "were my people, my fans."
Days of introspection behind bars led a humbled Stidham to confront his own arrogance. "I did it to myself," he says, referring to his felon status.
After his release, Stidham returned to his fight with Colbert and Montanez, and his quest to get his license back. By the end of April, Stidham's promoting application had been dragged out for four months. In order to get a hearing on its renewal, he had to answer what would ultimately be 17 alleged violations involving, among other things, insurance claims from injured fighters Stidham had supposedly not honored.
Stidham contacted the Governor's Office of Economic Development, which houses the PSUAC, to complain about Colbert and Montanez. But he learned Hughes' transitioning of the PSUAC out of Commerce had ultimately left the commission accountable to no one. A government official informed Stidham via e-mail that "the Pete Suazo Athletic Commission is an entity with its own governing authority." That renders it unique among commissions who sanction pro boxing and pro MMA fights in the United States, says Association of Boxing Commissions President Tim Lueckenhoff. "All commissions with the exception of Utah are set up with governmental oversight," he writes in an e-mail. Commissioner Leavitt points out, however, that the commission is accountable to the governor's office.
NO SNICKERING ALLOWED
In July, Stidham and attorney Lorenzo Miller squared off in an airless room in downtown Salt Lake City with Colbert and Assistant Attorney General Rebecca Waldren before administrative law judge Carol Clawson, hired by the commission to preside over the PSUAC's first administrative law hearing.
Stidham doubted he would get a fair trial. After all, the very commissioners Colbert reported to, and worked for, were also the people who would decide on the merits of both Stidham's bid to get his license back and the state's allegations of code violations. "How on earth could the commission bring charges against me when they are the trier of facts?" Stidham asks.
But after two days of rancorous hearings, with Clawson acidly informing Stidham his snickering did not help his case, attorney Miller says all the assistant attorney general proved was that Stidham had not paid a 3 percent tax he owed the commission on his TV revenues and that he had made inappropriate comments about the commission. The judge urged the two sides to negotiate.
At the commission's monthly hearing in August, they handed Stidham a $1,500 fine, held in abeyance for the 18 months of his probation, and his license back. Stidham's fine was not, however, tied to any of the 17 allegations. Leavitt acknowledged that the hearing process took too long. Nevertheless, "it was healthy to hear Mike's concerns," he says. The commission also now had "a heightened awareness" of the controversial relationship between Montanez and his promoter son.
Stidham called the commission's conciliatory tone "a drop in the bucket. A lot more needs to be done." He also worries about the future. "Starting over is very, very difficult," he says. He needs capital and to build new bridges with a cable network. He plans to return to the fight scene in October. When he looks back, he says, for all the people criticizing him, "They weren't able to do what I did. It was a very hard time, I cut corners," but he built an empire, albeit one that a number of people, not the least Stidham himself, ultimately dismantled.
Weiss argues that Stidham needs "to be cordial, more diplomatic," if he is to make a comeback. Stidham's recent declarations on his Friday-night radio show that he has changed have "to stand strong," Weiss says.
A.J. Stidham has faith her husband, whom she characterizes as part New York go-getter and part Spartan warrior, will rise from the ashes. "He's very bold, very brave and he's not a quitter. Even if it's sinking him, he doesn't quit. He's a fighter. That's what he is."
Click for a profile of Jose Haro, a promising young boxer who's trying to put Utah on the map—and promote boxing in an MMA-centric state
Click for a profile of Augustin and Mario Espinoza, two brothers pursuing MMA glory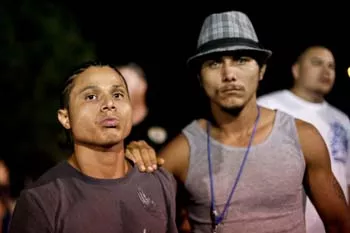 Click here for the behind-the-scenes story of the Pete Suaro Utah Athletic Commission