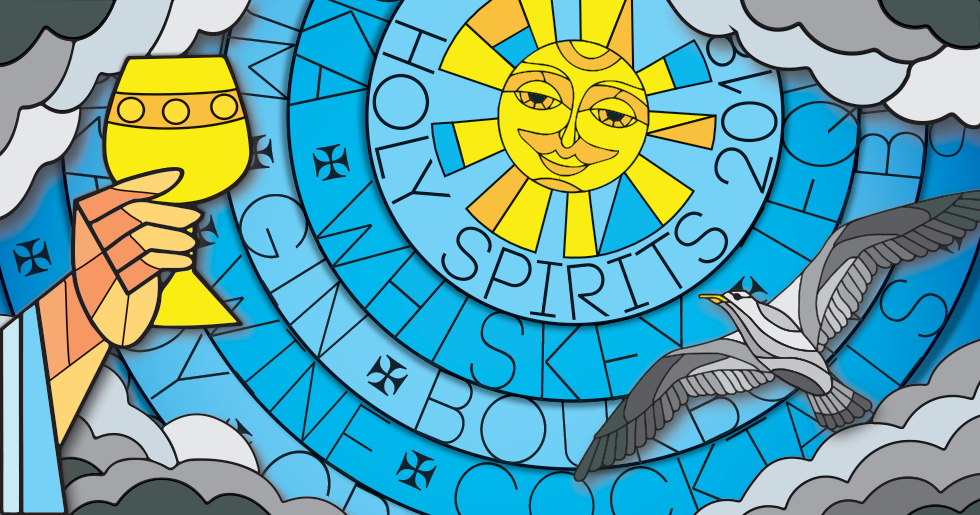 It seems like just yesterday when this intrepid booze writer was contacted by City Weekly's fearless editor and asked to assemble a comprehensive A-to-Z guide of all the goodly drinks action going down in Deseret. Now in its third year, this directory of delicious drinkables is a testament to how Zion's spirits culture has not only grown but is thriving with a capital T. No olive or maraschino cherry was left unturned in prepping this compendium, so hunker down with your favorite summertime drink and give it a go. If it's a truly immersive experience you're after, you might want to also crank up some tunes. In the spirit of so many retro '80s and '90s trends making a cocktail comeback, might we suggest you crank up C+C Music Factory's "Gonna Make You Sweat," and let the rhythm move you (get it?) on over to your neighborhood distillery, brewery or bar.
Sing it with me:
Ev'rybody drink now!
Courtesy New World Distillery
A is for Agave
Spirits 101: More than 200 varieties of agave plants grow wild throughout Mexico and the Southwest, and alcoholic products from this species include, yes, tequila, but also mezcal, bacanora, raicilla, sotol and a lower-ABV fermented agave nectar beverage called pulque. Distinctively smoky mezcal can legally be made with a bunch of different agave options, however, only the Weber blue (agave tequilana) plant may be used to make tequila. And much like Champagne or Cognac in France must be made in those eponymous regions with specific varietals, authentic tequila can only be produced in a small area of Mexico centered around the state of Jalisco. For a local connection, try top-shelf premium brand VIDA Tequila (vidatequila.com), a company owned by Utah-based Lisa Barlow, who's a huge supporter of our craft-cocktail scene or, head up 50 miles north to Eden's New World Distillery (4795 E. 2600 North, Eden, 385-244-0144, newworlddistillery.com) and see how 100 percent agave spirits are fermented and distilled on site by artisans Chris and Ashley Cross to make their distinctive Rabbit and Grass Agave Spirit and (a rarity) agave-based vodka.
Blue Curaçao
Huge-ass hair, leg-warmers, shoulder-baring slouchy sweaters, heavy eyeliner for everyone. Apartheid, the Cold War, Reaganomics. Oh, the '80s: how we love and loathe the era of Me First. Whether your early clubbing years started out in this incubator of neon-bathed nightlife or you're young enough to consider the scene "retro," SLC's beloved Area 51 nightclub has been the go-to spot for New Wave and Alternative nostalgia, pop and a helluva lot of fun. If you can't wait for Thursday night to get your cocktail fashion fix, pick up a bottle of that sticky sweet synthetic wonder known as Blue Curaçao, and add it to your vodka-soda highball for that singularly '80s appeal to the outrageous. Area 51, 451 S. 400 West, 801-534-0819, area51slc.com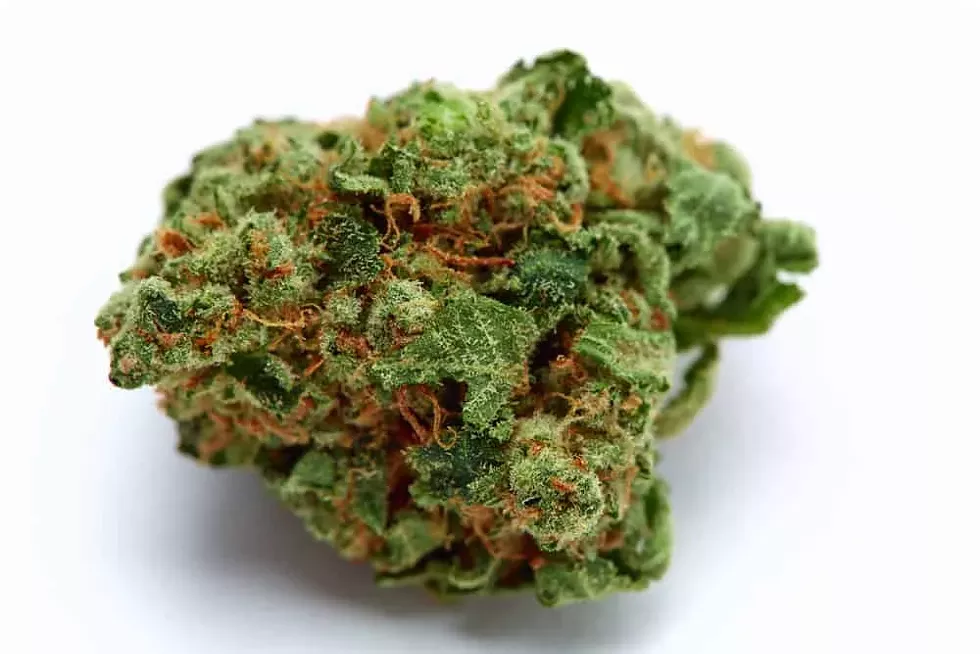 Cannabis
Cannabis-infused cocktails seem like the next big trend, right? Looking to our Left Coast neighbors for inspiration, it became immediately apparent that imbibing cannabis as an ingredient should be approached with a good dose of caution. Even recreational-use states have pretty strict rules about separating their marijuana and booze services. In an article parsing out the pros and cons of cannabis cocktails, bar industry mag Imbibe notes the biggest challenge (and this is talking in terms of home mixology) is that calibrating appropriate dosing still is a work in progress. Due to the solvent nature of alcohol and varying levels of cannabis strength found in the wild, you could be amplifying the sedative and psychoactive qualities of both ingredients. No bueno. But not to worry, the buzz in the bar scene indicates that there are plenty of bartenders out there doing the tough work of experimentation (note: several books on the subject are available on Amazon) to make sure that by the time Utah gets the green light on ganja, we'll know what's what. Until then, when in West Hollywood, check out non-alcoholic cannabis mocktails like the one at Gracias Madre (graciasmadreweho.com): their "On The Wagon" drinks menu includes a CBD Snowcone ($15) made with lemon, hibiscus, agave and non-psychoactive cannabidiol oil.
Courtesy Waterpocket Distilery
Digestif
... or apéritif: What's the diff? They're French terms describing when certain spirits are consumed while dining; in Italian, it's aperitivo and digestivo. Traditionally, European meals begin with an apéritif like sherry, vermouth or a lower alcohol cocktail served to stimulate the appetite. Digestifs, as their name implies, are imbibed following a meal to aid digestion (the beverages most synonymous with a classic digestivo are bracing Italian amari like Cynar, Fernet and luscious Averna). SLC's own Waterpocket Distillery makes a distinctive and complex digestif called Toadstool Notom Amari that's become an underground (and over-the-bar) hit with tipplers all over the state. "Like coffee to a kid, many hate bitter digestifs at first, but then find it's a standard adult pleasure they couldn't live without," Waterpocket owner/distiller Alan Scott, says. "Our senses signal warning with bitter flavors at first. But once you've crossed over, it's like realizing you've been looking at rainbows with only half the colors ... Finishing a meal with a classic bitter digestif like our Notom Amaro completes the picture." Scott recommends it as a classic pairing for a rich meal. I like it pretty much any time. Head to the distillery (2084 W. 2200 South, 385-202-5725, waterpocket.co) for the full experience.
Eat Drink SLC
Held each July among the cool tree canopy and entertaining fowl at Tracy Aviary, Eat Drink SLC (eatdrinkSLC.com) is one of our perennial favorite fundraiser/drinks events in a city brimming with great boozy fests. Looking for more opportunities to meet and sample sips from our state's growing cadre of brewers, distillers and winemakers? Mark your calendars for the ever-popular Taste of the Wasatch at Solitude Resort (tasteofwasatch.com) on Aug. 5, the fourth annual Made in Utah Festival (madeinutahfest.com) at the Gateway on Aug. 25 and Food & Wine Fest (saltlakefoodandwinefest.com) presented by the Salt Lake Area Restaurant Association takes over our salty city Sept. 13-16.
Flower
Flowery garnishes continue to grace both plates and cocktails with edible flair. Restaurants across the Wasatch Front have been fortunate since 2012 to source gorgeous veggies, fruits and flowers directly from Frog Bench Farms (frogbenchfarms.com), a private chef-oriented farm on SLC's East Bench foothills. Owners Paula and Joe Sargetakis and farm manager Stacy Semborski make a point that appearance has equal priority as flavor in everything they grow at the sustainable farm, which includes more than a dozen flower varieties like borage, marigold, lavender, nasturtium and viola.
Gin
... for the win! Only a handful of years ago, there was no such thing as Utah gin. Boy howdy, has that changed for the better! Within the popular spirits category, you can source local juniper-forward juice from all over the state. At the Beehive state's northern reaches, find Oomaw Gin from New World Distillery in Eden and Madam Pattirini from the 5 Wives Vodka bottlers at Ogden's Own. In SLC, Chris Barlow of Beehive Distilling has been batching up award-winning Jackrabbit and aged Old Tom-style Barrel Reserve (look for their brand-spanking-new distillery space off of West Temple in South Salt Lake opening for business soon!), and relatively new kids on the distilling block Hammer Spring Distillers have just released their first runs of Hammer Spring Gin, a botanical spirit with nice notes of sage and white peppercorn. Dented Brick Distillery now has two gins on distilling rotation, with a craft well gin that's as easy drinking as it is affordable, and their premium line Great Basin Bristlecone already is raking in critical praise in its first year of production. Thirsty for more? When in Park City, visit Alpine Distilling and pick up a bottle of their Summit gin for a pleasant surprise. And in recent years, Utah distilling has expanded south, with the fine folks at Moab Brewery throwing their hats into the hard-spirits pool with their latest venture, Moab Distillery. When at the shop (next door to the popular brewery) purchase a bottle of Spot On, made with crisp botanicals and water from the La Sal Mountains.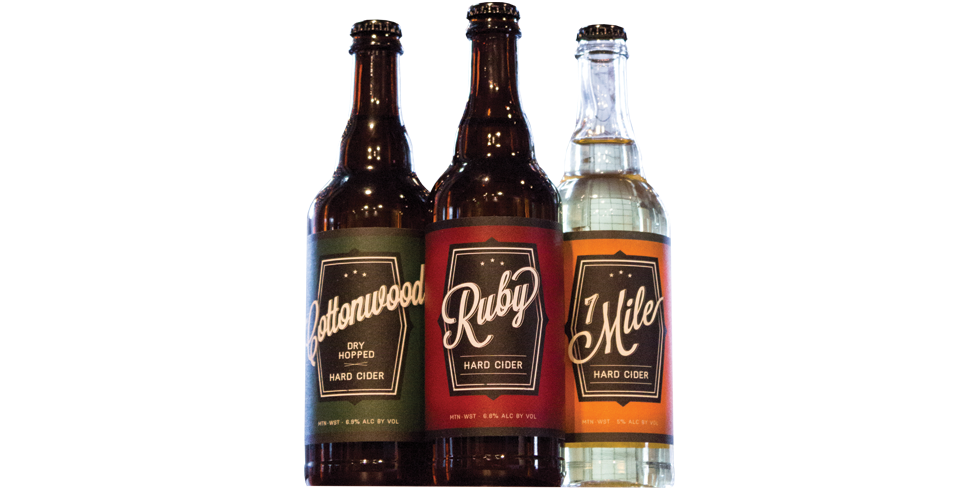 Courtesy MT West Distillery
Hard Cider
It's been brewed in the Americas since long before Johnny Appleseed embarked on his apocryphal mission of fruit propagation. In fact, hard apple cider was the most popular beverage quaffed in our nation's Colonial era, even more so than beer, wine or whiskey. In recent years, the refreshing beverage has made a big-time comeback, with fermented fruit ciders produced from coast to coast. Salt Lake's Mountain West Hard Cider (425 N. 400 West, 801-935-4147, mountainwestcider.com) makes a few delicious varieties of hard apple ciders, available by the bottle at state liquor stores, or try the whole lineup right at the source at Mountain West Cider's dog-friendly outdoor patio, The Garten, shared with the fine folks at Red Rock Brewing. For something unusual—with a nice citrusy zing and sweet melon notes—check out their Desolation Prickly Pear Hard Cider, infused with purée from the eponymous cactus fruit.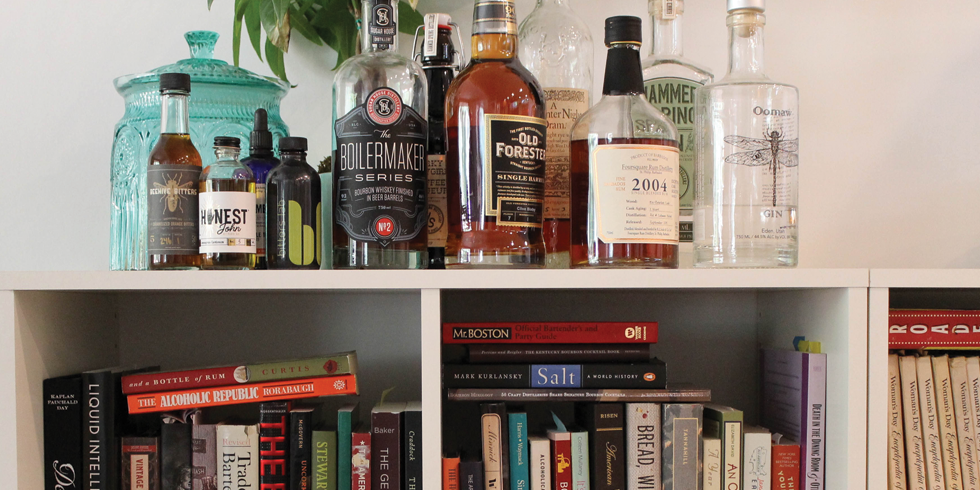 Imbibe!
Reading is fundamental, and this tome by David Wondrich, is one of the top 10 drinks-history books for any self-respecting home bar bookshelf. Part drinks history, part cocktail cookbook plus all sass and badass bravado, Wondrich's books are the boozy bridge between vintage bar guides and the rest of a geeked-out collection of global mixology guidance. As John Waters said, "Don't sleep with people who don't read." The cocktail corollary? Don't drink with people who don't have interesting stories; pick up (or download, you techie bastards) a copy of any of Wondrich's books and you'll be chock full of cocktail-party drinks knowledge.
Judging
... 24 cocktails in two hours and living to tell the tale. Last April, the Utah chapter of the U.S. Bartenders' Guild held its annual cocktail competition, hosted this year at the gorgeous Utah Museum of Contemporary Art and sponsored by Woodford Reserve whiskey. Along with UMOCA president Kristian Anderson and Brown-Forman sales manager Mark Kuehn (who knows a thing or two about whiskey), I was invited to be a guest judge to evaluate eight bartenders' drinks in three rounds. That's right. Twenty-four cocktails in just about two hours. Now, that doesn't mean we finished all those concoctions, but it was a nice night's work for my liver. Peep the USBG Utah Instagram feed @usbgutah for the 411 on this and future events, many of which are open to the public.
Competition winner Christian Saez shared one of his three cocktail recipes from the showdown, telling me, "The idea came from a smoothie I had in Manhattan, which was pineapple, cucumber and matcha. I thought it was super bourgeois and I paid $7 for it, so I named this cocktail the 'Woodford Bourbgeois.'" This whiskey sour variation was one of my favorites from the night (such as I remember it):
Woodford Bourbgeois
1 1/2 ounces Woodford Reserve Bourbon
1 ounce pineapple juice
3/4 ounce matcha syrup
1/2 ounce fresh lemon juice
Shake all ingredients with ice. Strain into a cucumber-shrub rinsed glass; garnish with an edible orchid and fresh ground cinnamon.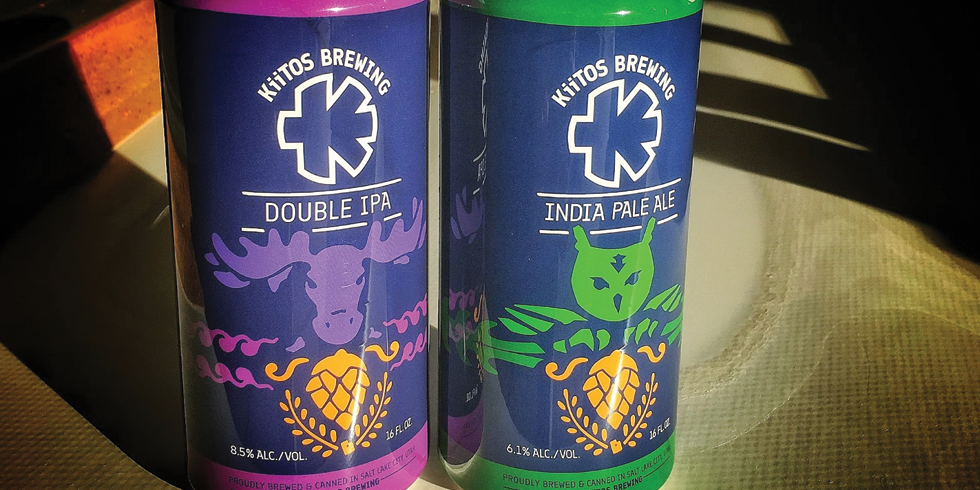 Kiitos
The fresh-faced brewery joined Utah's growing ranks of Beehive breweries last year, giving some serious cred to our cadre of craft brewers kickin' ass, takin' names and generally showing that our brewski-lovin' populace has cheerfully adopted a "more the merrier" sensibility. Hot out of the gate, the A. Fisher Brewing revival, as well as new ventures RoHa Brewing Project and 2 Row Brewing have added some diversity to the brewing buzz. Shameless plug alert: You can meet the folks from Kiitos and other stellar Beehive state breweries at City Weekly's own Utah Beer Festival (utahbeerfestival.com) Saturday and Sunday Aug. 18-19. Tickets sell out every year, so act quick.
Low ABV
Upscale sippers with reduced or no alcohol continue to gain ground. Although folks still use the term "mocktail," many bars have changed their selections to embrace the middle way, so to speak, including lighter aperitif cocktails like those popular in Europe at lunchtime on their menus; a nice option when you'd still like a pretty potion but don't want to return to work plastered—à la a liquid lunch. A while back, I spoke with Under Current Bar (279 E. 300 South, 801-574-2556, undercurrentbar.com) managing partner Amy Eldredge about the trend, and she said there are many reasons why bar patrons choose to eliminate entirely or limit their alcohol consumption and that, "the customer experience and the drink presentation should absolutely be of the same quality" as full-strength cocktails. Whether it's a completely booze-free juice spritzer or a lower-ABV vermouth aperitif cocktail, the experience is equally elegant as that of our friends who are ordering barrel-strength bourbon.
Mexican Wine
Specifically that hailing from Baja's Valle de Guadalupe have made a huge splash in the wine world in recent years. At just 90 miles south of San Diego, the region's wine geography has been compared to California's Napa Valley for both culinary experiences and access to estate varietals, with more than 150 wineries now operating. And it's fucking gorgeous. "It's just like being in Italy, except you're speaking Spanish," CW editor Enrique Limón says. And you don't have jet lag or, let's face it, the sticker shock of either Napa or Naples. Win-win. State liquor store brass: Start stocking it, please?
No Nonsense
Bartenders and bars that keep it real hold a special place in our hearts (and livers). For those times when we want our beverages served with a side order of zero fucks, here are some of CW staff's favorite watering holes:
1. Enrique Limón, Editor
Greg Arata at Junior's Tavern (30 E. 300 South, 801-322-0318) is the real deal. He's shared more stories with local media types than he has collectible hooch cans behind protective glass. The man knows how to pour a frosty one—and how to keep a secret, to boot.
2. Kelan Lyons, Staff Writer
I love the dimly lit backroom speakeasy at Bar X (155 E. 200 South, 801-355-2287), where bartenders will make you a mystery drink if you aren't feeling a more classic cocktail. Initially skeptical because Utah laws prevent bartenders from having heavy hands, I was pleasantly surprised by the taste and strength of each adult beverage. That is, until I had a few and couldn't taste them anymore.
3. Sarah Arnoff, Proofreader
One face familiar to me since the wee age of 21 is that of bartender Ed at the Tap Room (2021 E. Windsor St., 801-484-6692). He prefers just Ed, and his mix of surly and friendly demeanor has presided over the haunt for years. I spent many a long afternoon sipping a draft and playing Medieval Madness pinball in their narrow basement digs at their old Highland Drive location. That lovably dingy basement is long gone, paved over by the plan of progress. But the Tap's Windsor Street home has the same vibe, with just Ed still slinging drinks behind the much more spacious bar.
4. Ray Howze, Editorial Assistant
Everyone needs a go-to bartender in their life. When they walk into a place and the bartender knows your name and your drink of choice. Megan Brown and Marley Bramble at Murphy's Bar & Grill (160 S. Main, 801-359-7271) have kept our beverages flowing for years and sometimes all it takes is a nod of the head. As an Irish bar, they also know their way around an Irish Car Bomb or two. The dimly lit dive-bar salt-of-the-earth feel offers a chance for you to be yourself while Brown and Bramble—who don't take shit from anyone—and others keep your libations coming.
On Tap
At bars and restaurants all over town, you'll now find more than beer on tap. For example, Current Fish & Oyster (currentfishandoyster.com) has developed a delightful wine-on-tap program, with seasonally changing selections pairing with the popular restaurant's seafood-forward menu. At the lobby bar of the sleek and modern AC Hotel (225 W. 200 South, 385-722-9600, marriott.com/slcad), drinks manager Tracy Gomez has worked within prescribed DABC service rules to create an on-tap cocktail, which is part of the hotel's brand. During a recent visit to what's become one of my favorite new downtown spots to sip on a blistering summer afternoon, Gomez pulled from the tap a zippy spin on a classic Negroni, which she batches with Wahaka Espadin mezcal, Campari and Lustau Vermut. "It's definitely an assertive cocktail, smoky mezcal goes toe-to-toe with the bitter Campari but it's softened beautifully by the Spanish vermouth," Gomez says. She anticipates they'll be changing the on-tap cocktail every two months or so to keep things lively. Cheers to that!
Pisco
The brandy distilled in Peru and Chile from white muscat grapes is here to mix it up. In Utah liquor stores, the most popularly-exported brand is easily identified on the shelf by its famous black "Easter Island head" bottle shape. It's no surprise that cocktails hailing from pisco's countries of origin use bright, fresh flavors and quite a bit of citrus, such as the classic Pisco Sour. For a local spin on pisco mixology, head to Lake Effect (155 W. 200 South, 801-532-2068, lakeeffectslc.com) and try their Zion cocktail with Logia pisco, a touch of serrano pepper and lots of fruit-forward yumminess like pineapple gomme, mango and fresh lime juice.
Quickles
Aka quick pickles. In addition to being a fun word to say five times fast, you can add this technique to your Bloody Mary or Dirty Martini garnish repertoire for some serious cocktail cred (or, I guess, could spruce up a sandwich—your call). Rather than letting those fragile thin-skinned cucumbers turn to moldy mush in the fridge veggie drawer, make a few Iron Chef-worthy pretty knife cuts to make bias-cut thin ovals, or get out your mandolin or Y-peeler to create long wide strips of cucumber. No need to peel 'em first. Plop those in a clean glass-lidded jar with equal parts boiling water and vinegar (white, apple cider, champagne, rice, red wine, whatevs), plenty of kosher salt to taste, and the herbal profile of your choice. My faves? A few cloves of fresh crushed garlic, fresh dill, some black peppercorns and dill seed. Cool to room temperature, add the jar lid, shake well, refrigerate for at least four hours and shazam! You've got a pretty quick pickle (quickle!) that looks amazing threaded on a skewer accordion-style. Keep refrigerated for up to a week.
Rimming
As in specialty salts and sugars. Move over, margarita, there's more to coating the rim of a glass with salt for that something extra to take your summer beverage to the next level. Whether it's bacon-infused salts for your Bloody Mary brunch or citrus-packed sugar for boozy lemonade, a sparkly sassy rim on the glass kicks the whole experience up a notch. For some local flair, source your salts and sugars from our favorite Spice Gal at Aimee's Home Cookin' (aimeeshomecookin.com). You'll find her goods at the Downtown Farmers Market (slcfarmersmarket.org), at many local distilleries' package stores and at her pop-up market in Sugar House (2157 E. 2100 South, Ste. B).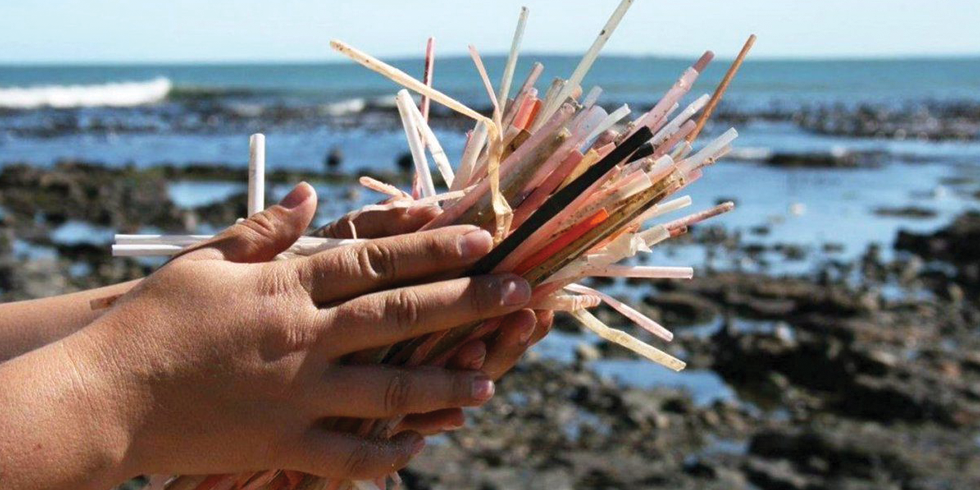 Straws Suck
Caveat: There are some legit reasons why some people need straws; after all the bendy-straw was invented to allow bedridden patients, especially those with jaw injuries, an easier way to slurp. But do you really need the two black stirring straws that for decades seem to have been served de-facto with every highball? Nope, and neither do our landfills or oceans, let alone the environmental cost of producing more plastic shit. Other options abound, just ask the folks at East Liberty Tap House (850 E. 900 South, 801-441-2845, eastlibertytaphouse.com). "If a drink needs a straw, we use paper," owner Scott Evans says. Hop on the straw-ditching trend now, that way you won't gasp as hard come 2020, when Starbucks ditches the pesky tubes for good.
Tiki Time!
I'll preface by saying tiki drinks have somewhat of a complicated history. They're this close to feeling like there might be some dubious cultural appropriation going on, but for the most part, the spirit of tiki is a pretty benign celebration of pan-Polynesian ingredients and American wackiness. So says a middle-aged white woman living in Utah (send your rage to comments@cityweekly.com). Longing for a taste of the South Pacific closer to home? Central 9th's Water Witch (163 W. 900 South, 801-462-0967, linktr.ee/waterwitchslc.com) has you covered. "Sunday has become a great drinking day in SLC, and it's evolved into a big tiki party at the Witch," bar co-owner Sean Neves says. If you can't make it over there yourself, the hilarious videos they post to their @waterwitchslc Instagram feed show these guys might be serious about their drinks, but they don't take themselves seriously. At all. I asked barman Mike Wright to throw together a drink that he thinks represents Tiki Sundays at the Witch and I was not disappointed with his "The Blue Bird" tiki tipple.
The Blue Bird
1 ounce El Dorado 3 year rum
1/2 ounce Don Q coconut rum
3/4 ounce pineapple juice
3/4 ounce Blue Curaçao
1/2 ounce lime
1/2 ounce coconut simple syrup
Buzz with crushed ice and serve in wine glass. Garnish with lemon wedge and a paper flower. "The lemon is a color-contrast garnish. It looks cooler," Wright says, "it's gotta look cool." Damn right it does.
Utah's Badass Women Bartenders
A while back, a cover story in City Weekly ("Speed Racers," Jan. 25), profiled the feisty Utah contingent of 10 female bartenders who traveled to Phoenix last spring for the annual Speed Rack bartender competition. Started in 2011 as a fundraising event in NYC to champion professional women bartenders' skills, the competition has taken a badass fundraising/advocacy turn. "They raise a shit-ton of money for breast cancer programs," homegrown Speed Rack competitor Jessica Sandberg says, noting that the now-international events exceeds $100,000 in raised funds each year. As expected, the Utah posse kicked boozy booty in the speed rounds where each contestant prepared four cocktails on the fly in head-to-head (or shaker-to-shaker) elimination, with Sandberg making it to the quarter-finals. She shook up an Irish Rose that one of the judges said was the best she'd ever had. And she did it in just more than a minute while also making three other on-point cocktails. No biggie.
Variety
It is the spice of life after all, which is why it's becoming more difficult every year to pick a "favorite" Utah whiskey brand. As mentioned before in these pages, the local/regional booze world is a pretty spot-on slice representing the spirits industry overall, with some brands purchasing spirits distilled in Kentucky and Indiana and re-bottling with their own labels (a common practice that still blows people's minds), whereas other brands choose to monitor the entire process from milling the grain for their whiskey on-site, fermenting with custom yeast and aging the distillate in their warehouses (bless their OCD hearts). Some brands do a bit of each strategy, depending on the spirit. In addition to now-established whiskey makers High West, Sugar House Distillery and Outlaw Distillery, last year, Waterpocket Distillery bottled a really delightful Robber's Roost Light Whiskey. For those palates that prefer sweet fruit-flavored whiskies, Alpine Distillery in Park City makes Lafayette spiced whiskey with apricot, primrose and cinnamon. From the folks at Ogden's Own, they're bottling three flavored whiskey options in the "Porter's" line-up: Porter's Peach, Apple and spicy Fire Canadian whiskey. In the classic easy-sipping bourbon category, look for Utah-owned brand Black Feather Whiskey, a super-smooth sauce that goes down easy neat. It's also equally nice on a sweltering night with a bigass ice cube, dash of bitters and splash of soda.
Courtesy Fox School of Wine
Wine & Mines
This quirky tour at the hands of Park City's Fox School of Wine (foxschoolofwine.com) should move to the top of anyone's "entertain the visiting relatives for an afternoon" list. The three-hour chauffeured trip around the historic mining sites of Park City starts at the Montage at Deer Valley and ends beside what was once the mining boomtown's red light district. Along the way, "Headmistress of Wine" sommelier Kirsten Fox narrates an entertaining af and informative tour of the mountain town's history, with six thematic wine pairings—and snacks to boot.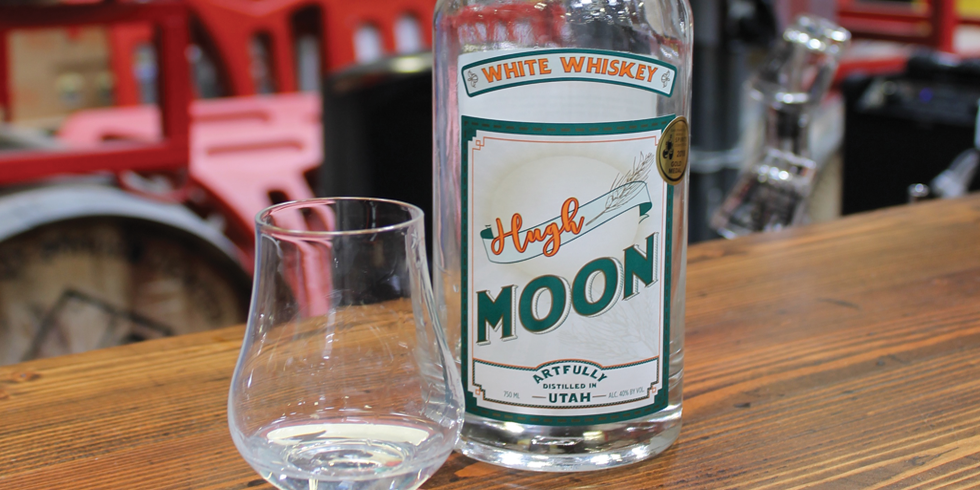 XXX
It's about time locally produced moonshine gets some love. Did you know that Utah's first and largest-producing distiller back in the day, Hugh Moon, was one of Brigham Young's famous band of bodyguards, The Sons of Dan? That is until Young decided the church needed to get out of the distilling business and he basically backstabbed Moon by sending him on an extended mission. The legend goes that while Moon was in exile, Young confiscated all of his hooch-making equipment and supplies, essentially bankrupting the family. Dented Brick Distillery is built on one of Moon's old properties containing the original well used to make whiskey, and released Hugh Moon White Whiskey, an unaged spirit made with 100-percent locally-sourced unmalted rye in honor of his great history in Utah distilling. With a little searching, you'll find quite a few Utah distilleries making limited releases of "white dog" unaged whiskey, which is basically whiskey before it hits a barrel (resting in barrels is what turns whiskey it's distinctive amber color). Sugar House Distillery makes a grain-to-glass New Make Whiskey with the same mash and process used to make their bourbon. Up in Wanship, High West Distillery bottles Silver Western Oat Whiskey, an oat and barley whiskey that barely touches the barrel.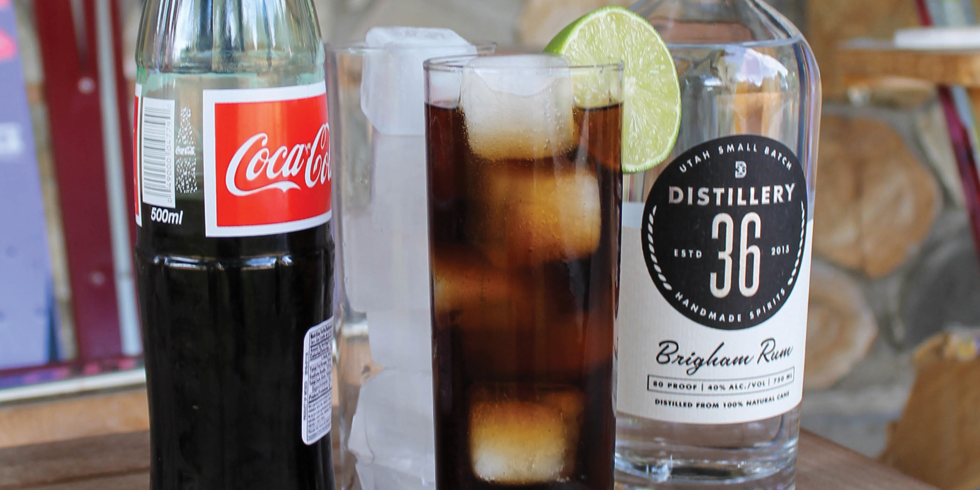 Yo-ho-ho
... and a bottle of rum. There are times when a quick and easy highball (liquor + fizzy something over ice = highball) is about all the creative cocktail energy that a weary wordsmith can muster on a hot-as-blazes afternoon. Enter the Cuba Libre. Essentially, it's a rum and coke with a squeeze of lime, you know, to keep it classy. Ideally, you'll be using a local white rum like one bearing the cleverest name in all the land: Brigham Rum from those masterminds at Distillery 36 (2374 S. Redwood Road, 801-983-7303, distillery36.com). Seal the deal with a full-strength Mexican Coke from a glass bottle and say, "Ahoy!" to good times.
Zion's Foibles
Oh, Utah. Just when we thought things were starting to be a little more "normal" around the restaurant/bar world—with those weird Zion curtains coming down and restaurants getting to pitch their confusing "this is not a bar" signs—the state throws a whole new set of WTF variables in the mix. I followed up with my favorite liquor lawyer Tanner Lenart with the firm Christensen & Jensen about what she considers to be the head-scratching highlights of her work. Two of the biggest misses of the season? "The multiple meetings I had about the definition of a wall, and whether a wall can have a door, or a window, or be glass, or made out of lattice." Sounds like a big waste of a lot of people's time. Lenart also finds issue with the arbitrary way some state legislators have defined restaurant spaces, saying, "I've never heard any rationale behind the 10-foot rule for where minors can sit in a restaurant. There's no basis for that number, or any evidence that minors sitting at different seats in a restaurant have a propensity to drink any more or less when they come of age." Amen, sister. Now, we hope our representatives will hear our perspective, too.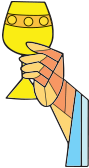 You can read more about the attorney in a profile by CW staff writer Kelan Lyons
("Her Best Shot," May 3)
regarding the latest liquor lunacy at the legislative session and Lenart's collaborative art project using recycled "This is a restaurant" signs.
To all the fine folks of our frequently befuddled Beehive, let's raise a toast to the weird, wacky and wonderful world of Utah's spirits. And, to the people who make, serve and imbibe them, we say a hearty cheers!