Page 5 of 10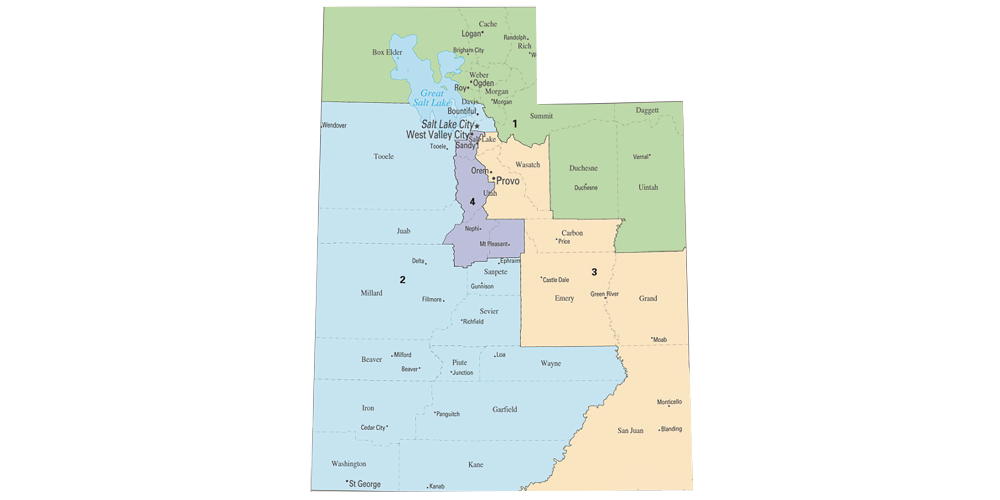 Divided
Will an independent commission help Utah's political boundaries?
By Ray Howze
Are our political boundaries gerrymandered?
That might depend who you ask. But take one look at Holladay and you might get an idea.
The city of about 30,000 is split up into four state House seats, two Senate seats and two congressional seats.
"It [the city] could fit into one district," Blake Moore, Republican co-chair for the Better Boundaries initiative, says. "But why? That's the question. I believe that has been done in order to unduly favor a potential candidate, creating a safe district ... you're not going to keep Salt Lake together but there's no reason for a place like Holladay to be cut up."
The Better Boundaries initiative, also known as Proposition 4, would create an independent citizen-led commission to recommend new political boundaries to the Legislature following the 2020 federal census.
The hope is that it would encourage transparency and avoid gerrymandering, Natalie Gohnour, director of the Kem C. Gardner Policy Institute at the University of Utah, told a voter-education panel in October.
"I think there's considerable evidence that political bodies draw these boundaries in ways that favor people they like," she said at the panel. "Better Boundaries is saying, 'Let's not try to cut out Summit County; let's let it stay whole rather than divide up all the Democrats'—this is the kind of nonsense that goes on."
That "nonsense" could be diminished by the seven-member redistricting commission, proponents say. Members from both political parties would be appointed by lawmakers. But the Legislature would have the final say in drawing any new boundaries. Would that create better boundaries? Moore, who acknowledges he's in the majority when it comes to Utah politics, says the change would reduce public criticism of the Legislature.
"You've removed the conflict and you've added in governing principles," Moore tells City Weekly. "You're doing the opposite of eight years ago or what's been done for the last century."
Following the 2010 census, Utah's four congressional districts were cut into what some describe as a pizza or pie, splitting up Salt Lake County and effectively diminishing Democrats' ability to win a district in the heavily-red state. In September, the Salt Lake Chapter of the League of Women Voters held a "Gerry-Meander" 5K that crossed Utah's four congressional districts nine times, trying to show people how the city has been divvied up. While Moore says the commission would still be predominantly Republican, Rep. Todd Weiler, R-Woods Cross, has said he thinks it's a way for Democrats to gain a U.S. House seat.
"I don't think this is about political gerrymandering. I think this is about the Democrats getting a seat in Congress—a guaranteed seat that they can't lose every election cycle," Weiler told KUER 90.1 FM. (Meanwhile, Democrat Ben McAdams could beat Rep. Mia Love for a congressional seat Nov. 6)
Frank Pignanelli, a Democrat and political advisor, however, told the October panel that idea can go both ways.
"It's not just Republican or Democrat," Pignanelli said. "What it is is that the state is changing—Salt Lake City is a Democratic city and the east bench tends to vote predominantly democrat—but I don't care what commission you have, I don't care what happens, they're [Democrats] going to get nailed."
Whether the new boundaries result in a Democrat winning a congressional seat state-level office, though, might not be known for years and it will come down to Utah's changing population, as Pignanelli points out. And as Moore says, "Republicans are in control of everything statewide." But he emphasizes Prop 4 would at least add more input to the process.
"I want voters to know that the group behind this is nonpartisan and bipartisan," Moore concludes. "What we literally just care going forward is that we can be proud about what's going to be done [to boundaries] in 2021 and 2031 and say a state like Utah was definitely willing to do this."
With information from Kelan Lyons