Former Salt Lake City Mayor Rocky Anderson is tired of all the talk about city and state flags. And it's not because the banner that's been flying outside the City and County Building since 2006 was created during his administration.
"We have truly existential threats facing us that need to be met on a local level," he says, referring to climate change and air pollution. "And our local media and citizen administration is obsessing about flags."
Anderson is decrying the mayor's recently concluded survey that asked residents for help creating a new city flag, and all the ink local media has spilled shit-talking Salt Lake City's current ensign. "I wouldn't describe a public process asking individuals about the flag as an obsession," Matthew Rojas, spokesperson for sitting Mayor Jackie Biskupski, says. "The city is not taking its eye off the ball on any number of issues."
However, one of those issues is a quest to improve upon the city's current flag, described in a summer 2017 City Weekly cover story as a "clipart beach towel atrocity." Haven't seen it? Imagine two remarkably tepid colors stacked horizontally into two stripes. Superimposed over the shades of Technicolor vomit is an attempted rendition of Salt Lake City's underwhelming skyline, behind which lies an inexplicably green-and-white mountain range. Below the silhouetted buildings—presumably in hell, where some say this flag belongs—are the bolded words "Salt Lake City," lest anyone fail to grasp that the banner is meant to represent the Utah capital.
As of Dec. 20, almost 2,000 people had taken a survey that probed their thoughts on what, if any, changes should be made to the municipality's standard. Three-quarters said they think the city needs a new flag. "That comes from a place of really wanting to show pride in the city," Rojas says. "It's a representation of who we are as a community."
The poll asked respondents to rank six symbols in terms of how much they want to see them represented on the flag. The top three were the surrounding physical landscape (the mountains or the Great Salt Lake), followed by Salt Lake City as Utah's capital, then indigenous cultural representation.
Despite his opposition, Anderson was one of the many who participated in the mayor's poll. "I think I asked to clean up our air," he recalls. "And forget about the flag."
Now that the questionnaire is closed, Rojas says the city's next steps begin in January, when amateur and professional artists can submit sketches based on the poll results. "Anybody can submit a design," Rojas says, but the finalists will likely adhere to the five fundamentals that all good flags should follow: two or three basic colors; no lettering or government seals; an original design that doesn't duplicate other cities' flags; meaningful symbolism; and a composition so simple that a child can draw it from memory.
The principles were popularized by Portland native Ted Kaye in his book, Good Flag, Bad Flag, and in an episode of the podcast 99 Percent Invisible. "The idea of doing a survey first before they even get into designing is unusual," Kaye tells City Weekly, speaking highly of Salt Lake City's inclusivity in its design process. "It's going a step farther to ask people about what symbols or symbolism ought to be included in the new flag."
Kaye will help the city narrow down its options after residents submit their concepts in early 2019. The public will then individually rate five finalists on a 10-point scale.
After the second round of public input, the mayor and council members will weigh in before ratifying a new banner. "The design contest is the way to go because it really does build community support for the flag," Rojas says. "You will see some design by the spring."
Jorrien Peterson has already started brainstorming new flags and sharing them on his Instagram account. "As a designer, when you see something that doesn't work, you want to redesign it," the local graphic artist says. Peterson stresses he's not saying his concepts should be the new banner; he just wants to show there are better options out there than what currently adorns official flagpoles.
It's a crusade he and his wife have been waging since the summer. They collected more than 1,000 signatures online and at the Downtown Farmers Market in favor of changing the city's current ho-hum design. "We wanted to show the general residents of Salt Lake City, 'Hey, we have a flag, and it's not that great. It doesn't do what a city flag is supposed to do,'" he says. "A flag is supposed to represent a city."
Peterson says the best city flags—considered by him and other insiders to be Washington, D.C.'s and Chicago's—are clean, minimalist designs. Aesthetics aside, the reasoning is practical: it costs more to mass-produce a banner with a complicated scheme. Peterson says flags play a big role in a municipality's branding efforts. "It's a visual representation of the city that could be applied throughout merchandise and tourism."
The city's original flag, which looked more like a "Mormon Sunday School" banner, according to former Mayor Rocky Anderson.
There's also an intuitive logic for sticking with a simpler scheme, Peterson adds—it's tough to spot small details or read words when a flag is waving in the wind. "Symbolism and minimalism," he summarizes, "you can't have a lot of detail."
An outspoken critic of the Biskupski administration, Anderson says he likes the current flag so much that he'd put it on a coffee cup. He says when he was in office, he wanted to get the flag redesign off his plate so he could focus on more substantive issues. "It was a way shorter process than what this has already taken," Anderson says.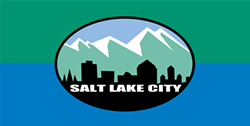 The city's current flag designed during his tenure.
His recollection of the timeline is fuzzy, but Anderson was similarly exasperated by all the flag hubbub when he was mayor. A 2006 article in the Deseret News notes that Anderson had been pushing for a new flag for two years before the city council approved the then-zippy design. More than 50 drawings were submitted during an open call for ideas. Unimpressed with the finalists, the council rejected the contest winner's sketch and formed a subcommittee to work with Anderson's office and come up with a new rendering. "We're talking about a flag here," Anderson told the council in 2005, a full 20 months before they agreed on what's now flying outside City Hall. "Some of you are asking way, way too much of a flag."
Whatever new design is ratified by city officials will be the city's third. Anderson describes the banner his office replaced as "religious propaganda." He'd pushed for an ensign that better reflected SLC's changing culture than the one that had been around since the '60s—an homage to the pioneers that looked like it was drawn by a child with two broken hands. "When I was elected, our city flag looked like a Mormon Sunday School," he says. "It was truly an embarrassment."

Banner Decisions
Prompted by City Weekly, six local artists have a go at creating the perfect SLC flag.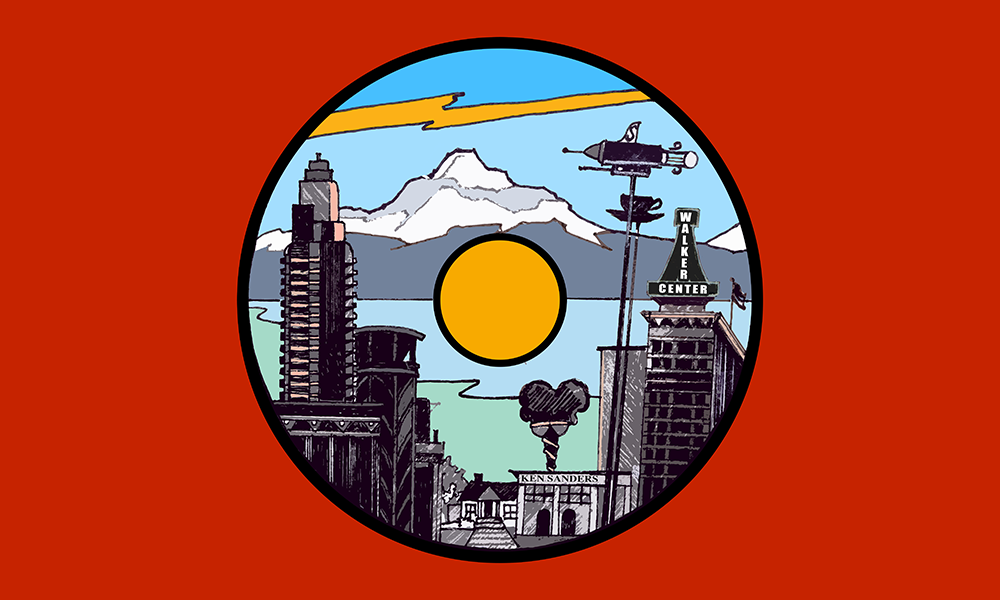 "When I did the piece for the 337 Project entrance, I did a big coffee cup and a big donut that was a tractor wheel covered with cloth as a Willow pattern of Salt Lake. The idea was that SLC was the 'Big Donut' rather than the Big Apple of NYC. I'm not sure what the hole in the middle represents; we can ponder that. When [City Weekly] suggested the flag idea, and I saw the current one—a computer-driven boring image with no character whatsoever—it reminded me that I'd thought about SLC/donut and it was not unlike the oval on the flag, so I decided to play with that. But SLC is never those dull colors. I wish that when they do proper stuff like this, they would get wild and show some character."

— The Beatles' Sgt. Pepper's Lonely Hearts Club Band album
cover co-creator Jann Haworth and Alex Johnstone
"The majority of Salt Lake City isn't Mormon, yet that's mainly what we're known for and who we're ruled by. Seeing as we can't escape our own history, I say we embrace it. The Joseph Smith sphinx at Gilgal Gardens is the perfect symbol for this acceptance—strange, kinda scary and pieced together from bizarre interpretations of other cultures. Our state bird, the seagull, inhales the sweet scent of industry atop the idol. It's a nice day, so we can catch a small glimpse of the enchanting mountains that guard our flourishing home."

—Robin Banks, Best of Utah 2018 cover illustrator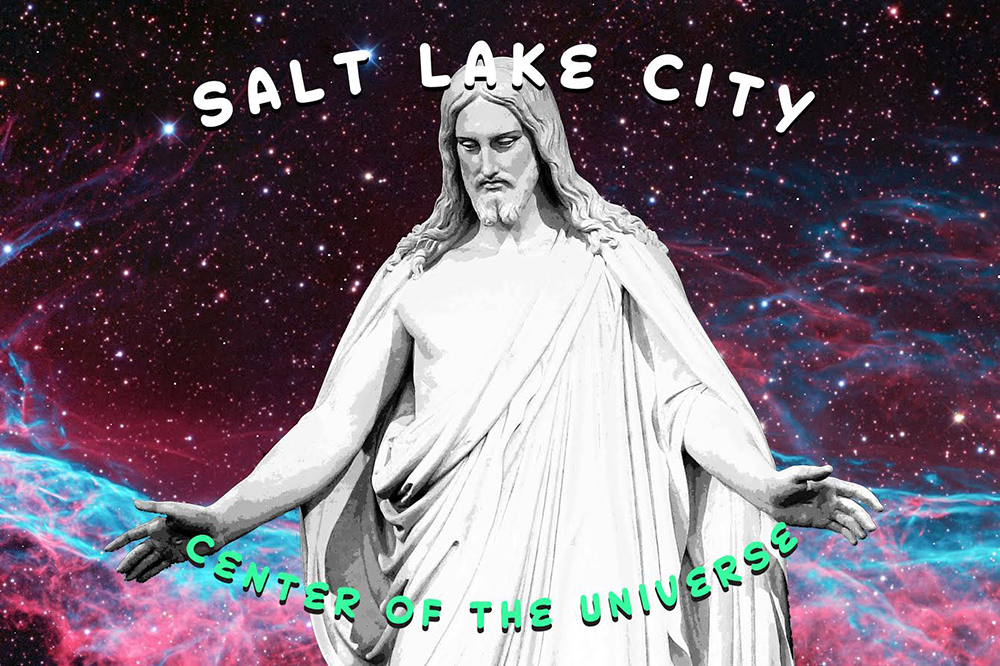 "Whenever people visit from out of town, I suggest they visit the Space Jesus at Temple Square's North Visitor Center to experience the center of the universe."

—Trent Call, artist and illustrator
"I wanted to make a flag about our community. When I think of the reasons why I continue to live in Salt Lake City, it's because of our community—our queer community, our trans community, the artists and people of color. When I think about the future of this city, it seems so uncertain, but at the same time it doesn't. We know that the city is growing; we know that there are many issues that we are facing, like gentrification and inversion, and I don't really know what the city will look like a few years from now; I don't know what kind of city we are leaving behind for our children. But what I do know is that, no matter what, we have each other—all we have is each other ... that is what will make all of the difference in the long run."

—Ella Mendoza, artist and activist
"Since road and other construction never seems to stop, I thought our flag should show just that."

—Sean Hair,
City Weekly
graphic artist