Page 10 of 11
FUNNING FOR OFFICE
Political movies to amuse, inspire or otherwise distract from the election year.

By Scott Renshaw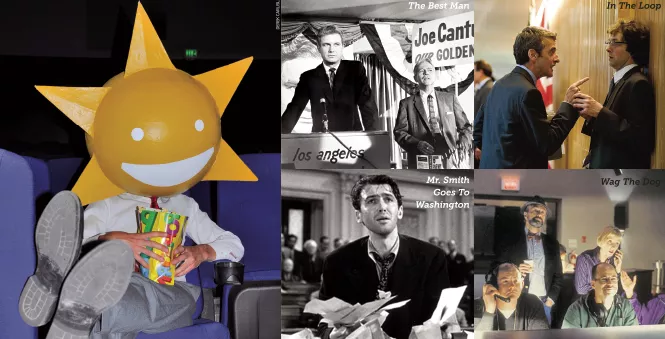 Some day, believe it or not, the 2016 presidential campaign will end. There will actually be an election day, and for a few blessed months, we'll return to a world where we aren't reminded of the 24-hour circus that is American politics.
But for now, while that circus is still sending in the clowns, perhaps the best you can do is find ways to laugh at it, or cling to the faint hope that something good and decent can emerge from those who wish to lead us. As a tonic against all the toxic, here's a film festival of movies that have managed to extract laughs—though often bitter ones—from the craziness of our political life, and even a few with enough optimism to believe not every politician or aspiring politician is a walking horror-show.
Gabriel Over the White House (1933)
Based on an anonymously published Depression-era novel, this has to rank among the most bizarre political films ever made. Walter Huston plays Judson Hammond, a just-elected conservative whose let-them-eat-cake platform regarding America's unemployed and homeless takes a 180-degree turn after he awakens from a coma with policy inspiration that may be heavenly. What follows is essentially an apologia for benevolent dictatorship, as Hammond proceeds to declare martial law and subtly threaten foreign countries in order to get what he thinks is right. While the script takes some appropriate shots at party-over-people politics, it never suggests that Hammond is anything but heroic in his principled shredding of the Constitution. If nothing else, Gabriel encourages skepticism of uncompromising leaders who claim to be on a mission from God.
Mr. Smith Goes to Washington (1939)
It's been lumped in with the rest of director Frank Capra's films as hopelessly corny, but like most of Capra's movies, it's spikier than advertised. James Stewart plays Jefferson Smith, the idealistic young scoutmaster appointed to a vacant Senate seat by his state's corrupt political machine, under the assumption that he'll be a patsy for their plans. Smith surprises them with his refusal to bend, of course, including an epic filibuster that builds to the film's climax. But the heart of the story is Smith's impact on those like his seen-it-all secretary (Jean Arthur) who start to believe that corruption may not be an inevitability. The most inspiring thing about Mr. Smith isn't that one person can stand against the system, but that one person's stand has the power to inspire so many more.
The Best Man (1964)
Gore Vidal adapted his own 1960 stage play in this portrait of the contested convention of an unnamed American political party, where the two front-runners for the presidential nomination are flawed, conflicted Secretary of State William Russell (Henry Fonda) and cutthroat Communist-hunter Sen. Joe Cantwell (Cliff Robertson). Vidal peppers the dialogue with stingers that still feel relevant 50 years later, like the appeal of a wealthy candidate to voters because "they figure you've got so much money of your own, you won't go stealing theirs," or the need by candidates to "pour God over everything, like ketchup." But as densely as director Franklin Schaffner textures this story with details of glad-handing and would-be king-makers, this is essentially a morality play, with terrific central performances by Fonda, Robertson, Lee Tracy (as a folksy but ruthlessly savvy ex-president) and even comedian Shelley Berman in a study of what it might look like if someone valued his soul over winning an election.
Being There (1979)
The political component is just one part of Jerzy Kosinski's broader swipe at American life in the mass-media age, but it's still indelible more than 30 years later. Peter Sellers' performance as simple-minded, raised-on-television gardener Chance—who stumbles into the world of Washington, D.C. politicians and power brokers—was one for the ages, finding a heart in deadpan blankness. And as he obliviously rises to find himself on the cusp of being handed the reins of power, it's hard to shake the contemporary relevance in both a woman who reluctantly admires Chance's oratory ("Keeping it at a third-grade level, that's what [the people] understand") and the incredulous response of the African-American housekeeper who raised him ("All you got to be is white in America").
The American President (1995)
Writer Aaron Sorkin's warm-up for The West Wing—including a role for Martin Sheen and dialogue-dense walk-and-talk scenes—was this romantic dramedy starring Michael Douglas as a widowed president whose re-election prospects run into trouble when his relationship with a lobbyist (Annette Bening) turns his "character" into an issue. Sorkin packs the narrative to the rotunda with policy details and trademark sermonizing, including a final speech that turns Douglas into an absurdly idealized version of progressive Chief Executive-ship. That makes it pretty impressive that the film works so well simply as a romance, built on the charm of two ultra-competent people finding themselves in a scenario that makes everyone involved uncomfortable. It may be sheer fantasy as politics, but if rom-coms don't exist to be fantasy, what are they for?
Wag the Dog (1997)
Brutally funny and scathingly cynical, this ultra-loose adaptation of Larry Beinhart's novel posited a premise that hardly even seems improbable now: What if the staff of an American president, faced with a potentially crippling election-year scandal, manufactured a war as a distraction for the American people? The details are hilariously unsettling—including faked footage of war crimes, and a "We Are the World"-style inspirational anthem—in a concept based on how easy it is for master manipulators of the media to twist public perception. But the unexpected soul comes from Dustin Hoffman's phenomenal performance as the Hollywood producer whose unshakable "This is nothing" confidence in the face of every setback collides with his ego, and a lack of understanding that the show-biz in politics depends on those who can never take credit for it.
In the Loop (2010)
Armando Ianucci's acidic perspective on the behind-the-scenes chaos in politics made the transition from The Thick of It toward Veep in one of the funniest scripts of the last decade. A low-level British minister's on-air goof sets off a ripple effect of spin-controlling, ass-covering and turf-warring, much of it orchestrated by the Prime Minister's foul-mouthed tornado of a communications director, Malcolm Tucker (the magnificent Peter Capaldi). What follows is a symphony of instantly iconic one-liners (changing meeting minutes to be "a more complete record of what should have been said") and a look at how many of the world's most crucial decisions might be based on in-fighting and dick-swinging.