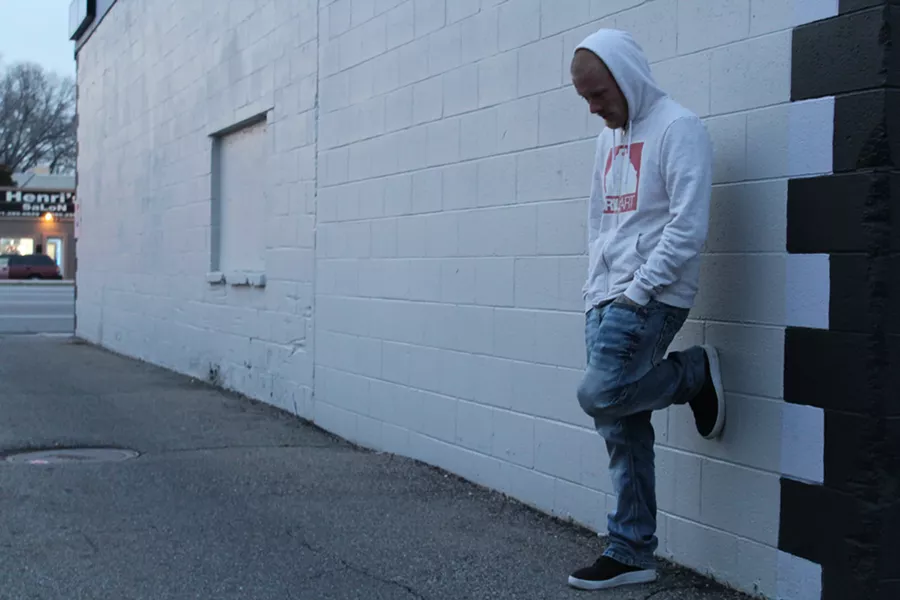 A drab outer wall on a South Salt Lake strip club has become the unlikely battleground for esoteric ideas. When artistic expression, property rights and city restrictions clash, for example, which will win out? But the heart of this dispute rests on one pivotal question: Are murals synonymous with signs?
The State Street establishment, called the Exotic Kitty, has been open for about a year. While owner Tommy Eddy was renovating the interior and fixing a new sign out front, he decided to liven the building's south wall—a blank cinder-block facade. So, Eddy reached out to a renowned mural artist, Shae Petersen, who calls the Salt Lake Valley home.
"I'd seen his artwork on 33rd," Eddy says. "And I fell in love with his stuff."
Eddy says his proposal to commission a large mural was initially approved, and Petersen began composing a draft. Petersen then sent a copy to members of the artistic community and the city. Awash in purple, the mockup features a panther in the foreground. Behind the cat, a sultry woman hooks her thumb through her blouse's shoulder strap and gazes into the distance. Paint streaks fill in the space around the edges.
Courtesy of the artist
Petersen's draft for the now halted mural.
Before he began, Petersen awaited the city's final approval—which he thought was a formality.
Then on Oct. 2, South Salt Lake City Planner Alex White sent a letter to Eddy explaining that under city code "the sign you seek to have painted on the exterior of Exotic Kitty is not permitted."
It seems signs for sexually oriented businesses in South Salt Lake are more restrictive than those on other businesses. A city ordinance specifies: "No descriptive art or designs depicting any activity related to or implying the nature of the business is allowed. Signs may contain alphanumeric copy only."
But is a wall mural a business sign? Eddy says no. When he hired Petersen, he says, he didn't give the artist any direction, and the resulting image emblazoned on his building could have been anything. Petersen concurs.
"I like painting animals, and I like painting women's faces," Petersen says, standing next to the club's blank wall Friday evening. "It's fitting. It's not like [Eddy] said, 'I want this.'"
The story is drawing attention to the obscure South Salt Lake ordinance. After City Weekly posted an article to its website last Friday, Petersen received calls from other outlets, he says. News cameras arrived at the strip club while Petersen detailed where the mural would go.
Both Eddy and Petersen suspect the city is trying to nix the project because it doesn't want to draw attention to a sexually oriented business in its midst.
"It's pretty prime real estate in a pretty high-traffic area. Ultimately, if there is a fancy new mural on the building, their concern is, 'Oh they're going to notice there was a strip club here that has essentially been here for years and years,'" Petersen says, adding "There are no ordinances regarding murals. That is the shady thing they're trying to pull is by saying, 'Oh, it's a sign.'"
And if the woman's bare shoulder is too salacious a visual, Petersen says that needn't be a deal-breaker.
"I'm not necessarily tied to one specific image," he says. "I'm more than happy to make accommodations or adjustments to the design. Really, I'm willing to change it or adjust it to where they're happy. We're at a point where they're saying, 'We don't care what you want to paint—you can't paint it.'"
For Eddy, this city's decision fits a seemingly anti strip-club pattern. When he first attempted to license the Exotic City, he says, a municipal employee told him not to waste his time because the city wouldn't process it even though the building has been a strip club for decades. He went ahead anyway and was successful. Once established, Eddy found more regulatory stumbling blocks. He says it took weeks before he could get a sign attached to the front, and he was forced to repaint the exterior. Initially, he painted the establishment an earthy purple, he says. It wasn't until he had finished that Eddy was contacted by a city official and told he needed to repaint it or risk losing his license.
"They told me to pick a warm gray," Eddy says. "I didn't get a choice of anything else."
Calls and emails to South Salt Lake City Planner Alexandra White went unanswered. A call to the front administrative office was transferred to the mayor's office, where an unanswered voicemail message was also left. When reached via phone, South Salt Lake Director of Community Development Michael Florence said he couldn't comment while Petersen's appeal to the city was still pending, and said he had nothing to add regarding general questions.
The strip joint and the artist aren't lying down, however.
On Dec. 14, Petersen set up an online petition. Within 24 hours, his cause had racked up more than 1,500 signatures, ammunition he hopes will help when he meets with the city in mid-January. He's also lawyered up.
A mural, Eddy says, would not only make the building more aesthetically pleasing but also protect the property from graffiti. "The purpose of those murals is to keep people from tagging walls," he says. "They won't want to spray paint the building out of respect for the art. I already had to clean up graffiti in the back."
Fittingly, Petersen learned the trade as a pre-teen who became engrossed in illegal graffiti. As he got older, however, he stopped tagging and eventually settled into a career in web development and design. But around 2007, he started to feel an artistic itch. "For whatever reason, I decided I wanted to paint again. I had to learn all the new paint and the new caps," he says. Petersen soon honed his craft. About five years later, he stopped doing traditional graffiti lettering and pushed himself to paint realistic (or surreal) images. He went under the moniker SRIL.
Petersen's first big break was in 2013 when he painted two pieces—one inspired by Breaking Bad, the other by Fear and Loathing in Las Vegas—for Club 90 in Sandy. Two years later, he did a wall mural on 3300 South that featured Greek gods. Petersen posted the image on Reddit, and it racked up millions of views. In South Salt Lake, Eddy noticed the piece and immediately became a fan.
Petersen relocated to Las Vegas about a year ago, but has since moved back.
Both a creator of murals and custom canvas, Petersen lists among his clients Lagoon, Patagonia Inc., dozens of restaurants, Caesars Palace, BYU, the CEO of New Balance Shoes and two current members of the Utah Jazz starting lineup.
He's hopeful the Exotic Kitty will be next—but only if the city agrees that the project is for a mural.
"I'm not a sign painter," Petersen says.