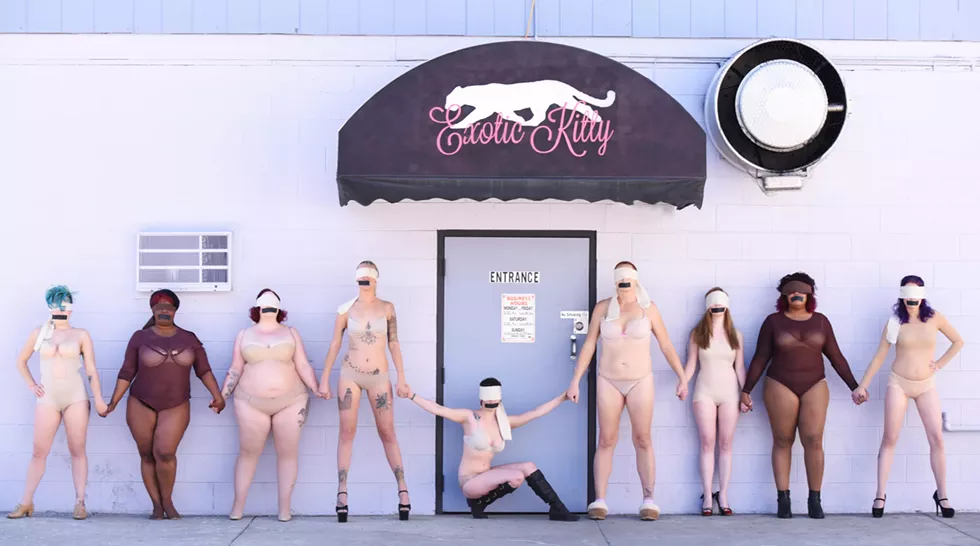 ©Rachel Barnes/RB Photography
Left to right: Madazon Can-Can, Myzchief Du Voodoo, Kirsten Caron, Delta Rae Dixon, Havoq Luscivia, Dominique Storni, Phaedra Phoenix, Harpy L'amour and Suckerpunch Sally.
Blindfolded and muzzled, nine women in nude-colored lingerie also wore brilliant lipstick, but the motorists cruising down State Street on March 10 wouldn't have known it by looking at them.
That's because each had a piece of tape covering their mouths—a symbol of the powers-that-be silencing femininity.
It was a photoshoot organized by members of the Utah Vaudeville and Burlesque Collective in front of the Exotic Kitty gentlemen's club, an establishment whose outside wall has been a point of contention for South Salt Lake the last few months.
The controversy, first reported by City Weekly, boiled over when renowned muralist Shae Petersen, who was hired to paint a piece on the strip club's southern wall, was told by city officials it would violate the city's rigid sign ordinance. To some though, this decision stunk of puritanical censorship and gave rise to the question of whether the city was merely attempting to hide the reality that a strip club existed within its boundaries.
Frustrated by the city's capricious roadblocks, Peterson posted a pointed mockup of a wall that depicted women statues with blindfolds covering their eyes.
The muralist's plight resonated with Madison Lindgren, a burlesque performer, activist and teacher who goes by the stage name Madazon Can-Can.
"This is obvious censorship—an obvious violation of freedom of expression," she says.
A member of the Utah Vaudeville and Burlesque Collective, Lindgren issued a call to other women in the group and asked whether a few would be interested in participating in a photo shoot based on Petersen's posted image. She was careful to ensure that the models were comfortable sharing their photos online.
"Being in this industry, consent is huge and protection of privacy is huge as well," she says.
As her excitement grew, Lindgren spitballed ideas with other female artists. One friend suggested hiding bright lipstick underneath the sticky tape. "Then, when you're peeling off the tape, you can see the lipstick on the back side and then your lips stand out really strongly," Lindgren says.
UVBC asked the strip club's owner if they could shoot photographs on his property.
The protest centers on ideas of feminism and censorship and beauty.
An initial photo had the women donning lingerie, bras and underwear or leotards, and standing with their backs to the wall blindfolded with tape across their mouths with their hands in the air.
"We stood in front of the Exotic Kitty entrance with our hands up, like we were being arrested, because to do what we want to do is seen as something akin to a crime," Lindgren says.
The models did another shot flipping off the camera, and a third holding hands in solidarity.
The project also aimed to challenge traditional limits of beauty and sensuality. Other than lipstick, they applied very little makeup. "Every single person there came as themselves," Lindgren says. "We had curvy girls, and short girls, and tall girls and a transgender woman. ... They came exactly as they are."
In one photo, the women have their backs turned, each resting her hand on the shoulder of the person in front. Their hair, colored various hues, resembled the rainbow.
During the shoot, Lindgren says, drivers slowed their cars to a crawl—some even stopping in the road. The models were catcalled and leered at until the cars were shooed away.
As the shoot progressed, the women partially removed the tape from their mouths, revealing dark red and blue shades.
Lindgren believes the city's decision to stall the mural is rooted in a fear of nudity and the human figure. And although burlesque and stripping are different, Lindgren says they share common DNA.
Burlesque is a time-honored form of entertainment, but one that is heavily regulated in Utah. Precisely, performers must keep at least three quarters of their breasts and butts covered, for example. Keeping with those guidelines, Lindgren says she and the other models were careful the photoshoot didn't cross into illegal territory.
"Even women in a swimming pool can get away with less than we can at a public venue," she says. "And the line between sexually oriented businesses and performance art is not clear in this state."
If performers don't toe that line carefully, they risk shutting down venues, receiving fines or, worst-case scenario, being charged with a sexual crime and having their names added to a sex offender registry.
Lindgren emphasizes that she and others are vigilant in obeying the laws. She preaches the burlesque gospel at Prohibition on Friday or Saturday nights, as well as Thursday night for burlesqueoke (a portmanteau of burlesque and karaoke).
"We need to raise awareness on the power the female figure has," Lindgren says. "And that we're allowed to speak with our bodies. Our bodies are our art. Our bodies are not scary, and we need to be seen."
Petersen, who paints under the name SRIL, originally proposed a mural on the side of the strip club that prominently featured an image of a panther and a sultry woman in the background.
He was willing to change the design, however, if the city insisted. Instead, he was told that he couldn't paint any picture because a city ordinance requires signs for sexually oriented businesses to include only lettering.
Petersen and the Exotic Kitty countered that the mural wasn't a sign for the business, and all sides tried to find an amicable solution. Publicly, South Salt Lake has been conspicuously quiet, declining to respond to reporters' requests for comment.
Petersen has indicated he will consider legal avenues if it comes to that.
More recently, Petersen was told that he had to redesign his mural to fit within the city's color guidelines. This requirement, he noted, was not explained to him before he painted previous murals in the city.
"They requested I submit a new design with no guidelines as to what they wanted changed, and also stated there is a citywide restriction on mural colors requiring what they call 'neutral earth tones' on all murals," he writes via email. "Although for some reason that color guide doesn't seem to apply to any mural but this one."
It's not clear how the color rule will affect the city-sanctioned mural festival scheduled later this spring.