Page 5 of 8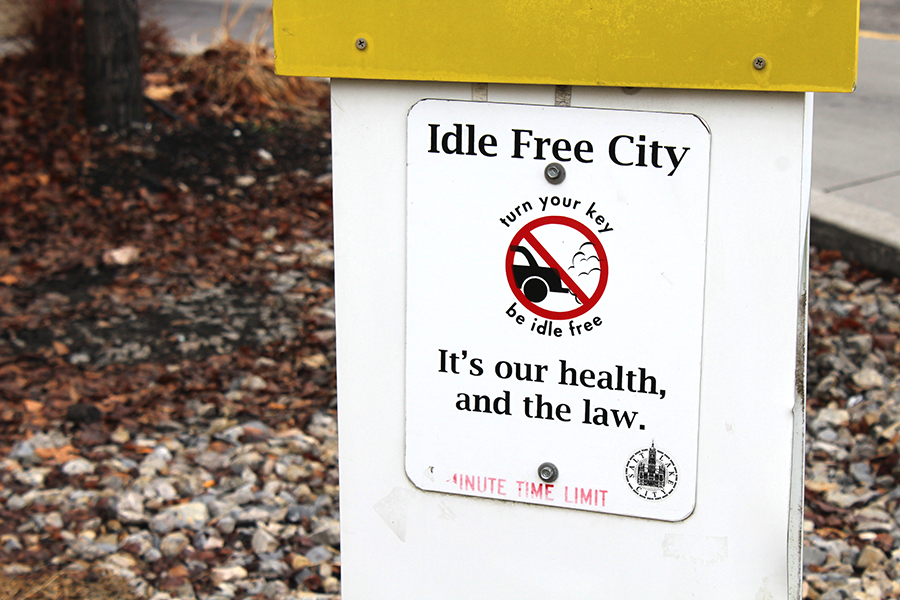 Climate Confrontations
Fresh deals at the natural resources counter.
By Naomi Clegg
Utah is warming at twice the global average, and it's running up against an EPA deadline to improve air quality across the state within the next three years. Clean water, clean air, clean energy—it's what Utah needs, but is our Legislature committed to change? In 2018, legislators passed a resolution committing the state government to addressing climate change. They also made sure we could all buy Teslas, gave Rocky Mountain Power the option to build a solar facility, and renewed a tax credit for rooftop solar panels. And they sent an extra $1 million to the Utah Division of Air Quality. It was a start, but considering the threats facing Utah and its growing population, was it enough? Two proposed house resolutions (H.C.R. 1 and H.C.R. 4) signal a willingness to address climate change directly in 2019. What else can we expect on the climate front this year?
Energy
A resolution sponsored by Rep. Patrice Arent, D-Millcreek, promotes "the development of wind, solar, hydrogen, hydroelectric, and geothermal energy in rural areas of the state." Rep. Brad Wilson noted last year that the Legislature has been promoting natural gas infrastructure in rural communities; expect a continued push toward alternate energy sources, especially in areas that need an economic boost.
Amendments to the State Energy Policy proposed by Sen. Keith Grover, R-Provo, promote molten salt reactors as a nuclear power technology. Grover's amendments also include a push for increased refinery capacity.
Lobbyists at HEAL Utah are pushing for amendments to the state's energy plan, which organizer Noah Miterko says "would implement a low-risk financing tool to help utilities transition from old, uneconomic power generation to modern generation with the opportunity for community investment into impacted communities."
Local chapters of the Citizens' Climate Lobby are pushing for legislation that would enact a carbon tax; last year, Rep. Joel Briscoe, D-Salt Lake City, introduced a bipartisan carbon tax bill co-sponsored by two Republican colleagues. Briscoe plans to put the bill forward earlier this year than last year; he's looking for new co-sponsors (the previous ones retired). We need to be having "a robust discussion about pricing carbon," Briscoe says. The bill would tax carbon emissions at approximately $10/ton, which Briscoe notes would add 10 cents to a gallon of gasoline and 10 percent to energy bills; money raised from the tax would go toward air-pollution solutions, rural economic development, and reductions in some state taxes.
Water
A joint resolution sponsored by Sen. Jani Iwamoto, D-Salt Lake City, proposes Utah undertake a water banking study, which would take a look at the development and creation of water banks to supply the resource for Utah's projected population growth.
As for water usage, a bill proposed by Jacob Anderegg, R-Lehi, would require water suppliers to install meters for secondary water systems. While municipal systems are metered, secondary systems—untreated water left over from now-developed farmlands, usually used for lawns and irrigation—are not. Zachary Frankel at the Utah Rivers Council says this bill would help track "some of the cheapest water in the United States, huge amounts of it." He calls it "basic data collection" for Utah's idiosyncratic secondary water system. Utahns quite possibly use more water per capita than any other U.S. state—but there's currently no way to accurately measure usage. The bill would give water providers 10 years to install meters.
Frankel says the Rivers Council is also watching a revised version of an extraterritorial jurisdiction bill that Rep. Mike Noel introduced last year. The bill would give cities less jurisdiction over water upstream, "which is stupid, because dirty water is bad for people," Frankel says. "The idea that protecting water quality is a bad thing is a dinosaur mentality, and it needs to go extinct." He's hoping the bill dies.
Air
In 2018, legislators failed to pass a bill that would have doubled penalties for drivers caught disabling the emissions-control system of diesel vehicles. This "rolling coal" bill was strongly supported by the diesel industry; expect it to make a reappearance this year. HEAL Utah is pushing for this issue; Miterko says they are also "really working hard on a free-fare day"; a bill sponsored by Briscoe would offer free public transit over 14 days each winter.
The big possibility here is Gov. Gary Herbert's proposal to appropriate $100 million of the state's budget for air quality improvements in 2020. But, the Legislature has to approve this amount—and decide what the money will be spent on. Some possibilities: Incentives for swapping out wood stoves, upgrades to inefficient buildings, and replacements of dirty construction fleets and school buses. At an event hosted by the University of Utah's Gardner Policy Institute, senior energy analyst Thomas Holst suggested the money could be used to promote clean energy solutions across the state. And Deseret News environment reporter Erica Evans suggested allocating funds to more comprehensive public-transit solutions. Let's see how much legislative courage our representatives can summon this season.