Page 6 of 8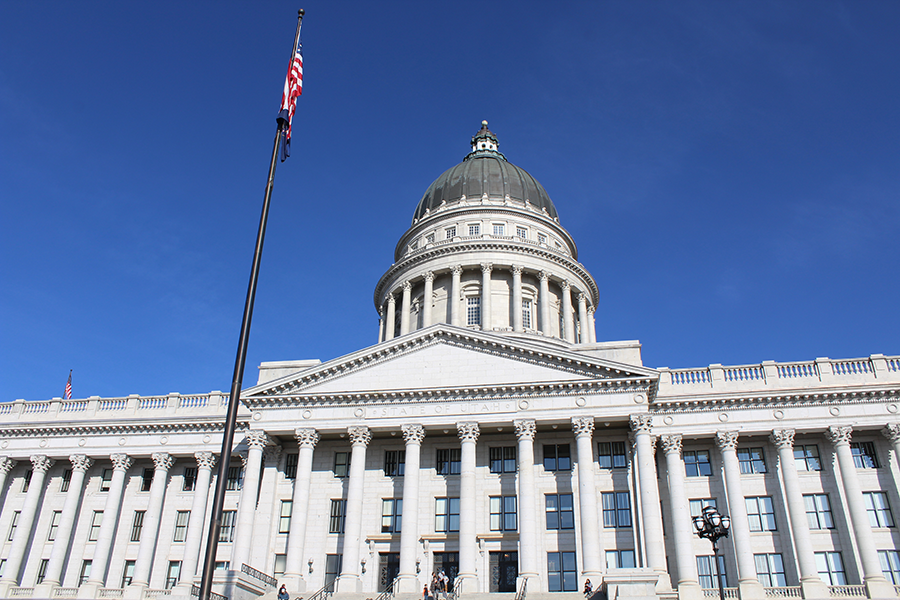 Then vs. Now, Lege Edition
Gather 'round the discount aisle that is Utah politics and revel in what's different from years past ... and what has stayed the same.
By Kelan Lyons
Ahhh, the '90s. A beautiful era when Michael Jordan and the Bulls twice owned the best Jazz team in franchise history, Utahns needed private club memberships before they could rip shots at local bars and elderly Salt Lake City slickers could breathe outside without risking their lives. Life was simpler then. Even for the lawmakers on Capitol Hill.
"I remember the first time they gave every senator a pager so that we could be alerted to things we should be aware of," former Sen. Howard Stephenson, a Republican who represented Draper from 1993 to 2018, says. "We thought, 'This is really high-tech.'"
The times they have a-changed. In the passing decades, Democrats have lost (or gained?) power, elected officials figured out that the internet exists and lobbyists stopped overtly jostling to influence elected representatives' votes. But much has remained the same. As the 2019 legislative session fast approaches, join us in analyzing what's metamorphosed and what's been static in Utah politics.
Let's start with the most obvious—legislators' tech kept evolving beyond beepers and cell phone bricks. Pagers were replaced by Blackberries, which were succeeded by even smarter phones. "We came into the digital age," Stephenson recalls. Now, constituents can watch floor debates and listen to committee hearings in real time, or use social media to get updates on issues they're passionate about. "Citizens have as much access to the information as legislators do, instantaneously, no matter where in the world they are," Stephenson says. "And, boy, has that had an effect on policy, because we begin hearing from our citizens so much more quickly. And they're more informed in their appeals to us, too, because they have literally as much of the information as we do."
Also different is how legislators communicate with us regular folk. Last year, the House dropped a dope rap mixtape called "Fresh Prints of Bills Here"—a cringeworthy play on The Fresh Prince of Bel-Air theme song—to explain how bills become laws. Pat Jones, a former Democratic state senator and representative who held office from 2000 until 2015, remembers some far-right House members shot their own video involving guns and cowboy hats, "pretending to be macho," when she was serving on the Hill. "I think it was more to show off," she says.
Jones hasn't suffered through the Bel-Air parody, but she says if lawmakers use the web to motivate people to engage with local officials or state politics, or to participate in the political process, "then I say all the more power to them."
There have been important developments in Utah politics over the years beyond computer screens and bad music videos, Jones, CEO of the Women's Leadership Institute, says. She estimates that the number of women in the Legislature usually hovers between 15 and 19 percent; this year, 25 percent of lawmakers are women, cutting into old white dudes' entrenched power. Jones expects issues like public education, health care and environmental stewardship to be debated more in the upcoming session than in years past, reflecting a change in the political appetite of the state's elected officials. "I think what we're seeing is the growing of a more cosmopolitan constituency," Jones says.
The state might be getting more diverse, but the Legislature still is largely homogenous. Democrats picked up seats in the House and Senate last November, but Republicans still have a supermajority. Despite the political imbalance, Jones disputes the conventional wisdom that Dems have no power on the Hill. There are fewer Democratic legislators than Republicans, so they're more likely to be appointed to leadership positions than the conservative legion. "Your opportunities are much, much greater in the minority party," Jones says. "They have to have a Democrat on all their committees."
Matthew Burbank, an associate professor in the University of Utah's political science department, says there are fewer Dems in office than in the '80s and '90s. There used to be more conservative Democratic representation from districts outside the Wasatch Front. "Democrats have largely become, in the state Legislature, a Salt Lake City and County phenomenon," he says.
Burbank estimates Republican shot-callers started putting more Democrats on committees about five years ago. But they didn't do it out of the kindness of their hearts. "There is an ongoing tension," he says, referring to the philosophical differences between moderate and conservative Republicans on issues like taxes. "Rather than having that fight in every committee year after year, I think there's a sense in Republican leadership that, 'What we want to do is focus on what those darn Democrats are up to,'" Burbank says. "That's a more valuable narrative for them than only to focus on what's going to happen in the caucus, because there are some serious differences in the Republican caucus."
That us-versus-them mentality is what got to long-time politico Peter Knudson, who served in the House and Senate for 24 years before retiring at the end of 2018. "I think the thing that's most frustrating for me has been the inability for the majority party to give credence to the minority party," the former Republican lawmaker says. "The minority almost is a second thought."
Knudson says things were different when he was in the House, though he acknowledges that might be because Democrats were more of a player in state politics. He suggests future Republican leaders make more of an effort to work and communicate with Democrats on controversial, complex issues like medical cannabis. "I think everybody would benefit," he says.
Speaking of manipulative power-players, Stephenson, president of the Utah Taxpayers Association, says he's particularly enthused that lobbyists' privileges have been curbed. "They would be able to come onto the floor during debate and be able to corner legislators to urge them to vote a certain way," Stephenson says of the early years of his senatorial career. "I don't think people really appreciate how much more fair it is today than it used to be."
Burbank has his doubts. "I don't think the power of the lobbyists or of powerful interest groups has changed dramatically," he says. "I think the way that lobbyists try to get things done now and the way they tried to get things done in the 1990s are pretty similar."
Sure, Burbank says, there are ethical horror stories of lobbyists showing up on the floor and talking to lawmakers before they vote. "That was more exceptional than anything else," he says. "In all reality that's not the way most lobbying is done."
Instead, lobbyists argue their points over time, consistently articulating their views over multiple meetings with presumably impressionable lawmakers. "It's not the sort of thing most legislators see as influencing them because it's just so pervasive," Burbank says. "It's a little like watching television and seeing commercials. After a while, you think you're just tuning them out."
There is one thing Stephenson thinks is a timeless truism: Utahns' collective forgetfulness of state lawmakers' legislative legacies once they leave office. When Stephenson mentions the names of former colleagues to lobbyists and currently-serving reps and senators, he's often met with a blank stare of unrecognition. That's a shame, Stephenson says, because he thinks the men and women who worked on the Hill in the '70s and '80s made Utah's judicial system and legislative staff structure what they are today.
Come the end of January, Stephenson and Knudsen will not directly have a hand in approving Utah's new laws for the first time in two dozen legislative sessions. Perhaps searching for one last fleeting glimpse of state office, Stephenson tried logging into his old account at the start of the new year. "My Senate email shut down precisely at midnight," he says. "It's just really interesting to see how you're a has-been overnight."