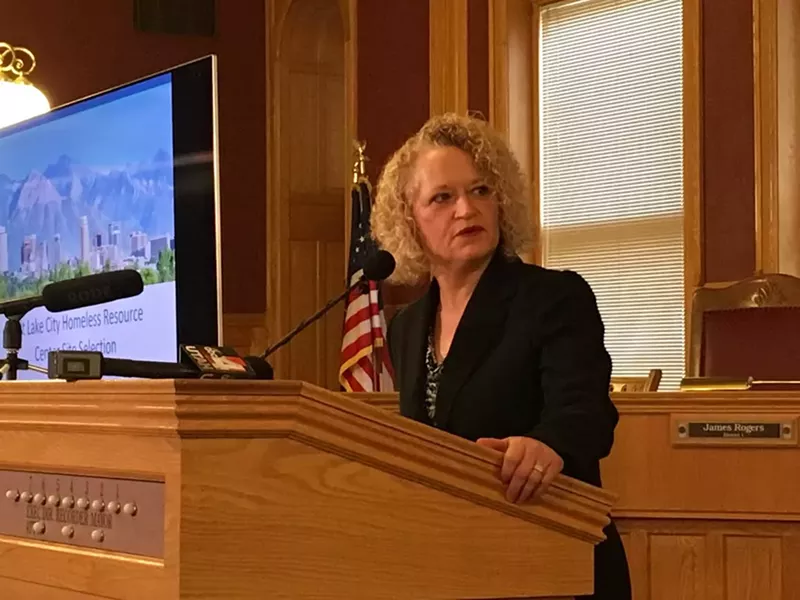 DW Harris
Biskupski said upcoming discussions will allow the public to weigh in on the design.
Describing Rio Grande as a hotbed for drug dealing and despair, Salt Lake City Mayor Jackie Biskupski unveiled city plans Tuesday to disperse homeless resources to four locations.
Once four new centers are running, the city will shutter the Road Home shelter on Rio Grande, a process that isn't expected to be complete for a couple years.
"What we've learned from our current circumstances in the Rio Grande area is that the numbers are just too great to provide services in a fashion that is truly helpful to people. Currently what you're seeing is 1,000 people coming in at night, 1,000 people leaving in the morning and we have drug dealers preying on them," Biskupski said. "It's creating a real chaotic circumstance for our city."
Several months prior, the city council and the mayor reached an agreement to build four smaller shelters after state lawmakers threatened to pull funding. The city's plan is to break up a significant population of Salt Lake's homeless who currently congregate near the Road Home Shelter in the Rio Grande neighborhood. That district has been identified as an illicit drug market. Nearby store owners have pleaded with officials for change.
And while it's imaginable that residents and businesses near the new locations will push back, Biskupski asked that those people hear the city out.
"Please help us change the future of our city and believe in us and the model that has been created," she said.
Each shelter will have a capacity of 150 people. The following addresses have been selected for homeless shelters and resource centers:
653 E. Simpson Ave.
Biskupski said this location will serve clients in the Sugar House neighborhoods. It is near an S Line Trax station and public transit options on 700 East.
275 W. High Ave.
Biskupski called the 3.8-acre High Avenue location—about 1400 South—an ideal spot for homeless resources because of the nearby neighborhood services, transit and employment opportunities. The building design allows for some open space for the clients to utilize. It's removed from major arterial streets.
131 E. 700 S.
A Deseret Industry store sits at the 700 S. site. Biskupski said the Church of Jesus Christ of Latter-day Saints has been an invaluable partner, and it has offered the city the option to purchase the site within the next three years. Biskupski said the city will help find a new location for a DI store downtown in the interim.
648 W. 100 S.
This property, owned by the RDA, is nearest to the Rio Grande shelter.
Biskupski said upcoming discussions will allow the public to weigh in on the design. Construction is expected to begin next year for a few sites with the other two a year after that. She did not say which would be built first.
"As part of this process, ownership of the Rio Grande site on 500 West will be transferred to the city once all four new sites are operational," she said. "That site will then be permanently closed."
About 1,200 homeless sleep at the Road Home shelter, and the new sites will have space for a combined 600. To make up this difference, the city will rely on more housing options, as well as resources in the county.
The city has allocated $21 million for affordable housing. "That is key to making sure people can actually afford to get in a place and live," said James Rogers, city council chairman. "That's really why they're on the street. They can't afford a place to live."
Officials have taken heat for leaving the public out of the selection process, although the city solicited ideas on its website, which generated more than 900 responses totaling more than 18 hours of public comment. Based on that feedback, a committee established criteria for the sites. Businesswoman Gail Miller and former Salt Lake City Mayor Palmer DePaulis co-chaired the committee.
The state has committed to providing $27 million over three years. Private donations will also help pay for the projects.
Until those new shelters are built, Rio Grande will continue to operate.
The Road Home released a statement after the mayor announced the new site locations.
"While the City and County plans are being developed and until the need is met in a new way, we will continue to provide shelter at the Salt Lake Community Shelter location. However, The Road Home is much more than the shelter located on Rio Grande Street. We continue to operate the Midvale Shelter for families, as well as our housing facilities including Wendell Apartments and Palmer Court," it reads, in part.