A judge allowed police-camera footage showing a Salt Lake City police officer shooting then 17-year-old
Abdullahi "Abdi" Mohamed to be played in court Monday. Following the hearing, Salt Lake County District Attorney Sim Gill agreed to release the footage to the public.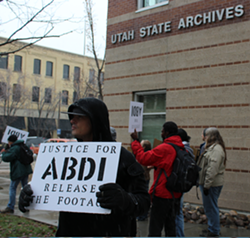 Enrique Limón
On Jan. 12, a small group of protesters gathered outside the State Archives Bldg. demanding oversight and justice.
This comes on the heels of the Utah Records Committee ruling that the footage should be publicly available. The American Civil Liberties Union had argued before the panel that whether it implicates the officer or the teen, it should be available to public eyes.
Although the committee agreed the footage was public, the DA's office had a month to appeal the decision in district court. After Monday's court hearing, that delay is moot.
Last May, Mohamed told City Weekly that he wielded a broomstick as protection from an inebriated man with a knife. Then he says he heard a man shout "'Drop the stick.' As soon as I turned around, I just went black," he said.
The footage is graphic. In it, Jordan Winegard, gun drawn, sprints toward two thin dark bodies. These two men, both holding long objects appear to be walking toward another man who is walking backward away from them. The officer shouts for the men to drop their weapons. One does and turns around, the other continues advancing and is quickly shot to the ground.
You can see the footage here.
In a statement, the ACLU held up Gill's decision as an overdue victory.
"We consider this a victory for open government and transparency. The public can finally view for themselves controversial footage that has been repeatedly described to them by government officials, and was recorded by body cameras paid for by their tax dollars," Brittney Nystrom, ACLU of Utah executive director, said in a statement. "We maintain that the footage should have been released many months ago, because these are clearly public records; however, we are glad that transparency ultimately triumphed in this case."
The Salt Lake City Police Department sent out a statement saying it continued to stand with its officers.
Mohamed was shot on Rio Grande Street near the homeless shelter in February 2016. Officials ruled the shooting justified.