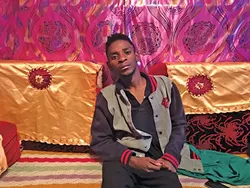 Stephen Dark
Abdi Mohamed recuperating in his home in May 2016, after being shot four times by a SLCPD officer.
After months of uncertainty over whether 19 year-old
Abdullahi Mohamed
would be tried in adult court or remain in the juvenile system. Third District court judge Julie Lund ruled Friday she wanted him to stay where he was.
Judge Lund told Mohamed she was giving him a chance. She hoped he would make the most of it.
It was an emotional decision for those close to the Somalian refugee who was shot four times by Salt Lake officers outside the shelter back in February 2016. The Salt Lake County District Attorney's office had asked Lund to move the two felony counts of aggravated robbery and drug possession with intent to distribute to adult court.
Attorney Tasha Williams, whose office Juvenile Defenders represents Mohamed, says in the two hours after Lund's decision, her relief at the news had led to her crying repeatedly.
"It was the right decision to make, not only for Abdi but also for our community," she says. "Our community gains nothing from putting young people in prison. He may be legally an adult, but he's still a young adult."
Instead, in the juvenile system he would get the services he needs, with a "meaningful relationship with a case worker," in his own environment, she says.
The decision reflects a recent groundswell of demand for juvenile justice reform, reflected by the passage of
House Bill 239
and growing bodies of work on trauma and juveniles. "The research is not something you can ignore," Williams says.
In an interview with D.A. Sim Gill on Wednesday, he said that the type of crimes Mohamed was charged with, particularly a violent robbery, meant that the community was concerned about his case enough to want to see him adult court.
"The legislature was very clear, this community was very clear; if you engage in [serious criminal] types of behavior that are more violent in nature, there is a process we must go through," Gill says. "And right now this is the process we have to go through."